My husband and I have an interesting story, a meet-cute if you will. 
"How did you and Chris meet?" is one of the most popular questions I receive, so I figured why not highlight our early days in a story for those of you who are interested in reading a good love story. It all started in the Emergency Department…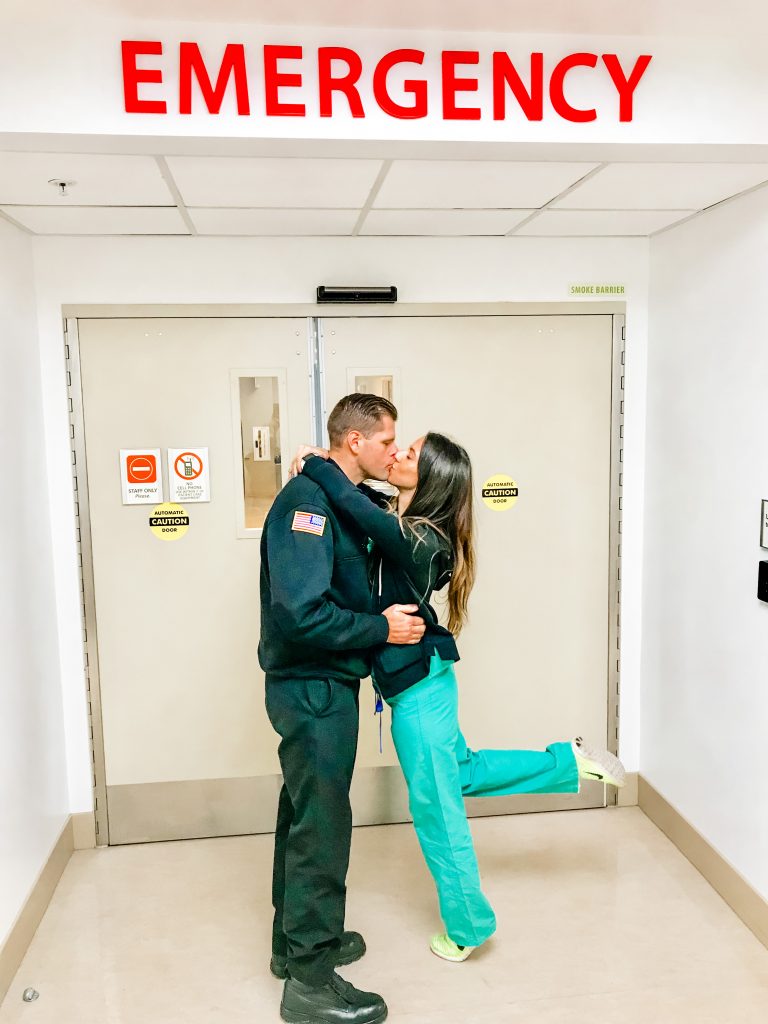 "How did you and Chris meet"?
It was June 26, 2016. I woke up early and headed in for my last shift as an Emergency Medicine resident. I had essentially already graduated residency, but I was covering for a colleague who left town early for a vacation. I remember vividly how relaxed I felt that morning, I even curled my hair at 5am (thankfully), in preparation for some "last shift" group photos that I knew would come up. 
I hadn't been on shift long and one of the nurses popped her head in the physician work room. She asked if I could see a patient in the hallway, and said it wouldn't take long. She then mentioned it was a firefighter who had a potential needle stick, so he just needed some blood work before going back on shift. 
I sauntered out into the hallway and was met by three firefighters. The patient was a medic and when starting an IV in the ambulance on a trauma patient we had just received, he noticed a hole in his glove. He was there just as a precaution. There didn't seem to be any blood or wound, so I reassured him and we collected his labs to test for infectious diseases; merely a precaution. 
In the mean time, one of the other firefighters seemed very chatty; he was easy to talk to. We talked about my being done with residency and starting a new job in a few weeks. It was brief, but memorable. I quickly discharged the patient and sent them on their way. Shortly after they left I noticed a facebook request on my phone. I didn't recognize him at first, but I realized it was him… the chatty firefighter. I thought to myself, "of course we can be friends, emergency department providers and firefighters are a team"! Thank goodness I did my hair that morning!
Our entire relationship started with facebook messenger. Back and forth, back and forth. We liked all the same things. Sadly I had a messy past and was still dealing with some of that. It almost pushed us apart entirely. You can read more about that HERE. 
Fast Forward…
Fast forward to January 18, 2018, I'm heading in for another Emergency Department shift. It was a quiet morning. I was paged to one of the trauma bays and walked in to a firefighter on the gurney. It was one of Chris' friends, whom I knew very well, and he looked like he was struggling to breathe. I was very confused, as typically these types of patients come with a trauma activation and no one was there but me and a nurse. In rushed Chris, who is spitting some story about a house fire and the roof collapsing and there being a smoke inhalation. As quickly as he was there, he rushed off to "update the media". 
I thought it was a joke. Then I thought, "holy crap this is for real". He had soot on his face and was breathing really fast. I looked at the nurse and said "why isn't anyone doing anything? Get him on the monitor, start an IV, call the trauma team"! One of the Emergency Medicine residents took over, and another nurse ran in and dragged me out of the trauma bay to update family. I remember saying, "my job isn't even done, I need to be back in there". 
That's when I blacked out. 
I saw Chris and a bunch of people behind him standing in the hallway in front of me. No one looked worried. People were smiling. I walked towards him slowly, half knowing what was about to happen but the adrenaline still managing my body. I stopped for sanitizer on the way (yes this is on video). That's when he got down on one knee and asked me to marry him, in the same exact hallway of the Emergency Department where we met.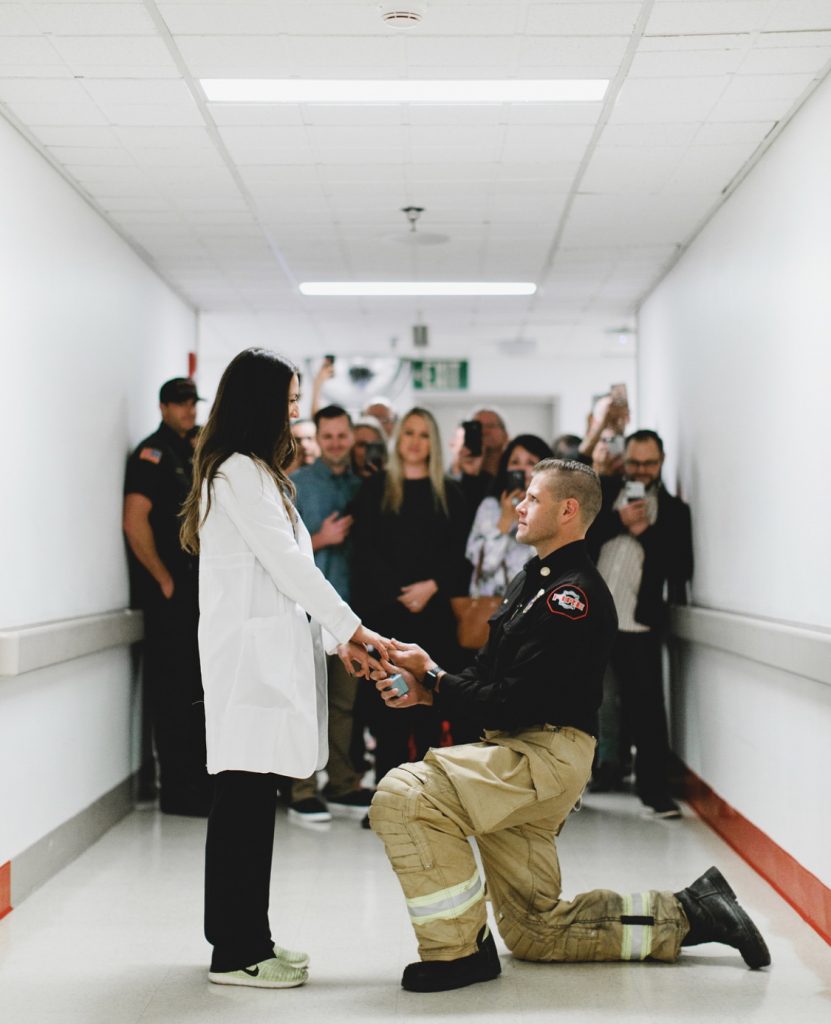 It was all a set up, a fake shift, a fake fire, a fake patient, I couldn't believe it. In fact, I don't think I believed it until about an hour later. Chris had pulled off the single most impressive act I've seen in a county Emergency Department. My bosses were involved, the nurses, he had invited his colleagues, our friends and family, it was EPIC. He had been trying to get me to take this (fake) shift for weeks. I was trying my best to get out of it and even said "no" twice! 
The best part outside of being engaged to the love of my life at the end of this charade, was learning that I didn't have to finish my shift!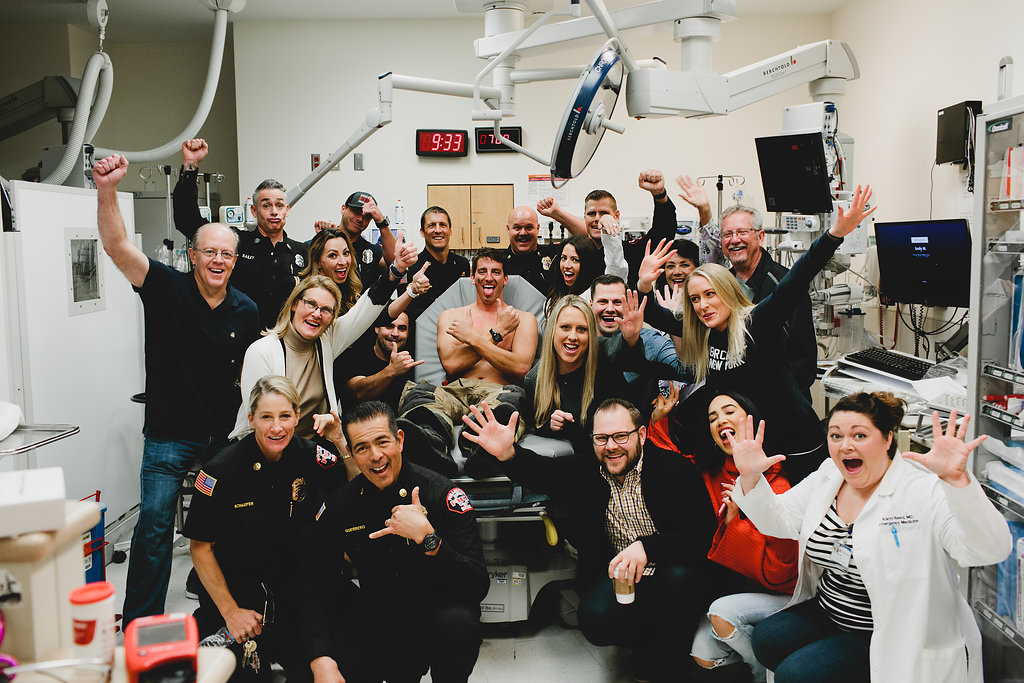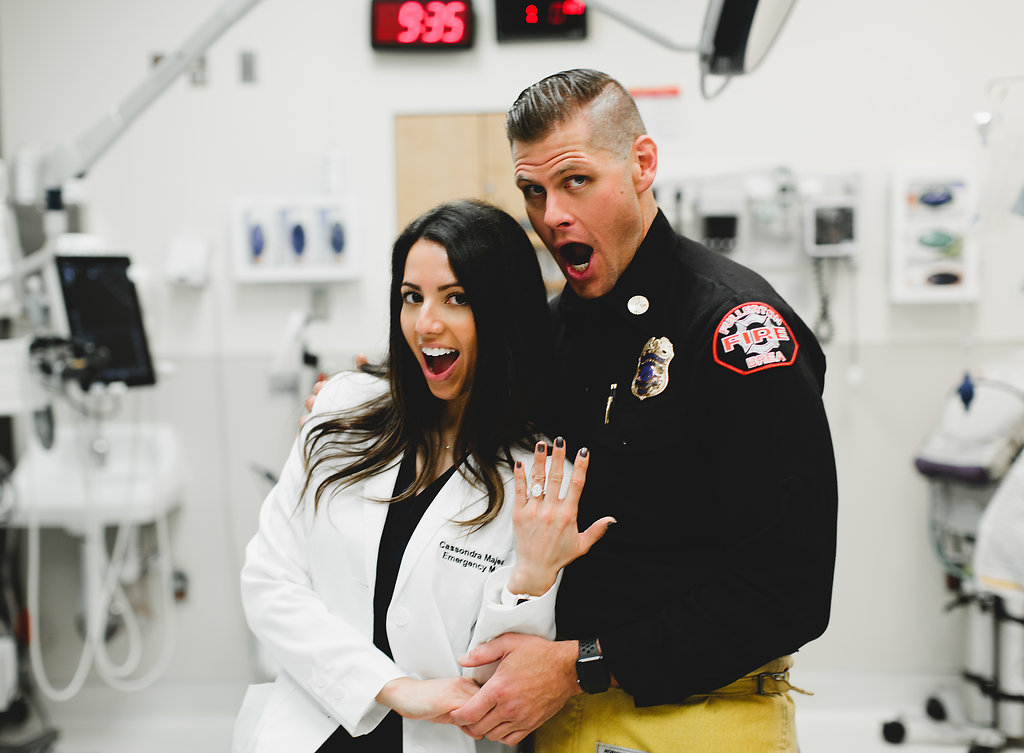 I have to be honest, I knew Chris was the one from VERY early on. I don't really think I believed in love until I met him. He helped me understand that I could be myself AND share that life with another person. 
Before you think "this story sounds perfect", there was a lot in between that was not easy. A doctor-firefighter marriage is not an ideal situation, when it comes to schedules and stress levels. You can read Chris' experience on being married to medicine HERE. Being intentional is our secret. Intentional in what we do with our free time, who we spend it with (outside of each other), and our "work hard, play hard" way of life.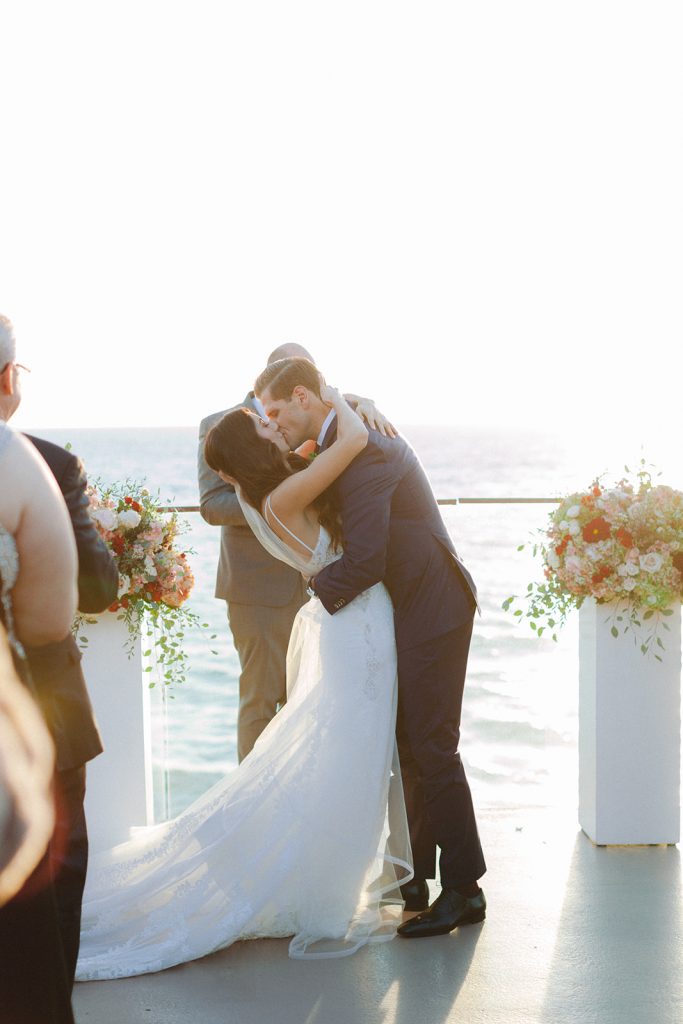 Who knew that I would find my one, true love in the Emergency Department?
Do you have a crazy story about how you met your significant other? Tell me in the comments!