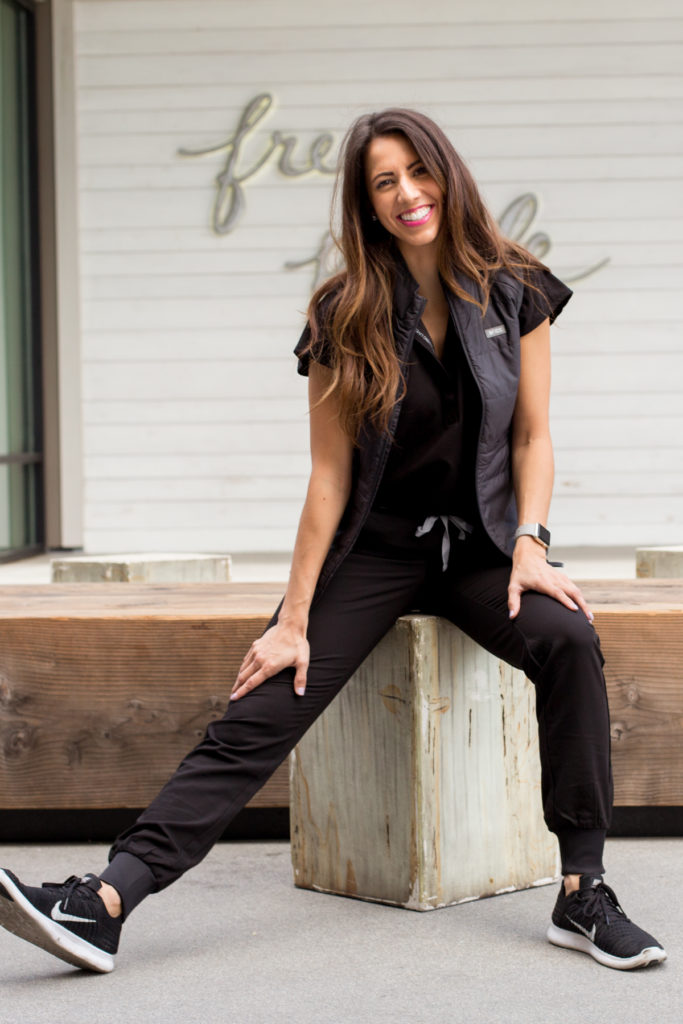 I LOVE interacting with you guys. Seriously. When you fill my DMs with questions and comments, it fills my heart so much! The problem… I have trouble keeping them organized and getting to all of the questions. 
So… I'm going to do a monthly Q+A on my blog! This can be a place where you come when you're curious, and each month I'll remind you to submit your questions for the next month. Ask ANYTHING. 
Here. We. Go. 
When did you guys move to California?
Chris was born in San Bernardino, so he is a California boy (lucky me). I moved to California when I started residency in 2013. Holy crap it feels like yesterday. California has it's negatives, but I've been blessed to live in and experience some amazing cities. I moved to Long Beach initially, then Laguna Beach for two years, Dana Point for one year, and found my true love in Newport Beach, where Chris and I live now. 
Favorite store to shop: 
Tough question! Nordstrom is by far my most frequented location because they have such a huge, affordable selection. But truthfully… I love to find cute pieces at random boutiques. Some of my favorites in the area are Vici, OPT, and Planet Blue. I'm a huge fan of Anthropologie too! 
Who watches EMS while you guys travel or if you are both at work?
Now that I'm no longer a resident, and Chris doesn't have to be at work for two days at a time, we can manage her being in her kennel for up to 10 hours on some days. One of us is home by that time and because of my schedule flexibility, she has a lot of time outside of the kennel. When we travel, she has a favorite auntie who watches her and takes her everywhere. I wrote all about having a french bulldog here. 
How is practicing EM in California?
I think this answer will always depend on where in California you practice. I work at a community hospital that has been around in the community for a long time. I love the people I work with, but the patient population in our city can be very challenging. Most people think of gunshot wounds and people lacking medical care as challenging. Well challenging to me, is serving an affluent population made up of educated, well doctored (and living into their 100's), sometimes entitled and demanding people. It was tough to break into the medical field in California, it's very competitive. I am SO thankful to be here, but it does have it's challenges. 
How many shifts do EM doctors get per week and how long do they last?
This depends on the needs of your group, and how many shifts you want to work. I choose to do 12-14 a month for many reasons. One being, I have been working a lot of night shifts these past 3 years so the transition is hard and I need more days off. Second being I REALLY enjoy time off and more time at work to make money will not make me any happier than I am with a few more days off a month. Our shifts are 8 hours of seeing patients but typically we are there 10 hours. In residency we did 12 hour shifts… I can't even imagine a day like that anymore! 
I'm a student doctor marrying a police officer soon. What is the most challenging thing as a doctor's wife?
Yikes! I FEEL YOU. Police officer + doctor = chaos. In a good way if you're soulmates, of course. Thank you both for what you do. I think it depends on what area of medicine you go into, as to what the biggest challenge will be. You can read Chris' blog post about being married to medicine here. 
What is your everyday makeup routine and what products do you use?
I keep my makeup routine as basic as possible. I hate spending time in front of the mirror doing my makeup, probably because my hair always gives me a run for my money so I spend my time doing that. I use concealer, bronzer, eyebrow powder, and mascara religiously. That's about all I use for my everyday look. Some of my daily products linked here. 

What kind of car do you have?
I drive a Lexus RC 200T. It's rad. The most fun car I have ever had, and basically a gift to myself when I finished training.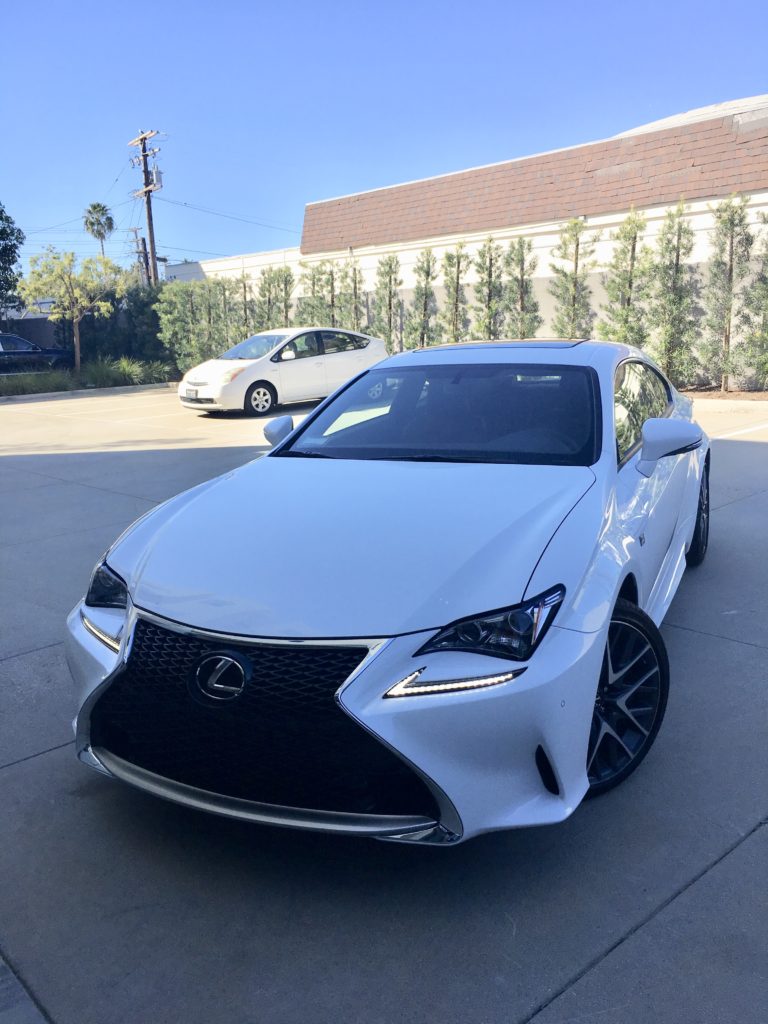 Any tips on USMLE, residency programs for IMGs?
I am not super well versed in resources for International Medicine Grads. I don't know anyone personally that has gone through this process. I will say that any residency program is going to want dedication and a reason for why you want to be there. I used some of these tactics when applying to competitive California residencies. Be persistent but not annoying. It's hard. Get to know someone at the program, shadow there, talk to them, ask questions, show interest, show your value and commitment. 
What is your favorite part of EM life?
Emergency Medicine allows you to have the best of ALL worlds. I meet great people, terrible people, sick people, healthy people, young and old, happy and sad, challenging and easy. It has made me this person who can handle anything. I take everything with a grain of salt. Most things don't scare me and I may make others' problems seem like they're not problems… because they likely aren't! It truly puts life (and free time) into perspective. I am SO grateful for that. Oh, and the schedule is flexible! Not perfect, but flexible. 
How did you and Chris meet?
Chris and I met in the hallway of the Emergency Department where I trained in residency, on my very last day of residency. He brought one of his medics in for a potential needle stick and I was the doctor to see him. Long story short, he Facebook friended me 5 minutes after they left. I accepted, and the rest was history! We got engaged in that same hallway.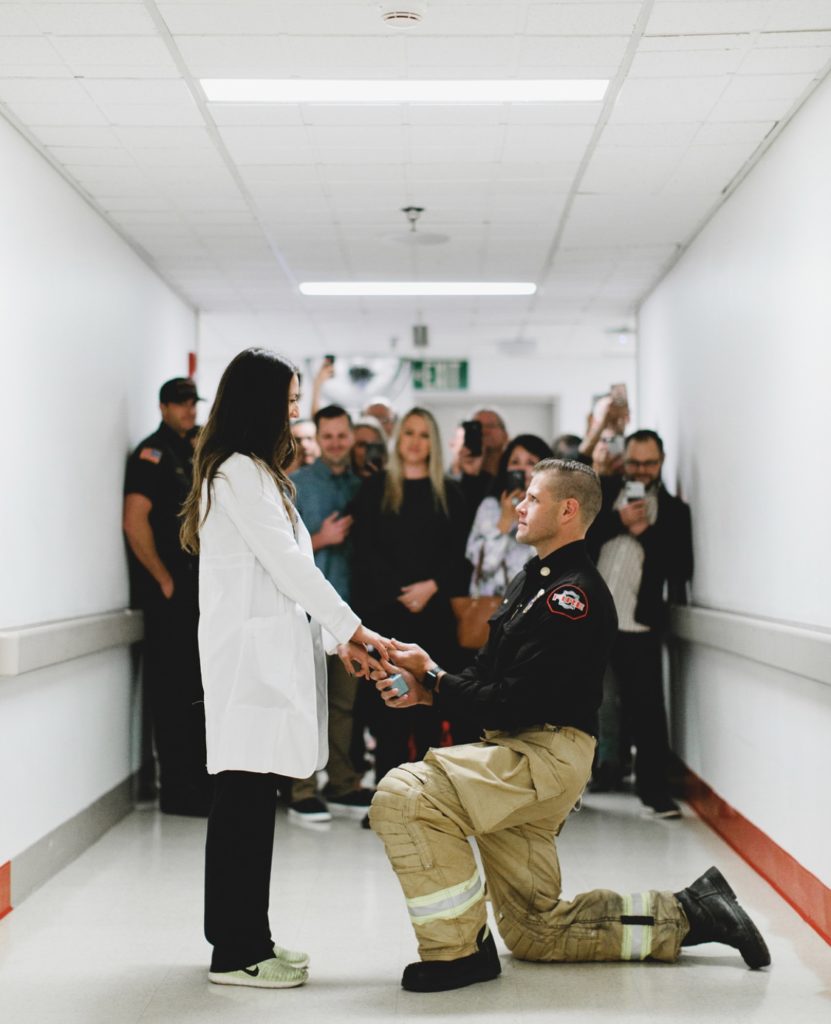 What is going to be your next car or automobile?
I have no idea! I keep feeling like I need to get a bigger vehicle in case we have children, but I am SO drawn to tiny little sports cars with two doors. We shall see!
Does Chris need to stay in the firehouse for periods of time?
He used to have a 2 days on, 4 days off schedule up until he became a Division Chief. Now he works Monday-Thursday (but brings work home regularly). It's a trade off!
What's your hair routine? What shampoo/conditioner do you use? Favorite products?
My hair routine is ALL over the place. Basically have no routines because of my schedule. I have a lot of hair so I push the limits on how often I wash it. Legit… I've gone a week before. If I work out, I try to salvage it but sometimes can't. I use Olaplex shampoo and conditioner– it's rich and hydrating, but a little pricey. I used Infusium for years and was happy. Currently I use all things Oribe- the dry shampoo, texturizing spray, volume spray, anti-humidity spray… you name it, I use it! I will be doing a more in depth hair post SOON!
Any advice for keeping long term relationships alive and happy in medical school?
Make time for them! Cliche answer, but it's true. When you have free time, be all in. Don't cut into that time by being on devices, or worrying about studying/working. Make sure that your partner knows they are still a priority. 
What are your individual hobbies?
Chris has tons of hobbies! He's a helicopter pilot, a scuba diver, runner, and loves to write. I am pretty simple. I love to have a fitness routine, travel, read for leisure, and social media of course. 
Any advice for a third year medical student starting rotations in July who is interested in EM?
Network, network, network! Get to know people early on and be on time. Be eager, show interest, be helpful but not too persistent or annoying. I think if you are truly passionate about something, it will show. Target who you'd like to receive letters of recommendation from, early on. It's really important to have a genuine connection with these people, in my opinion, because they will help you stand out in the application process. Bottom line, don't be afraid to get in there and get dirty!
How do you find time to keep studying in medicine and be up to date?
Most of my learning and reading happens at work, or after work. It's kind a learn-as-you-go career. I do reading at home when I have time, but it's not like you have to sit down and study anymore. Most of your knowledge is always there, you just have to brush up on the research, which happens at department meetings, and as you see patients and learn from consultants, etc. 
Do you work with DOs (doctor of osteopathy)? 
I do! I feel like once you get past residency, MD vs DO doesn't matter as much. I work at a very coveted location in Orange County, and there are multiple DOs practicing there. 
How is the house hunt coming along?
The house hunt is slowly happening, but kind of at a stall right now. We are traveling to Europe in 2 months so we are taking a little break and refocusing our plan. 
What can a nurse practitioner do and not do, in the ED?
Nurse practitioners function like Physician assistants. They typically see the lower acuity patients and do many of the procedures like laceration repair, abscess drainage, etc. In our Emergency Department however, they may see higher acuity patients because we operate mostly as a single coverage MD provider facility. If we are in a procedure or with a very sick patient, they help cover the entire floor during that time. 
What's on your bucket list?
Traveling to Bora Bora and writing a book. 
Favorite part of your wedding?
All of it!! Honestly it was just the most magical day ever. From start to finish. Of course, saying our vows overlooking the ocean was pretty epic! But just being with Chris and enjoying both of our families and friends coming together for us, was amazing.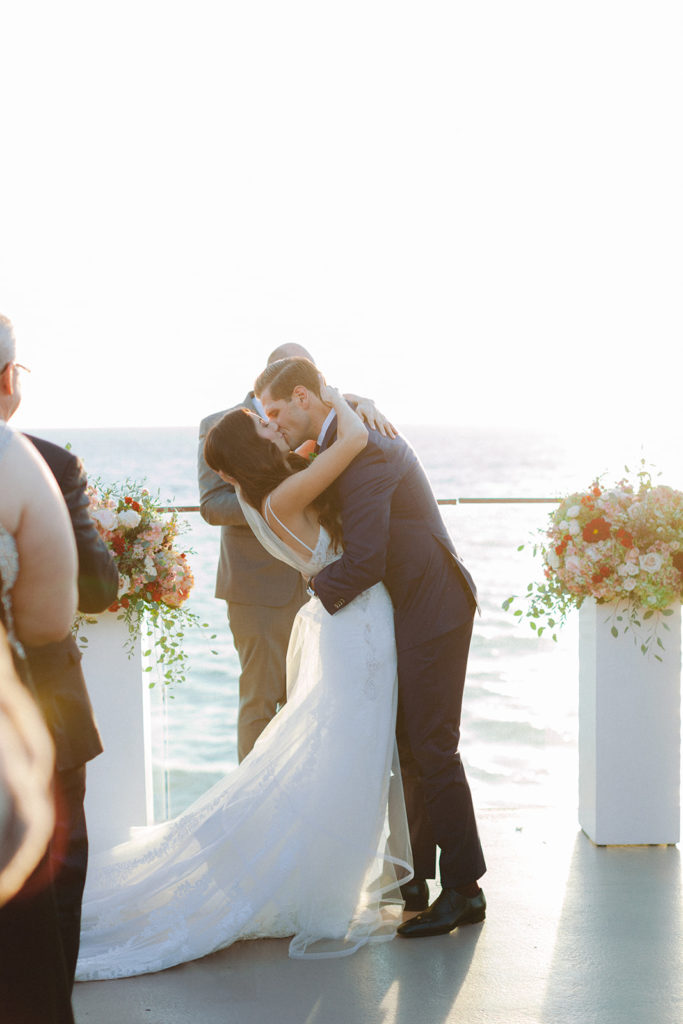 How do you find things to talk about after being together for a while?
Our jobs don't make that very challenging! Really, I never have nothing to talk about. I think for those whose jobs are maybe less crazy, just making sure you have your own hobbies and goals can help with conversation with your partner. 
If you weren't a doctor, what other career would you have picked?
Most definitely an interior designer. I have zero training in this field but I would LOVE to learn. I would love to be the designer behind the catalogue photo shoots for West Elm or something like that. 
What do you think about the abortion ban?
I have a lot of opinions on this topic… but I don't know that using my platform to talk about them, is appropriate. I know the thing to do as a blogger is "use the platform". But I asked myself "what would come from me taking a stance and announcing it to my community?" and overall my answer was- a flood of messages and opinions and judgments, probably. I'm all for this occasionally, but this topic is just too much to be talking about on stories I'd rather have a live discussion about it so people could go back and forth. Instagram just isn't the platform for this, in my opinion. 
What is your favorite mascara/do you use any lash enhancing product?
I have used Bobbi Brown, Smokey Eye for years! I used Latisse before our wedding and it worked super well, but on a regular basis I don't use lash-enhancing products. My mom has long lashes and thankfully passed them onto me!
What made you want to become a doctor?
I LOVE science. I always wanted to know more about injuries and trauma. I would watch Rescue 911 (#OLD) on tv and be upset because I wanted to see the injuries in more detail, I wanted to ask questions and be there real time. I love the detective work in medicine and I LOVE meeting different people and hopefully making an impact in their lives. 
How did your husband go about becoming a firefighter? 
He started as an Explorer (basically shadowing), very young. He made connections that way, and worked for an ambulance company. He completed his academy as soon as he could, and climbed the ranks from there! He's a huge leader in the field and loves teaching, so if you have specific questions, feel free to email me!
Where did you go to medical school?
The Ohio State University, Go Bucks!
What advice do you have in becoming successful and reaching life goals?
It's not going to be easy. You can't expect things to happen overnight. You have to keep your head down, and avoid letting the negativity creep in. Keep supportive and positive people around you, and use them. 
What was your first "I made it" purchase after receiving your MD?
A black Chanel tote bag. I never owned a designer purse of this caliber and  had always dreamed of owning a Chanel. It was such a cool experience complete with champagne and laughs; I will never forget it.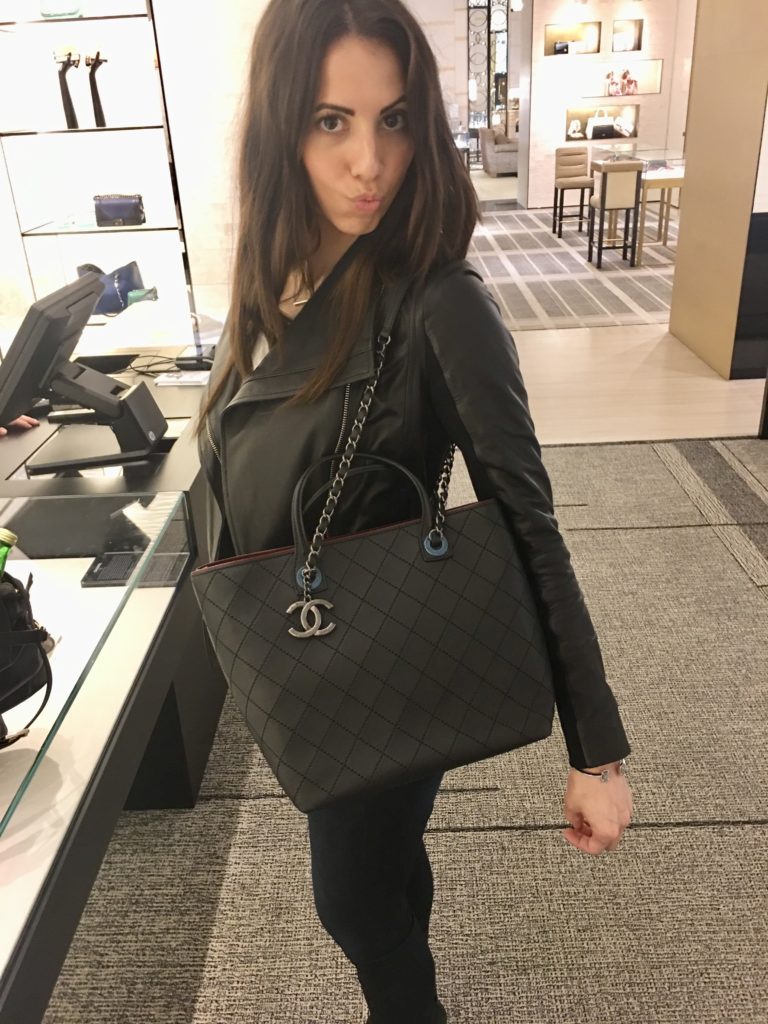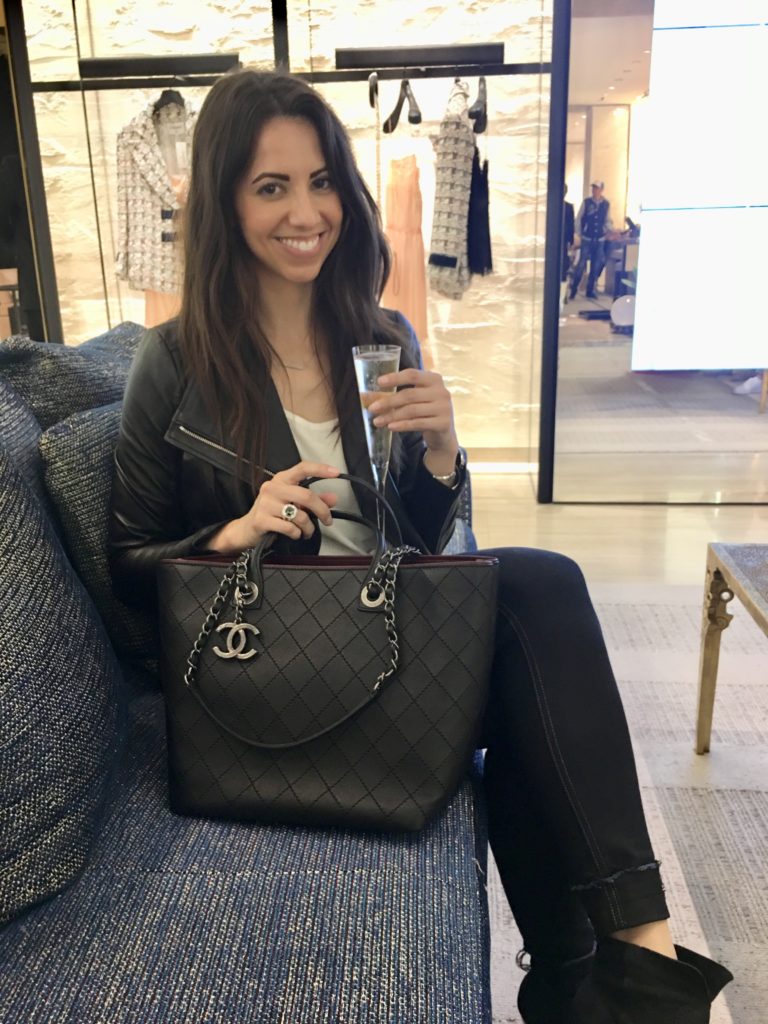 Favorite music?
I like a variety of music! Anything from EDM to pop to jazz to country on a hot summer day. Most commonly you can find my car Sirius radio station set to CHILL. 
How many kids do you want? Baby names?
Eek! Babies! We want two kids, but we should probably get started on that soon unless we want two toddlers at once! That's a NO for me. We want to name our children with names that start with 'C', so we can all have 'C' names. Someday we will have a boat called Majestic C's (like seas, get it?)!
What is your favorite place you have visited together?
Maui! The Four Seasons in Maui was by far the most luxurious and beautiful place we had ever been. You can find details on our honeymoon HERE. 
What are your favorite types of ED patients to see?
I LOVE a good joint reduction. I think I was an orthopedist in another life. Shoulder, elbow, hip, knee, ankle… bring it on! It's so satisfying and the patient feels better after you do it. I actually love the fact that it's not about strength, but more about technicality and positioning, which is a challenge sometimes. Overall I prefer the Emergency medicine complaints that you can fix or help in some way. It leads to better patient satisfaction which is satisfying for me. 
Despise: Neuro complaints! Tingling here, numbness there, all over numbness, dizziness, "I don't feel right"… my worst nightmare!!
Have you ever thought about teaching medicine?
I actually work part time at the academic facility (UC Irvine) in Orange County, where we have residents. I love teaching them things about community medicine, but overall I prefer seeing my own patients and having full control (control freak here). As far as teaching medicine in a classroom, I'm not really into that. I do enjoy educating my patients and community on Instagram! A different way of teaching, I suppose.
Thanks for sending in all of your questions friends! I REALLY enjoy hearing from you and I hope that you'll continue to send over your wants/needs/questions so that we can grow in this amazing community together. 
Stay tuned for June Q+A!