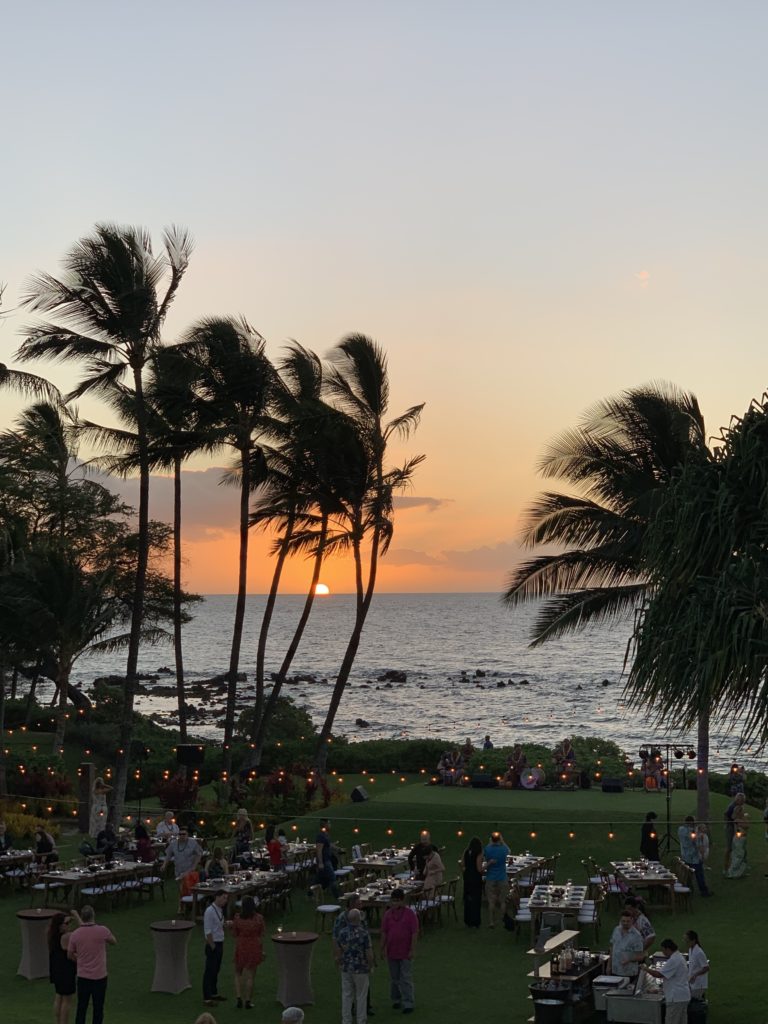 When Chris and I were deciding on a location for our honeymoon, we immediately thought of Hawaii. Neither of us had been to Maui, and it had been many years since we each took trips to the beautiful state. Plus, we have been thinking about a big trip to Europe this year, so we wanted to keep our honeymoon budget on a smaller scale and shorter flight. I had heard about Maui's beauty, but I really didn't understand just how beautiful it was, until I saw it with my own two eyes.
Because our lives are so busy and we would be winding down from a big wedding, we wanted absolute relaxation. We wanted a beach, cocktail, great food, and luxury. We also couldn't take off more than a week for the trip, since we had already used vacation days for the wedding. It was an easy trip to plan, with nonstop flights from LAX we were set! We didn't plan much prior to leaving, because we wanted to keep it relaxing and see how we felt in the moment.
To start, we left 2 days after our wedding, which was a great decision. It gave us time to clean up our home and pack without rushing. Chris booked a limo for us to take to the airport, so we could have a couple mimosas and enjoy the drive while we sat in LA traffic. So worth it. Honestly, it wasn't THAT much more costly than an Uber and far more comfortable.
The flight was easy; we picked up our rental car at the airport in Maui, and headed off to our hotel! I felt it was only appropriate to explore Maui in a convertible, and there are many mustangs available to rent at the airport.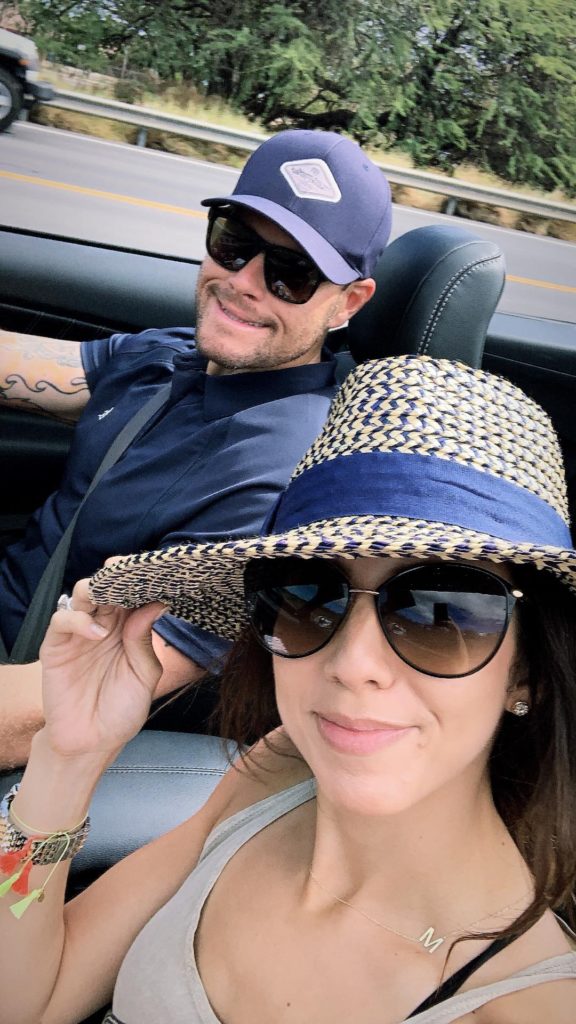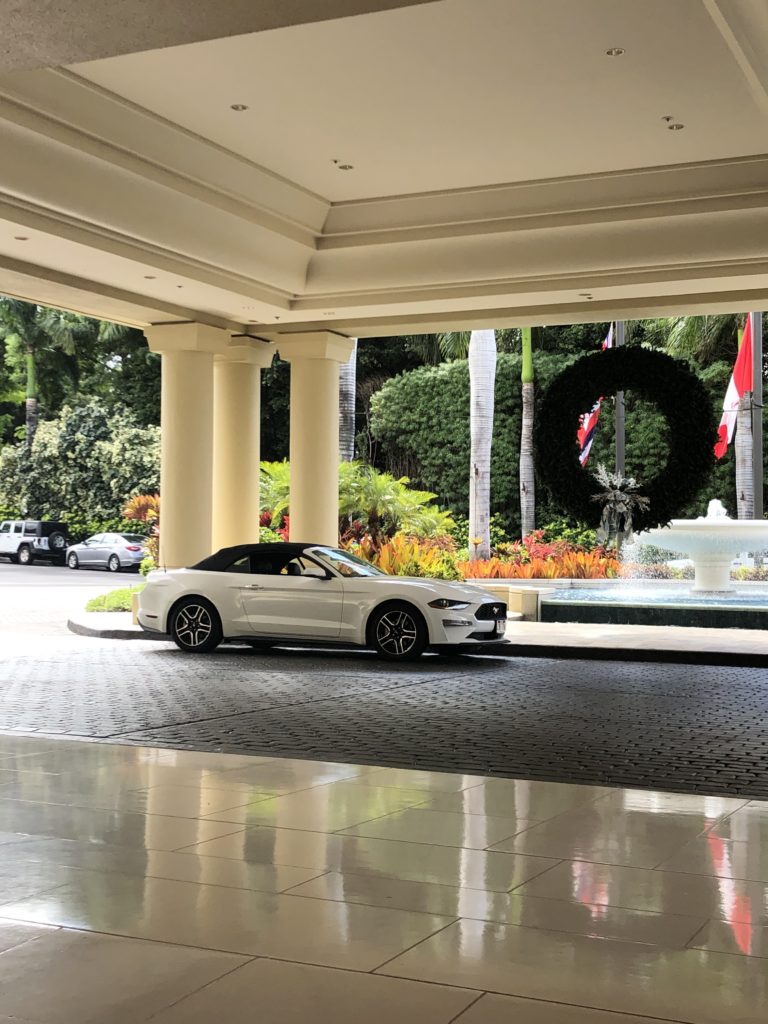 The Hotel(s)
I always choose to be super honest with you all, on my social media accounts, because I want you to know my true experiences and know that I'll give you the facts (and opinions). So hopefully you see my reviews here as helpful instead of complaints.
We preferred to stay in the less busy area of Wailea, and chose a hotel that offered a more adult vibe. There were many positive reviews for Andaz Maui (a Hyatt hotel), and it seemed to promote a romantic, couples' experience. The hotel is located on the beach, so you have both pool and beach options when soaking up some sun during the day. They offer snorkeling equipment, kayaking, and canoeing included in the resort fee, which was awesome. We spent a day out on the ocean kayaking and snorkeling right off the beach, where there were many fish and even turtles.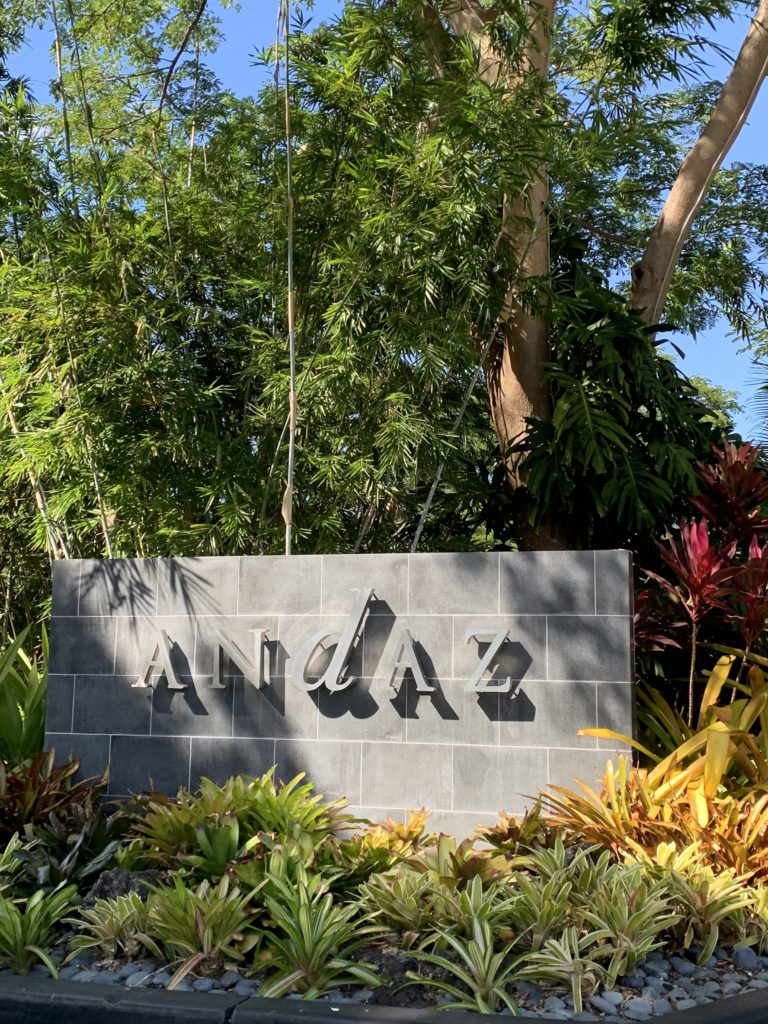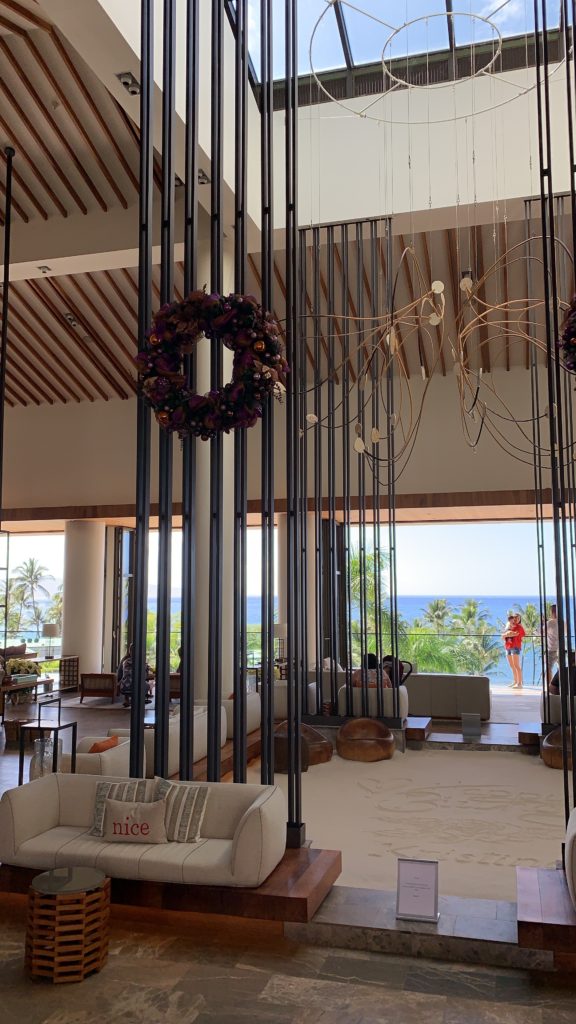 We arrived early and were able to check in, without issue. They didn't offer any upgrades for any reason, without a large fee. Our room had an ocean view and was beautiful, but lacked what I would call warmth. The floors were bare, although they offered slippers if you asked for them. The decor was very modern, overall, and the rooms were small. Our bathroom door didn't shut well and required a sort of slamming motion in order to get it to close. We ordered a movie on our second night there, and there was some issue with the connection, so it kept stopping during different parts. That led to us troubleshooting it ourselves, and eventually we had a maintenance person in our room at 10pm. We kind of gave up on the movie at that point.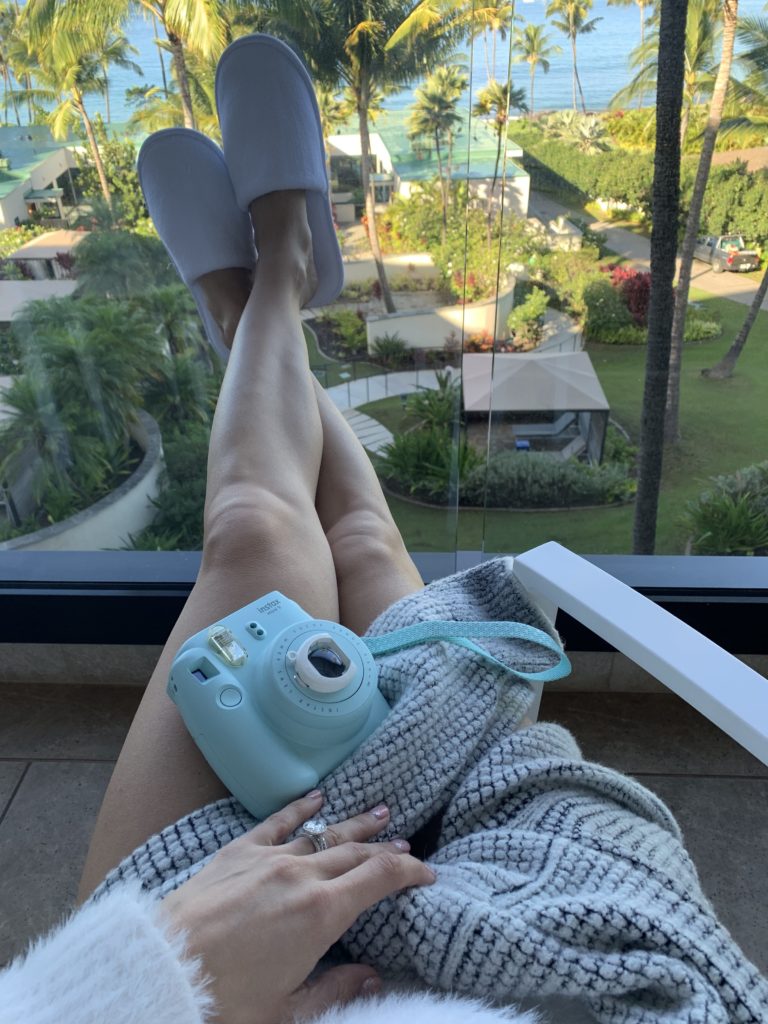 The pools were huge; tons of options for laying out in the sun or shade. There was also the beachfront lounge area, but it filled up pretty quickly. There was an adult's only pool, but hardly any people were over there and it seemed like poolside service on that side was spotty, so we chose to lay in the main areas. The food was epic, truly amazing. The drinks were very expensive, although also amazing. For some reason the price of wine in Maui seemed much higher than usual, especially at Andaz, so I stuck mostly to cocktails even though I love wine.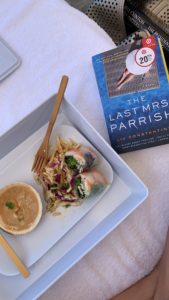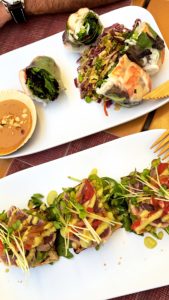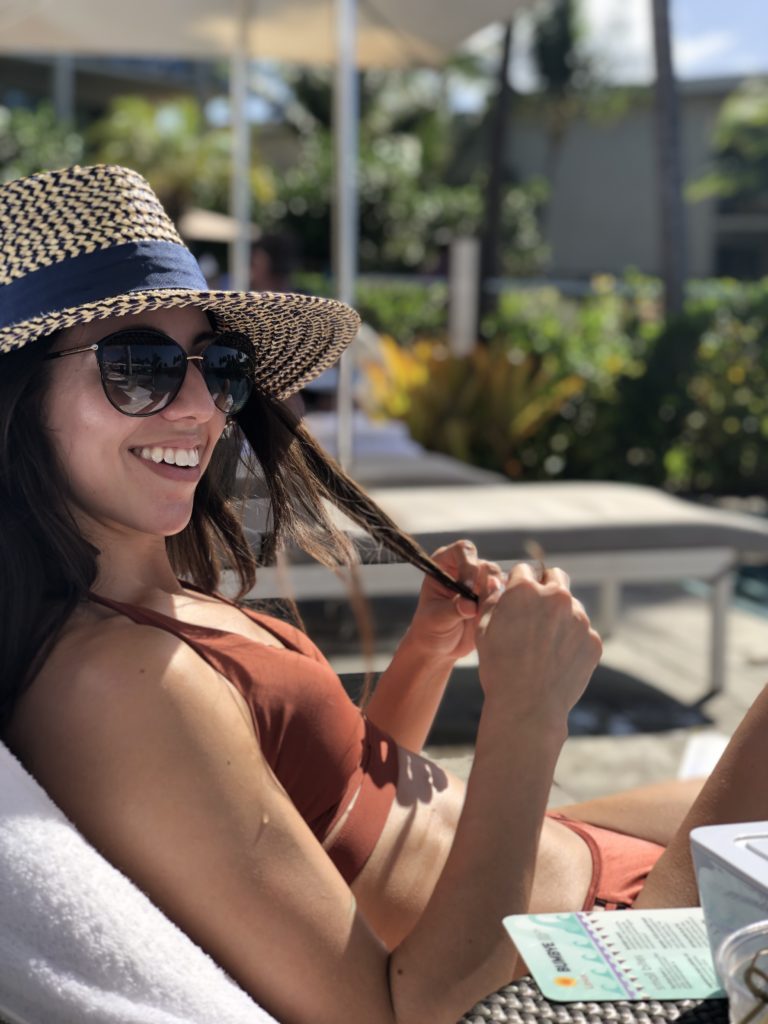 We tried to book a couple of sunset excursions on a sailboat, but we were told the tours were full and to be honest, the concierge was not particularly helpful or encouraging with getting us booked on an alternative tour or excursion. The staff was nice, but not overly nice, I'm not sure how else to describe it.
We happened to spontaneously read one of my Instagram DMs while laying by the pool, and Four Seasons was mentioned, for a dinner spot. We headed over there on our third night in Maui, and immediately were taken aback. The lobby was exquisite and HUGE, a place where many people were relaxing over a cocktail or glass of wine. There was live entertainment and friendly, smiling staff everywhere. It was probably about 15 minutes before we came up with a plan to leave Andaz and check in at Four Seasons the next day. Not without a fee, of course. But I'm honestly SO glad we made it happen, because it truly was just what we were looking for.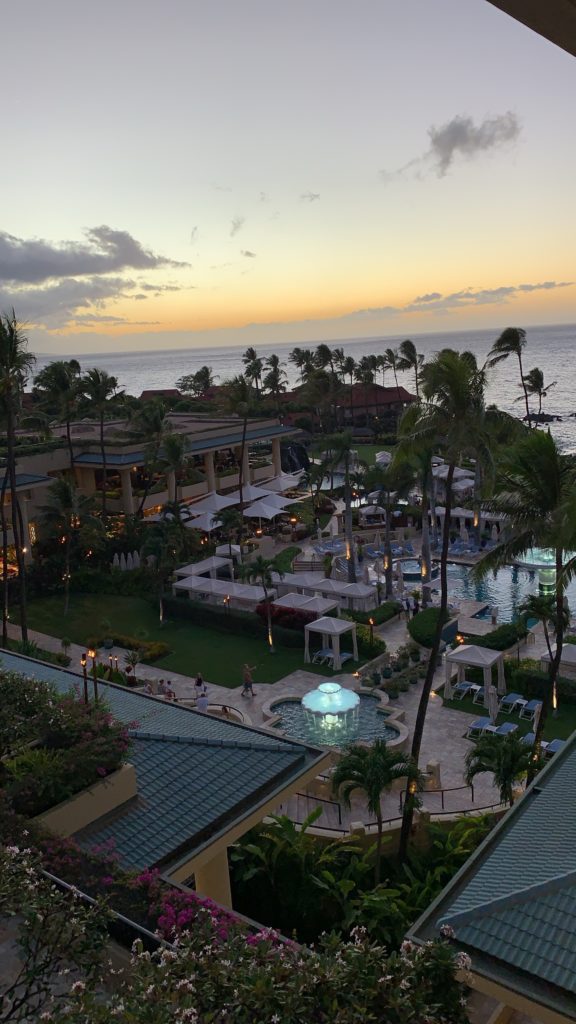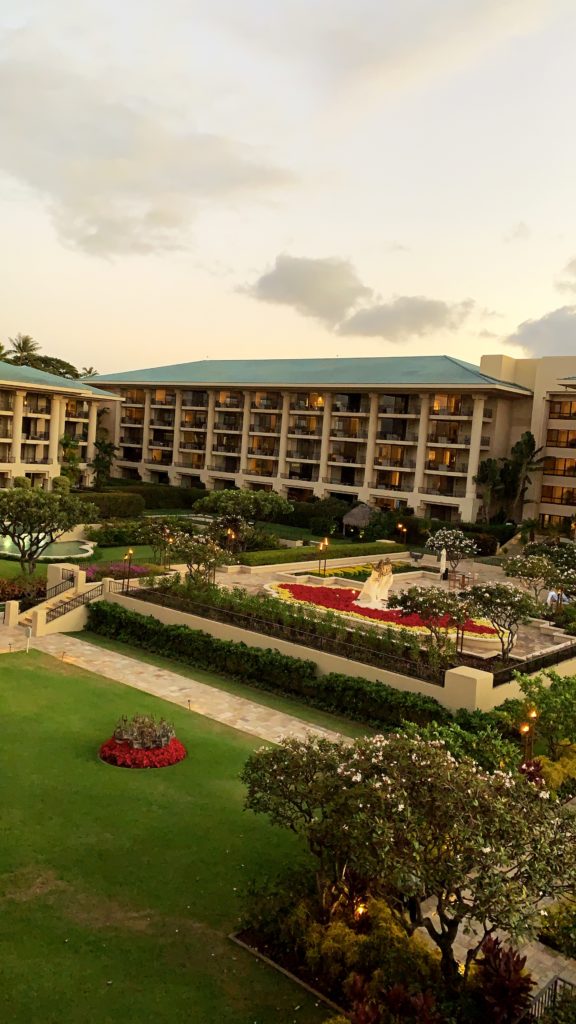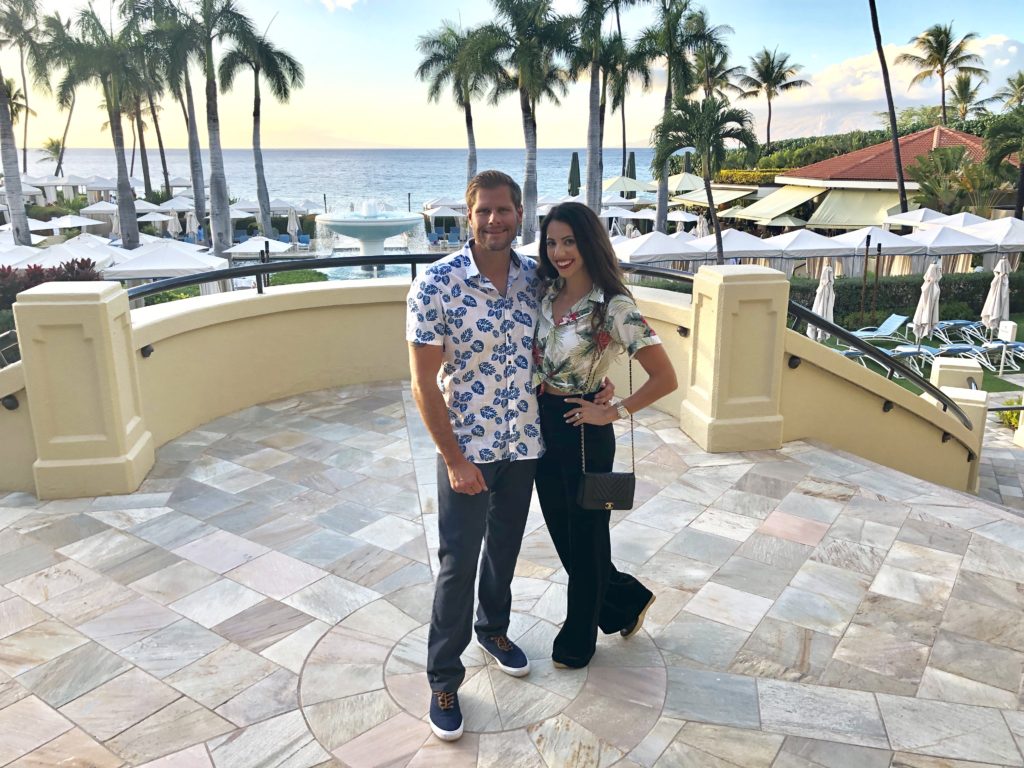 You can really feel the warmth from the staff at Four Seasons, as soon as you get out of your car. It helps that they say "welcome home" when you check in. The check in process was seamless, we also had early check in here, without issue. We had a garden view room here, as they upgraded us from a mountain view, for our honeymoon. The rooms are MUCH larger here, and carpeted, which makes it feel warmer. The bathrooms are enormous and ornate, with internal speakers built in that allow you to easily enjoy music while showering or getting ready. The bed and pillows… I can't even talk about it. Best sleep of my life. I'm already planning on ordering Four Seasons pillows asap!
We did ironically have one issue the first night, when we were awoken by our neighbors screaming at each other for hours. Hey, I guess vacation isn't relaxing for everyone! It was pretty bad, and we mentioned it to the hotel expecting nothing, but instead received an upgrade to a beautiful ocean view room. What an adventure! Packing our bags for the third time on this trip, we laughed about it and were just thankful for the amazing service.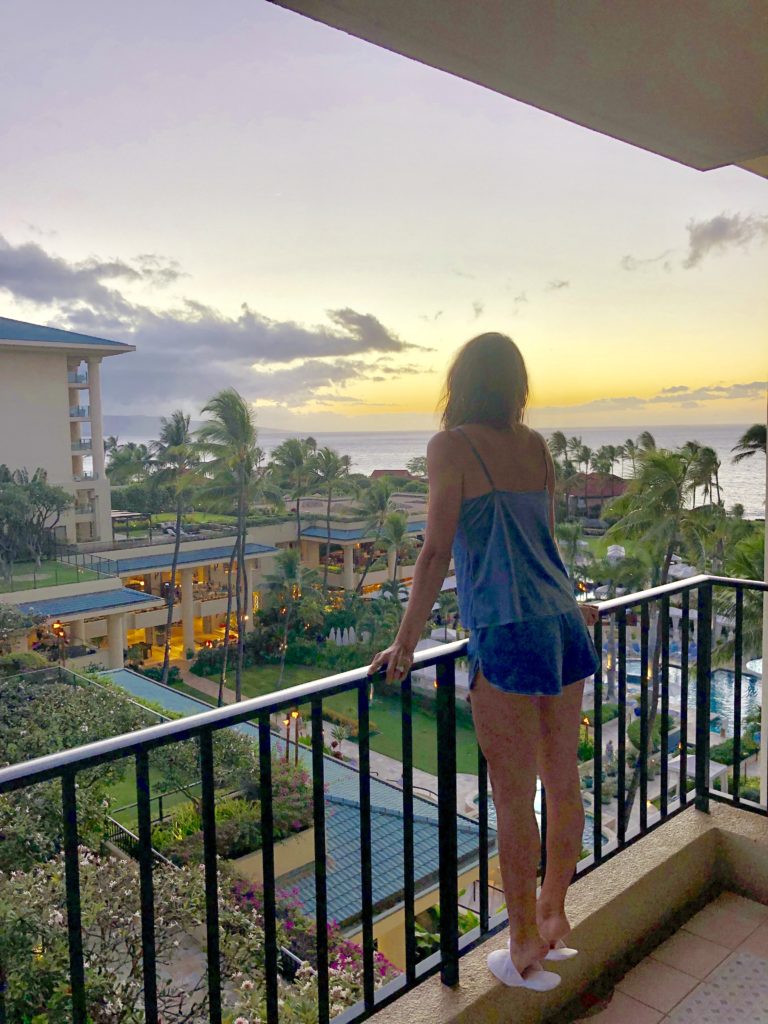 There was a multi-tiered pool in the main courtyard of the hotel, but also an adults' only pool on the side of the hotel. Now this was the real treat. The downside- the chairs fill up early, and I'm definitely not one to get up early just to get a chair by the pool. We headed to the main pool on our first day there, but quickly were able to switch to the adult pool, when they called us with available chairs. The views from the pool are EPIC. There is a swim-up bar, and constant attendants circling the chairs to see if you need anything. They provide sunscreen, evian water spray, and an amazing poolside menu.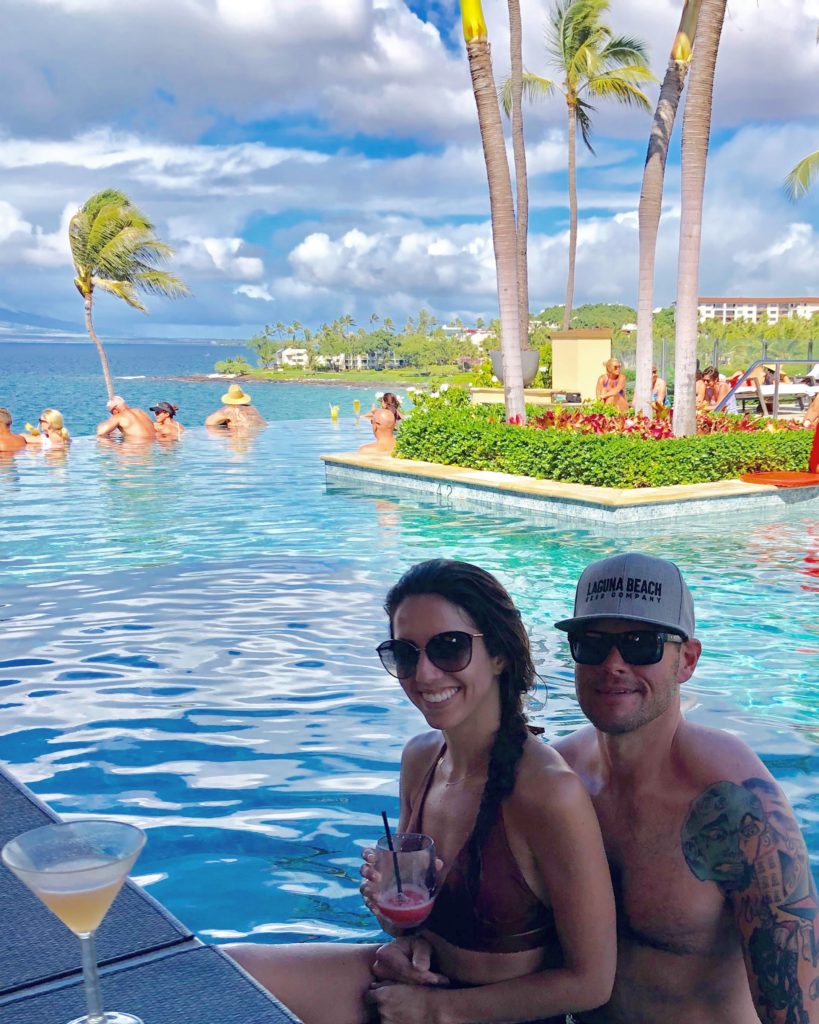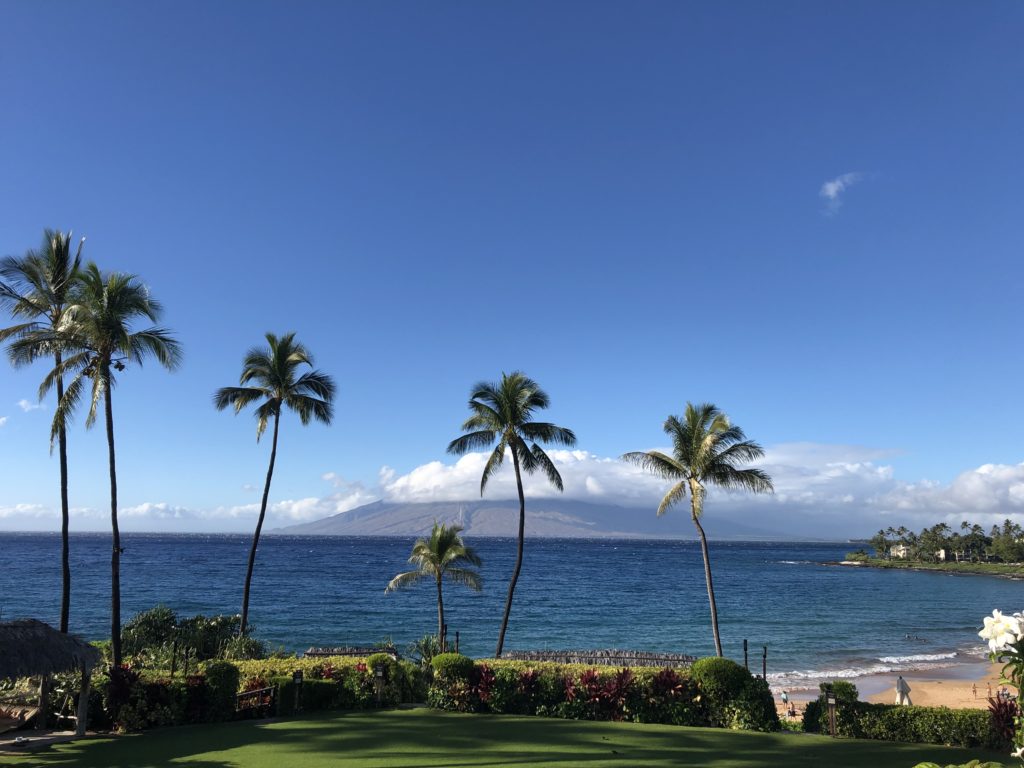 Chris and I didn't spend a ton of time worrying about workouts, but we do like to enjoy a hotel gym when we can. I have never seen a hotel gym like this one. It's partially outdoors but not miserable with humidity. There is constant cleaning happening, and the amenities at the gym include headphones, towels, and eucalyptus towels.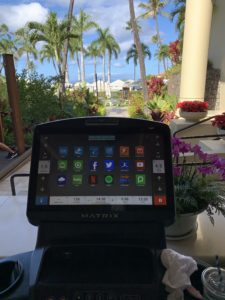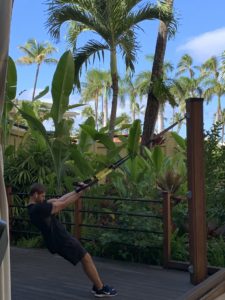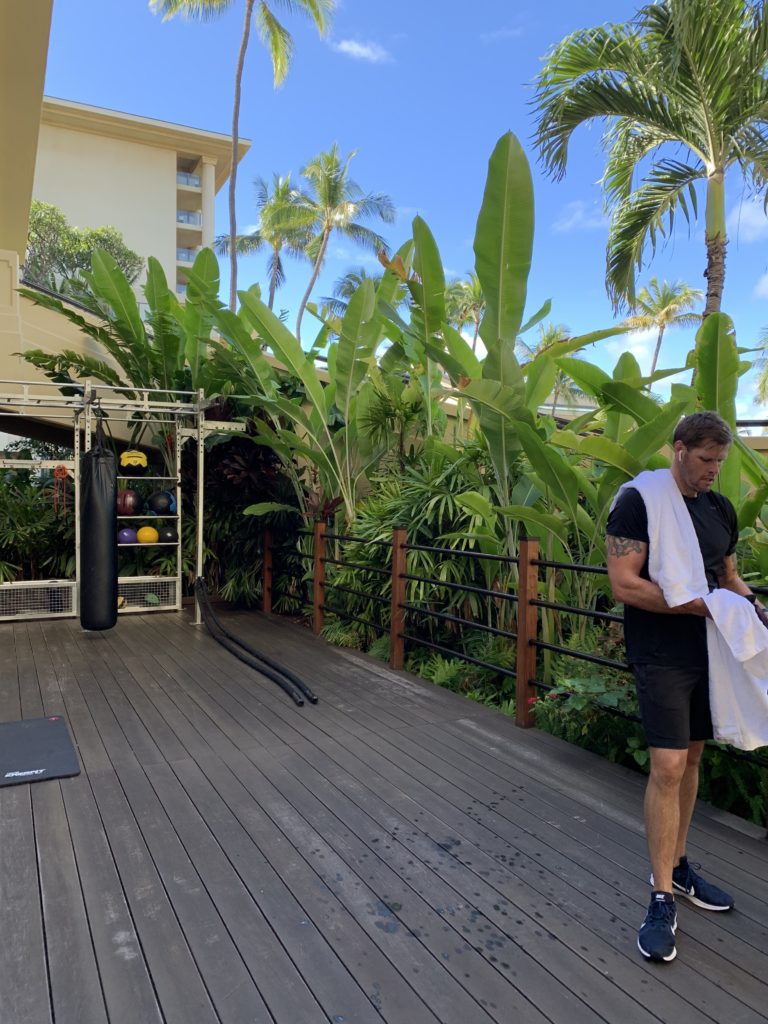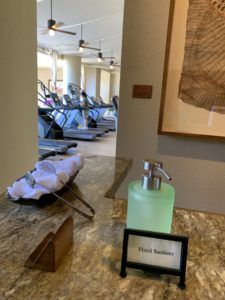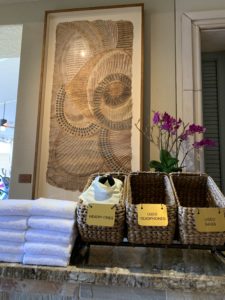 One of my favorite moments of the trip (and probably life in general), was my poolside massage experience. I had an hour long foot massage, overlooking the ocean, while eating a poolside hot dog and fries, I might add. Seriously my dream.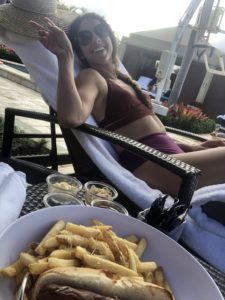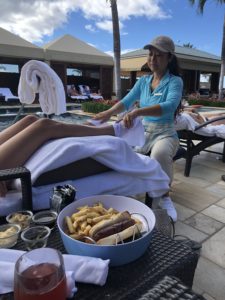 We ordered room service twice, and it did not disappoint. I'm telling you, Four Seasons Maui has the BEST pool/room service menu I've seen, and includes healthy options. They also offer airport snacks- basically make you a lunch to take on the plane and you order it before you check out so they'll have it ready. We even ordered a movie one night, free of interruptions or maintenance required.
Funny thing about all of this… is that I went back and forth for HOURS about Andaz vs Four Seasons. I even went to change our reservation to Four Seasons at one point, only to find out that Andaz has a 21 day cancellation policy. Go figure! I also want to add here that these hotels are very similar in price. Our ocean view room at Andaz was the same price as a mountain view room at Four Seasons. If I had to choose, I'll take service over a view, any day.
Chris and I agreed that both hotels were great, and it's no wonder they both received fabulous reviews, but Andaz felt very cold and lacking in true customer service while Four Seasons was over the top luxury.
Where we ate 
We spent most of our time at the hotels, where we had some very impressive eats. 
Ferraro's– located oceanfront at Four Seasons, true Italian cuisine with some of the finest views I've ever experienced. Food is divine and they offer wine deals after 8pm. We ate here twice! Call ahead for a reservation, they fill up quick, especially around sunset. Do yourself a favor and get the rigatoni.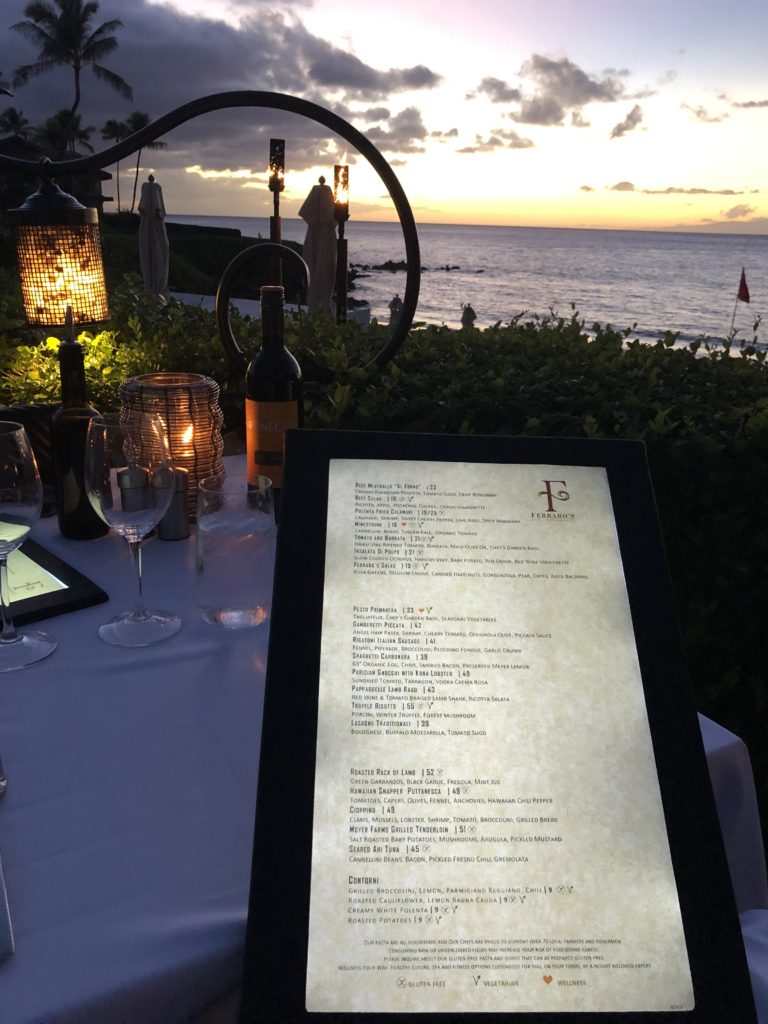 Ka'ana Kitchen– breakfast is a must here, if staying at Andaz. They offer a buffet, but I never really get my money's worth at a buffet, plus it didn't include the king crab with poached eggs or these stellar pancakes I had been looking forward to for months! Get the mimosa with pog (passionfruit-orange-guava) juice.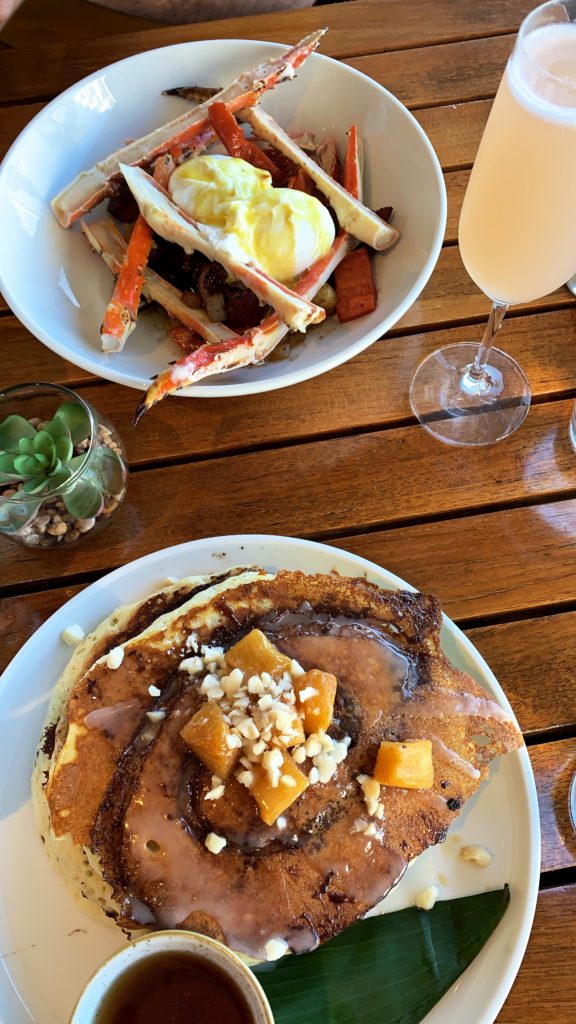 Morimoto– located at Andaz. Very pricey, but SO delicious. The rock shrimp was different than any I had had in the past and the sushi was super fresh. Overlooks the ocean and has indoor/outdoor seating.
Mama's Fish House– located in Paia, can one even go to Maui without hitting up this iconic spot?! It was about 40 minutes from our hotel, and worth the drive. I made reservations 4 months out… yes FOUR MONTHS. Do it! Don't let this one slip through the cracks. We started with the mahi-mahi rolls, shrimp won ton, crab cakes, and split the crab/lobster stuffed fish for dinner. You know Chris doesn't leave anywhere without dessert, so we polished off the banana nut crisp for dessert, paired with mai tais of course.
This place was so fun, located on the beach with fabulous photo ops (make sure you go before sunset), and had a true Hawaiian feel with excellent service.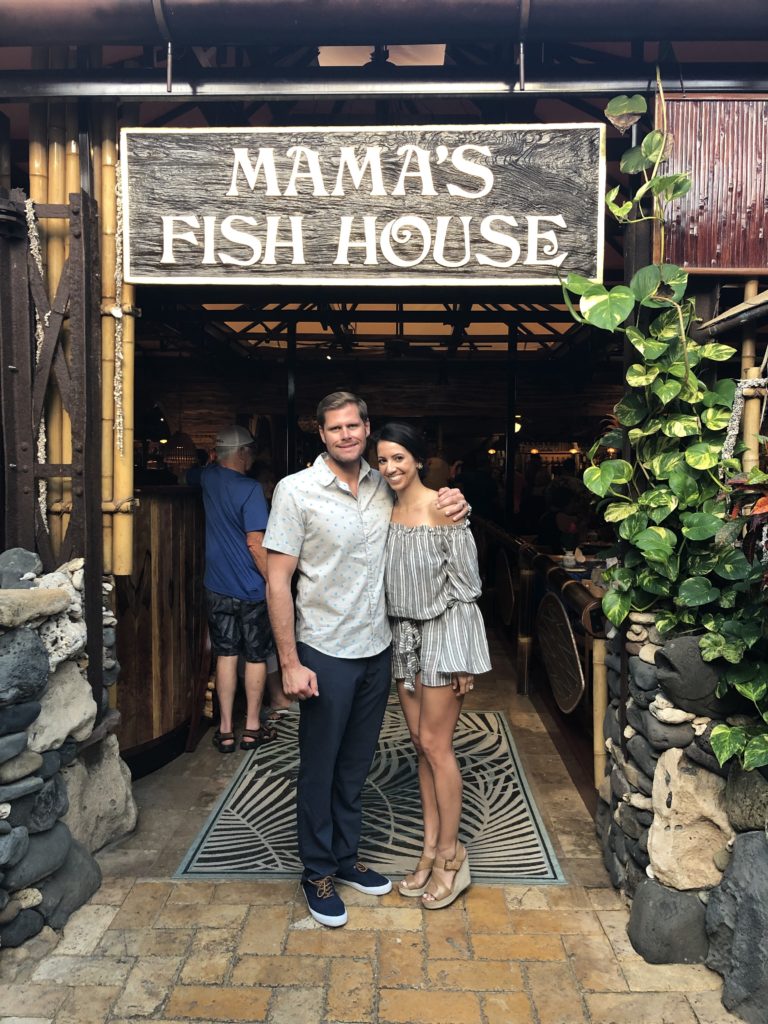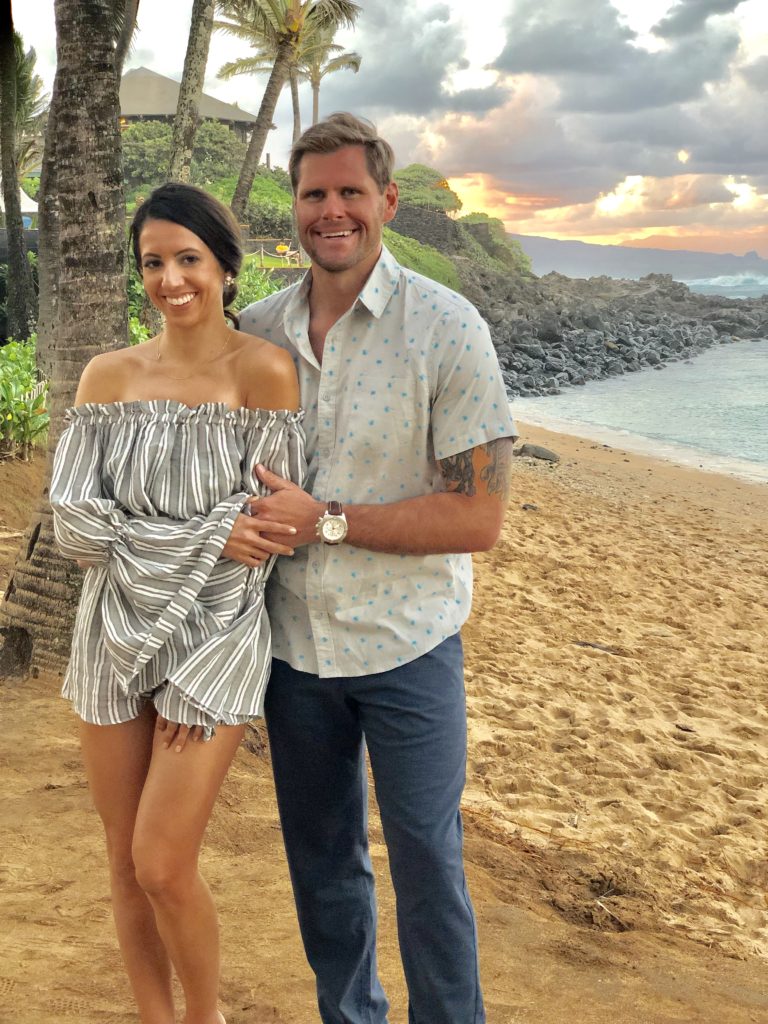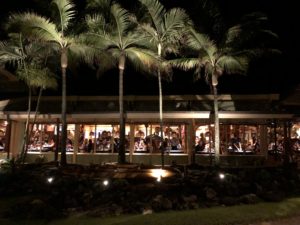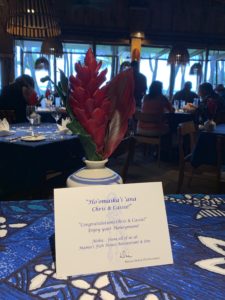 Toby's Shaved Ice– located in Paia, and know for their shaved ice, they also have insane poke. We didn't try the shaved ice because we were so full, but the poke did not disappoint and the environment is beachy, like a locals' spot.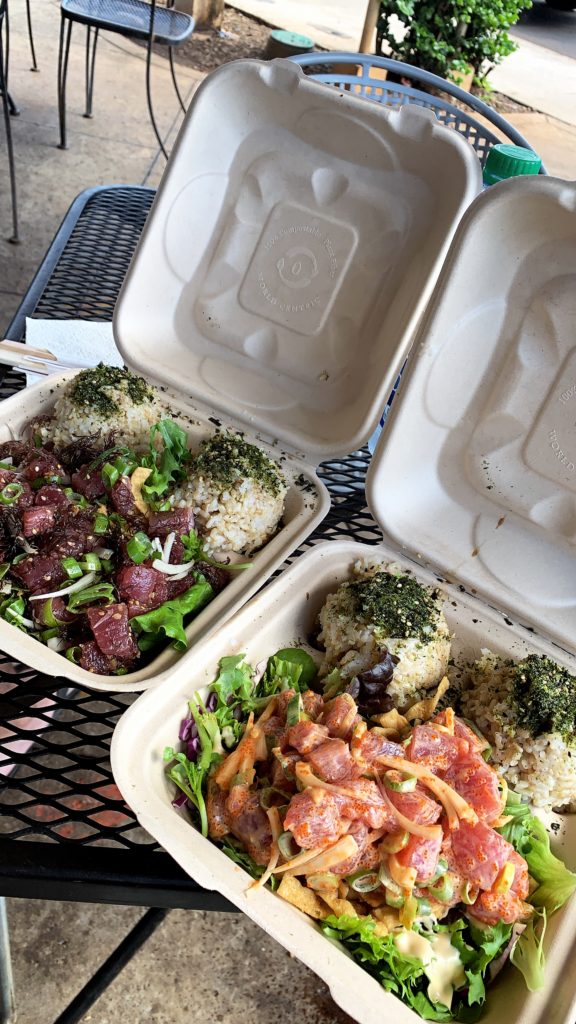 Activities
Chris and I were ambitious in the beginning, but after the hotel switch we cut back on our original plans and chose to enjoy the hotel life for the most part. We ventured out to Paia one day and shopped around for cute souvenirs. We stopped at Ho'okipa Beach Park to watch some waves and almost tripped over a turtle, or two, while walking the beach. I had to have a roadside coconut, and we snagged some authentic banana bread to take home.
The turtles are sacred in Hawaii. General rule is that you never touch them, and should stay 10-15 feet from them, and avoid blocking their path (trust me you have plenty of time to get out of the way haha).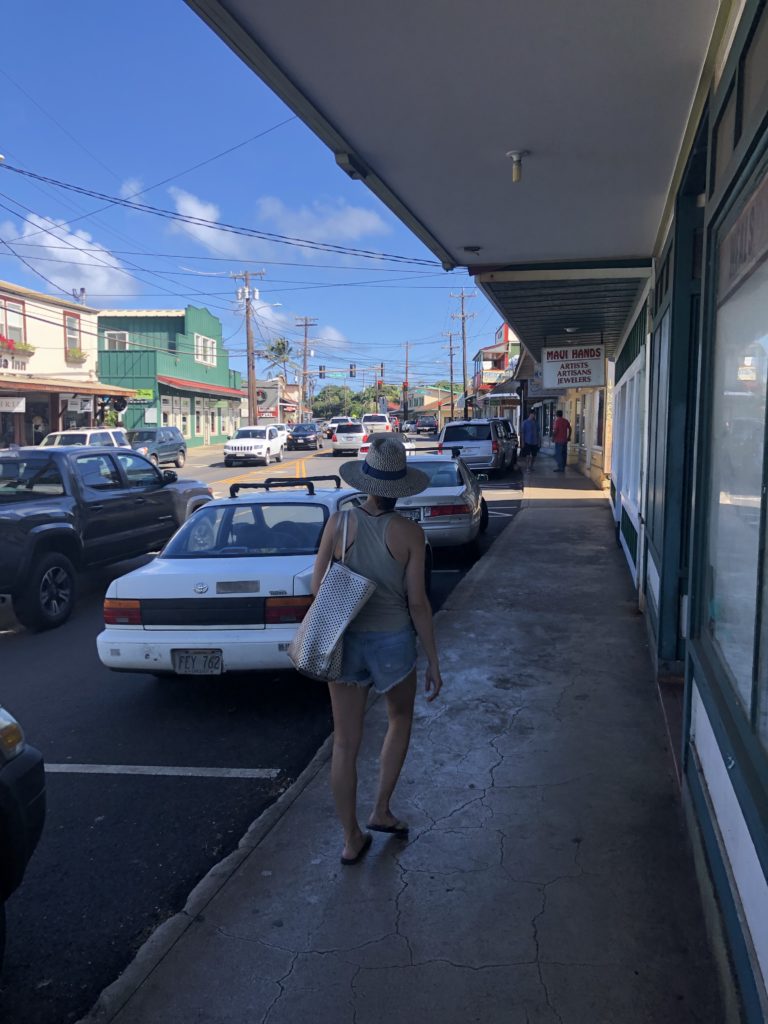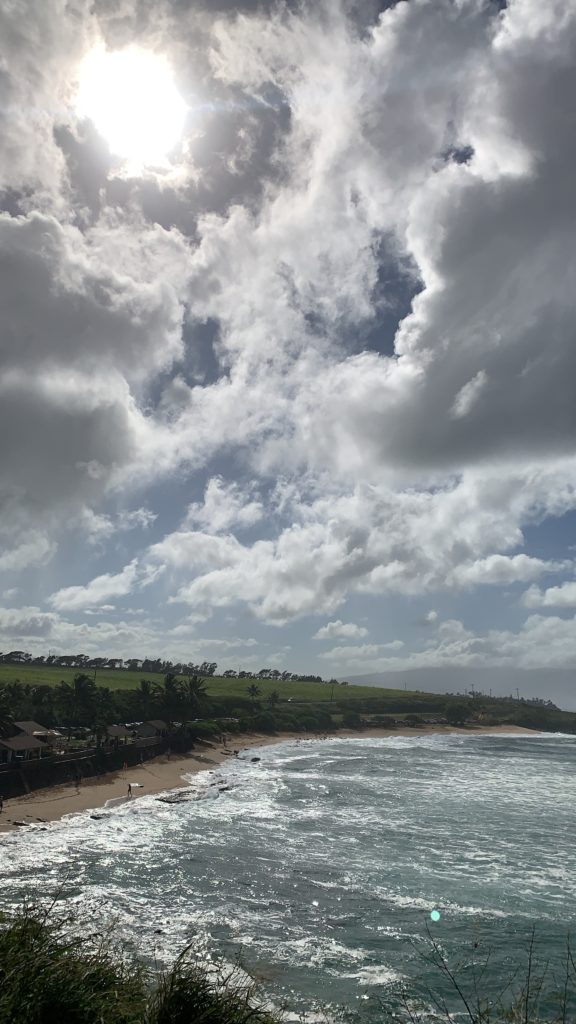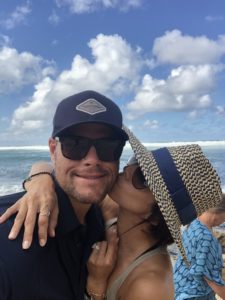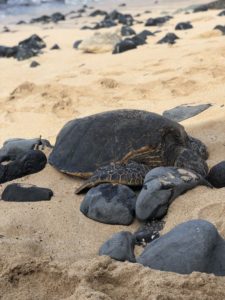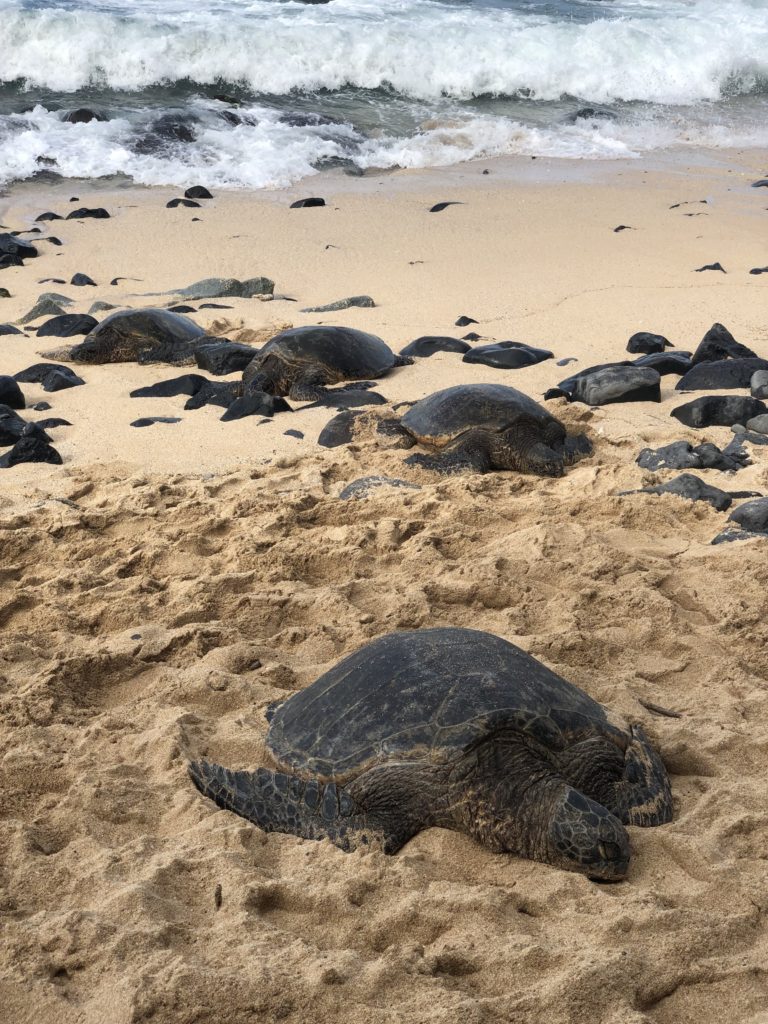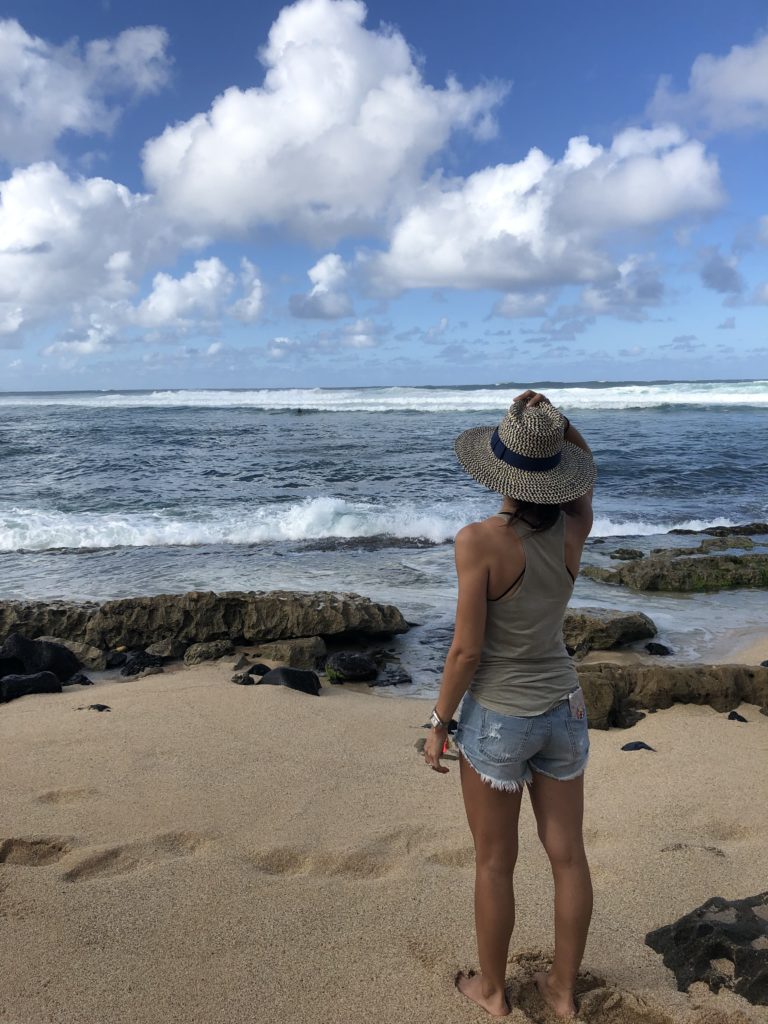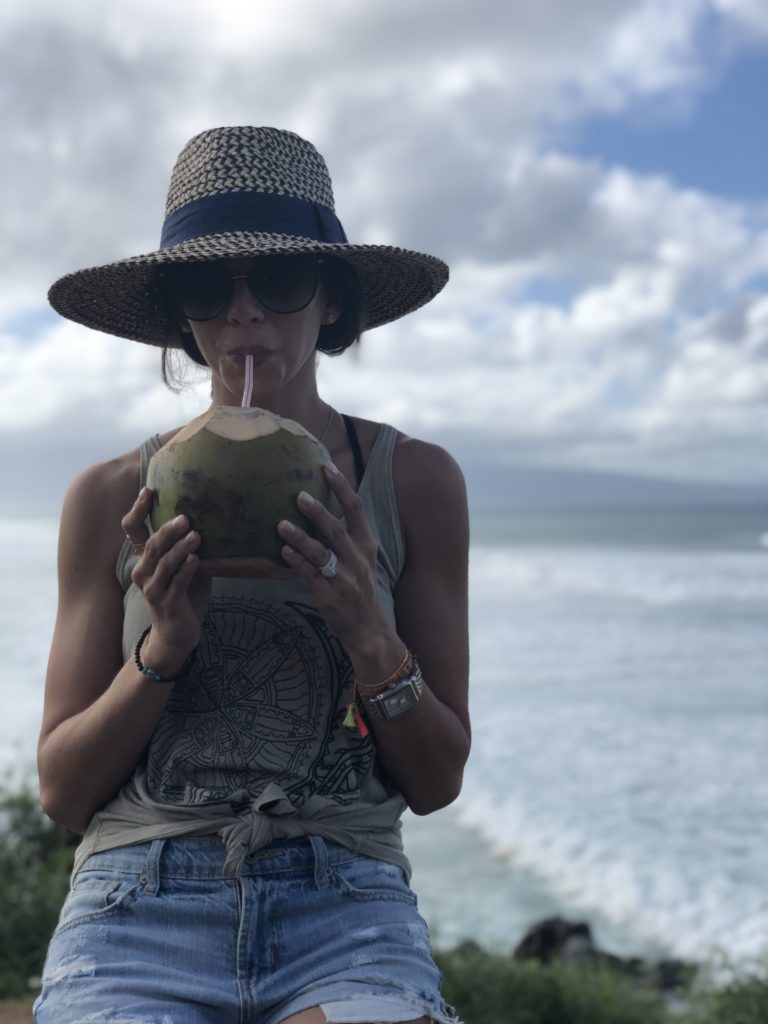 We stopped in for a little tasting at Maui Brewing Co on our way back to our hotel. I'm not a huge fan of beer so I stuck with the super sweet ones.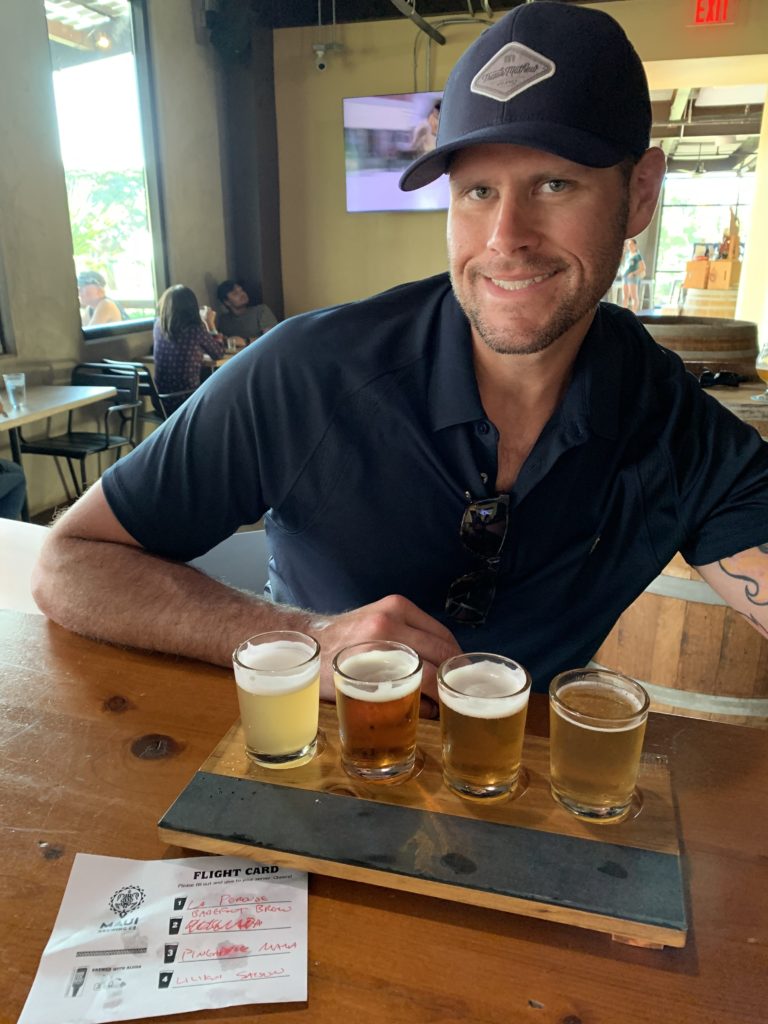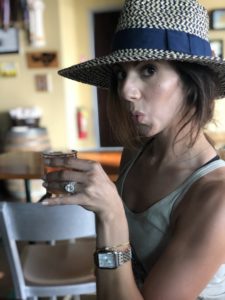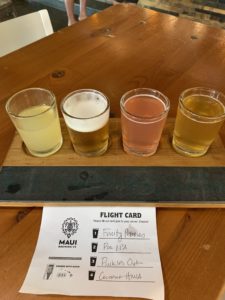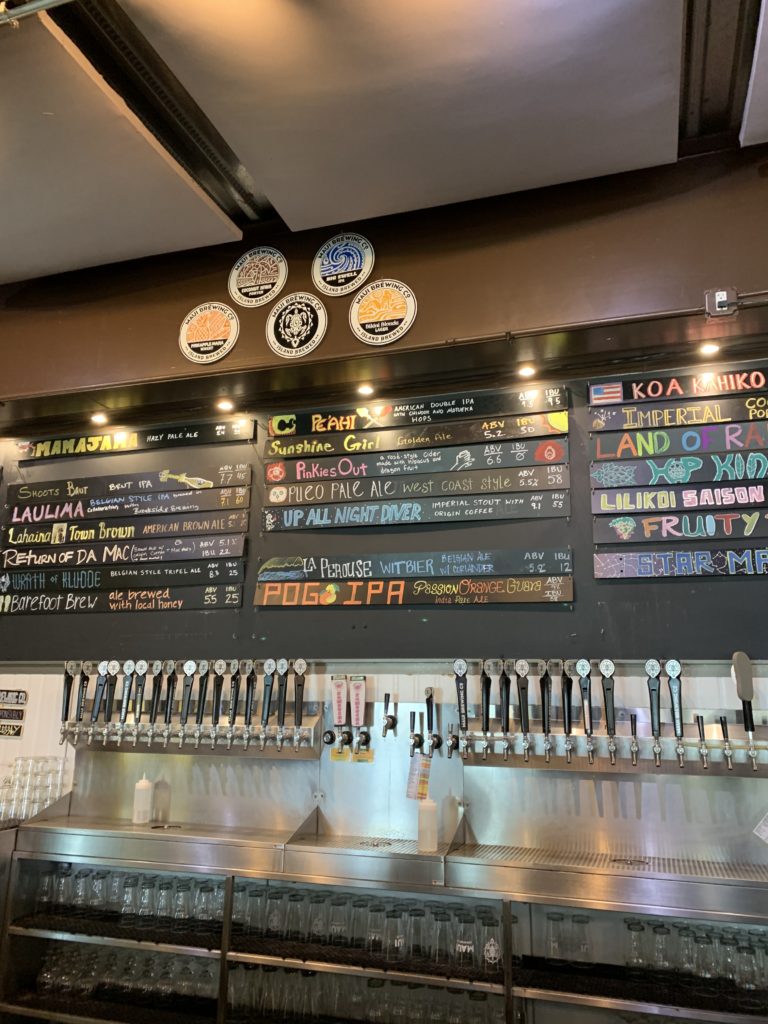 Grand Wailea Spa was also on our list and was UBER luxurious. Seriously the most amazing spa experience I've ever had. I have no photos because I was too busy relaxing, but take my word for it, it's fabulous. Chris and I had a couples massage and body scrub, with bath. The lockerroom room facilities are so grand, with multiple jacuzzis and baths filled with different aromatherapy oils. It truly was an experience we will never forget, and the service was impeccable.
What to wear
We checked the weather before we left, and it was reporting 60's-70's. The actual weather in Maui… 70-80, and humid! Chris and I definitely wasted a ton of space packing clothing that we didn't need. I suggest your typical beach wear- shorts, tanks, bathing suits, summer dresses, rompers.
Full disclosure- I spent most of our trip in bathing suits or pajamas! It was divine. I kept the honeymoon attire super simple. I didn't care much about accessorizing, I just brought some of my favorite pieces of jewelry and practical accessories like hats, headphones, and books.
I invested in some cute pajamas that were super comfortable, and a little more luxurious than my typical mismatched shorts and sweatshirts.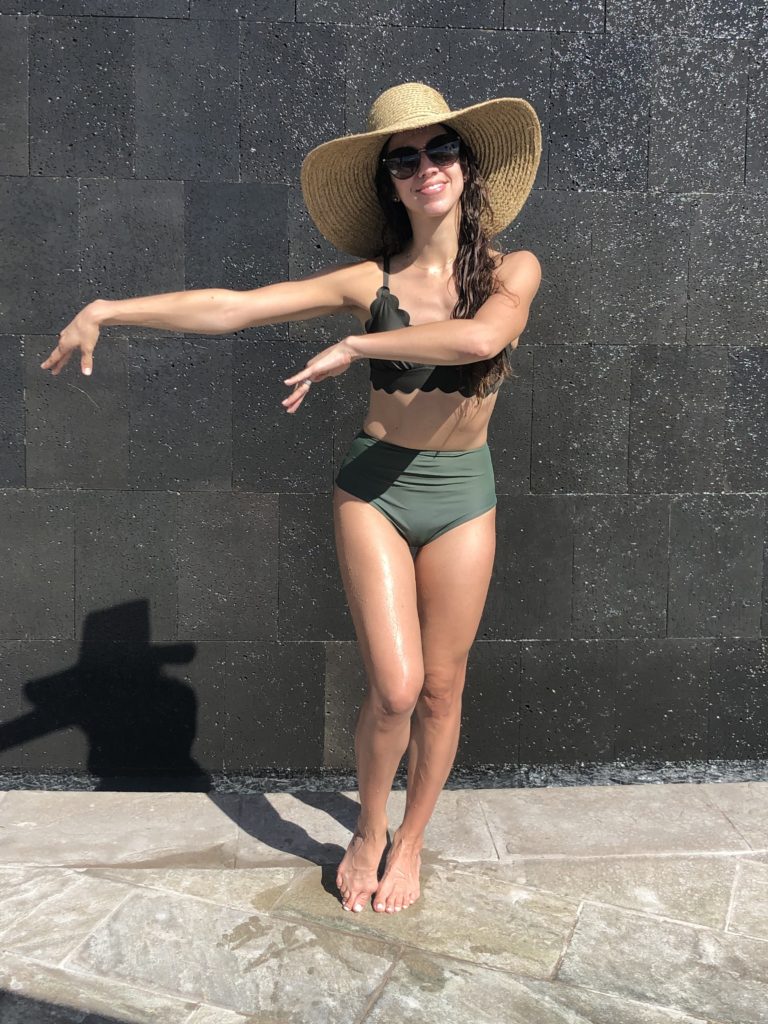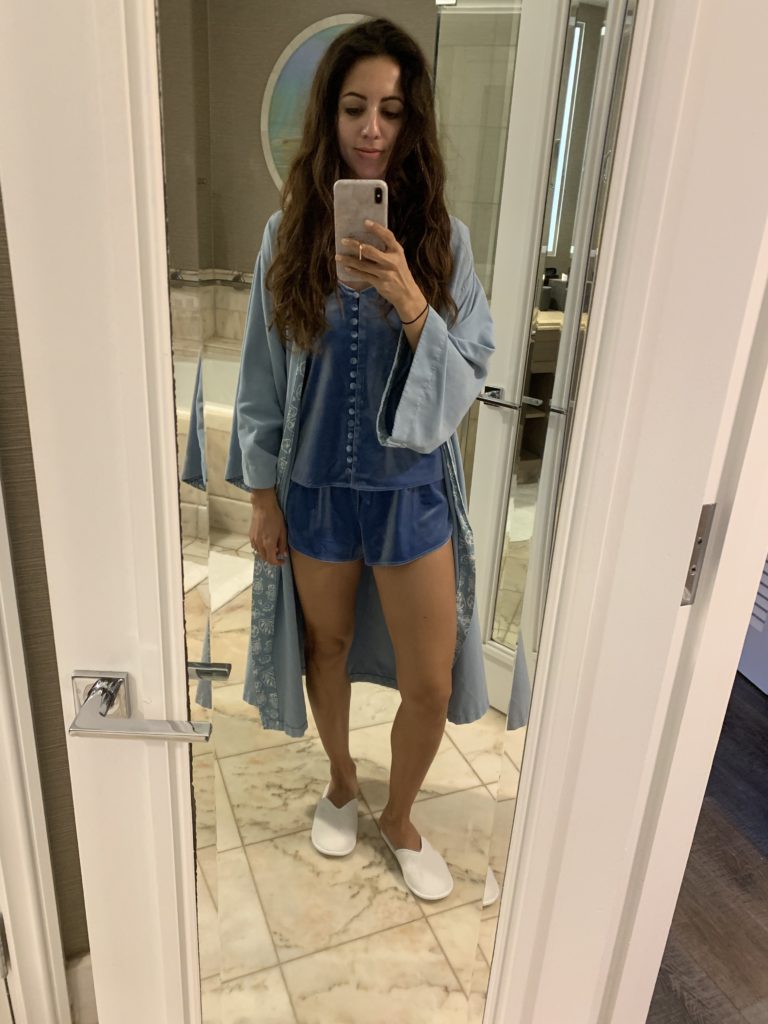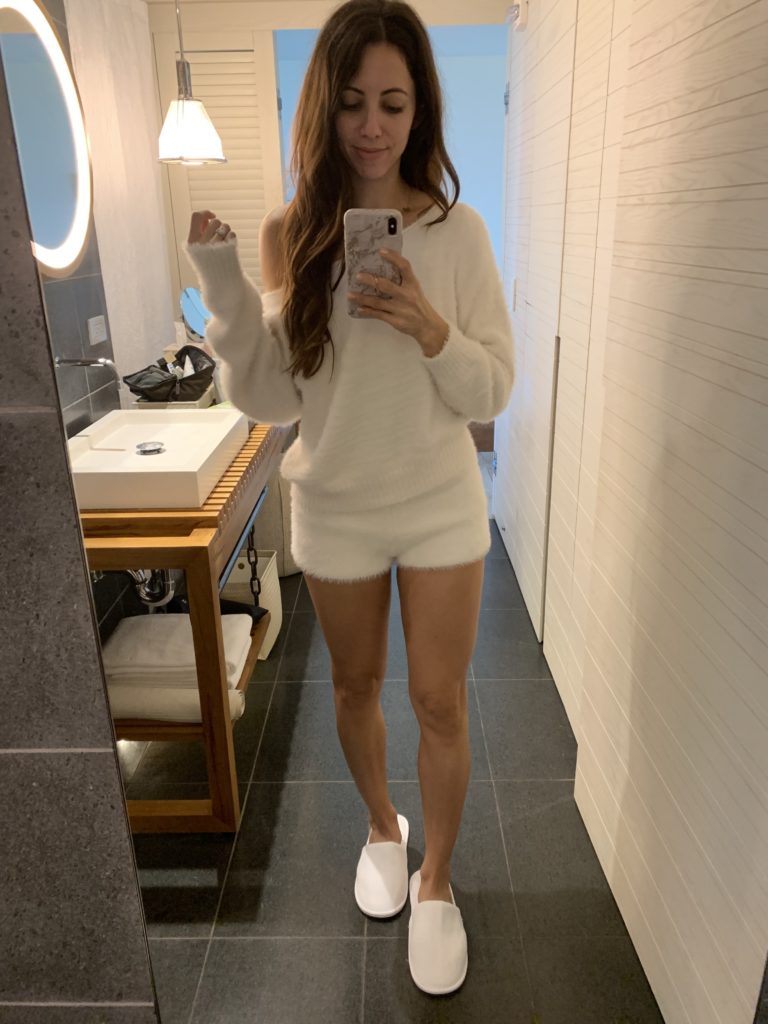 I have such fond memories of our honeymoon in Maui. It was the perfect combination of activities and relaxation. We returned home feeling rejuvenated and with memories to last a lifetime. If you are out there planning your honeymoon, remember to take a step back and keep things simple. It's all about you and your new spouse, so don't get overwhelmed and if things don't go according to your plan… just pack up and move somewhere else! 🙂 No sweat.