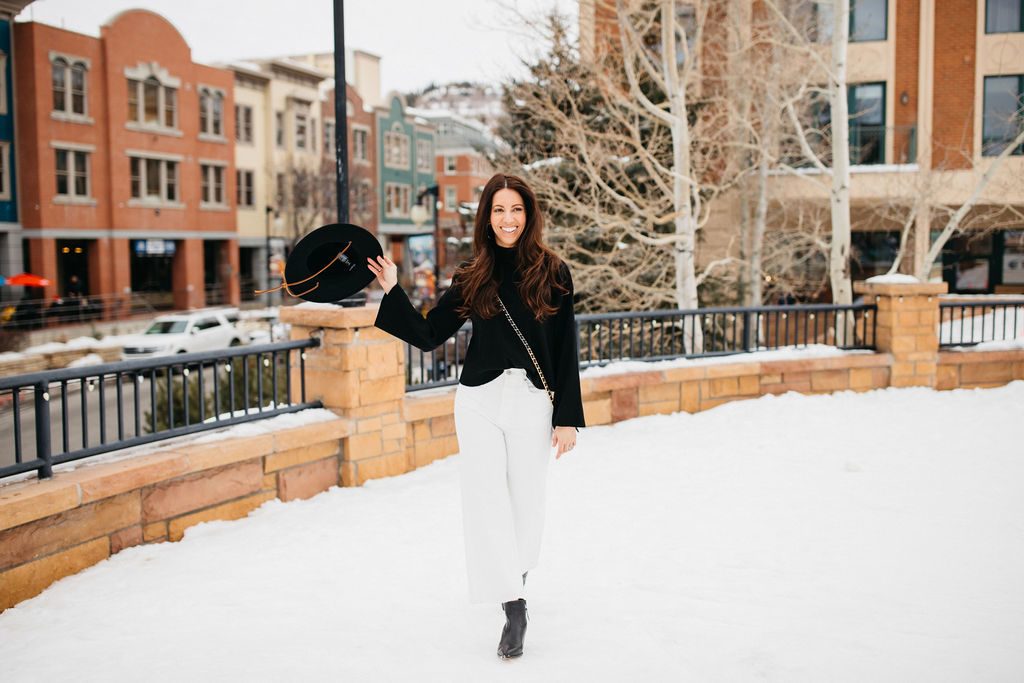 I knew I wanted to take Chris somewhere special for his birthday, and Park City seemed to be a natural choice, because this California boy loves the snow! I had been there for my bachelorette party (you can find details on that HERE), but I had never been to ski, and I am SO glad we went. 
It was all a surprise for Chris, and he didn't know until we arrived at Long Beach airport and I gave him his boarding pass. So much fun keeping a level of suspense for your loved one's birthday! 
We stayed at the Marriott Summit Watch and I used Vacation Candy Rentals to book. Park City is NOT cheap in the winter season and I wanted him to have the full Main St experience for his first time visiting. This hotel is half vacation rentals, half hotel, and the location does not disappoint. It's right on Main St and we were able to walk to all of the cute shops and restaurants. 
Our very first stop when we arrived was High West Saloon. Get the burger, you will leave satisfied and happy! We also had the chicken wings and pretzel and they were mouth watering. We ended the night at Alpine Pie Bar, with a large slice of pie and a glass of champagne. It's this cute little speak easy beneath a restaurant with romantic vibes; highly recommend!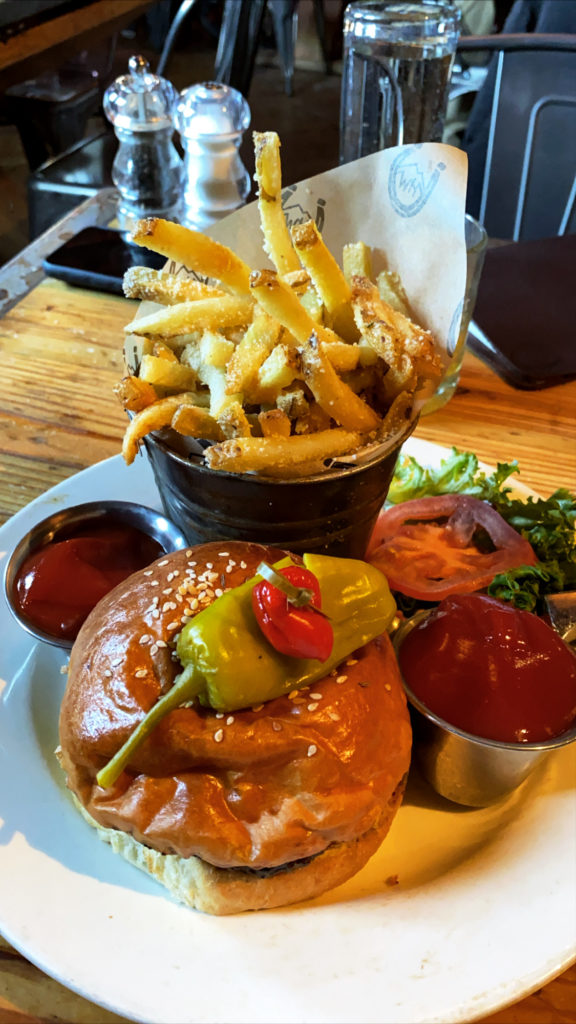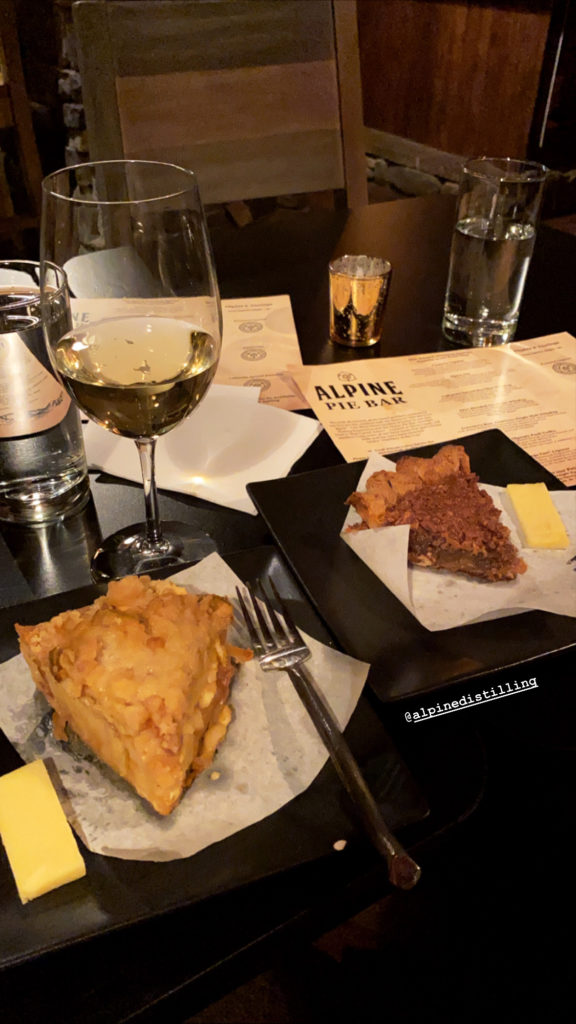 Chris and I are not advanced skiers, so I spent a ton of time researching the best place to ski and came upon Deer Valley. The prices are high but the snow is great and it's a ski-only mountain that limits the number of lift tickets they sell in a day. I purchased ahead of time and reserved rentals out of Deer Valley Resort. Don't get me wrong, the skiing was excellent, but the main attraction for me over here was the epic Veuve Cliquot yurt at Montage Deer Valley. This is a pop-up that will only be there until April sadly, and in my opinion is a DO NOT MISS if you're going to Park City. You can ski in/out for lunch, as it's only open from 12-4pm daily. Even for novice skiers like ourselves, it was easy to find and there were green runs available to get there.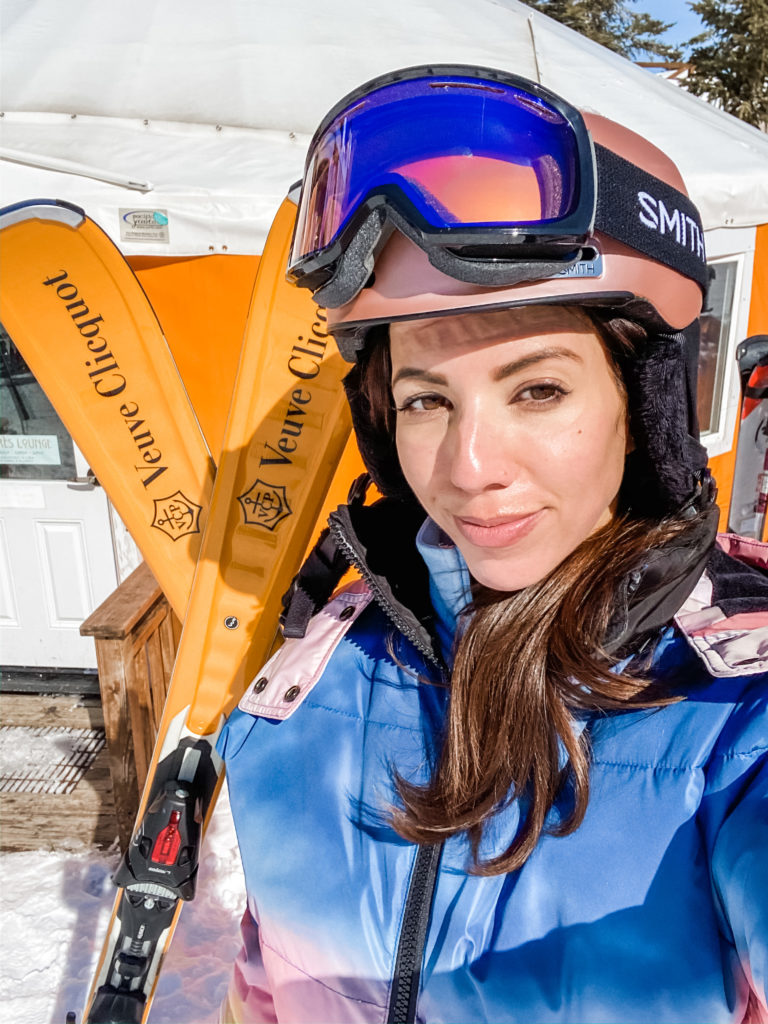 If you watched my stories, you'll know that I had a little goggle snafu that I realized only once I got to the Veuve yurt where I was super excited to take photos. I bought a brand new pair of Smith goggles and after only 3 hours of skiing, they left a huge imprint into my forehead. "This happens to everyone", you're thinking. Nope… these had the brand name written on the inside. I had the word Smith imprinted into my forehead for HOURS. I even had the goggles on the loosest setting with my helmet. If you zoom in you can see it, I left this photo unedited for your viewing pleasure!
I had to suck it up, it's not like I'll ever get back to this yurt! So we drank champagne and ate charcuterie and the most delicious mini sandwiches, while everyone probably questioned my choice in goggles. SO worth it.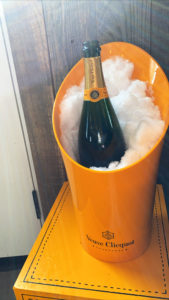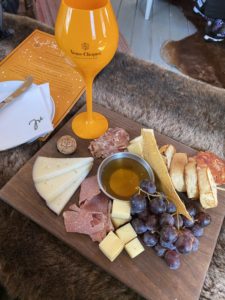 I was able to find a new pair of goggles at Deer Valley Resort and they even took my other pair back, which was very validating! In fact, the lady working there bluntly said, "I am mortified for you"! I knew I wasn't overreacting! In the mean time I found a headband to cover my Smith forehead branding and we headed to the St. Regis for a little après ski action. This property is special because you have to take a funicular from the slopes to get up to the main part of the hotel. They have a tradition everyday at 530pm where they saber a bottle of champagne on the beautiful terrace overlooking Deer Valley and hand out free champagne to their guests. We stayed for dinner at Brasserie 7452 and ended the evening with s'mores cheesecake and hot cocoa. Don't worry, I found a headband to cover up my Smith goggle branding.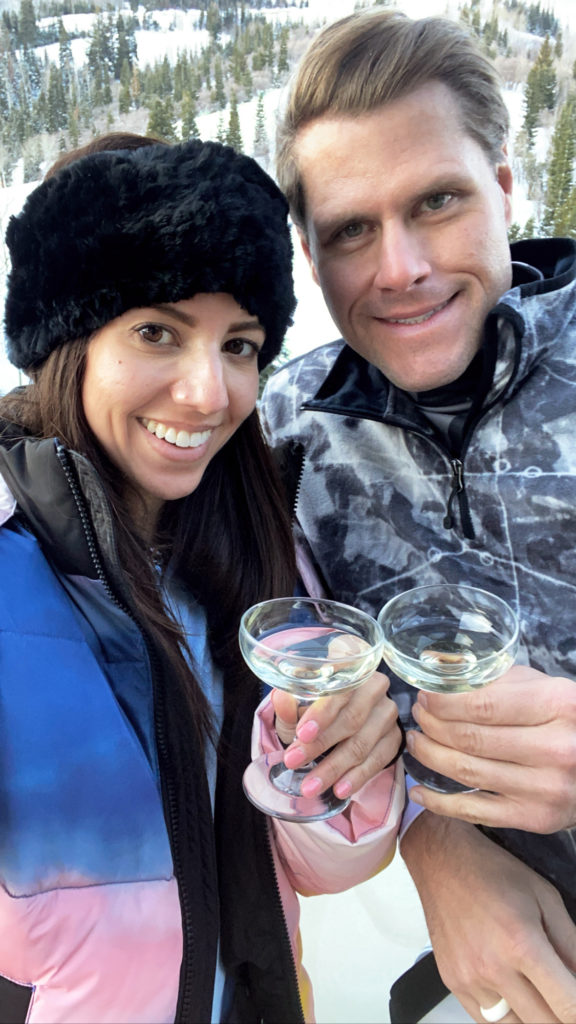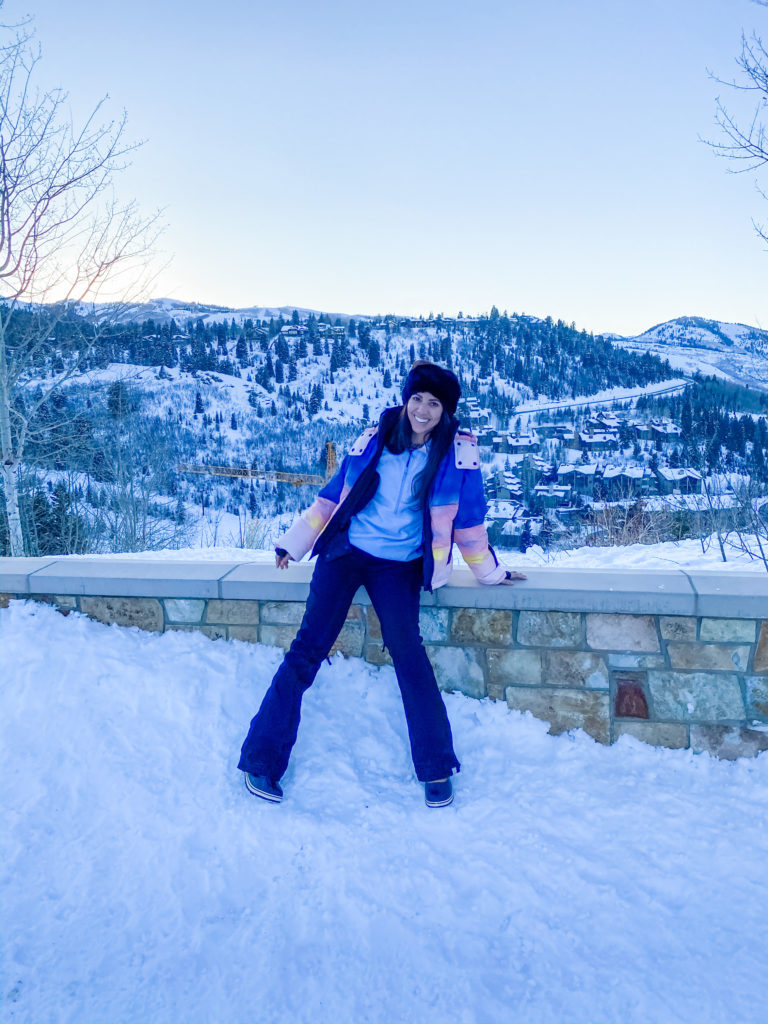 On Chris' birthday we had an epic morning dog sledding at North Forty Escapes. What we didn't realize was how far the ranch was from Park City! We didn't rent a car on this trip, so we used Uber or Lyft which was super easy, except for when you have no cell service and are in the middle of no where! We were thankfully able to arrange for our Uber driver who took us out there, to meet us when we were done and bring us back, but definitely something to think about if you ever plan for an activity like this. 
The dog sledding experience was SO cool. The Utah countryside is so beautiful and serene and the dogs were super friendly. The tour was about an hour and there was plenty of time for petting the pups and taking photos.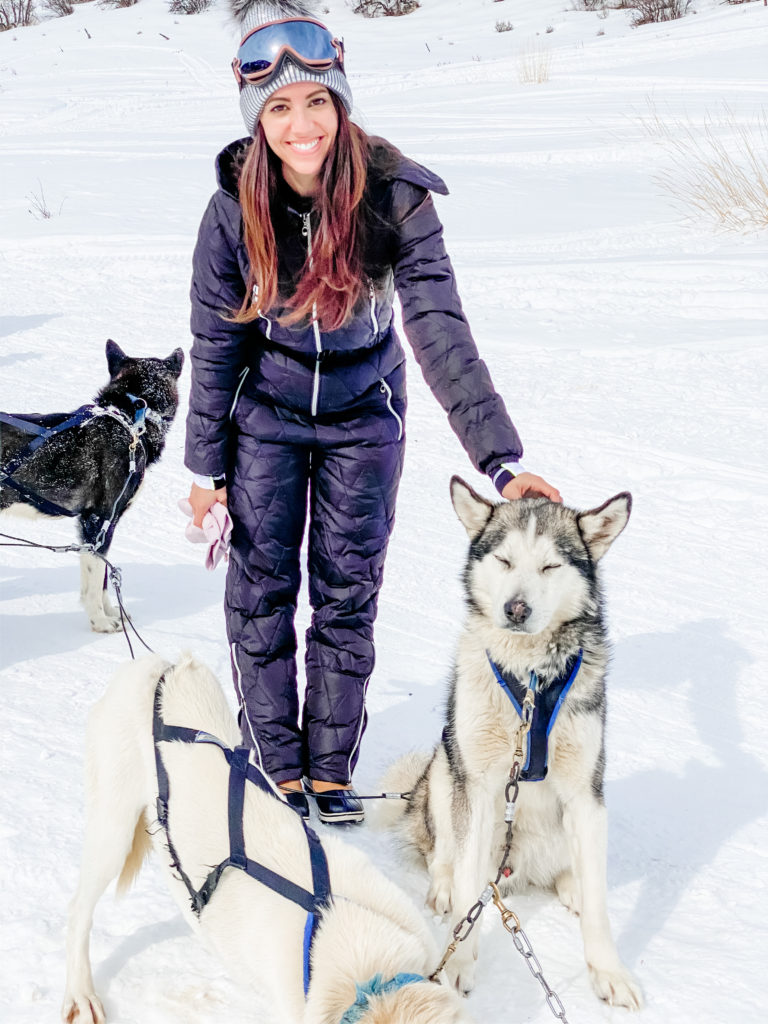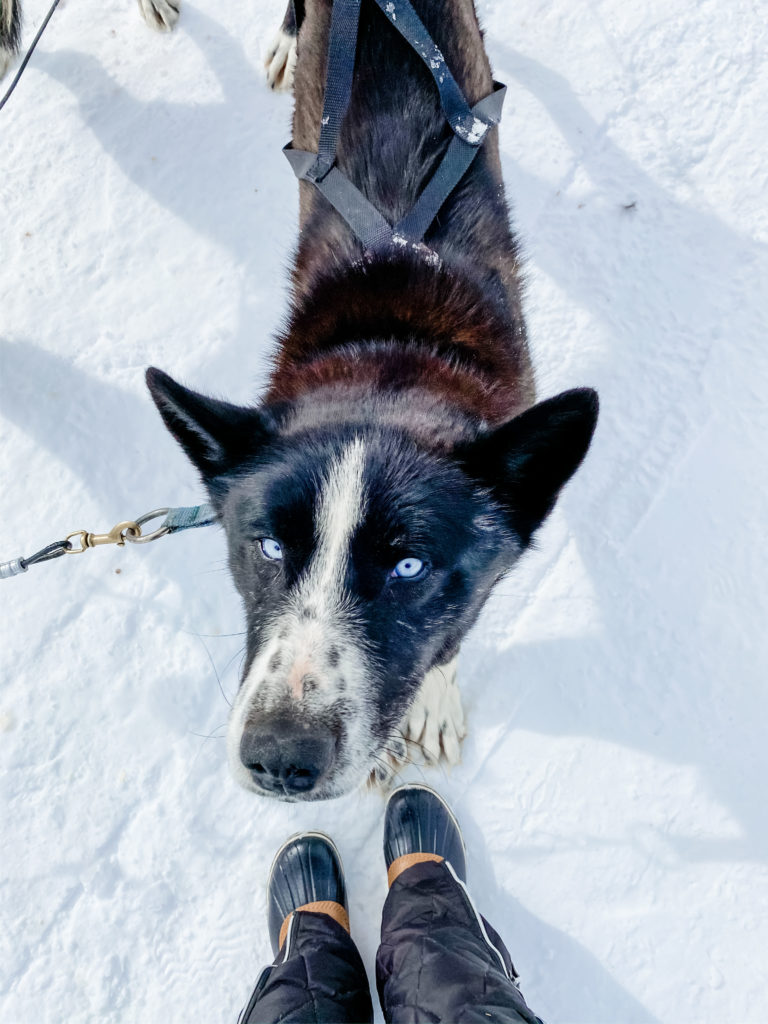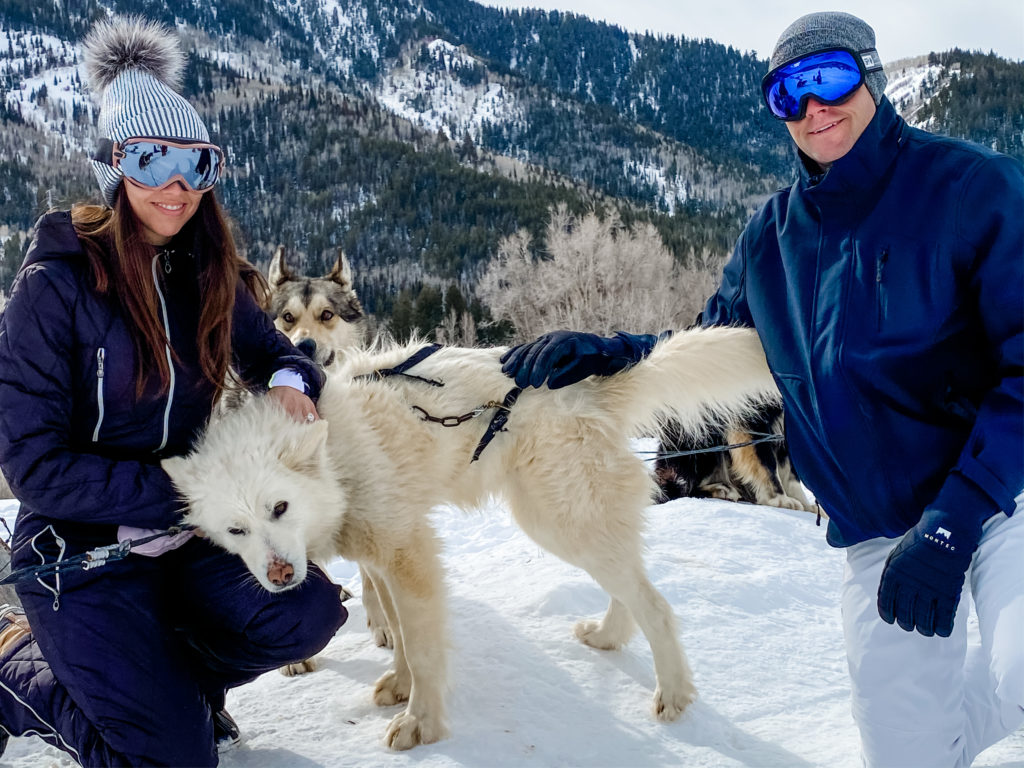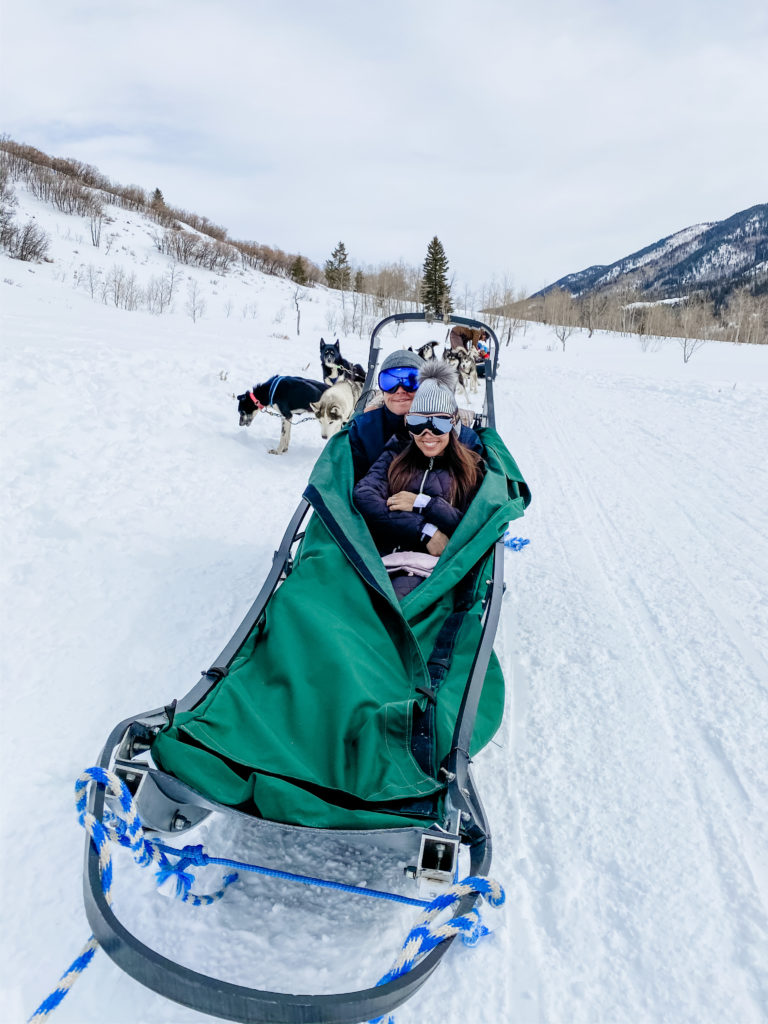 After our breathtaking morning with nature I wanted to surprise Chris with a little luxury so we hit the Montage Deer Valley spa for a massage. I've been to other spas in Park City and this one was by far my favorite. There's a giant indoor heated pool and hot tub, in addition to the separate locker room jacuzzi, steam room, and saunas. I splurged on a 90 min couples' massage and we both agreed it was one of, if not the best, massages we've ever had.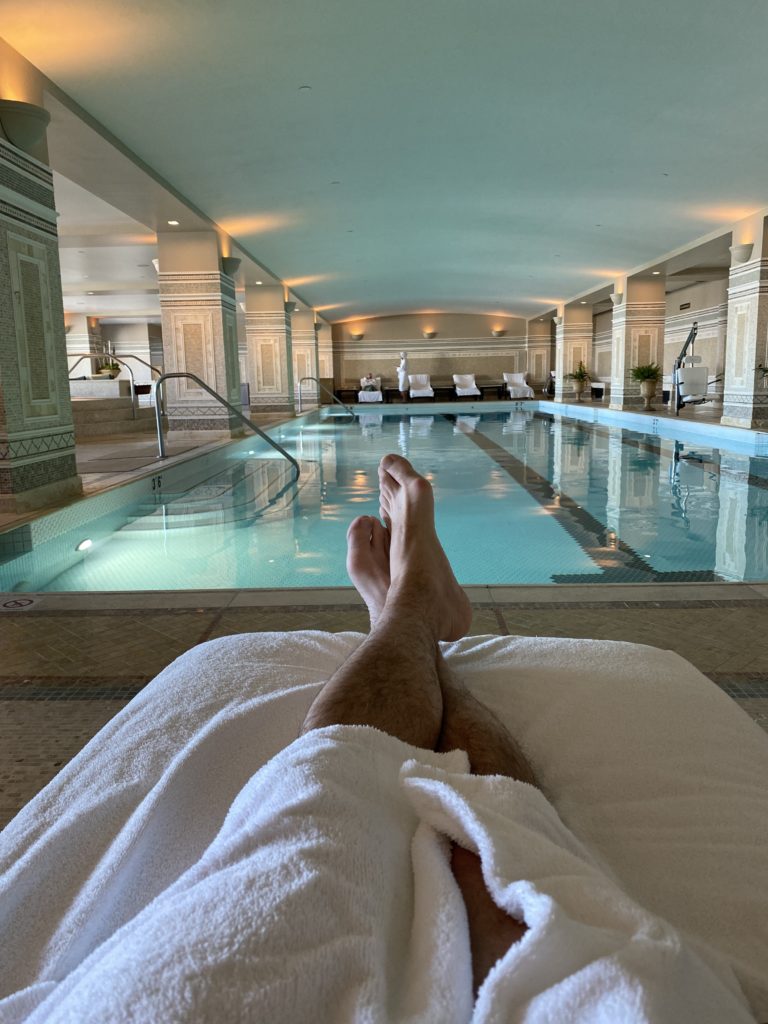 We sipped aperol spritzes and listened to the live music in the great room after the spa, and Montage has the cutest s'mores bar out on the terrace everyday at 430pm, complete with hot chocolate!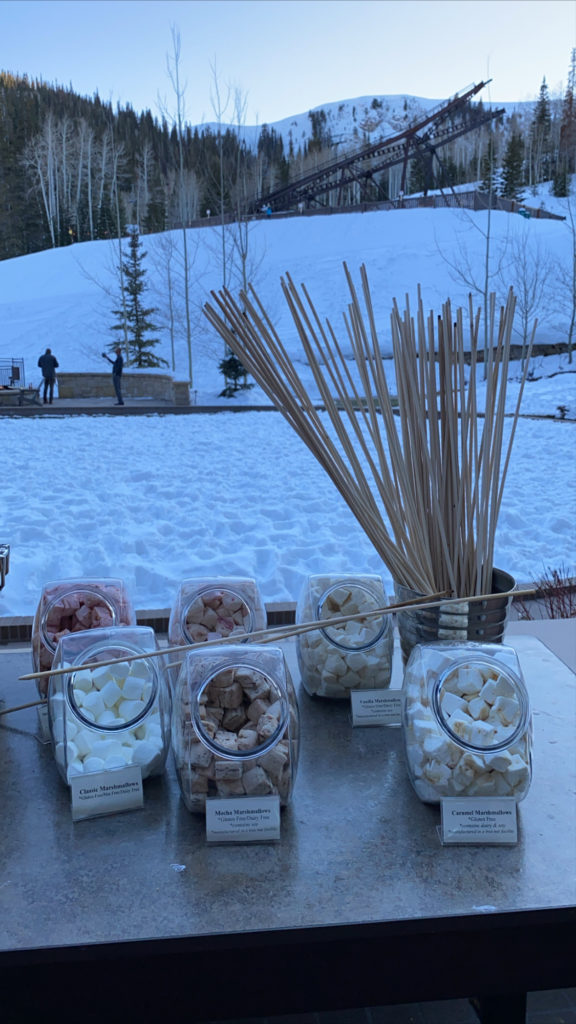 We had to make a quick stop on our way home before dinner, at Windy Ridge Bakery, for Chris' birthday cake. If you know us, you know that Chris LOVES sweets, and every year I order him a cake with a personalized message on it. Usually it's a phrase that he overuses and makes me laugh… this year I chose "38… What is happening?". When I went to pick up the cake the owner broke the news to me, that the pastry chefs were both out sick and they couldn't write on the cake. I asked if she could just do it real quick, because honestly I didn't care what it looked like! She said no… but asked if I wanted to do it. So there I was, with zero baking experience, writing on my own husband's cake! It was quite the memory, and of course he didn't care, he ate the whole thing anyways! The cake was german chocolate and YOU GUYS, it was amazing.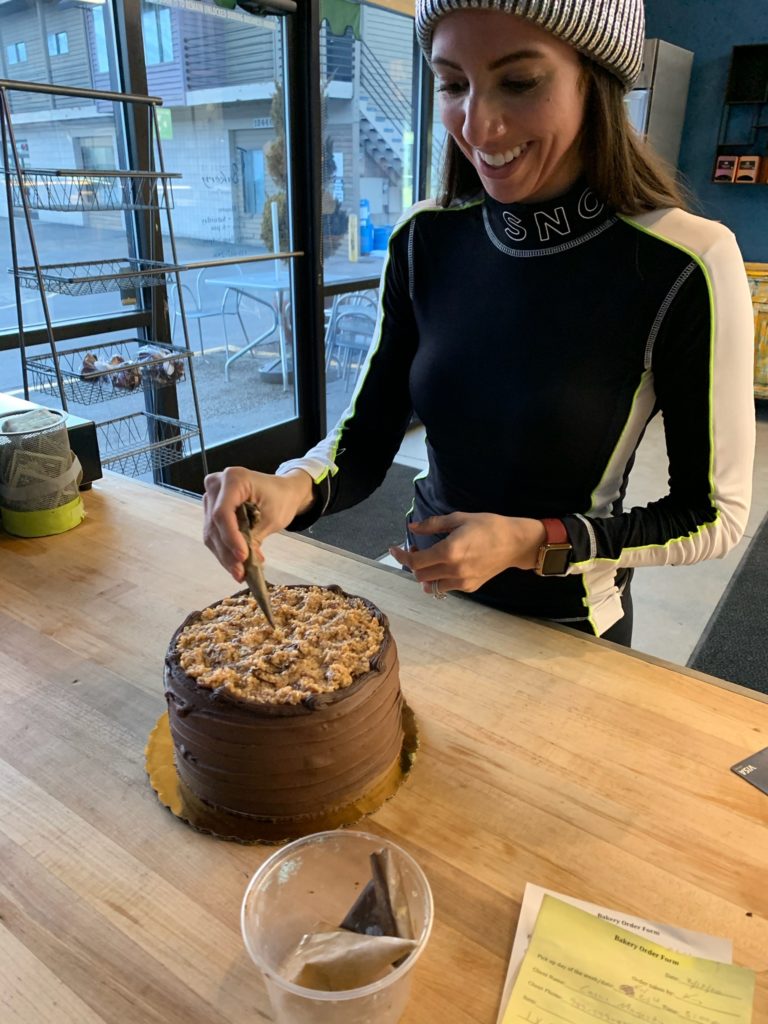 We ate at 350 Main for dinner which was such a cute environment and offered delicious food. Our original plan was to eat at Tupelo for his birthday dinner but they called us literally <24 hours before our reservation, cancelled for no reason, and were very inappropriate in dealing with the situation. Have to admit, they are 100% on my shit list at this point! 
I had a TON of recommendations from you all about a breakfast spot called Five5eeds, so we headed there for brunch on Saturday. It's a health conscious spot that I could totally see here in Orange County. We worked off our brunch with some walking and shopping on Main Street (Cake boutique was one of my faves), and we had the pleasure of taking photos with Amelia Blaire in the afternoon. Amelia is SO fun and captured our Park City memories perfectly. I always like when a photographer can get me to loosen up and have fun, while directing me towards what looks cute. Let's be honest… I am not a model! I need direction!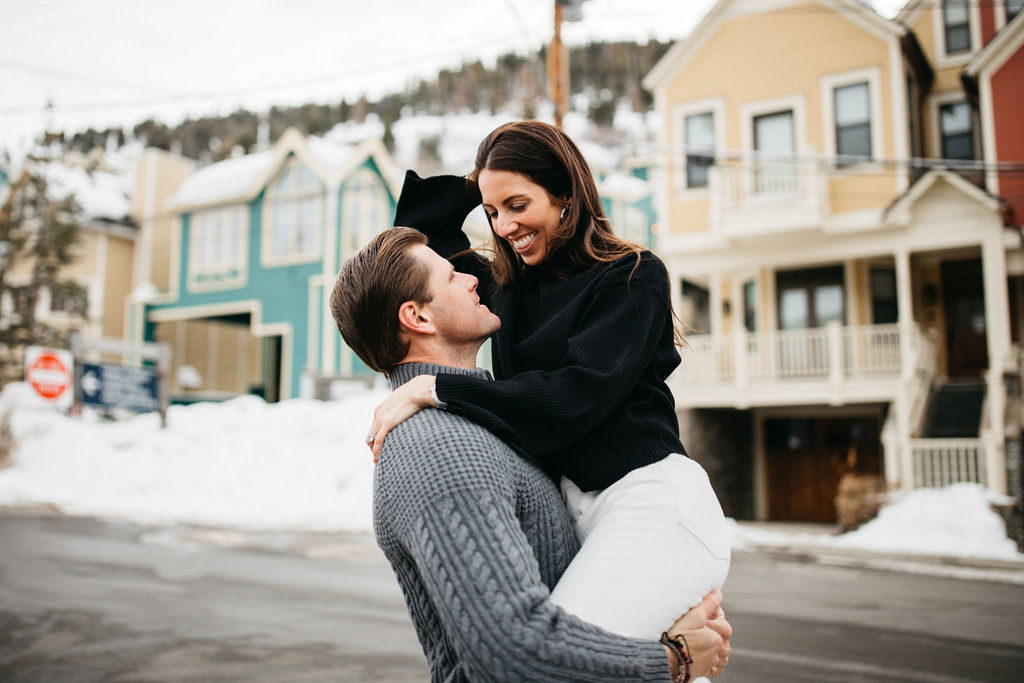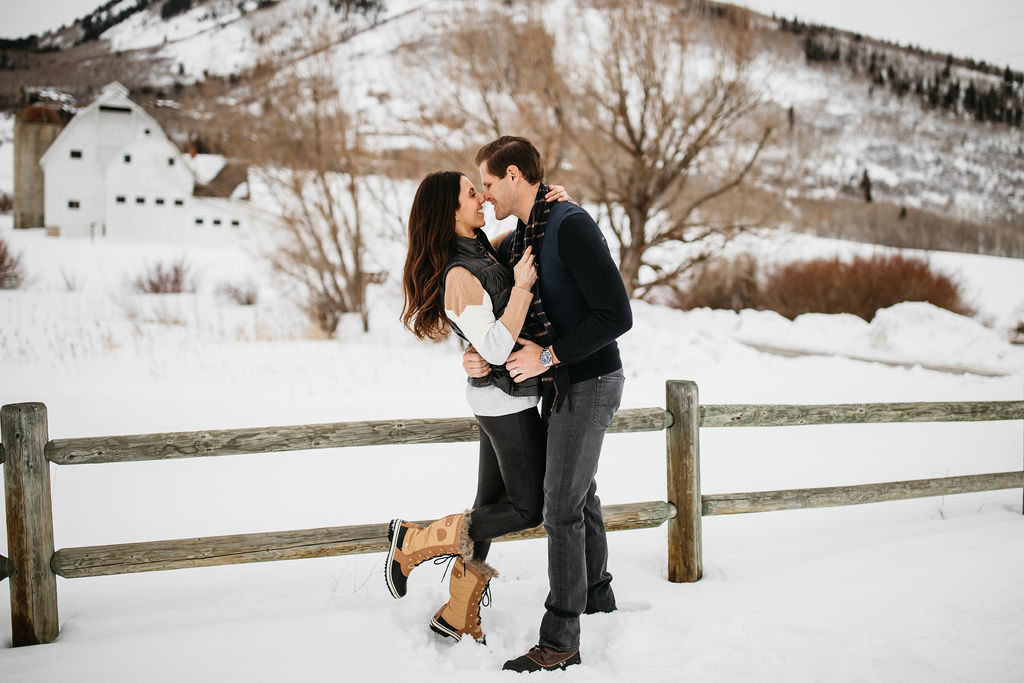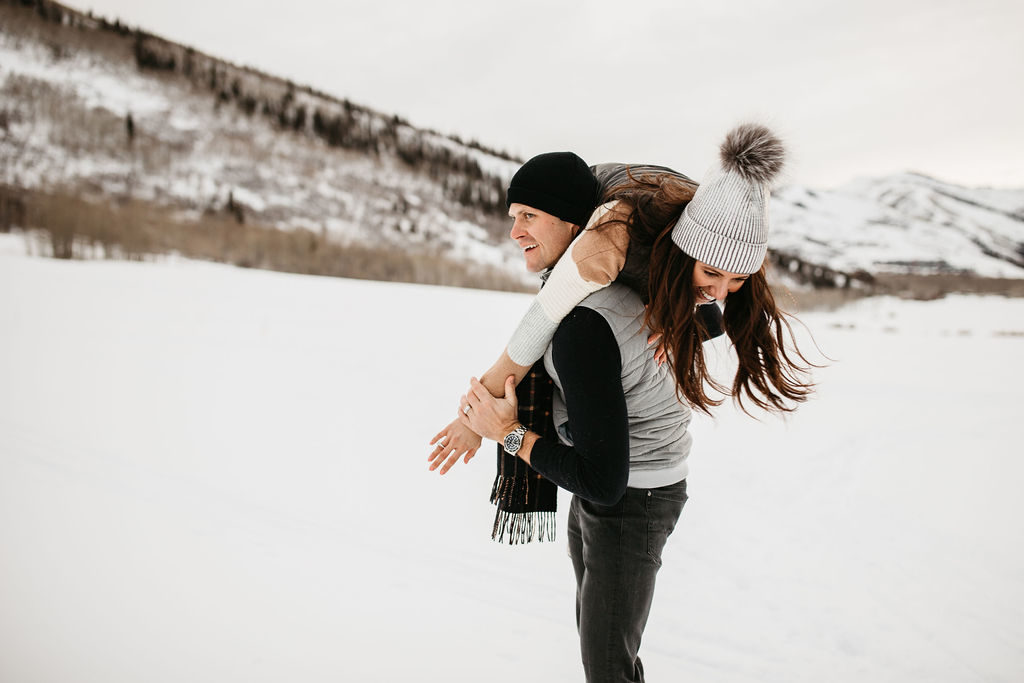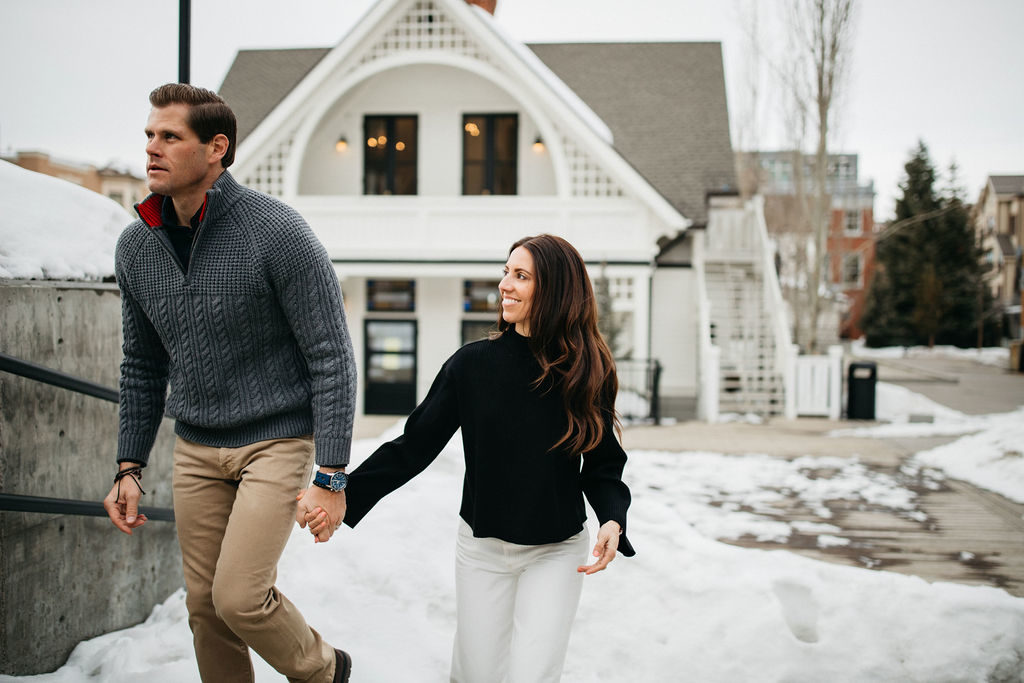 If you're an Italian fan, go to Grappa for a cute, romantic environment and some BOMB Italian food. We also spent a few minutes at The Cabin for drinks after a recommendation and they were craft cocktails like no other. 
We chose a late flight out of Park City on Sunday and had to check out of our hotel early, so we spent the entire day at Stein Eriksen where we stayed cozy in the lodge and ate THE BEST all-you-can-eat brunch. I'm telling you, it's amazing. Plus the views are that of the best Deer Valley ski runs so we had fun recapping our day on the mountain.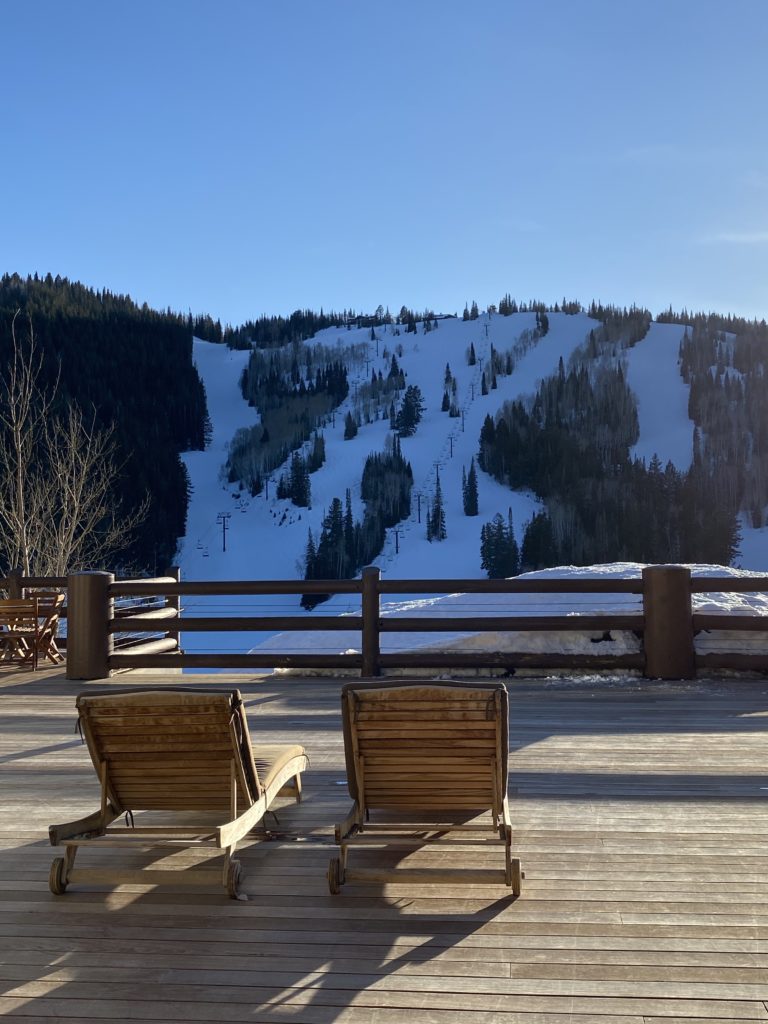 Chris and I left Park City talking about how much we can't wait to go back. We only skied one day, because we had so many other plans, so next time we will definitely be spending more time on the mountain. There's just something to be said for a vacation in the snow, bundled up and trekking through the snow during the day, all cozied up by the fire at night, hot toddies, delicious warm comfort food, and your best friend!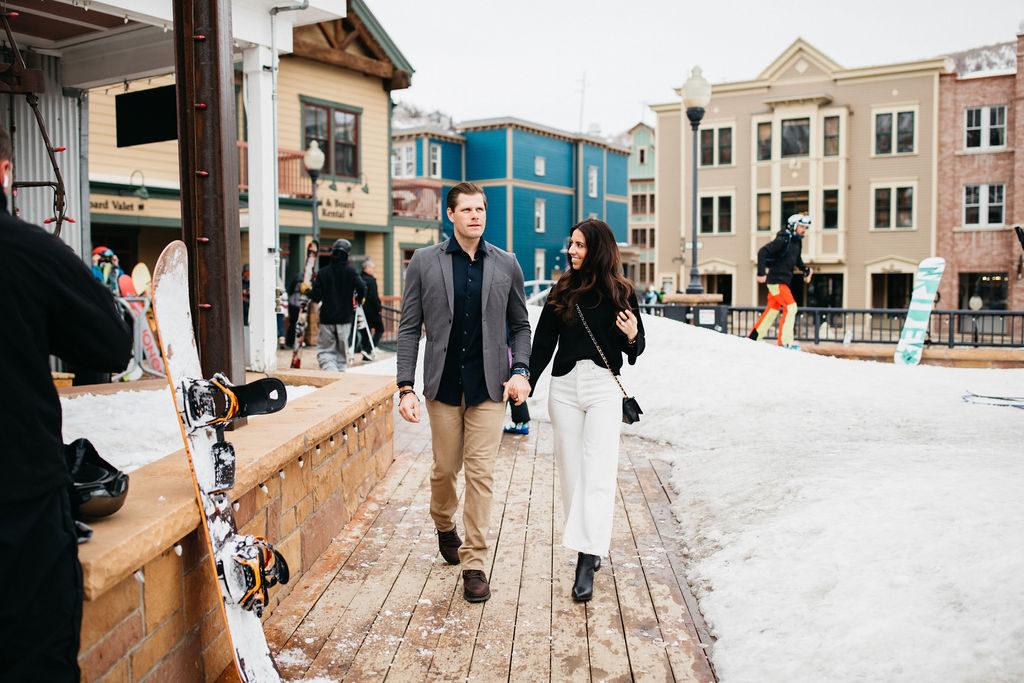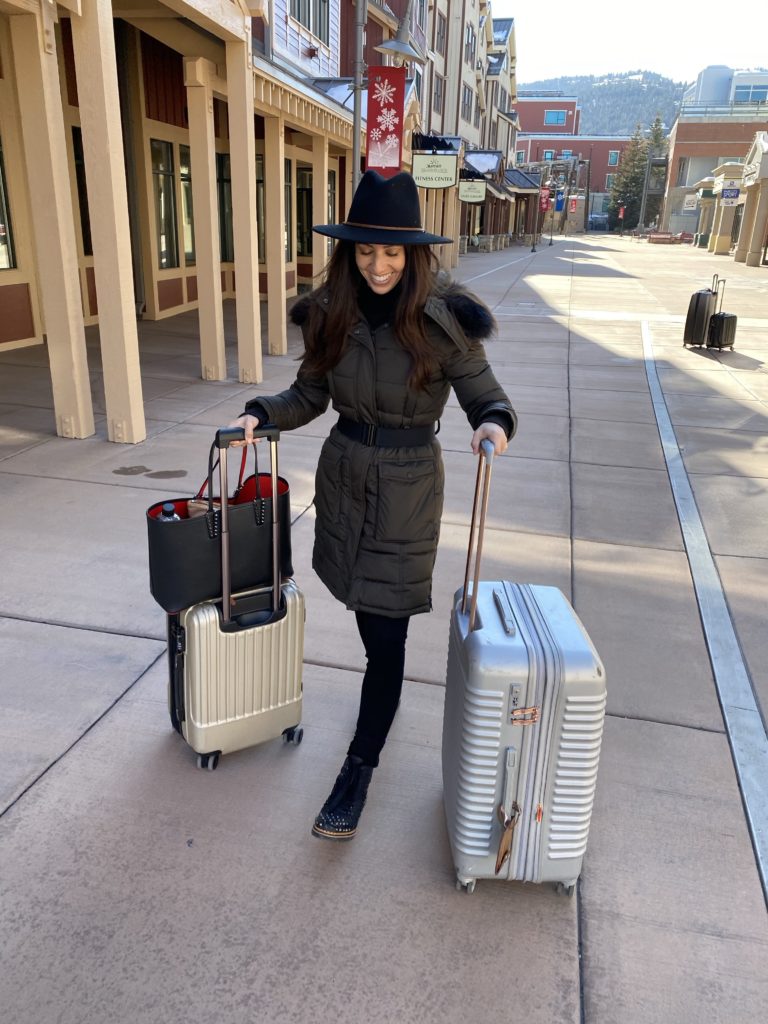 Have you been to Park City? Share your favorite places with me! 
Photos by Amelia Blaire