Summer is here! Thank goodness! Even in California where it's relatively warm all year (sorry, North Dakota), the summer season is definitely the pièce de résistance of living here! I love all the beaches, the backyard barbecues, outdoor patios and endless fresh air options. That being said, COVID is also still here. Which means that a lot of state leaders are encouraging and enforcing against large get togethers or parties. While this is necessary, but less than ideal, there are things you can do so that you can still enjoy time with your friends and family while being responsible. Remember, trust your gut always and do what feels best for you. If you'd rather have a laid back summer in your own back yard or on your own patio sans guests, that's totally cool too!
We have a pretty large backyard for Orange County standards so there is plenty of room for distancing. Most of this patio furniture is old, from Living Spaces, but these boho chairs are new and linked HERE.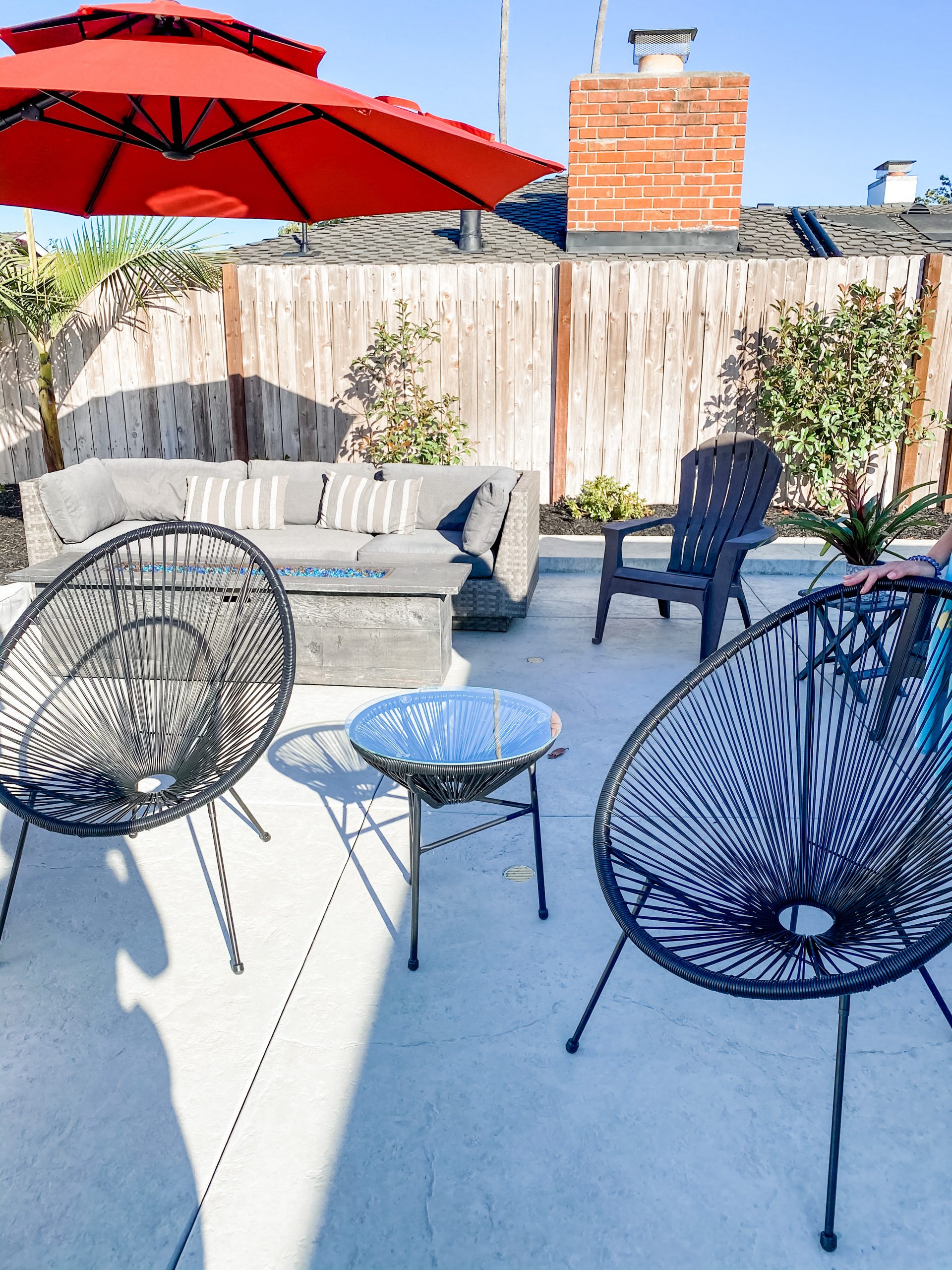 Trim Your Guest List
If you've planned an event, the first step is trimming your typical guest list In a global pandemic, it's essential. This isn't about who's in or who's out. This is about who we're committed to keeping safe. It's important to give second thought to those who are immunocompromised and inquire about possible guest contact with positive COVID cases. People might feel weird or uncomfortable about it, but if it's your house or space that you're inviting them into, then you're definitely in your right to keep everyone – and yourself – safe. There is no specific number that is recommended against, in terms of gathering, but the smaller the better (in my opinion). 
Stay Outside
I don't mean to be the Debbie downer, but if you plan a beautiful event for a Saturday afternoon and it starts raining, I highly recommend that you cancel or postpone the event. Staying outside means that it's easier to social distance and take control of the space around you. Not to mention the presumed thought that it's more difficult to contract the virus via respiratory droplets, outdoors. You can still add special touches for your guests, like towels and sunscreen or other products for them to use outside. Be sure you have enough water available outside to prevent multiple trips into the kitchen.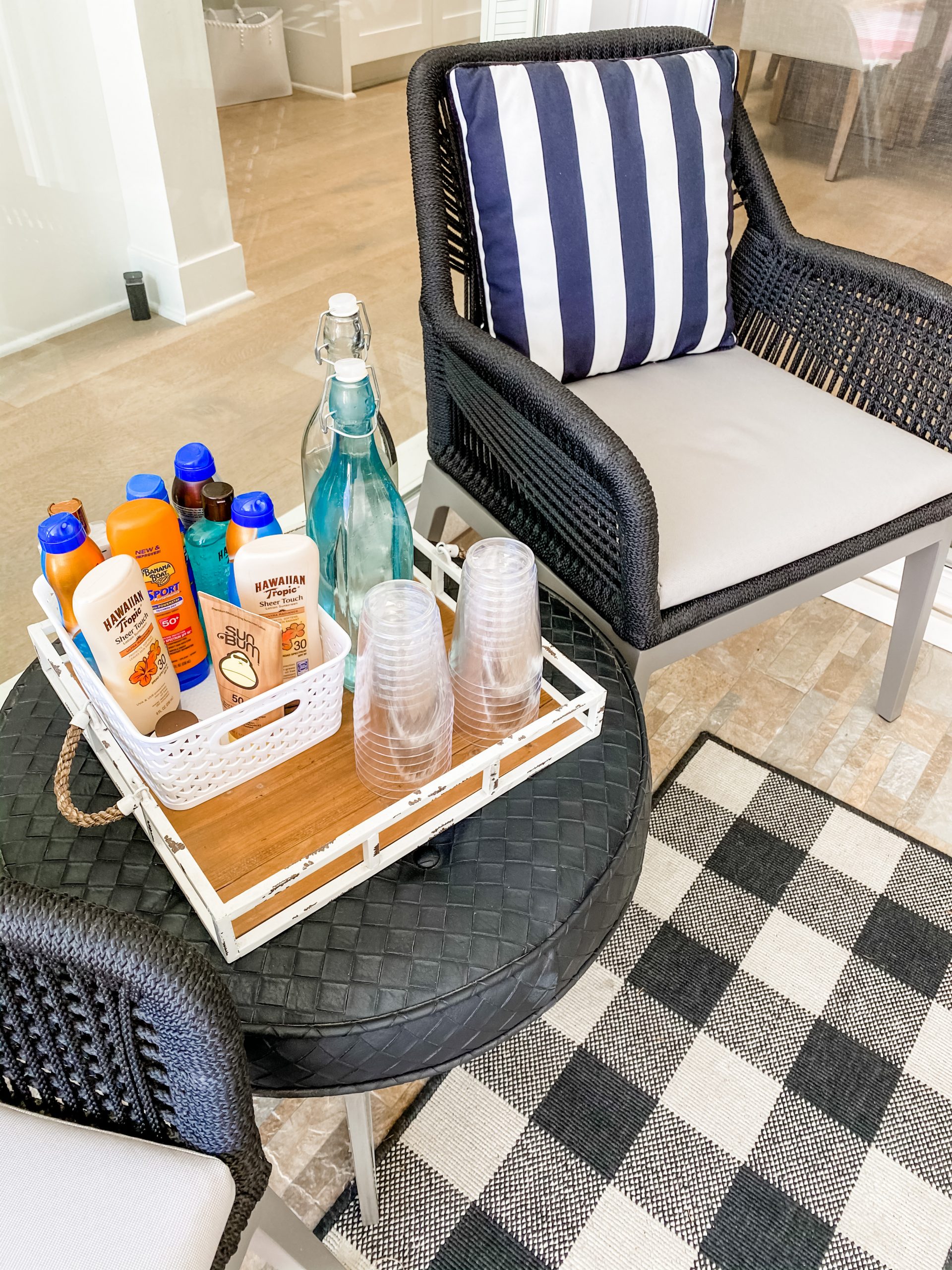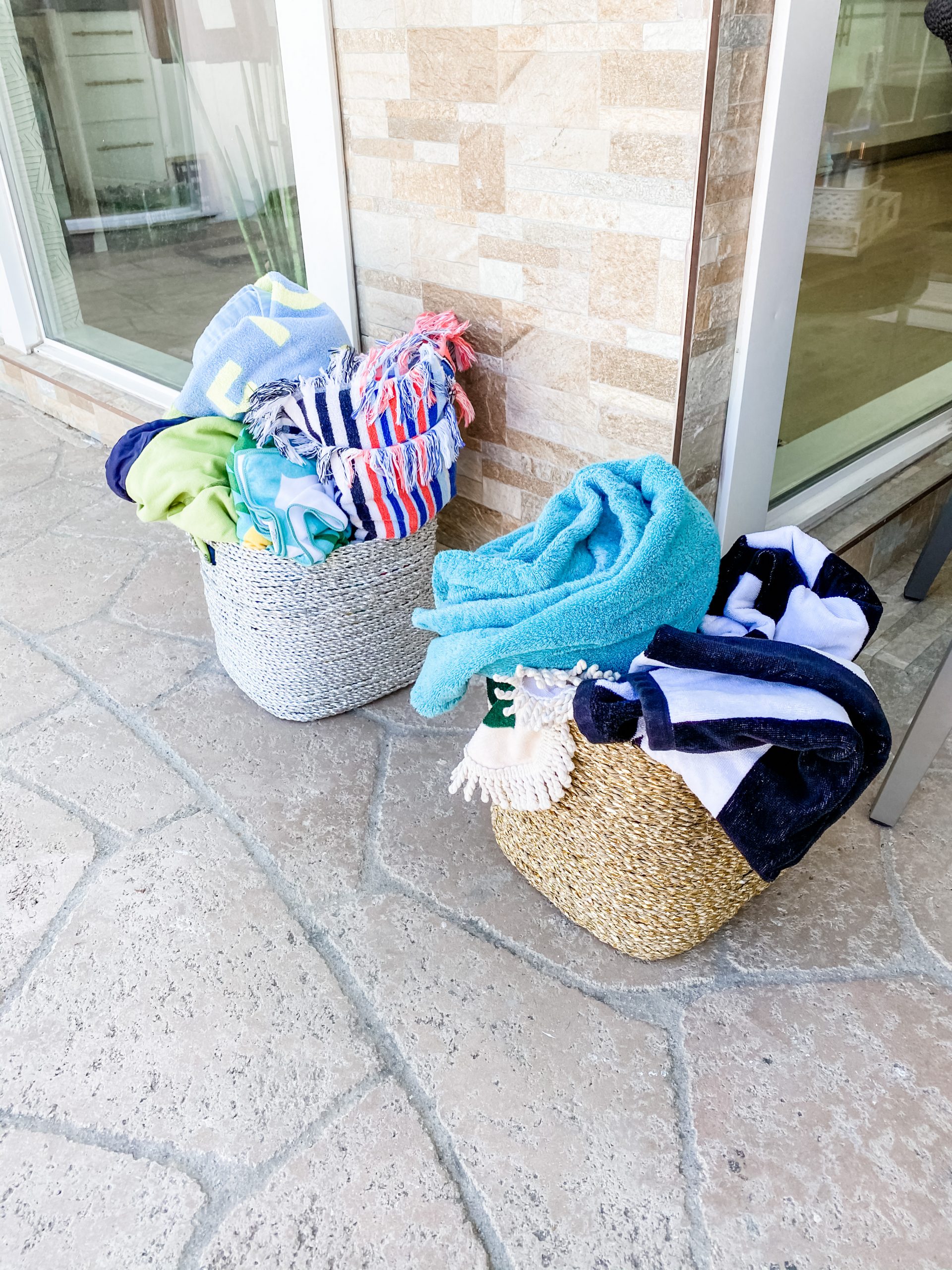 I understand that guests still might have to come inside to use your bathroom, etc. so it's important to make that as safe as possible. When coming inside, it's a good idea to put a mask on and have hand sanitizer stations at the entrances for guests to use.
Serving Food Safely
I'd vote that the best bet is for everyone to bring their own food and enjoy picnic style, but that does take away some of the pleasure of hosting. Or maybe not?! Be smart about your food sharing and how you serve! For starters, I think buffet style is the way to go if one person is serving and handling the utensils. Using disposable utensils is best, but if you're trying to save on waste, then just ensure just one person is handling them. As for silverware and dishes, try to keep that disposable for sure. You can always find compostable disposable items online. If you're trying to keep with a specific theme, you can also find cute designs for disposable items! We had a recent dinner that was nacho-themed, and purchased these disposable trays from amazon; they were a hit! This snack below was just an appetizer- tachos (tater tot nachos)!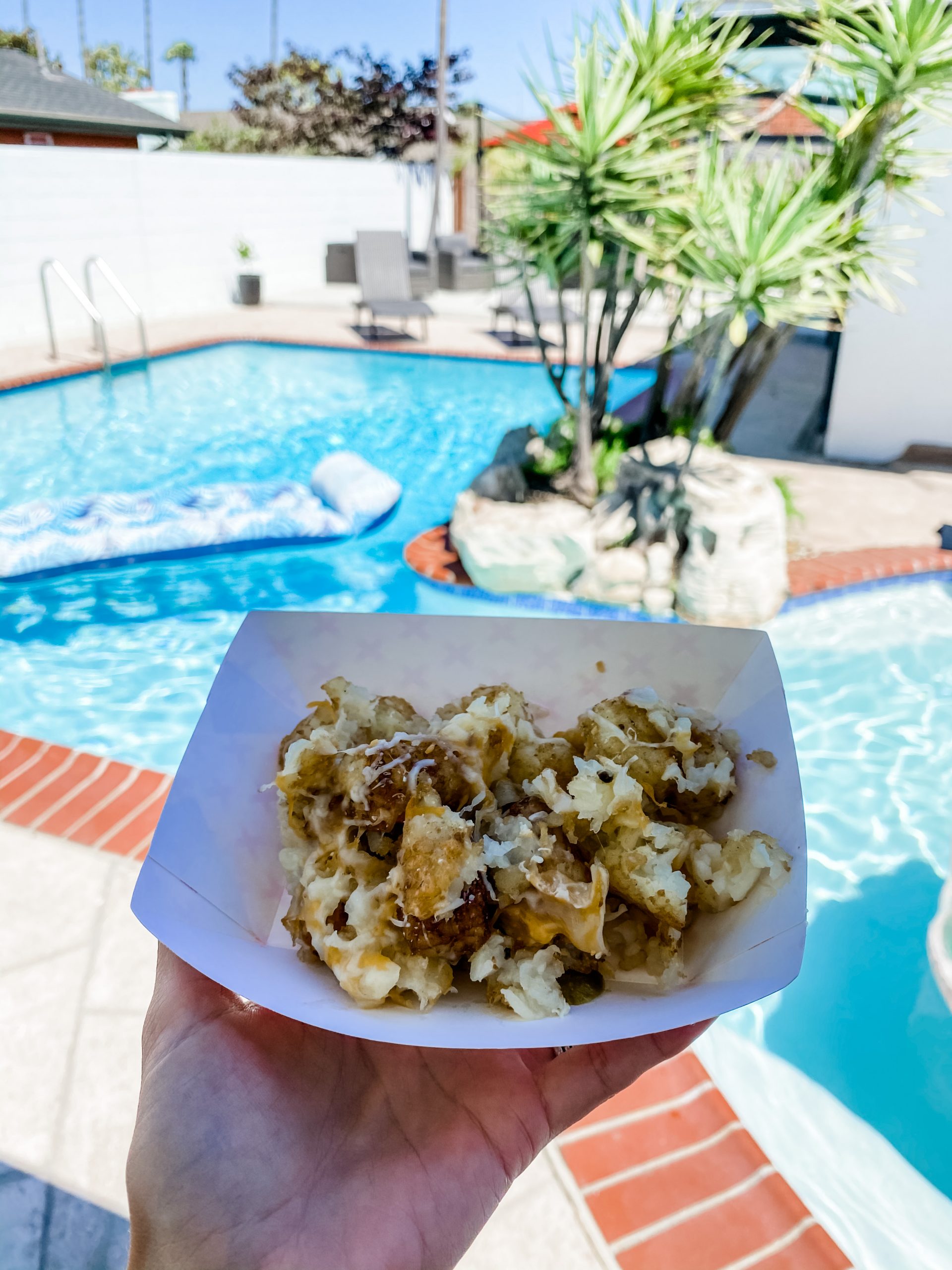 I also ordered this set of bowls from amazon for all of the toppings. There's something very "adult" about owning a full set of matching bowls for serving.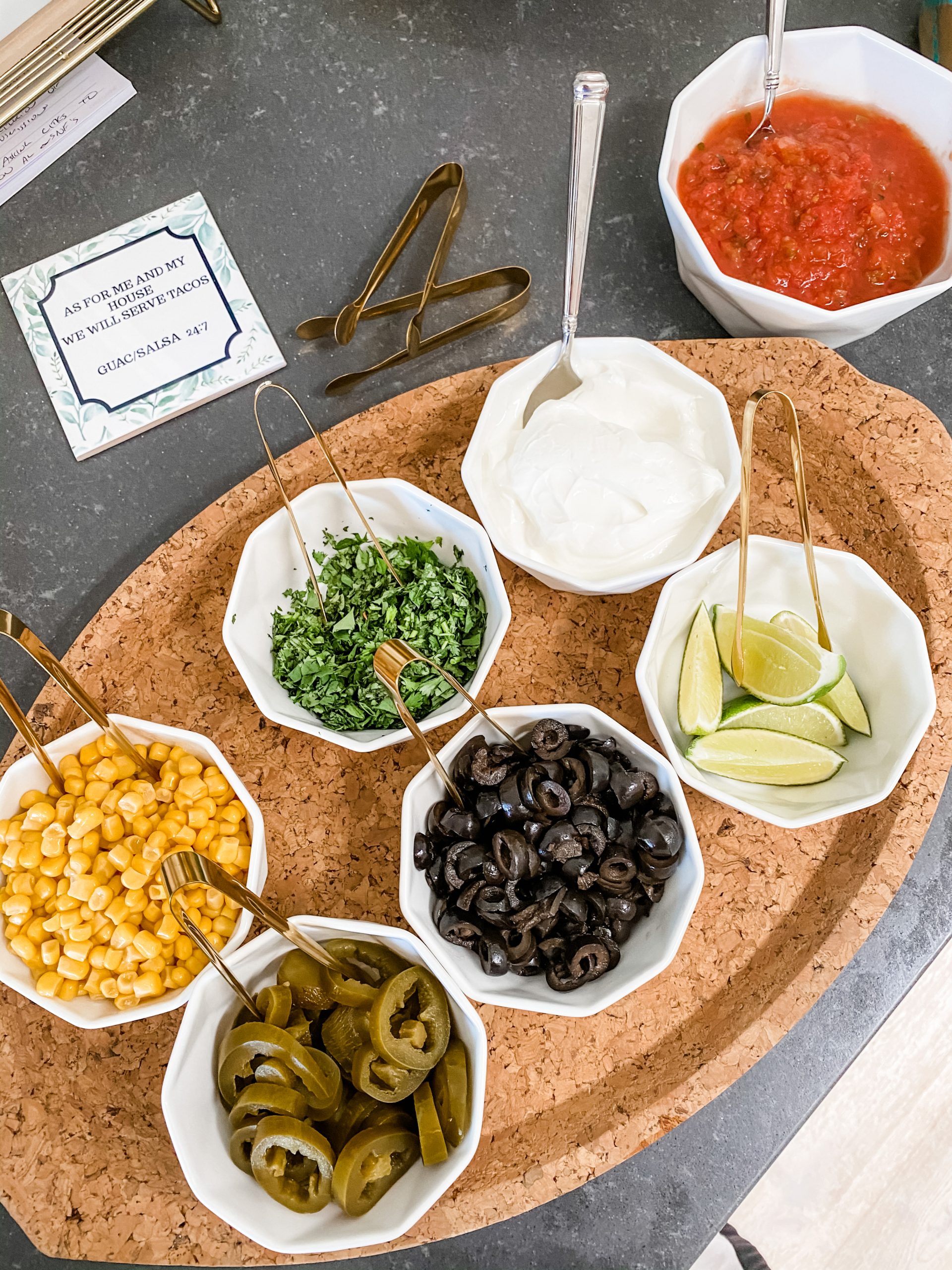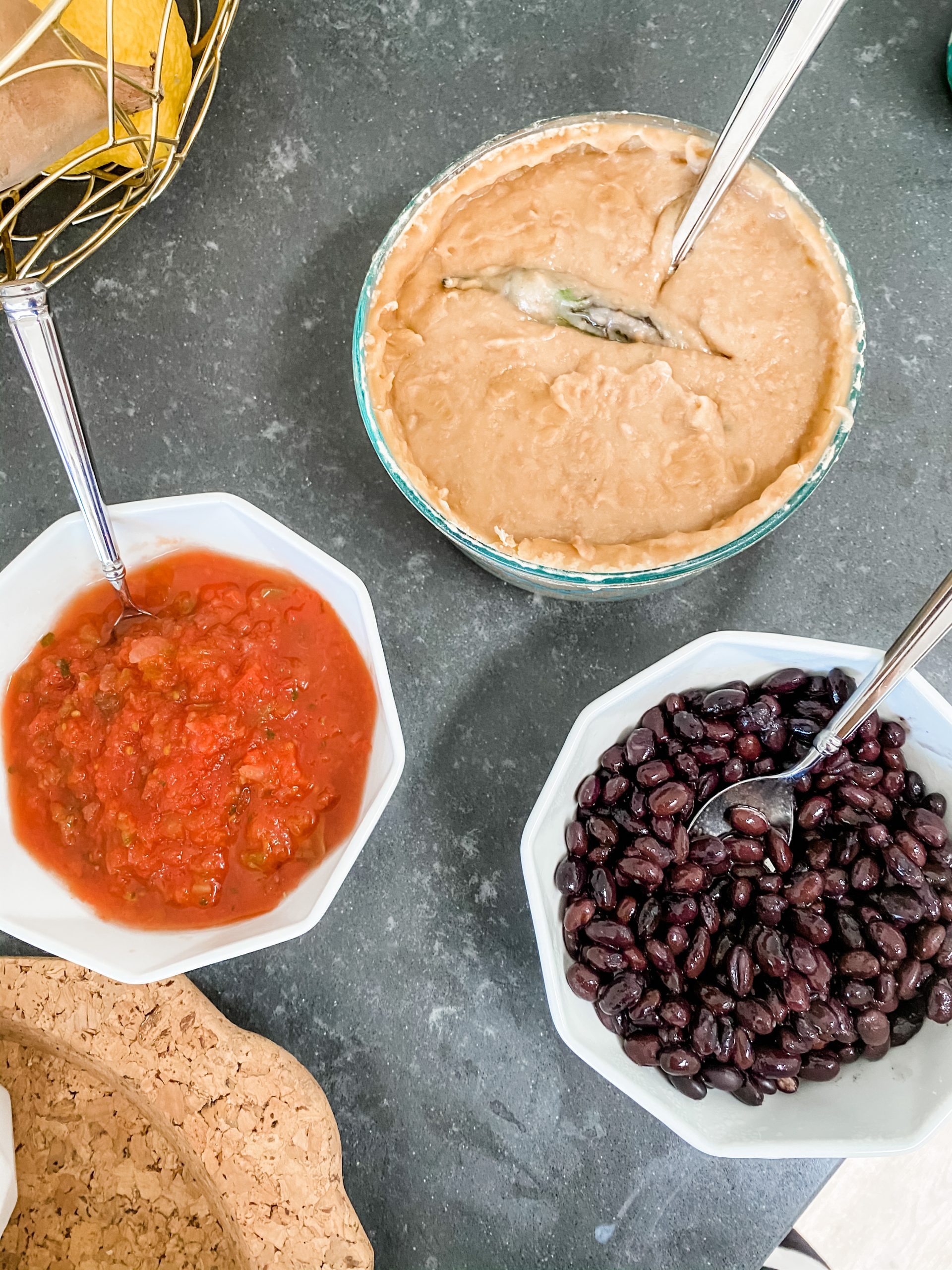 Have Fun
What's a backyard barbeque without fun games to play? Again, I realize that this gets tricky because you don't want to get too close and don't want to all be touching the same items. Luckily, there are a lot of games that you can play that don't involve this! A couple of my favorites are ladder ball or bocce ball. Yes, I realize that you need to throw a ball in order to play but everyone should only throw/touch the ones assigned to them. That way, you simply sanitize the items between games and you're good to go! Other great games that are on the less active side include a good ol' game of charades or pictionary! You don't have to reinvent the wheel here, just look at your current favorite backyard games and see how you can make them socially distancing friendly for everyone! 
Drinks can be fun too! I like to set them out on a pretty bar cart or stand so people can just serve themselves outside.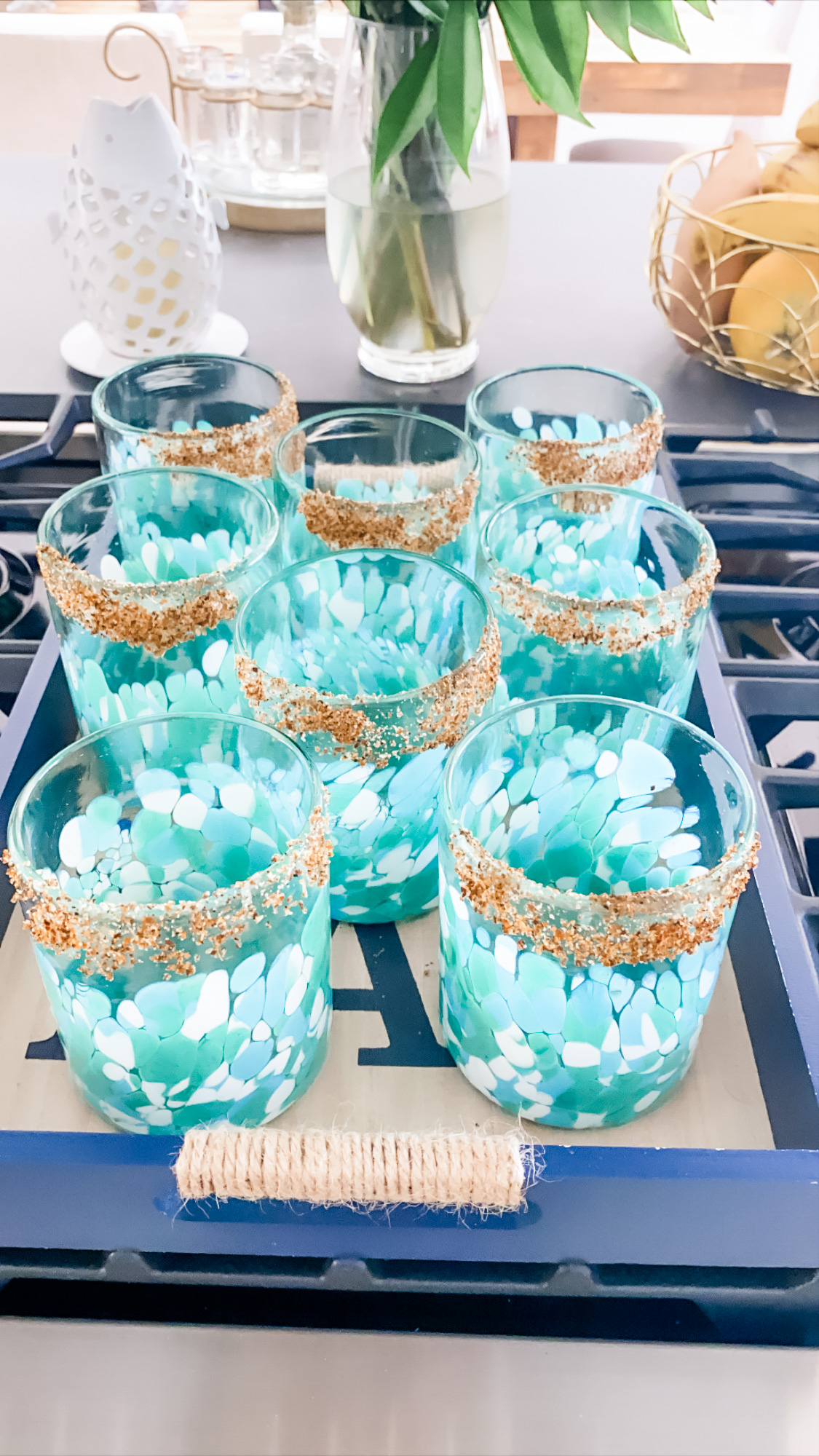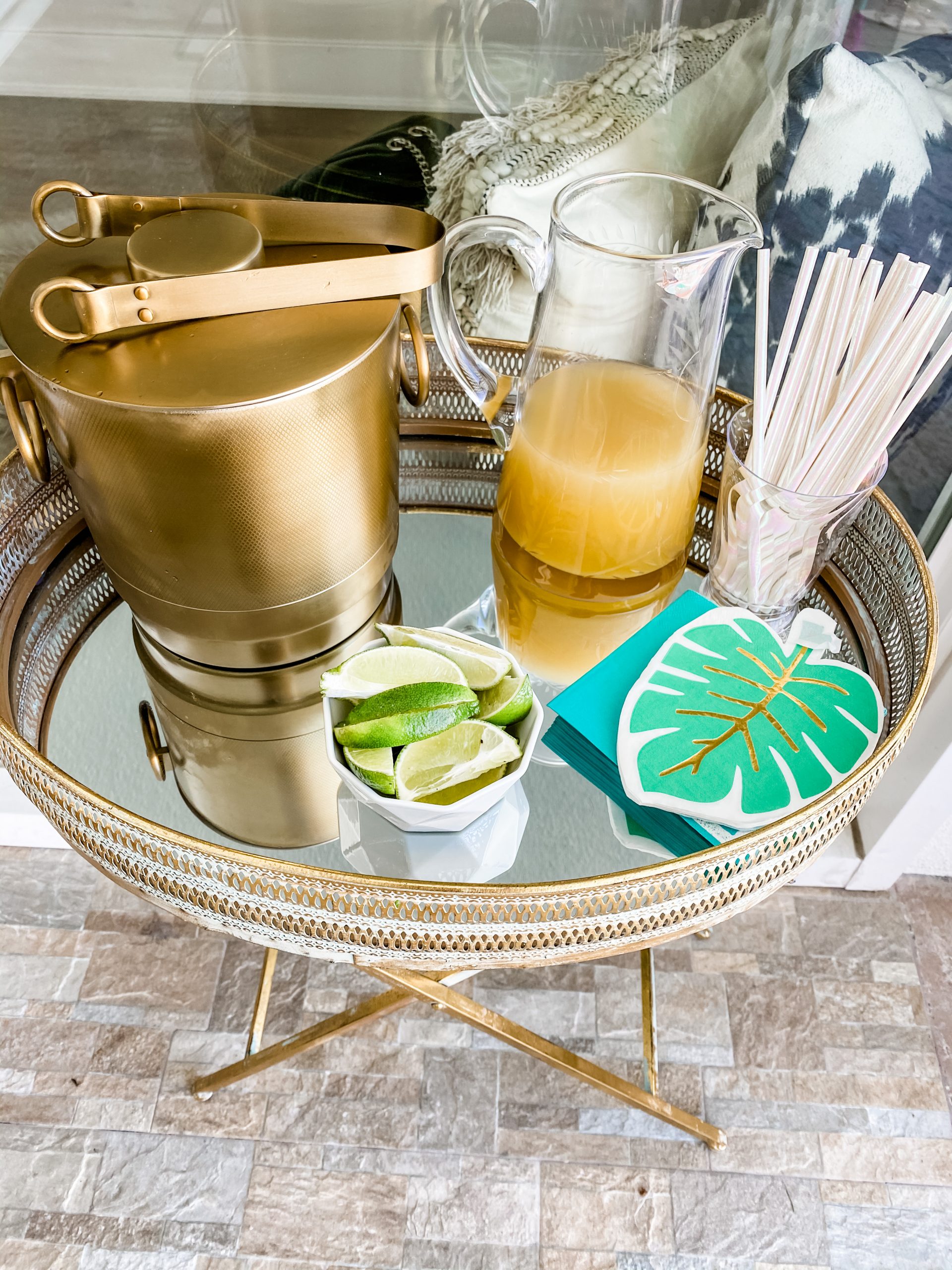 My new favorite bar cart item is from Olivia's Interior Design; it makes for a gorgeous centerpiece too!
Themes Make It More Fun
I recommend distracting from the stress of COVID by creating a theme. While it's good to be aware of your surroundings and the current state of things, it's also important to relieve some stress and have fun. I choose to encourage this with a theme! We had a nacho-themed party for the Fourth of July and it was so great! For this party we served a lot of finger foods – minus the finger part! We made sure there were tons of serving utensils to avoid touching the food directly. It was a huge hit for everyone who came by!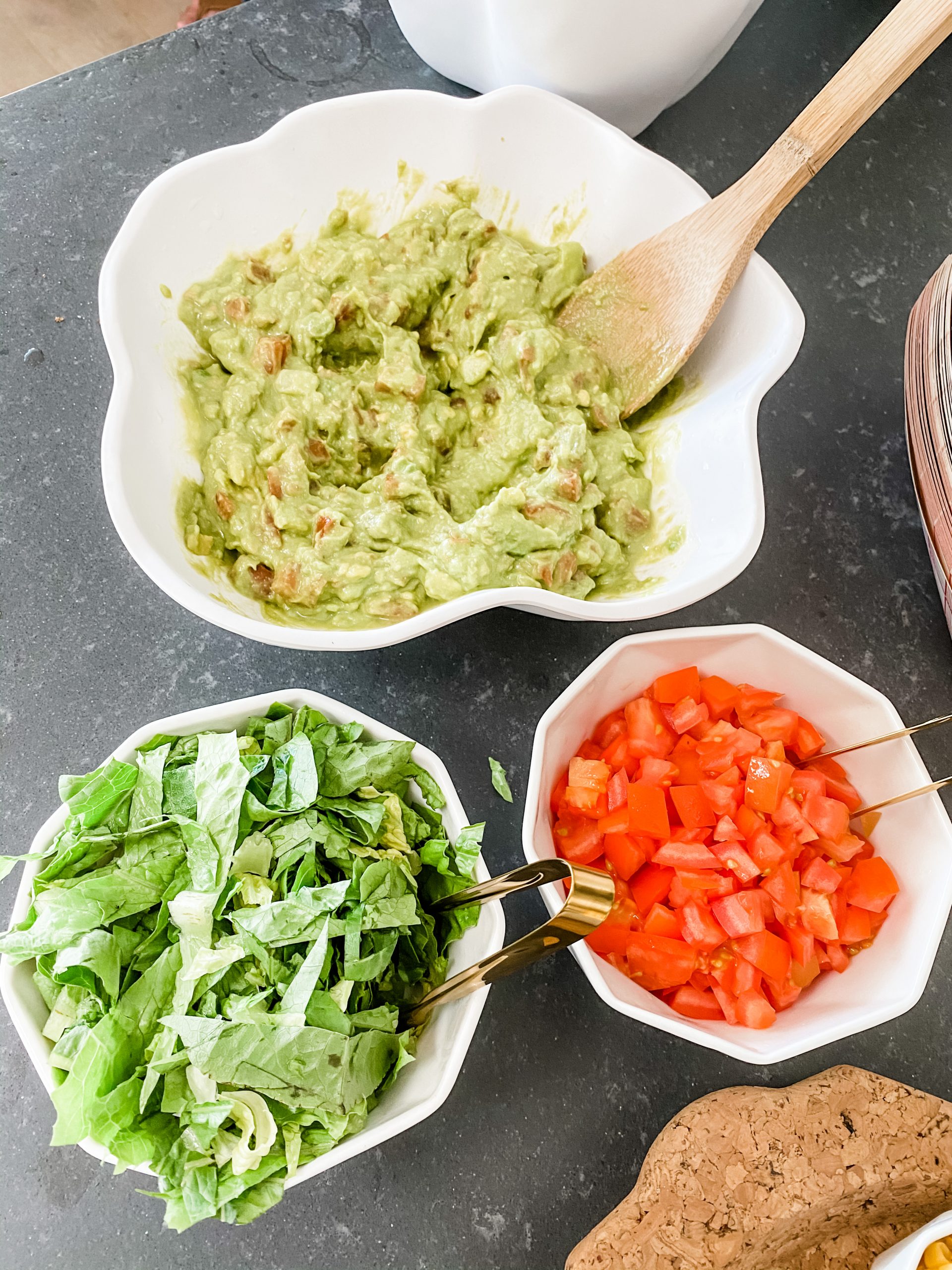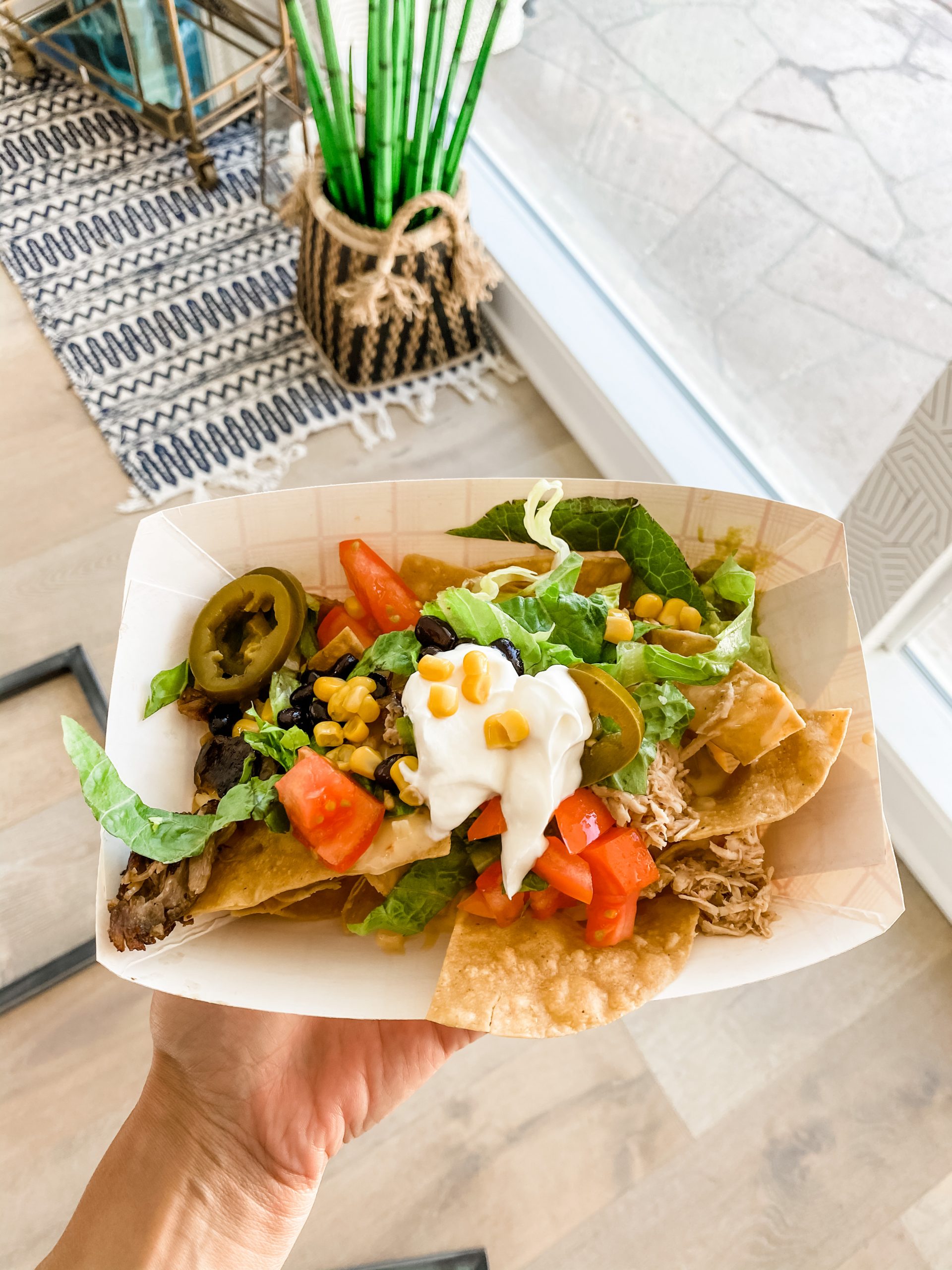 Even though our get together was very small, Chris wanted to spruce it up with the chocolate fountain that he has owned for years. He is a VERY firm believer in dessert. Grab a few essentials to go with your chocolate fountain and everyone will be very happy. Plenty of wooden sticks are a must to avoid spreading germy germs! (Not pictured: more of those gold tongs that I got on amazon for scooping up the other little bites)!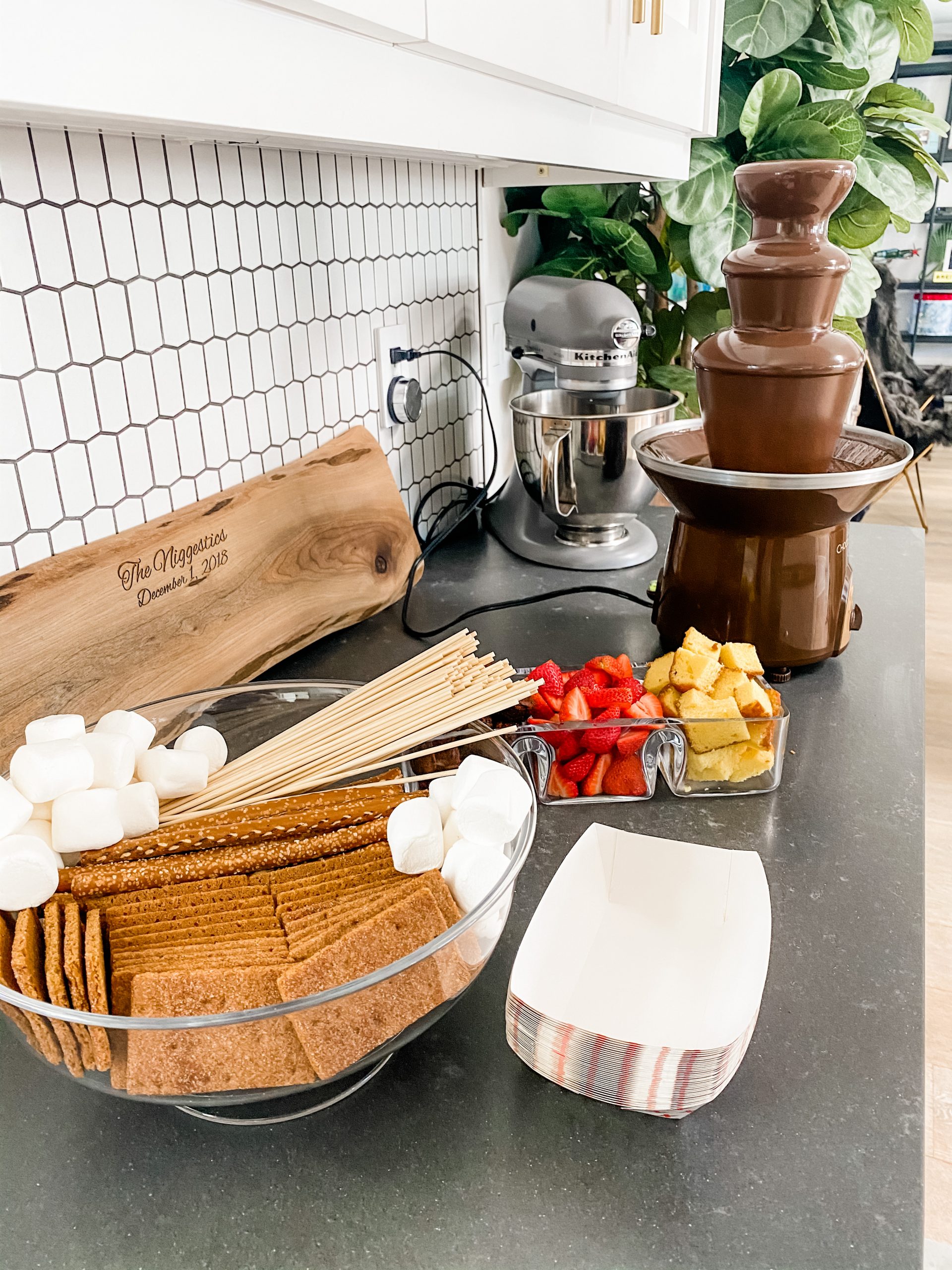 Summer Isn't Cancelled
Remember, we can still enjoy the best parts of summer without compromising our safety and health. Be smart about your plans and don't be afraid to be brutally honest with your friends and family. It's important to keep everyone safe. Not everyone will be on the same page as you in terms of caution, no matter what side of the spectrum you're on, but it's important to stay safe and do what's best. Keep it simple, small, and set boundaries. We'll get through all of this together and have a safe summer while doing it!