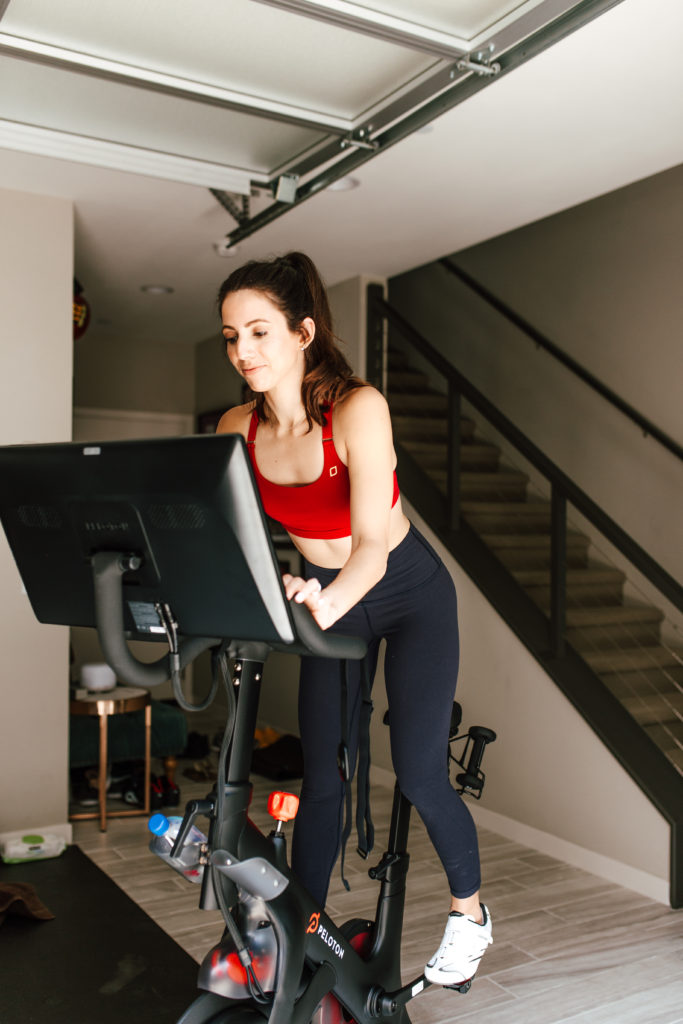 You thought spin was cool? Yeah, you're right, but Peloton went one step further and brought spin to you. Through their top of the line bike and at-home programming, you're able to bring a high-energy spin and cardio workout into your living room/spare room/basement – whatever you want. The creators of Peloton saw the need for an in-home workout that was challenging and "worthwhile", as well as a need to workout with our complex schedules. 
The Peloton Community
Peloton has over 1 million individuals who are keen on improving their fitness game, the community is wild! Through their member technology and on-demand or live classes, members are able to log in and be in the same fitness class as people all around the world. Similar to other fitness apps there are badges that can be obtained and challenges completed but there's also a fun opportunity to actually meet the fellow Pelotons in your screen though local-city meet ups.  
If you can't attend the live classes because of your schedule, they are all recorded for you, so you have hundreds to choose from with just a tap of the finger. 
Peloton Pros
Convenience
As mentioned above, Peloton is convenient! I don't always have the time to get to my local spin or group fitness class and now when I have a half hour to spare, I can just go downstairs and get an amazing workout in. Plus, the added convenience of not needing to commute to the gym or studio helps me to make better use of my time.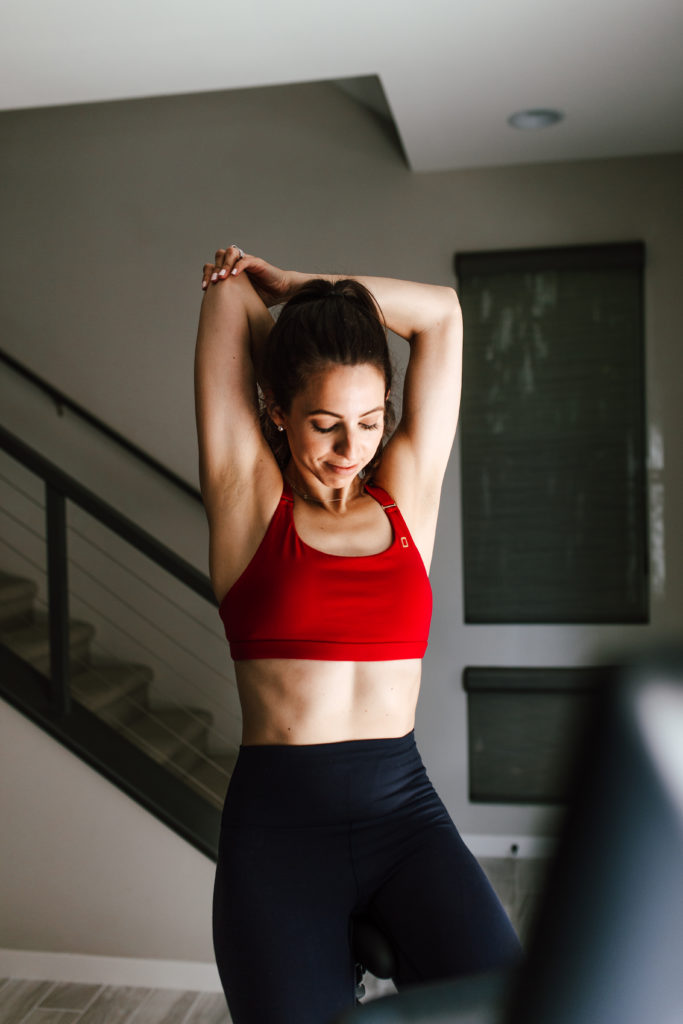 Options & Motivation
There are so many options for group classes! There are even options for workouts other than spin. From boot camp to yoga, to running, there are so many workouts that I can choose depending on my mood that day! Above all, this isn't your typical workout DVD – you are truly able to interact with the instructors and participants inside your screen and maximize your motivation and excitement for each workout! 
Peloton Cons
Accountability & Connection
Over the years, I've learned that I like to sign up for and attend a class so that way I'm held accountable to my goals. Peloton offers really great resources for goal-setting and scheduling, but I find that physically attending a class helps me. In addition, attending a class helps me to interact and connect with the people in front of me. As much as I'd love to jet over to New York for a Peloton meet up, I'd much rather head to the coffee shop down the street with my friends after a good workout.
Repetition & Body Types
I find that workout DVDs or apps can be monotonous especially if you don't feel confident enough to explore your options or try something new. In addition, not having a physical person present to check your form can really prevent you from wanting to move forward in the programming that you're in. Also, I really like certain workouts for my body type and my muscle groups don't like strength workouts all the time. At the end of the day, you need to know what's right for your body and goals!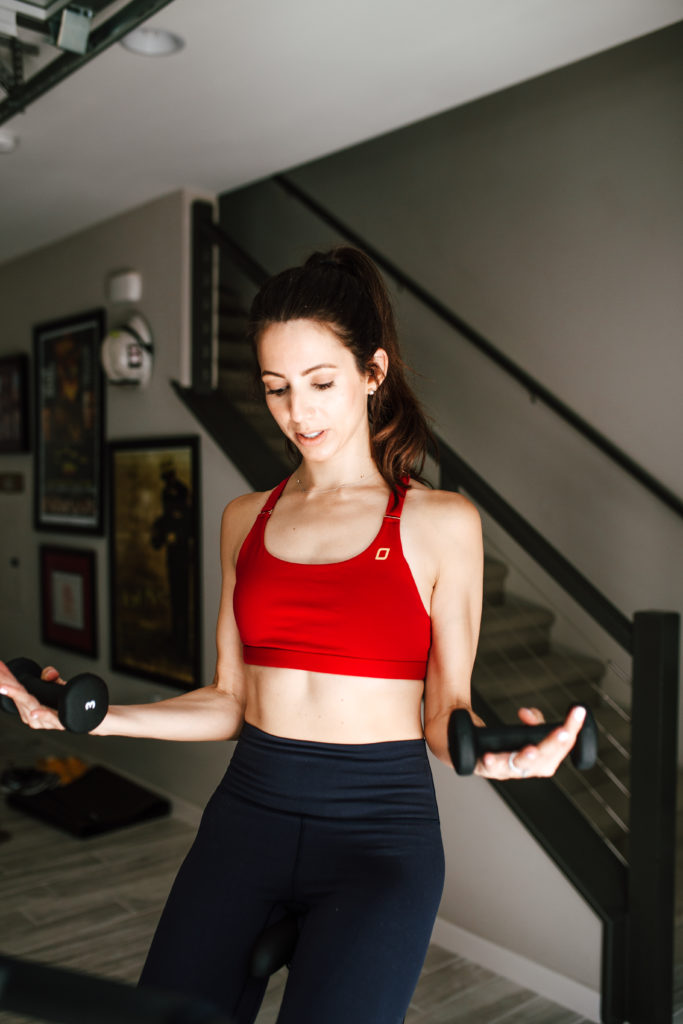 Lastly, that bottom line. Peloton is an investment so if you're going to go for it, you better use it! The bike itself starts at over $2000 and that's just the start. I'll break it down further below but the bike itself has a cost then the classes and "community" comes with extra costs too.
Your Investment
There are 4 packages that you can look at purchasing – all include the bike.
Basic Package – $2245
What's included: The bike, 1-year limited warranty and delivery and set up. This package also includes the programming and subscription to the community and your exercises. 
Essentials Package – $2404 
You can also beef up your packages a bit to make sure that you're able to have the best workout from the comfort of your home.
What's included: The bike, 1-year limited warranty, delivery and set up and some extra accessories such as a set of weights, a set of shoes to clip into the bike and a pair of headphones.
Keep in mind that you don't need Peloton brand specific shoes, but you DO need a 3-bolt cleat mount (often called LOOK-Delta or SPD-SL). 
Works Package – $2494 
Again, this package includes everything listen above but adds the following: a heart rate monitor and a bike mat. Great add ons to make your home gym feel more intentional!
Family Package – $2694 
If you have a partner that you think would also benefit from Peloton, then this package is for you! Everything listed above is included but there's another set of shoes, another heart rate monitor and two water bottles included as well. This package is helpful if you need someone present to workout with you and cheer you on.  
When buying, don't forget about the monthly fee of $39 to keep the endless classes and options updating, and at your service. 
All packages are available for financing and can be made in monthly payments that equate to some gym memberships. The difference here is that once you're done your payments, it's still yours and you still have full access right from home!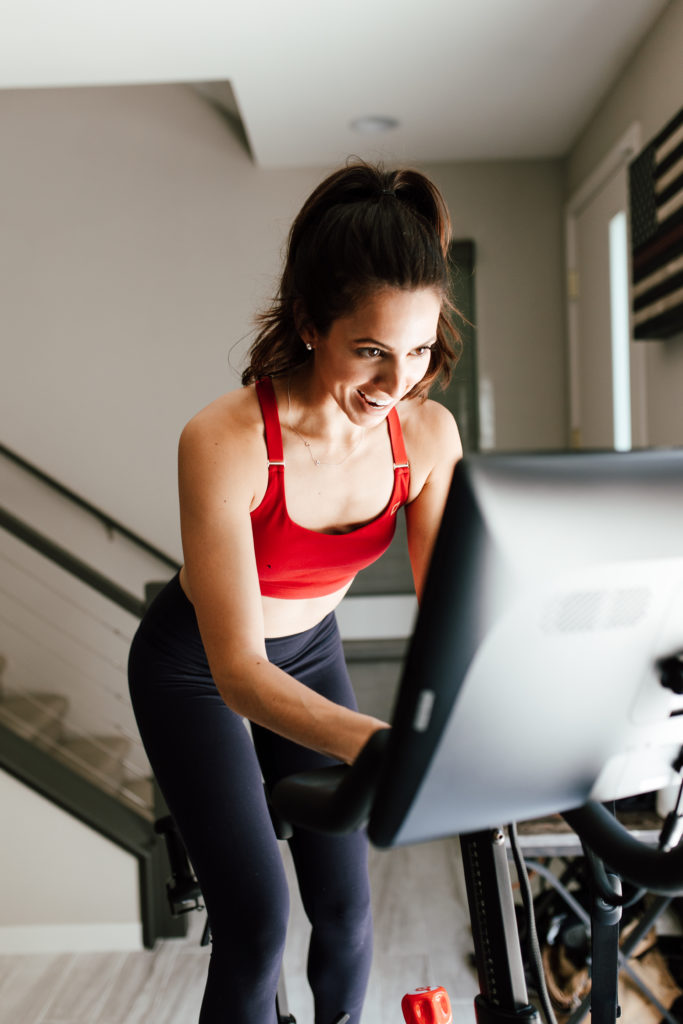 The Main Differences
So, what are the real differences between Peloton and a real in-person spin class? I found that Peloton seems to aim for high resistance all of the time during their workouts. Meanwhile, my local spin studio implements a lot more movement and choreography into the class which keeps us guessing and is oftentimes more fun! Sometimes a spin class feels like an all-out dance party on the bike and I find that Peloton focuses largely on resistance.
Chris thinks I'm crazy, but my thighs and gluts respond QUICK to heavy strength workouts and although I want a balance… I don't want to be bottom heavy! Ya know what I mean?
Speaking of dance parties — both offer excellent soundtracks! Peloton even offers workouts that you can pick based on your preferred playlist. Whether you're feeling a bit of 90s Britney or recent Pitbull tracks – it's your call!
I'll be honest, the Peloton was for Chris. It works great with his schedule. But I am definitely implementing it into my routine here and there. I really like our Peloton and would encourage you to do it if you've ever been intimidated by group workout, or you're adamant about working out at home. At the end of the day though, I recommend trying one out if you can before you invest.
Have you tried a Peloton? Let me know in the comments below! I would love to hear your thoughts. 
Photos by Alexandra Folster