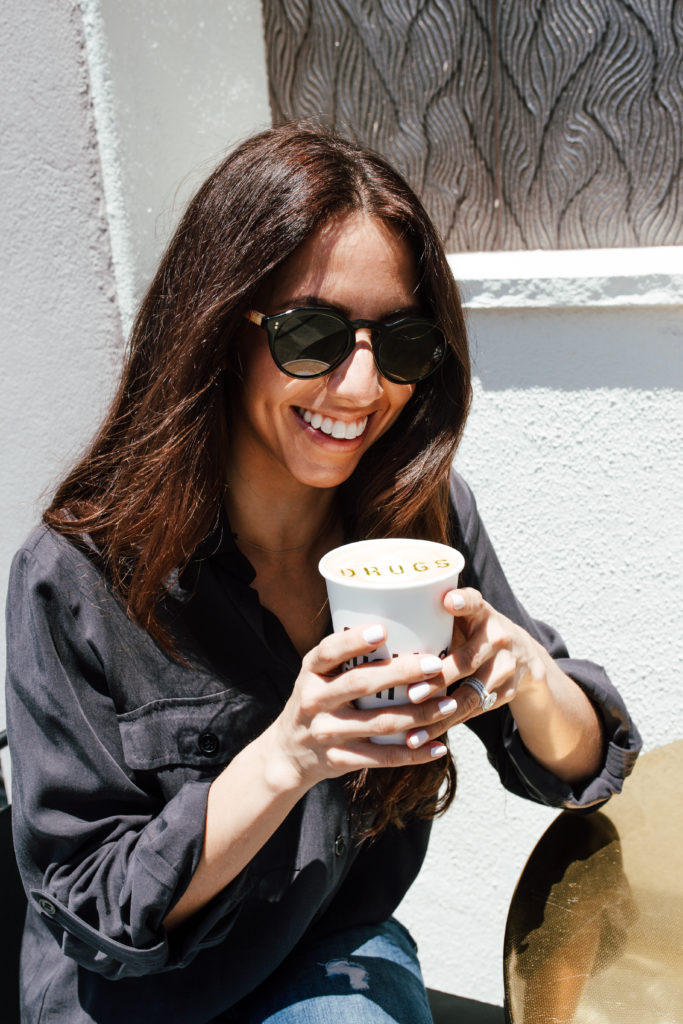 If you're like me, a cup of coffee or two a day is just what the doctor ordered! I've loved coffee for a while and can't exactly remember how old I was when I started drinking it — but I am a huge fan. Coffee is a great solace first thing in the morning. There is no greater feeling than waking up, and making your coffee while your eyes are barely awake. Then as the house and day are still quiet, you can just relax with a warm cup of java. ~ahh
The Benefits of Coffee
Woah, that got emotional. But seriously my love affair with coffee is real and what may be the best part about it, it has a lot of health benefits. Coffee increases your cognitive – or thinking – function. In addition, it protects against risks of heart disease, stimulates digestion and is a great source of antioxidants! As mentioned, I drink my coffee throughout the morning. Sometimes I'll have one or two servings, then have the occasional afternoon cup even though that's not the best for my sleep cycle. Before a night shift, you better believe I'm having one too!
Since Chris and I returned from Europe, we have started implementing an afternoon espresso with a biscuit or two into our routine, and it brings me such joy!! I'll do decaffeinated if the timing isn't right.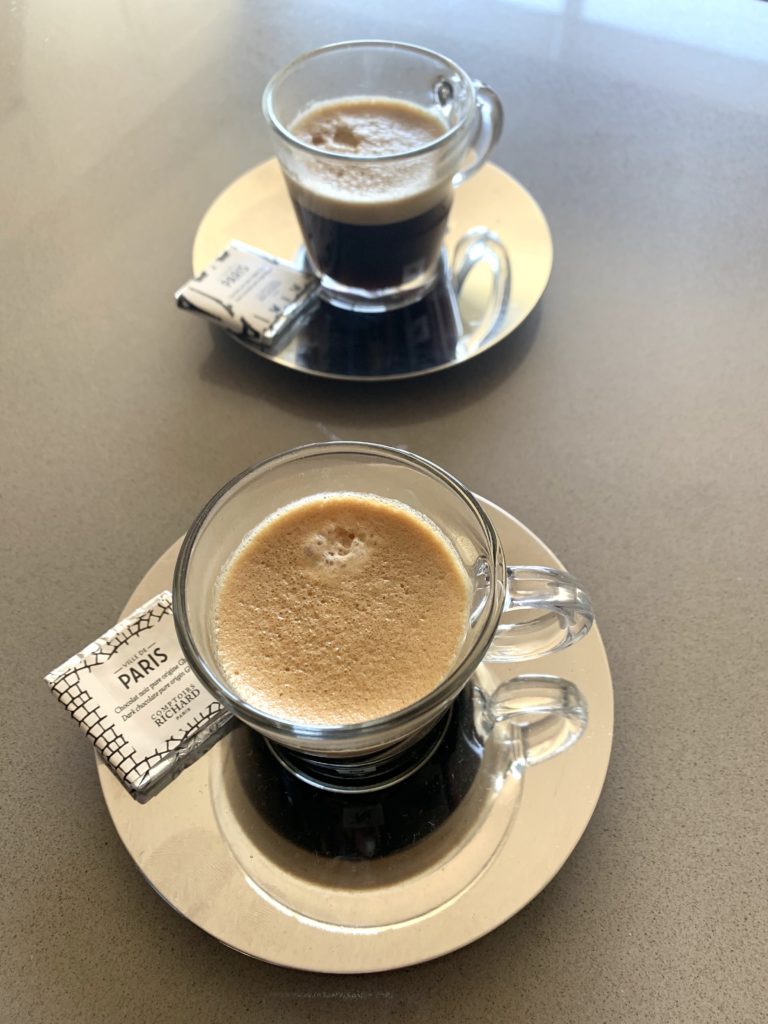 The Art of How I Take My Coffee
When I was younger, I used to drink my coffee with lots of added syrups and milk or cream etc. but I think we can all attest that loading up with sugar isn't the best thing to consume first thing in the morning. These days I love either basic B(lack) coffee or sometimes I'll add a little bit of perfectly frothed almond milk!
While I no longer enjoy heavy syrups and creams in my coffee, I do still love some added flavor. It took me a really long time to find a brand of almond milk that frothed properly, but fear not, I've done it! The Kirkland organic unsweetened vanilla almond milk froths like a dream! If I don't have any almond milk on hand, I'll happily opt for oat milk instead because it's still creamy and has a cow's milk-like consistency.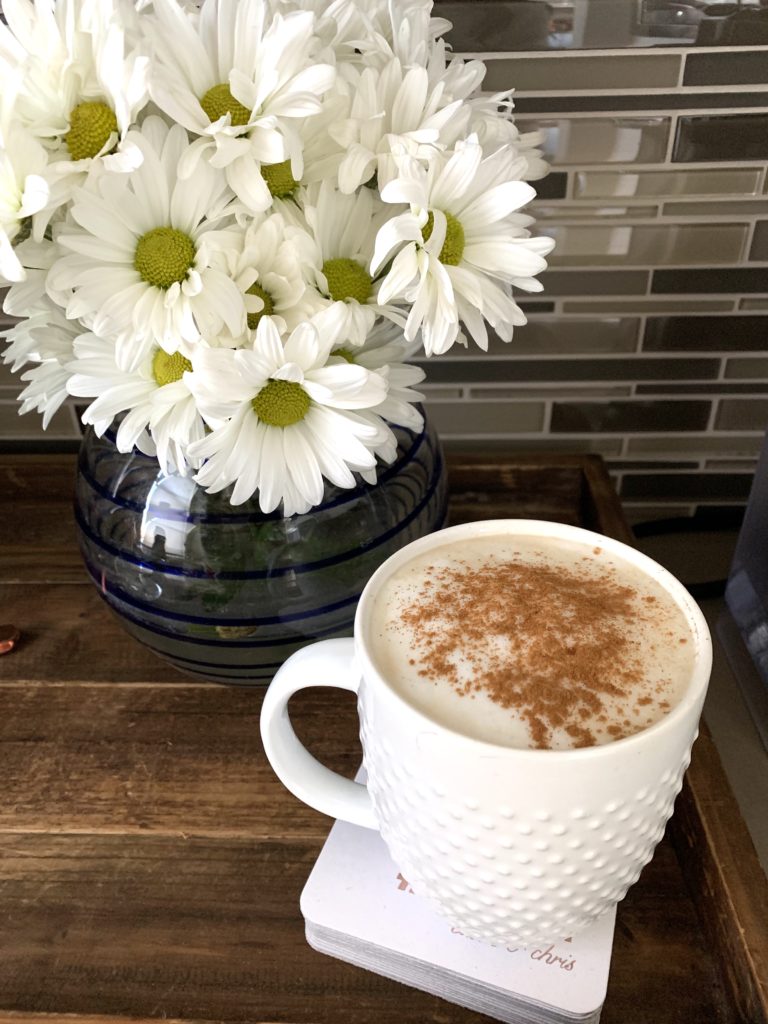 Personally I can't do dairy, but I did love cow's milk in my coffee when I was younger. I recognize the common toss-up is whether to buy skim milk or whole milk. While skim has fewer calories, whole usually has more naturally occurring nutrients. When they strip the fat content from skim milk, a lot of good nutrients may also be taken out. As we now know, fat isn't the worst enemy we may have believed it was in the 60's so if dairy agrees with you and your cholesterol is in check I recommend whole milk for your coffee! Creamers are also delicious alternatives but usually have additives and sugars, which I prefer to stay away from! Sometimes sprinkling cinnamon on top of your foamed milk adds a nice flavor though!
My Go-To Brewing Machines & Accessories
Chris and I definitely invest in our coffee makers, but we haven't gone over the top just yet. Someday I'd love to get into pulling a proper shot of espresso through a big beautiful machine that sits on our kitchen counter with a milk steaming spout off the side, or enjoying a pour-over, but for now, I rely on my Nespresso Vertuo Duo or Keurig.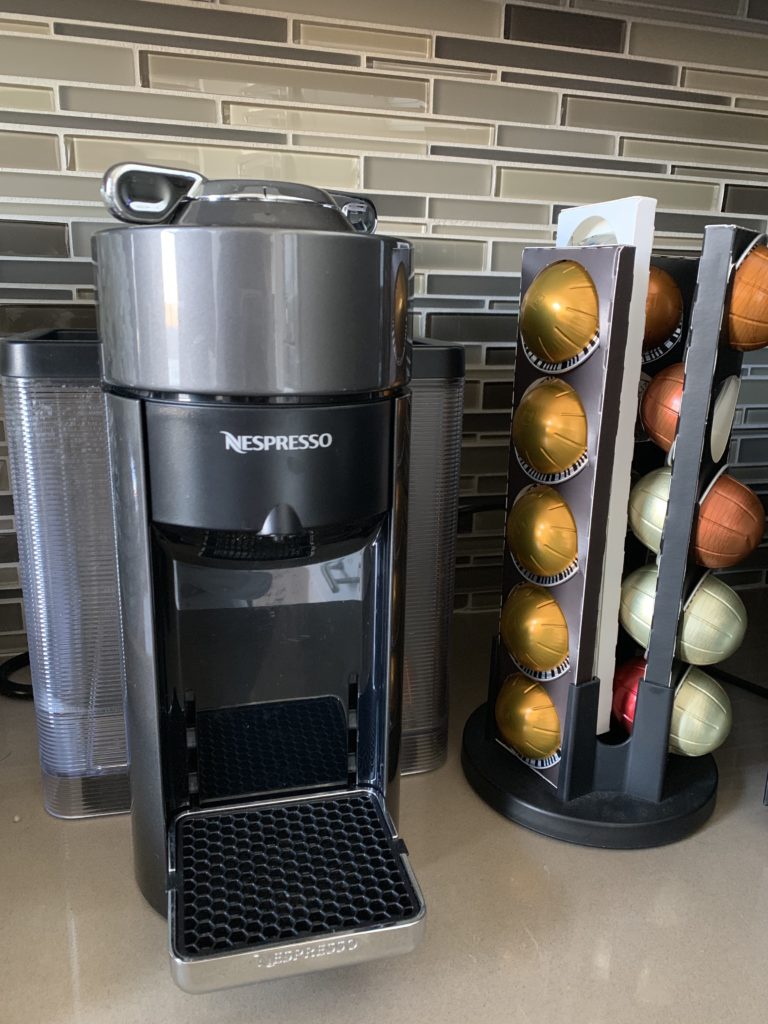 The Nespresso makes such nice espressos and americanos with the touch of a button. Nespresso machines and the pods can only be purchased in certain retailers which is a bit of an inconvenience but we buy the pods in bulk and know where to get them at this point. We are lucky enough to have a Nespresso store at our local mall, but Bloomingdales is a good option for those of you that don't, or you can order online! I also love my Keurig for a good, reliable cup of coffee in my favorite brands like Starbucks and Green Mountain. Plus Keurig coffee makers can be purchased wherever you like to buy kitchen gear and the pods are available in almost every grocery store (or on Amazon, in all the flavors).
When finding the perfect accessories for your coffee maker, I recommend the Nespresso Aeroccino. It froths milk really nicely and is super easy to clean. The Nespresso products definitely aren't as budget-friendly as the Keurig, but I promise, the quality is amazing. I also love to search Target for mugs that suit the season or even my mood. You all also know that I love to keep things organized around my house, so finding organizing and storage accessories for my Nespresso or Keurig pods is a must. You can find really inexpensive options at Bed Bath and Beyond, The Container Store, or Homesense. Sometimes I take it a step further and include a saucer and spoon so that I can get all the foam out of the cup which is an exceptionally nice touch when I actually have time to enjoy my coffee in the morning.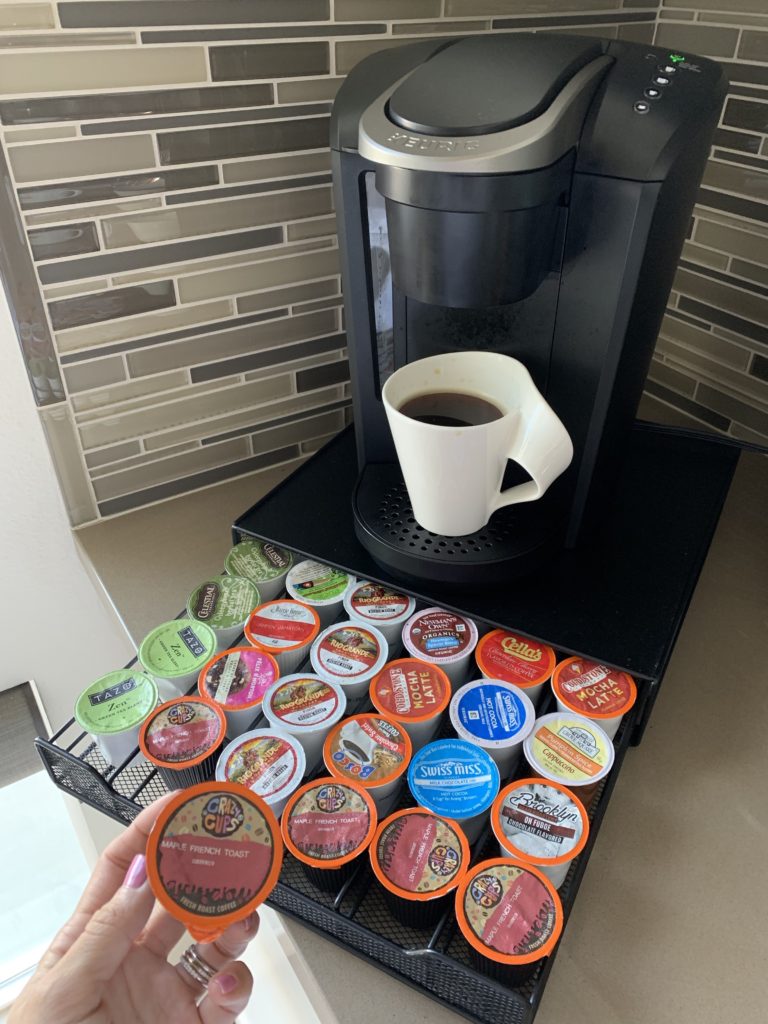 I am OBSESSED with these espresso cups and saucers. We have these regular sized mugs and they are so artsy and beautiful to showcase in your kitchen. I just bought a coffee mug tree to showcase some of our fave new mugs from Anthro, so that can spruce up your coffee space too!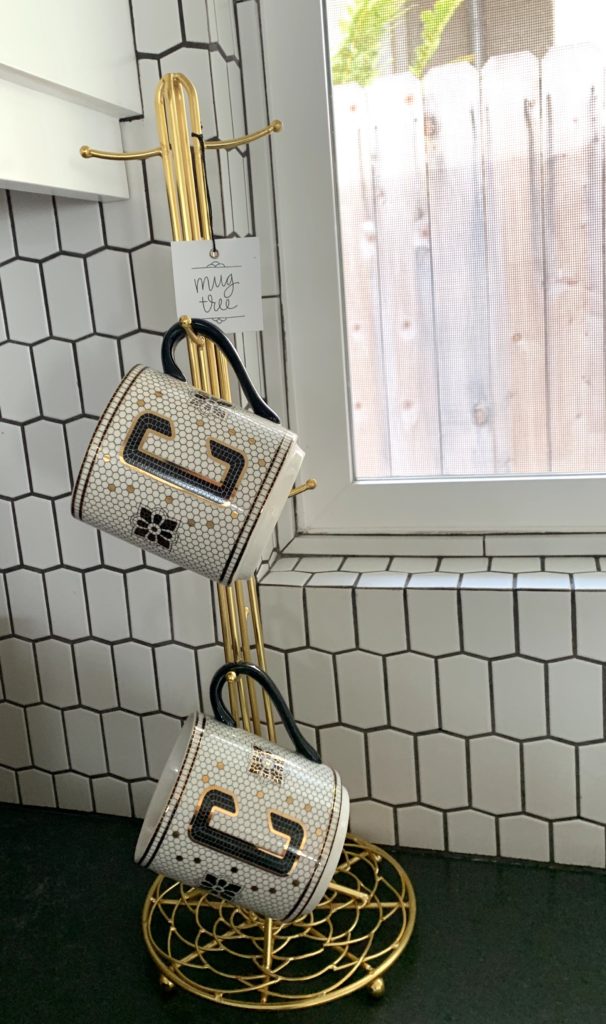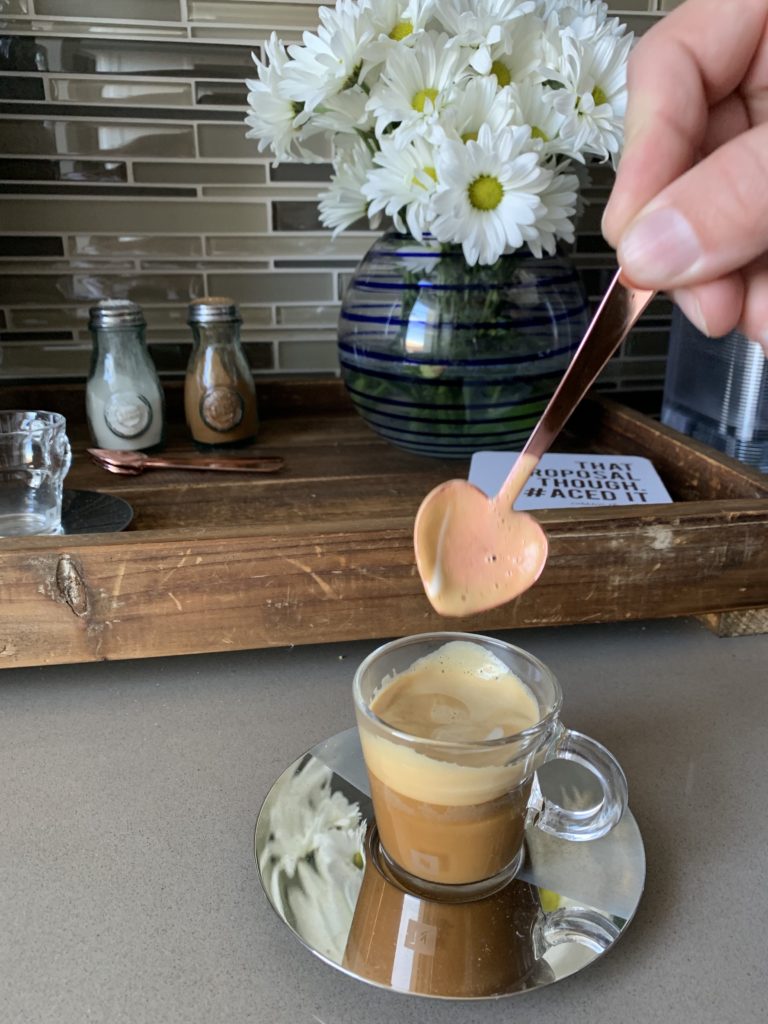 My Go-To Coffee Order
When I'm not making coffee at home, I'll stop at one of my favorite cafes. As you can see, additives freak me out a little so I keep my order minimal. However, If I know the ingredients in a house-made sugary syrup, I would definitely choose that over "sugar-free". Have you ever had a latte with house-made blueberry syrup?! To die for! So unless the cafe can assure me that they've made a syrup from scratch, I opt out. In addition to that, I never choose sugar-free sweeteners because unfortunately the artificial ingredients in those trigger a migraine for me. As mentioned before, almond milk is my go-to, even when I'm out and about. If the cafe that I'm going to don't have almond milk as an option, then Basic 'B' coffee it is and black all the way!
So there you have it, my coffee go-to's, must-haves and never haves. I'm interested to know how you're drinking your coffee! Drop a comment below or let me know on Instagram! If you have a favorite at-home coffee recipe, I'd love to try it out as well!