I'm a doctor so maybe you saw this one coming. The hottest accessory of your 2020 summer is, your MASK baby! Let's talk about how to style your mask so it doesn't totally kill your vibe. Masks are now mandatory in most places which means that it's time to accept the fact that they're now part of our wardrobe. I know that every place is different but if masks are mandatory in your grocery stores or other public places, there's no reason not to be comfortable or dress it up. When our reasons to go out are so limited, we might as well rock a cute summer outfit top to bottom when we can, mask included!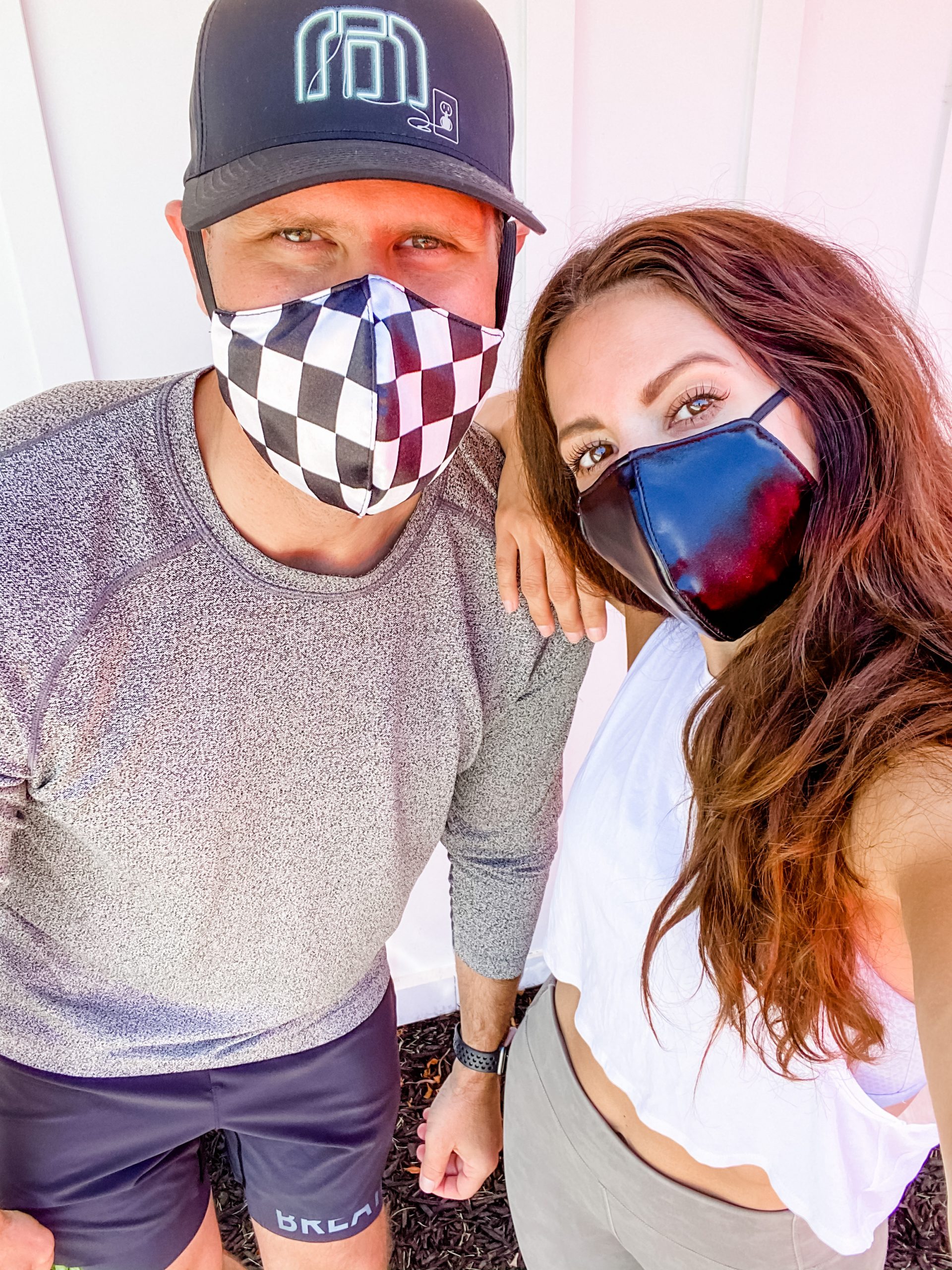 Collect Them
I've found myself becoming a bit of a mask collector for two reasons. Firstly, it's highly recommended to wash your mask after every use. Having a few of them on hand helps to lessen the amount of washing that you'll do and save yourself from a nightly load of laundry. Plus, having a collection means that you can mix it up and match your mask to your outfit. Oh, what a world we live in!
Make Your Eyes Pop
Once you've found the mask that goes best with your #OOTD, consider the fact that your eyes and brows are now your key facial feature – so you can get a little extra here! I don't recommend wearing a full face of makeup with a concealer and foundation because it's hard for your skin to breathe inside that mask. If you're anticipating a lot of mask-wearing, keep it to the eyes only. Let's be honest ladies, this is a huge win for us! 
My favorite brow product right now is the Benefit Foolproof Brow Powder. Each shade comes in two different tones so that you can build your brows naturally. There's a two-sided applicator to ensure the perfect look. My favorite mascara ranges between two right now. Keep those eyes popping with either the Bobbi Brown Smokey Eye Mascara or anything by Chanel. Right now, I'm loving the Le Volume de Chanel mascara! Both of these products do an amazing job of keeping my lashes looking full and long whether I'm wearing a mask or not. We finally have a reason to perfect our "smize".
Find a Hairstyle that Works
I find that hairstyling with a mask is slightly more difficult. If your masks pull at your ears in a certain way, it might be unflattering to wear your hair down or in certain other styles. Find what works for you and have fun experimenting! My go-to has been a low bun or french braid (so high school for me). Of course, I'm used to masks from working in the ER, but I always like to keep my hairstyles fresh at work too! Keeping your hair out of your eyes is key. If you're wearing a mask for any reason, it's important not to touch it, your face or your hair. So find a style you love that keeps it all out of the way.
I have seen some of the nurses wearing space buns, and putting the mask elastic around the buns to save their ears (SO creative). There are also many different "ear savers" that you can attach behind your head to prevent that pull on your ears!
My Faves
I've been fortunate enough to find some masks that I absolutely adore. You can get masks anywhere nowadays (literally anywhere), but I recommend finding some that you know you're going to love wearing – even if the price tag is a little higher. A lot of local companies have taken to making their own lines of masks so it's great to support them where you can. I'm loving these masks from Olivia's Interior Design and Accents. Olivia's is local to me and her and her family hand-make these. They come in fashionable, outfit-pairing colors and designs! Plus these are washable, reusable, and have three layers including a filter. And, of course, FIGS created a great line of masks called the FIONx Protective Face Masks. They can go over your N95 mask if you're working in a healthcare setting or be worn in public for trips to the grocery store or grabbing take out. They come in fun colors and two sizes.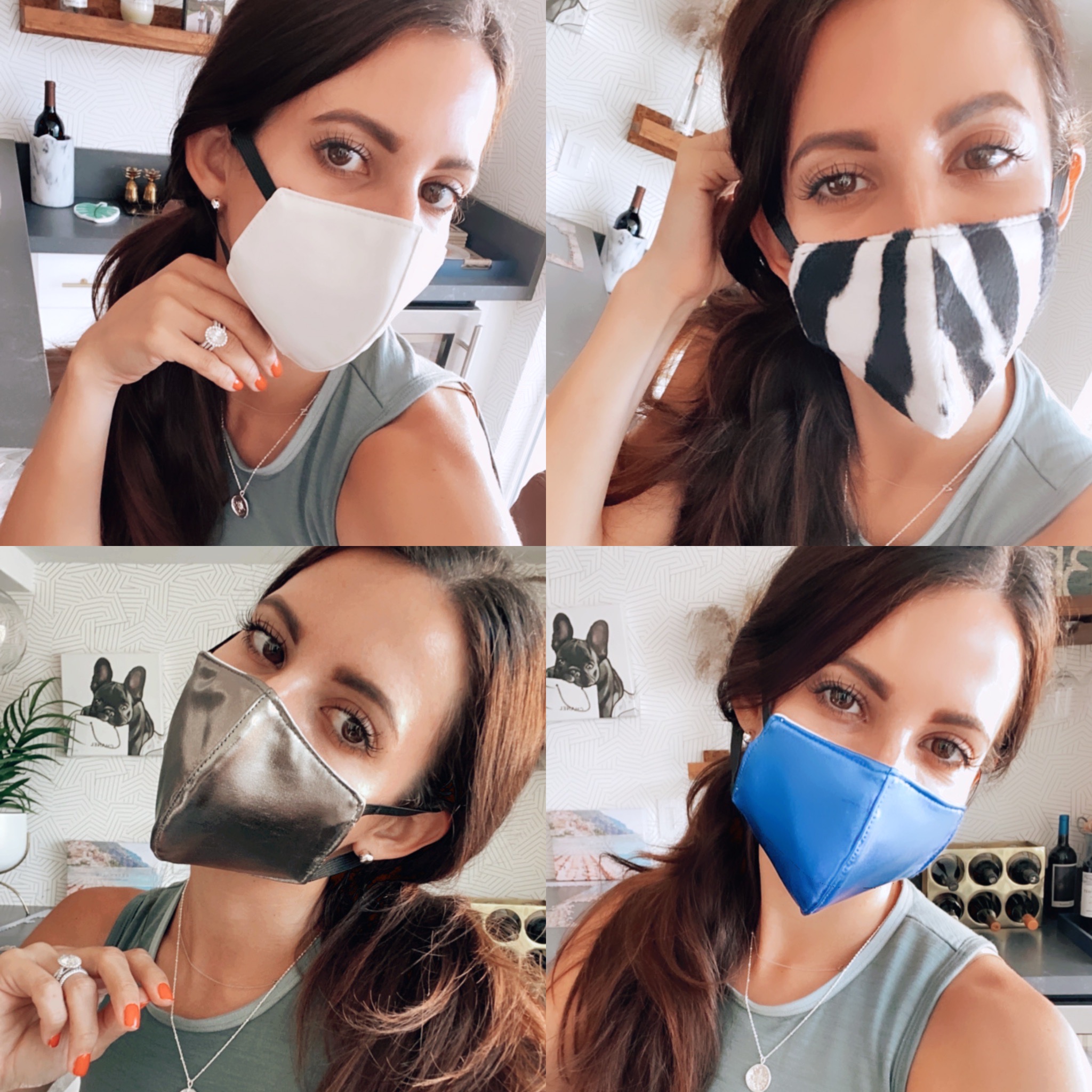 Remember, this doesn't have to become a painful decision. 2020 is all about pivoting and trying new things, so you might as well make the most out of it. That being said, while all of this is fun to experiment with, I highly recommend buying masks that have a few layers and are also comfortable. Make sure the mask is actually doing the job of protecting you (and others) safe!