I think we can agree that not all t-shirts are made equal. It can't be too tight on the armpits, or the neck, but also not too baggy on the neck. They have to have just enough extra fabric to feel totally comfortable in but not too much that it looks like you're swimming in it. Oh and t-shirts MUST be soft, definitely soft.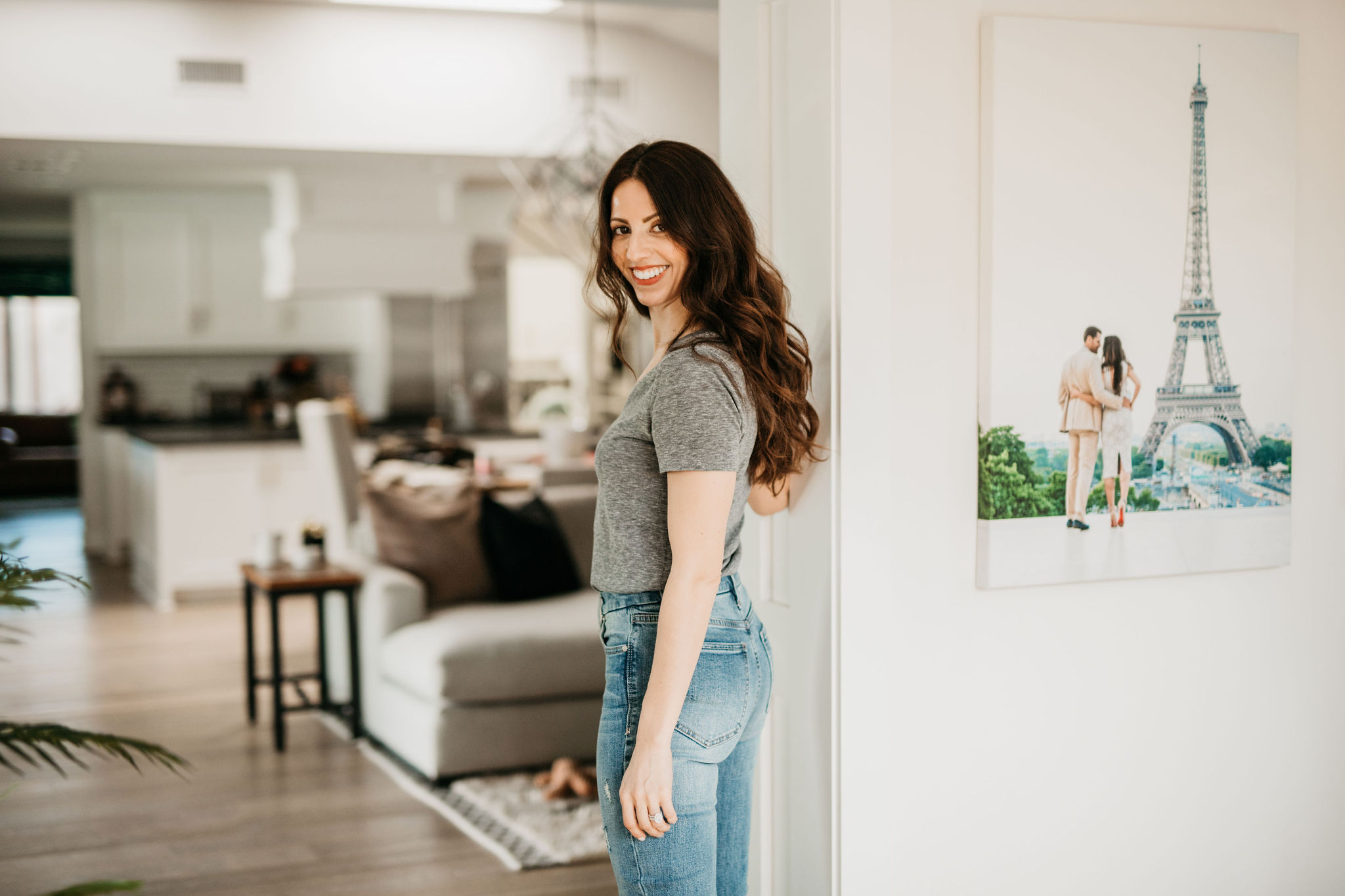 Comfy tees have been my jam during this pandemic, and pretty much whenever I'm not wearing scrubs. They're versatile, can be dressed up or down, and worn right to bed. It's the perfect core closet piece! I know you're thinking to yourself, "Cass, t-shirts? Really?" but SERIOUSLY I've got them down to a science. I'm going to break down which I've been loving and how I've been wearing them! You probably have an entire drawer of t-shirts that you think are too casual for some occasions or maybe you don't know how to style them! Don't worry; I've got you.
Endless Options
No matter your size, body shape, or color preference, I believe there is a t-shirt for you. It might take some trial and error, some of us like the v-cut neck, others love a scoop, and some are for the classic boy cut. If you're like me, when you find a reliable piece of clothing, you buy it in every color so that you can always have it on hand and wear it again and again – without looking like you only own one t-shirt. The thing with T-shirts is basically if you can dream it up it probably exists – loose-fitting, slim fit, slouchy, more athletic cut, from solids to tie-die to sports teams (Go Bucks!) they can express YOU. There are so many fricken t-shirt designs out there that it's almost like they are custom for you. Finding a seemingly custom rain jacket on the other hand would be a little harder to do. 
Splurge vs. Save
Like any article of clothing, someone is selling it at a premium price. They CAN cost a lot of money, but on the flip side, they don't have to. Honestly, I recommend saving where possible. However, if you're like me you will wear the t-shirt over and over and over again so maybe it's worth the $50-$80 investment for that amazing soft fabric. It might feel like "a lot for a t-shirt" but I'm sure you'll be wearing it a lot more times than that $300 blazer you bought.
Style Them!
Okay, so we've gotten through variety and budget, let's talk style. SO many ways to style a t-shirt. The most exciting part really. This is where the tee really proves it's value. I have a few favorite styles that I love, I can pair them with jeans, skirts, shorts, OR leggings to achieve any look that I want. Basically whatever you've got going on on the bottom, a t-shirt can go on top. 
Tucked
Whether you're going full tuck or a cute French tuck (front tucked in, back out), this is a great move especially when I'm looking to dress up my jeans. I can pair a more casual tee with dress pants and some statement jewelry and heels for a polished, confident look. If I want to be even more polished I like to find a tighter fitting bodysuit-style tee, that keeps the casual capped sleeves but makes the tuck-in game so much easier.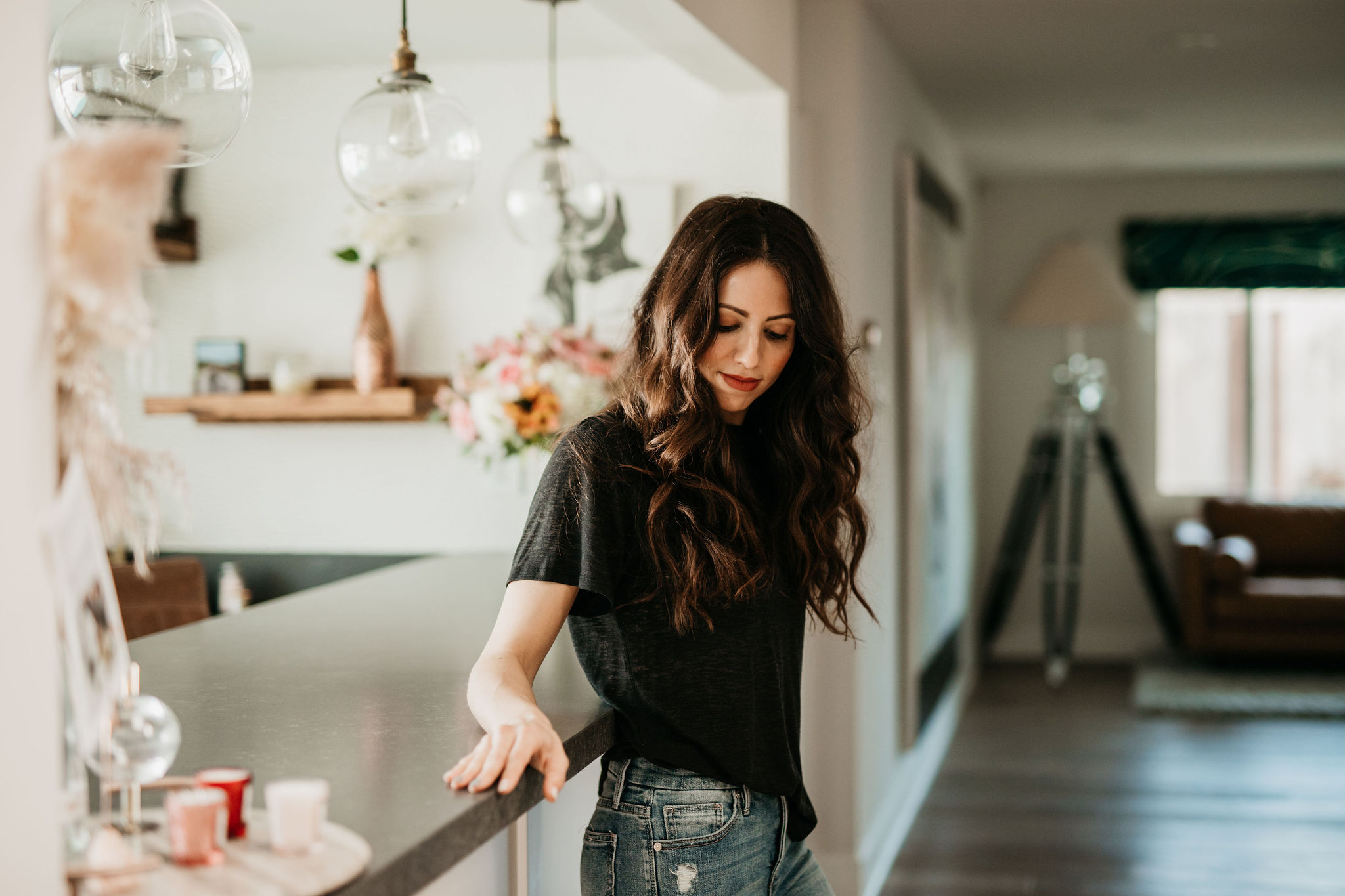 Tied
If you can find a t-shirt that is a couple of sizes larger than your standard size, or made or be oversized then you have your perfect opportunity to tie a small knot in the front or off to the side. Paired with a cute pair of shorts or jeans, you can rock this look to a family barbeque or night out with friends. Add a belt for a little extra.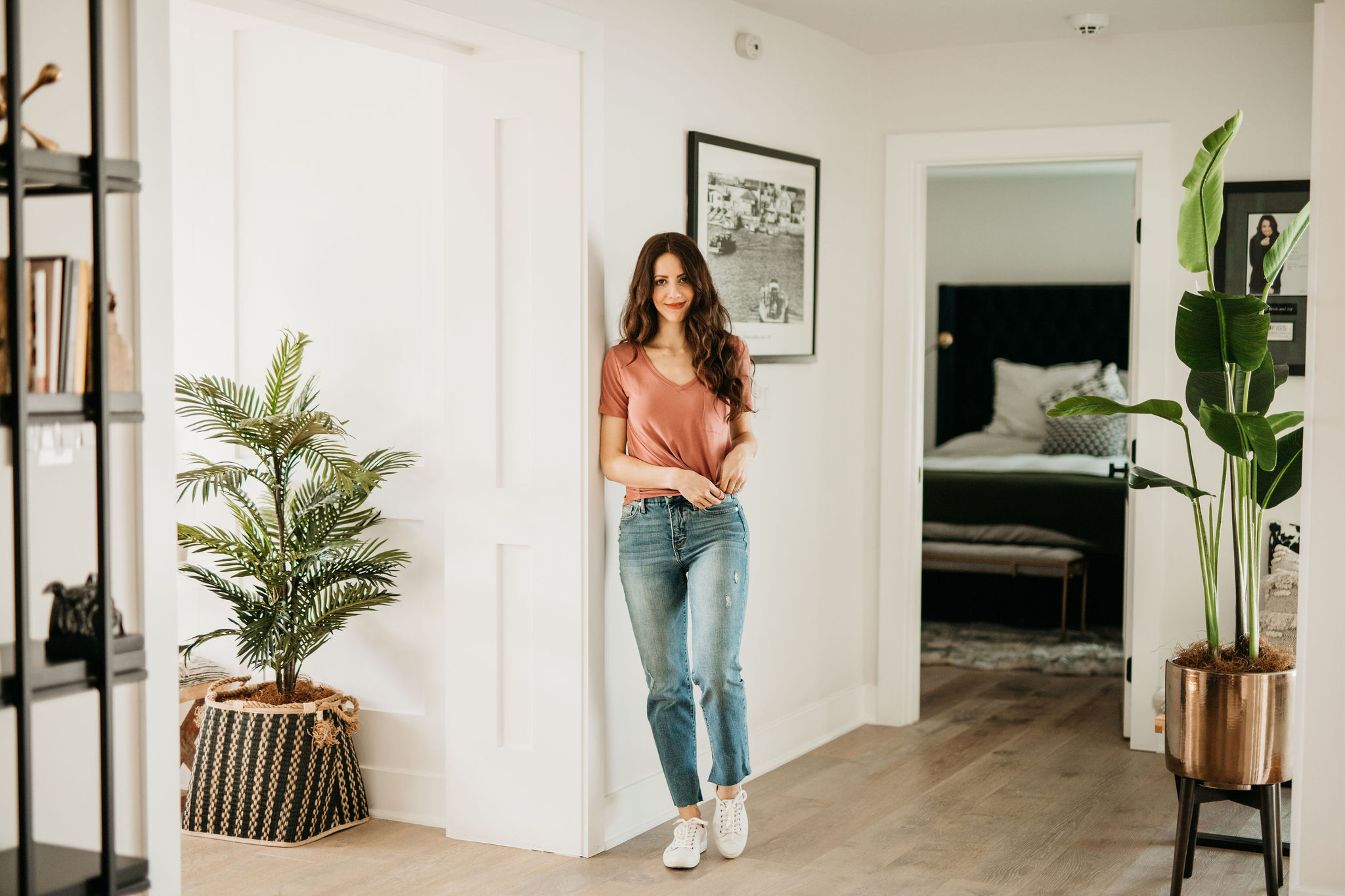 Long
I love a long t-shirt – or borderline t-shirt dress – to wear on its own or pair with leggings. I'd choose this for a casual date with Chris. Paired with mules and maybe some long chain necklaces for a more put-together look that's still effortless. In the fall or winter, a long t-shirt paired with leggings and a chunky cardigan is the way to my heart. 
Off the Shoulder
For added sass and flair, I love an oversized, open neck tee for the off the shoulder look. A strapless bra with one side off the shoulder (and maybe even tied in the front!) is perfect for walking on the boardwalk and taking in the sunset. 
My Fave Tees
I have a few favorite t-shirts that I have come to love and accept splurging on over the years. They all serve a slightly different purpose but are go-tos in my closet!
Lululemon
Firstly, I love Lululemon's fabric, so even if you're wearing a t-shirt from them out for an event, you're going to be comfy and feel good in the t-shirt itself. Their styles range from athleisurewear to workout tees to even those over-sized comfy pieces. The boyfriend tee (pictured below) happens to be my favorite and I own it in… many colors.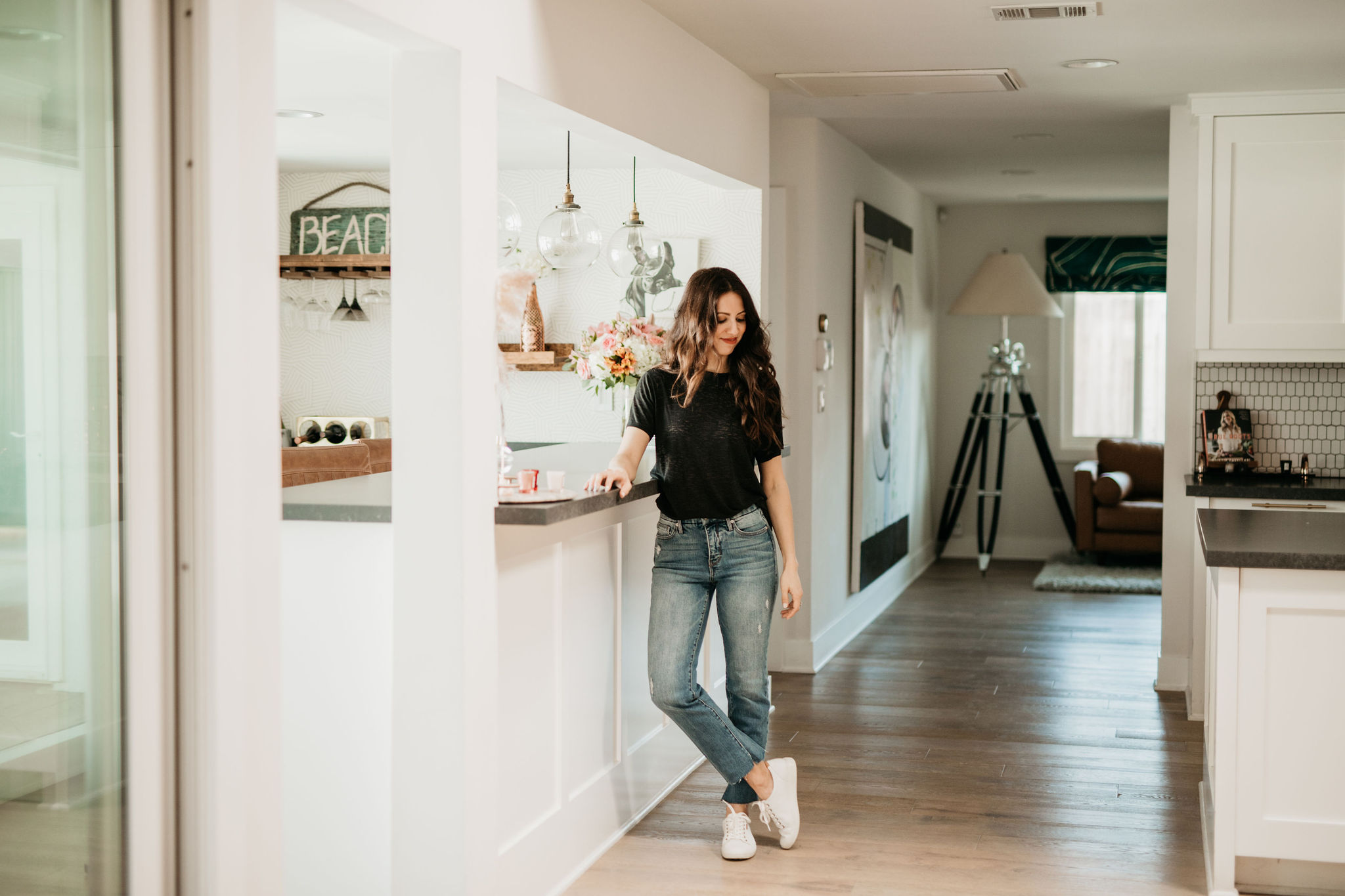 Madewell
Madewell offers the comfiest bodysuit options for the perfect tucked look. Their bodysuits also come as long-sleeved or tank tops, depending on the season and your preference. I also love that they have a variety of colors in the basic tee which you can also buy in threes for a lower price. The one pictured below is from Madewell and is very similar to the basic tee sans pocket.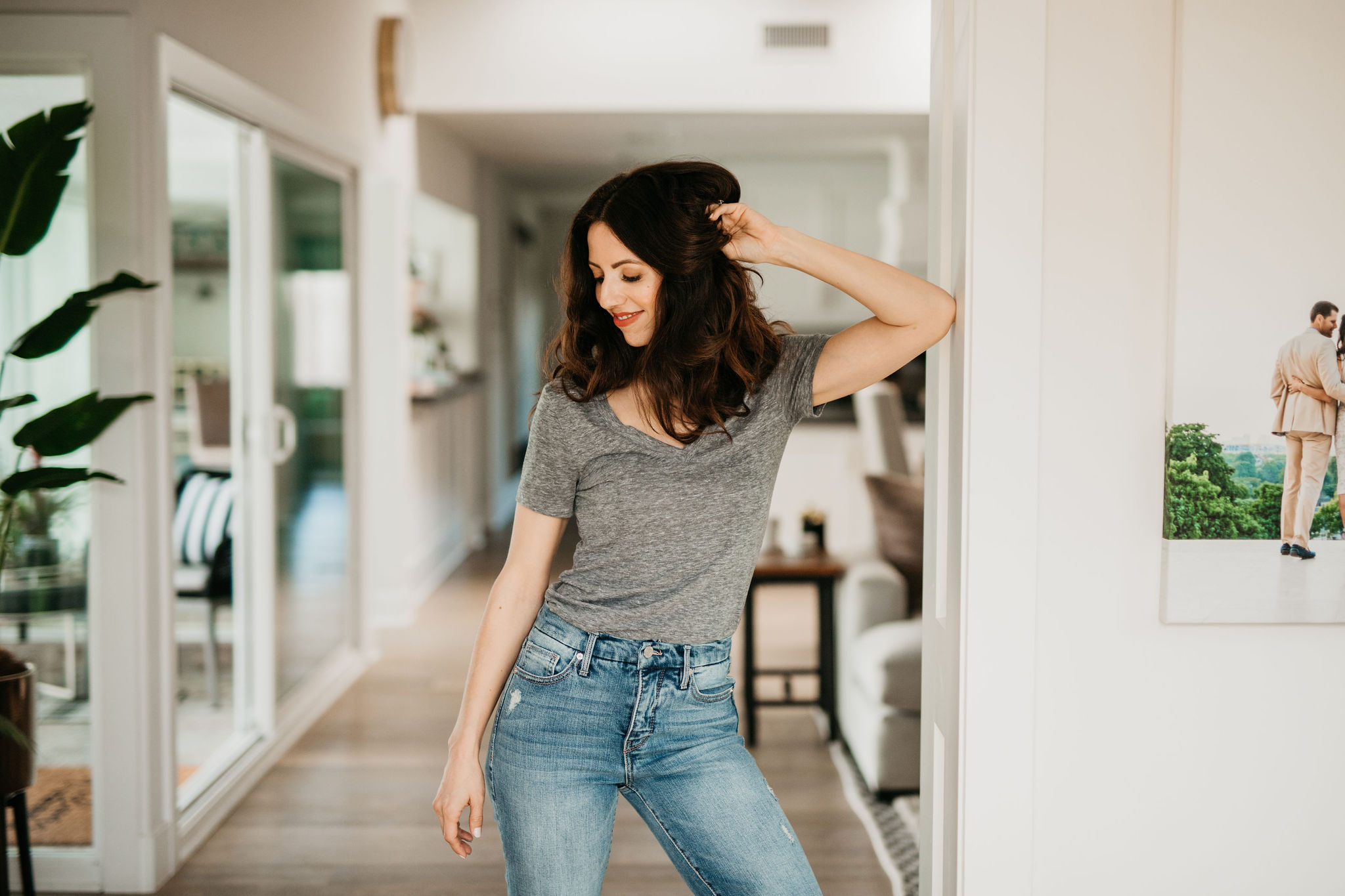 We the Free by Free People
This is my one-stop-shop for oversized tees that are ready to be tucked or tied. I can always count on them to deliver, AND they're so comfortable. The We The Free Clarity Ringer is perfect for knotting, and the We The Free Fearless Tee is my go-to for an oversized slouchy look.
T-Shirts for Liiiife
There you have it! The lowdown on my favorite t-shirts and ways to wear them. If you aren't in love with tees then you probably just haven't found that perfect one! I hope this post can help you get there so that you can live your life in extreme comfort and cuteness. Also if you are in t-shirt overload take stock of your closet and drawers and see how you can repurpose some of your old tees to create the perfect summer look. Maybe it's time to take a trip down memory lane and try and remember how you made that tye-dye one time at your friend's birthday in the 90s, or get out your kitchen scissors and start cutting. If your t-shirt strategy is non-existent definitely go find one you're obsessed with and thank me later! But don't let your partner blame me if you live in it for the rest of summer.