We all know that travel looks a little different this year… need I elaborate on 2020? No, I don't think so. C and I decided eventually that we were comfortable with travel, but we changed some things up from our usual.
Since international travel isn't happening this year, C and I decided to appreciate the beauty of our own state. We surprisingly realized that because our focus is usually on international and out of state travel, we have missed some really beautiful areas of California!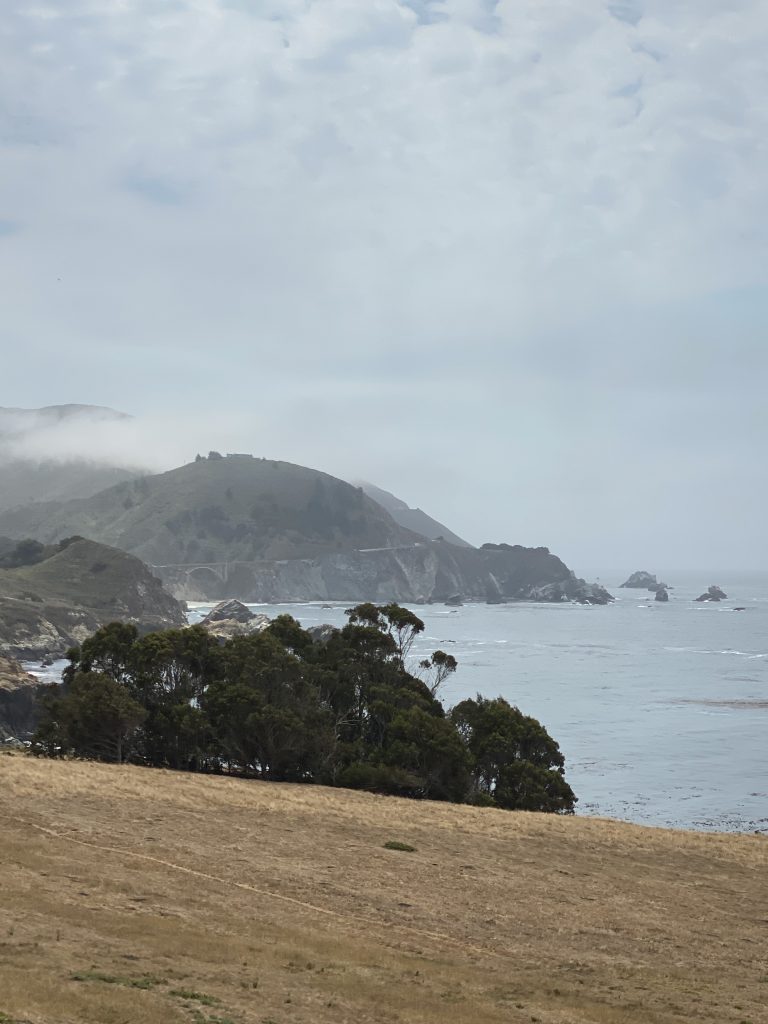 My mom grew up near Monterey, so I have many childhood memories of there, but really hadn't been in years. C had never been there! A road trip seemed like the best option, the coastal route of course. Monterey is about 6 hours from Orange County, so we decided to break up the trip with a couple of nights in Santa Barbara too.
Both C and I fully expected some cooler weather up north and packed our sweatshirts, but of course as luck would have it, there was a heat wave! There were so many naturally beautiful landmarks on our way up the coast, that it didn't matter if we sweat through our masks. This is a trip I would highly recommend, and drive if you can!
Here's our round up!
Santa Barbara
Belmond El Encanto– this is a gorgeous property in the hills of Santa Barbara with insane views. It's peaceful, quiet, and guests were spread out with plenty of space. We ate at their restaurant which has fabulous views. *Bonus* they offer free transportation within 5 miles.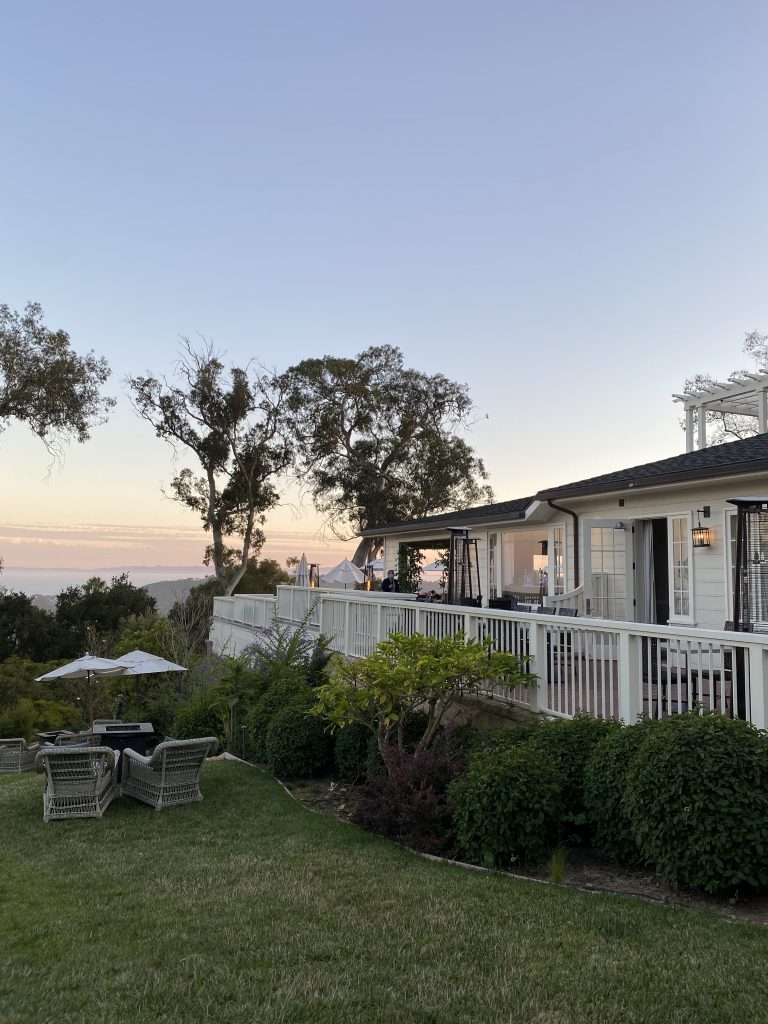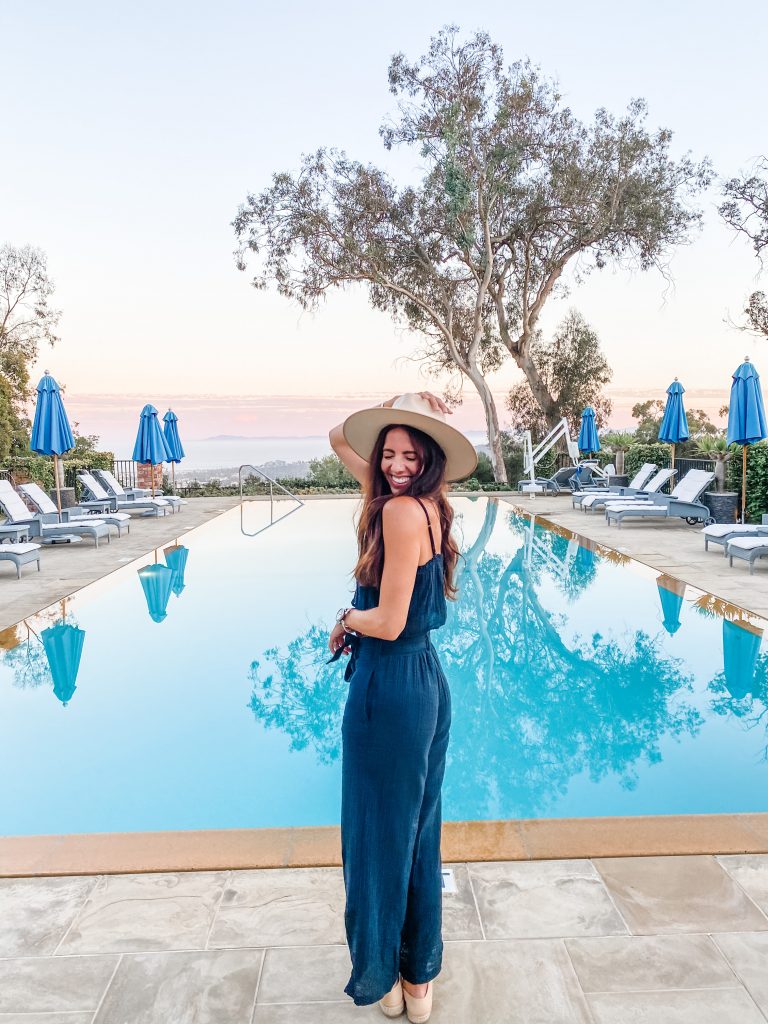 Santa Barbara Winery– the oldest winery in Santa Barbara. They offer tastings out on their patio, all local wines!
Deep Sea Winery– one of my fave places to have wine in Santa Barbara. They're located on the pier with epic views. Currently not serving tastings because of restrictions, but they are serving glasses of wine.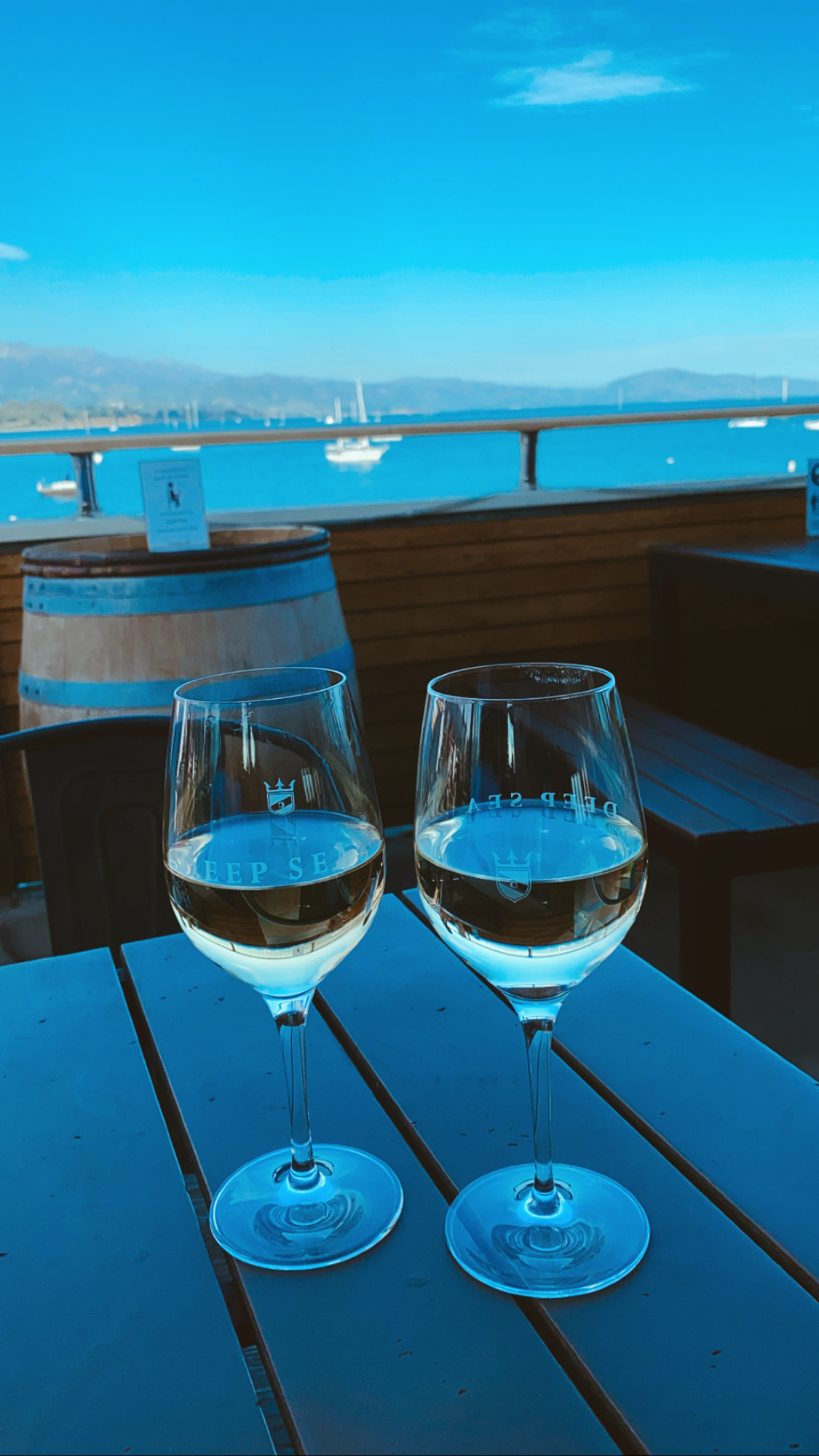 The Lark– great foodie spot! The menu is a little smaller than usual right now, but still did not disappoint. Huge outdoor seating areas.
Renaud's Bakery– locals recommended this spot. We had an egg and cheese croissant that took us back to our summer in France last year!
State Street Shops– because of COVID and outdoor dining, a portion of the street is blocked to vehicle traffic, so you can roam the street and there are lots of outdoor dining options. Shops are open and so many to choose from!
Pebble Beach/Carmel/Monterey
The Lodge at Pebble Beach– I was super impressed with this hotel. Yes, it is a pretty penny, but they had their you-know-what together. They have two other accommodations- The Inn at Spanish Bay and Casa Palmero, which I've heard are great also. We had a room overlooking the first fairway (which C loved), and it was spacious! Our only issue was with dinner reservations, because they were so limited in tables and it was outdoor dining only. We ended up getting very lucky and were able to eat at all three of their restaurants despite not having reservations. The food and views are EPIC. I highly recommend any of their restaurants if you are traveling here. They also have tons of beautiful deer on the property!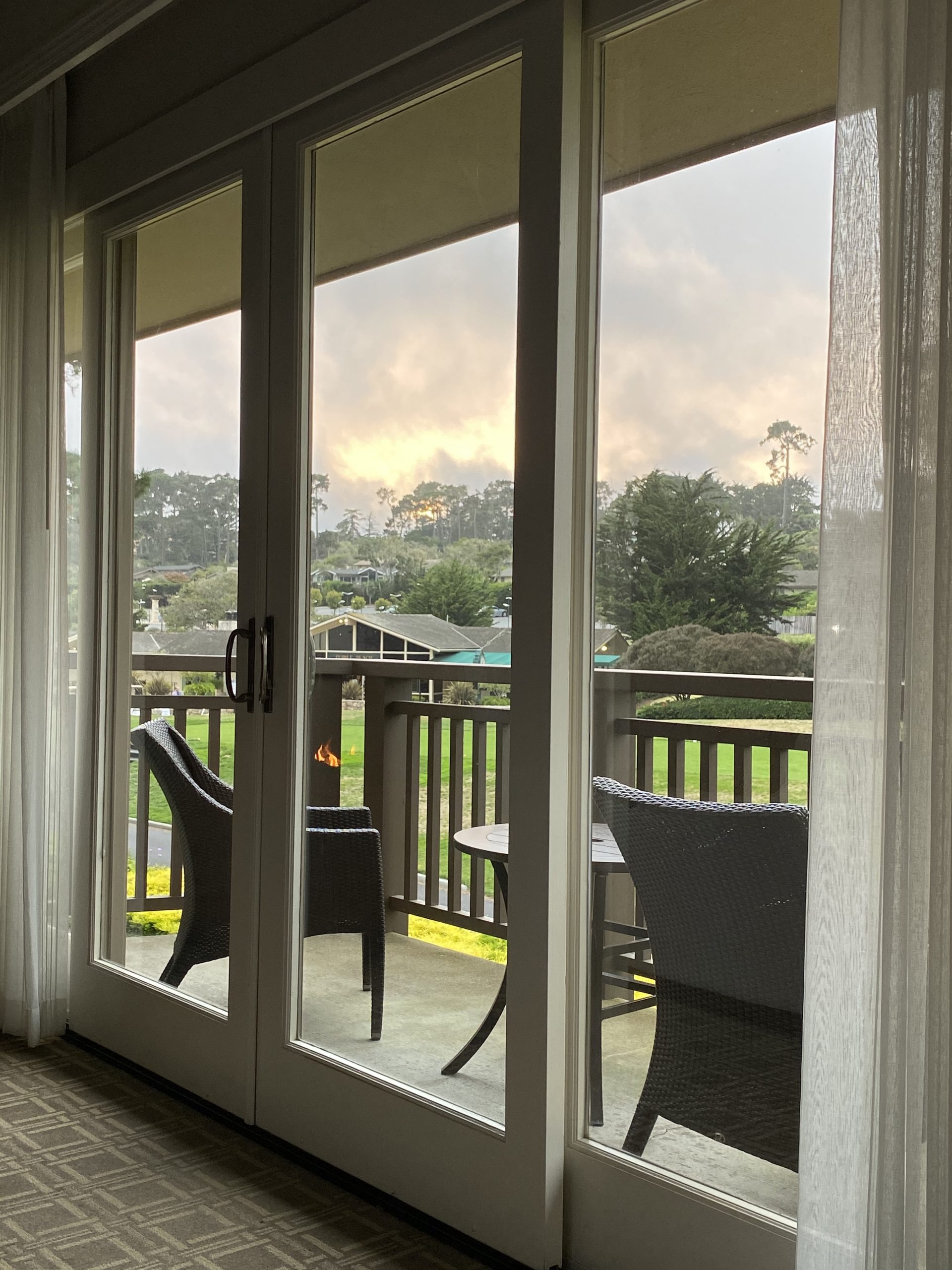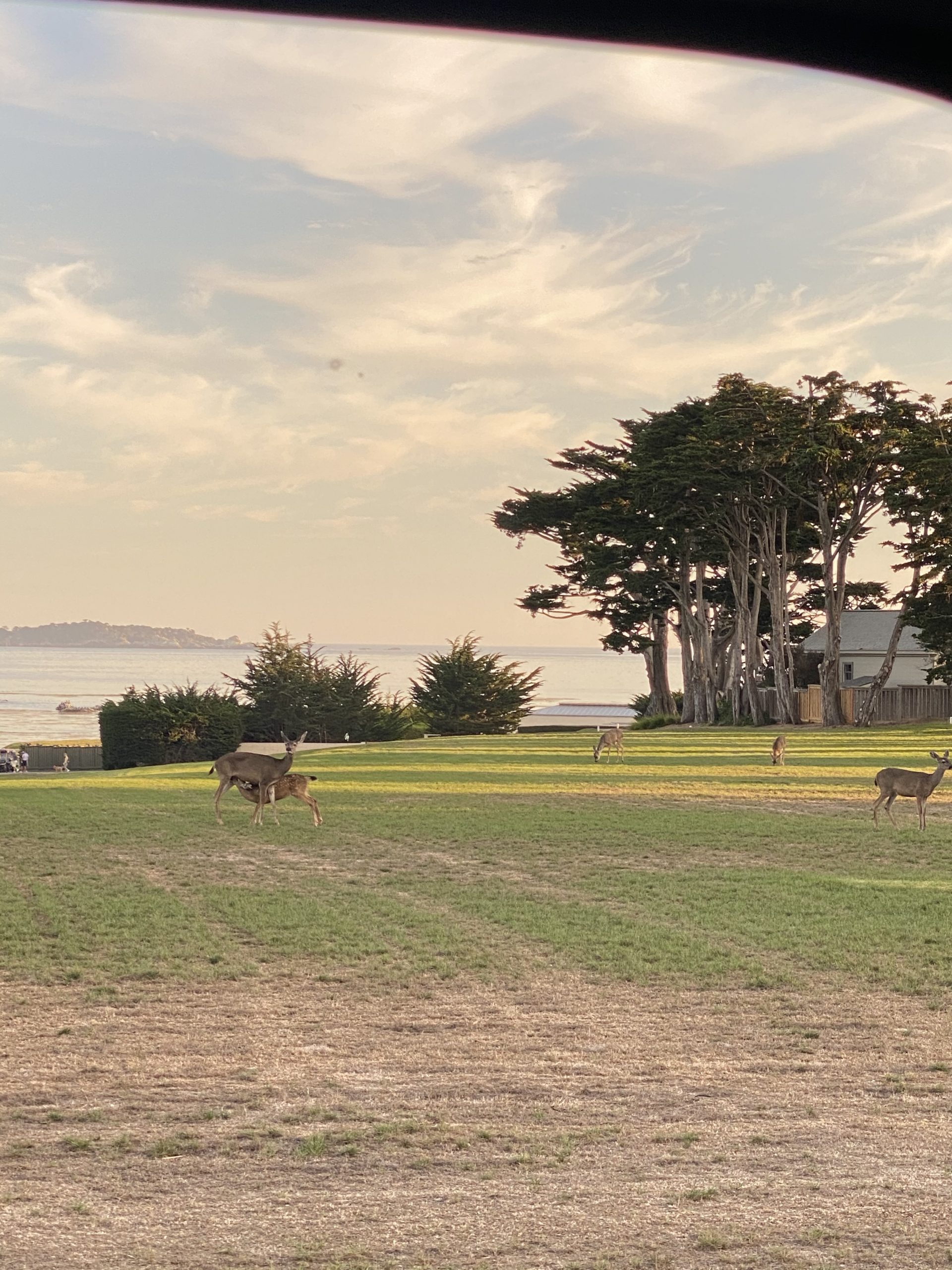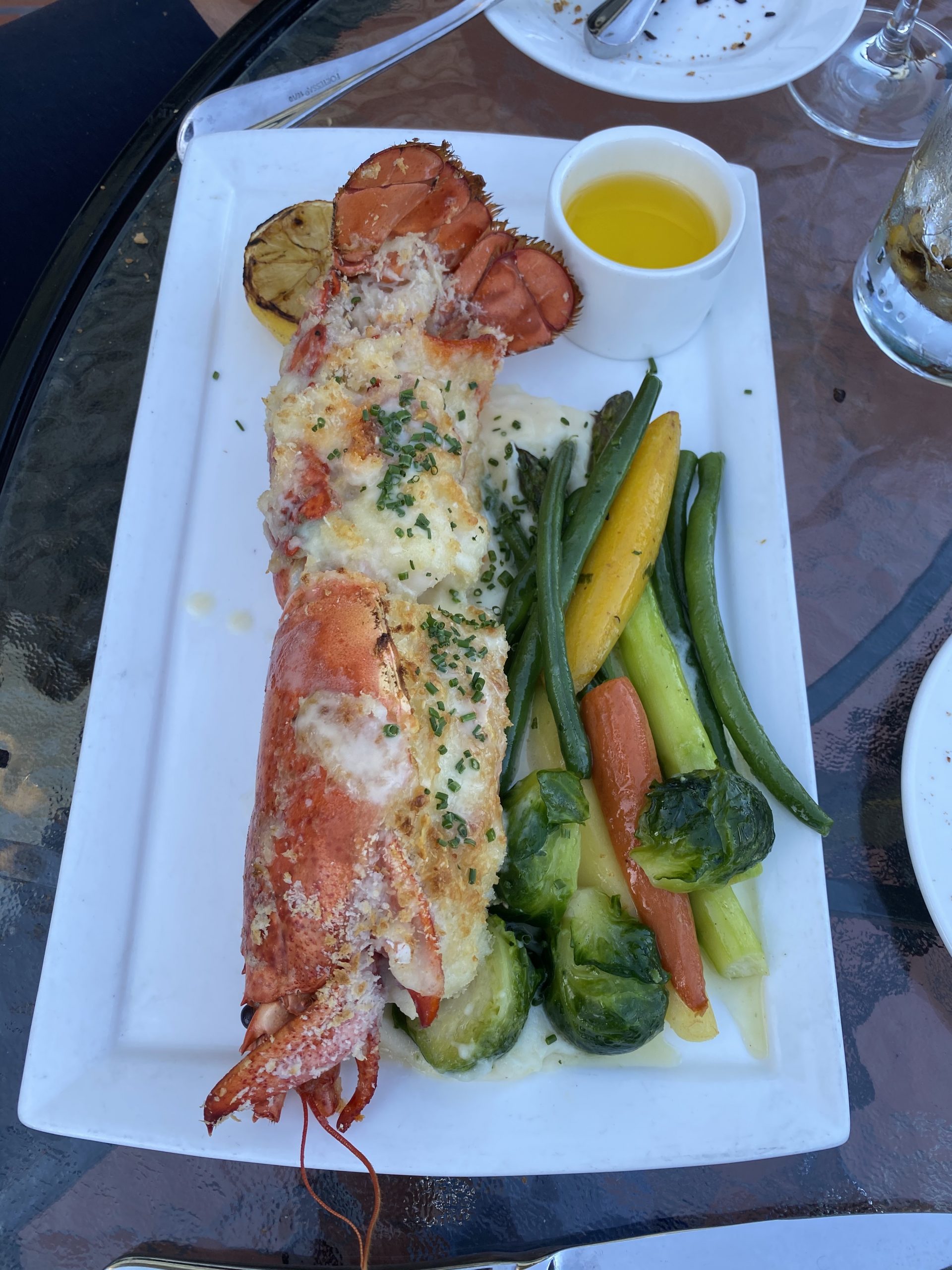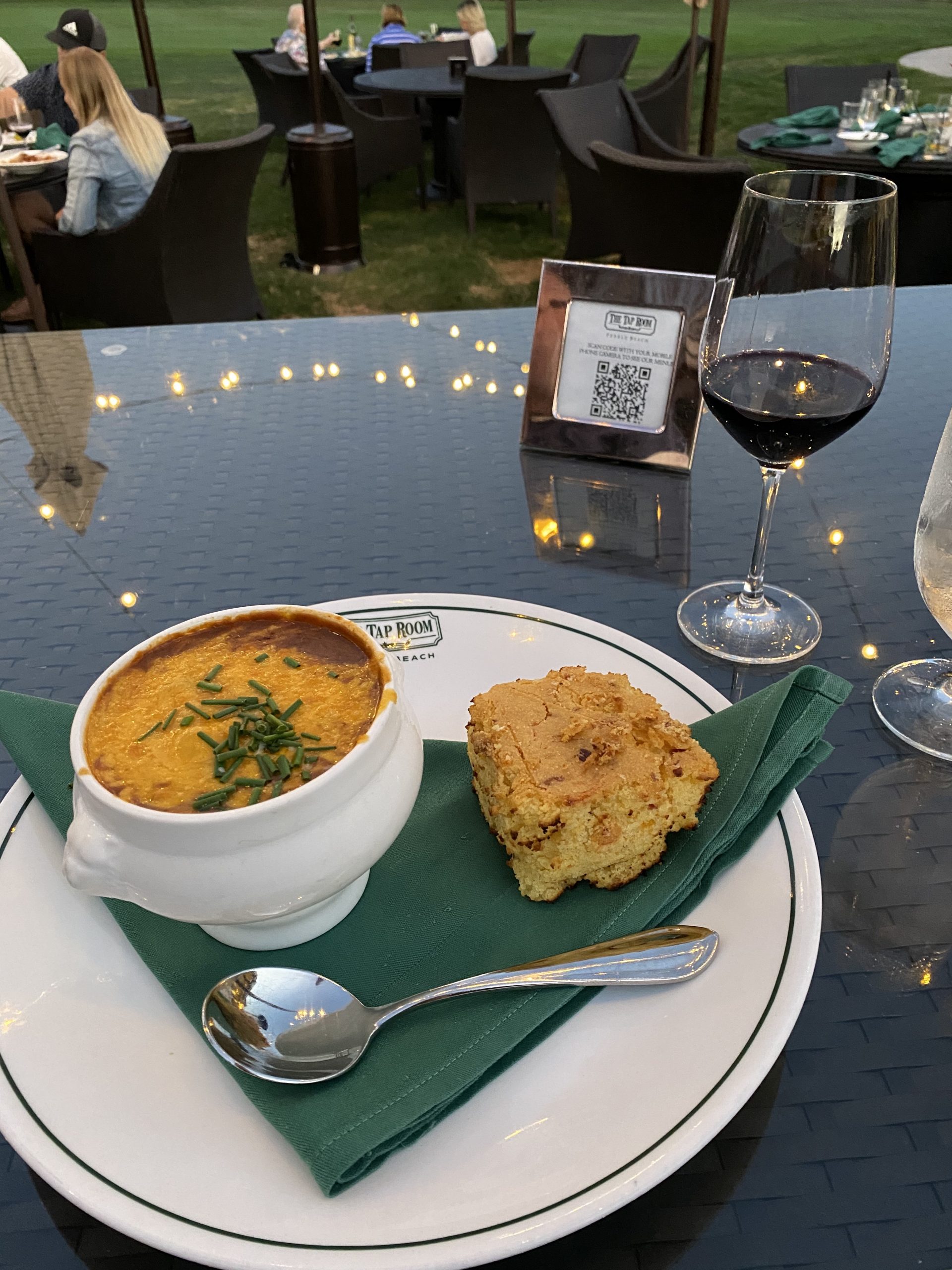 17 Mile Drive– we had the hotel shuttle take us to one of the stops (Bird Rock) and then we walked to a couple of the other attractions and back to our room. If you don't want to drive the whole thing, I highly recommend Bird Rock, Seal Rock, and The Lone Cypress. The water is SO clear, the homes along the road are GORG, and the fresh air is so relaxing. There were a ton of pedestrians BUT the road is very narrow and there is no specific area for pedestrians.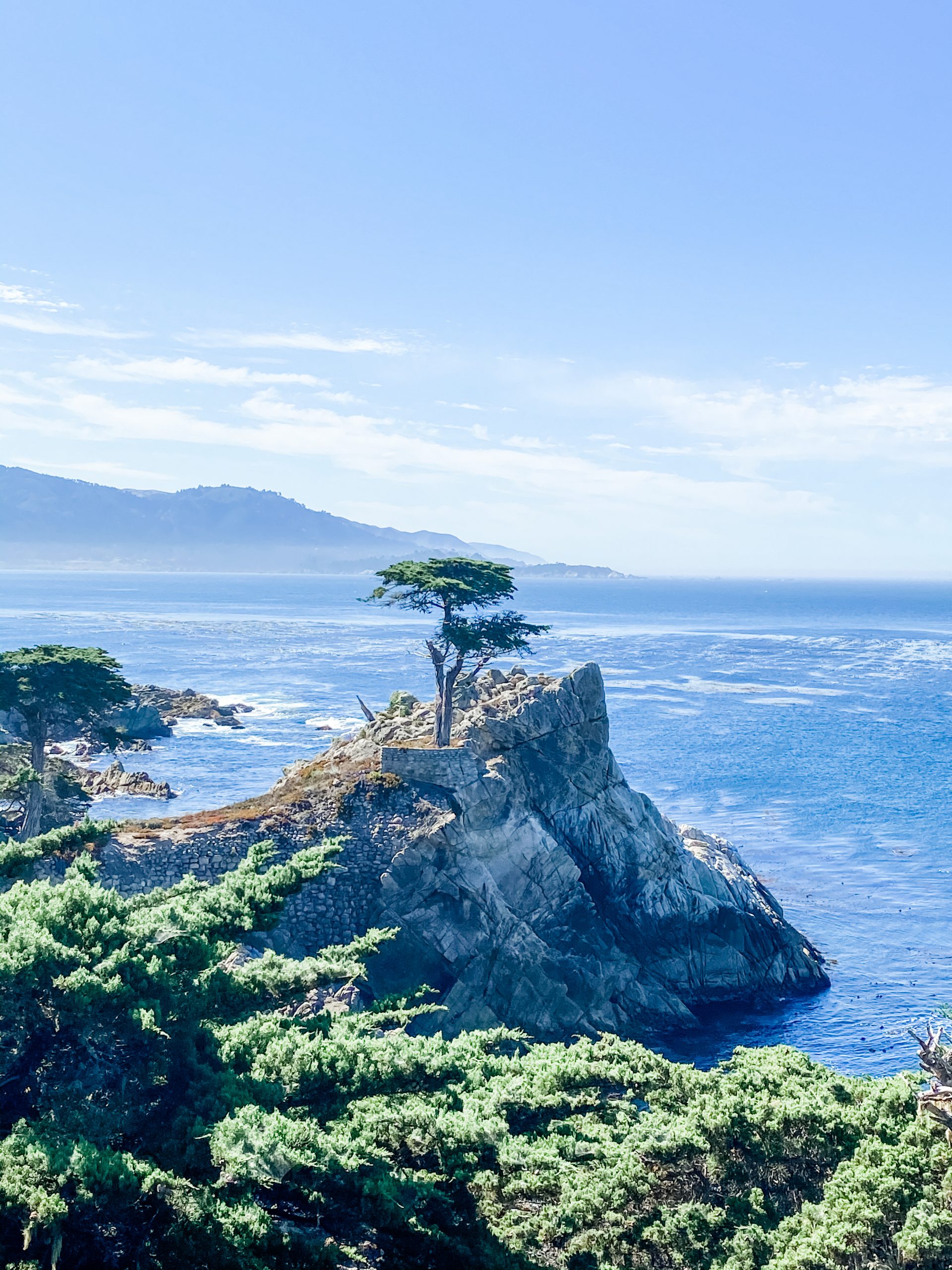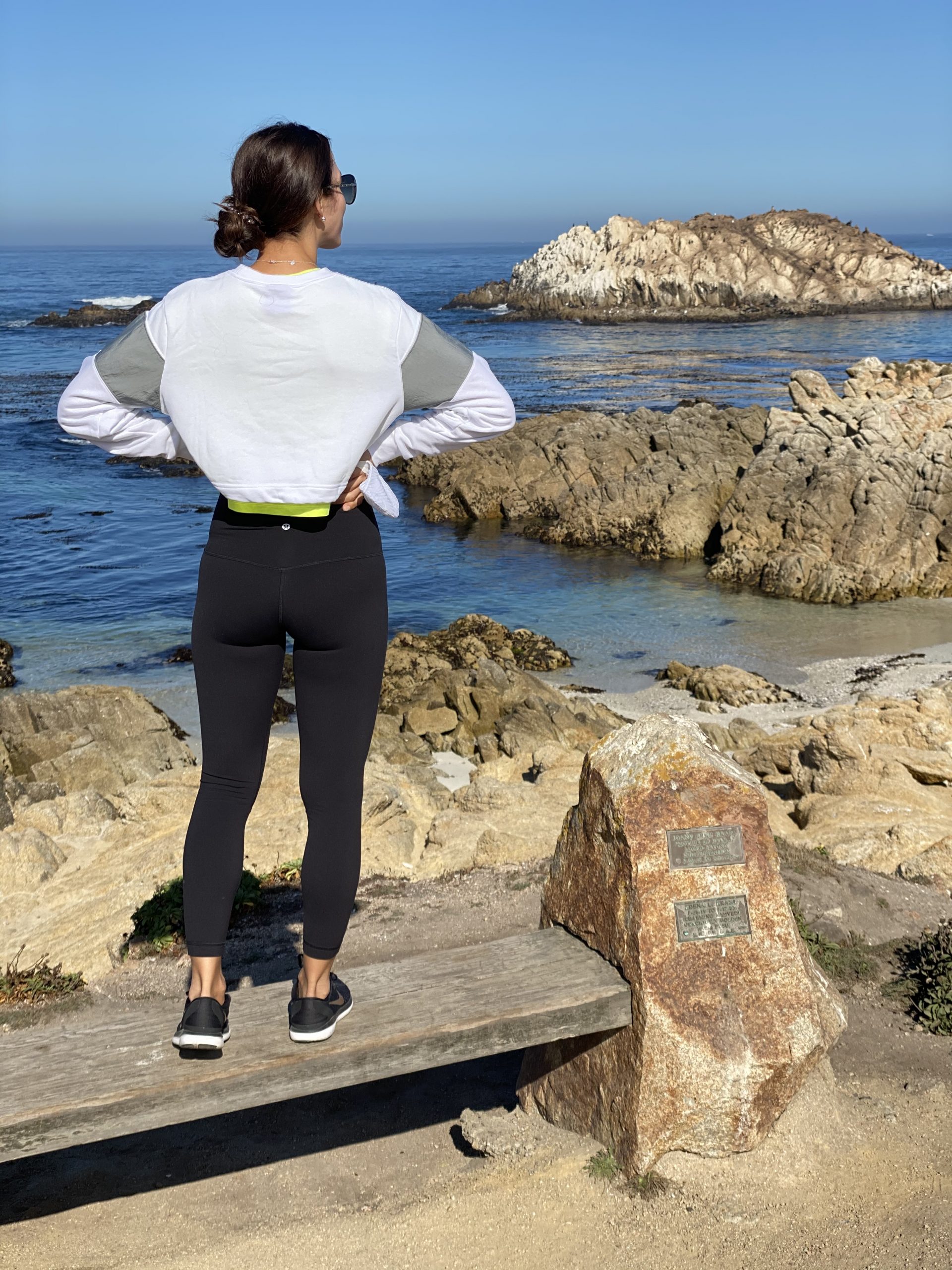 First Awakenings in Pacific Grove– very popular breakfast spot! They got on my good side when I found out they're serving pumpkin pancakes early this year! They have a waitlist that you can add yourself to, before you even get on property so I suggest doing that first thing if you're planning on going. The wait was around 90 minutes but you don't have to show up until 15 min before you're up next on the list.
Fisherman's Wharf in Monterey– the BEST clam chowder in town is offered here. Old Fisherman's Grotto was the spot I used to frequent, but we found out there are other restaurants on the pier that partner with them and offer the same clam chowder! This was key because the wait times were long with COVID restrictions for dining. I suggest waiting for a table with a marina view, it's SO worth it. The marine life here is so fun, there are always sea lions putting on a show. Clam chowder in a bread bowl is my recommendation! Hit up the candy stores and souvenir shops on your way out.
Carmel-by-the-Sea– the fun to be had here was slightly limited for us because of COVID and the power went out as we were in town. Our dinner reservation had to be cancelled but I know there are so many great food options here. If you like French dining, you're in the right spot! We stopped at a couple of wine tasting rooms and shops along the way. I highly recommend The Cheese Shop, where you will find anything you need for the perfect charcuterie board.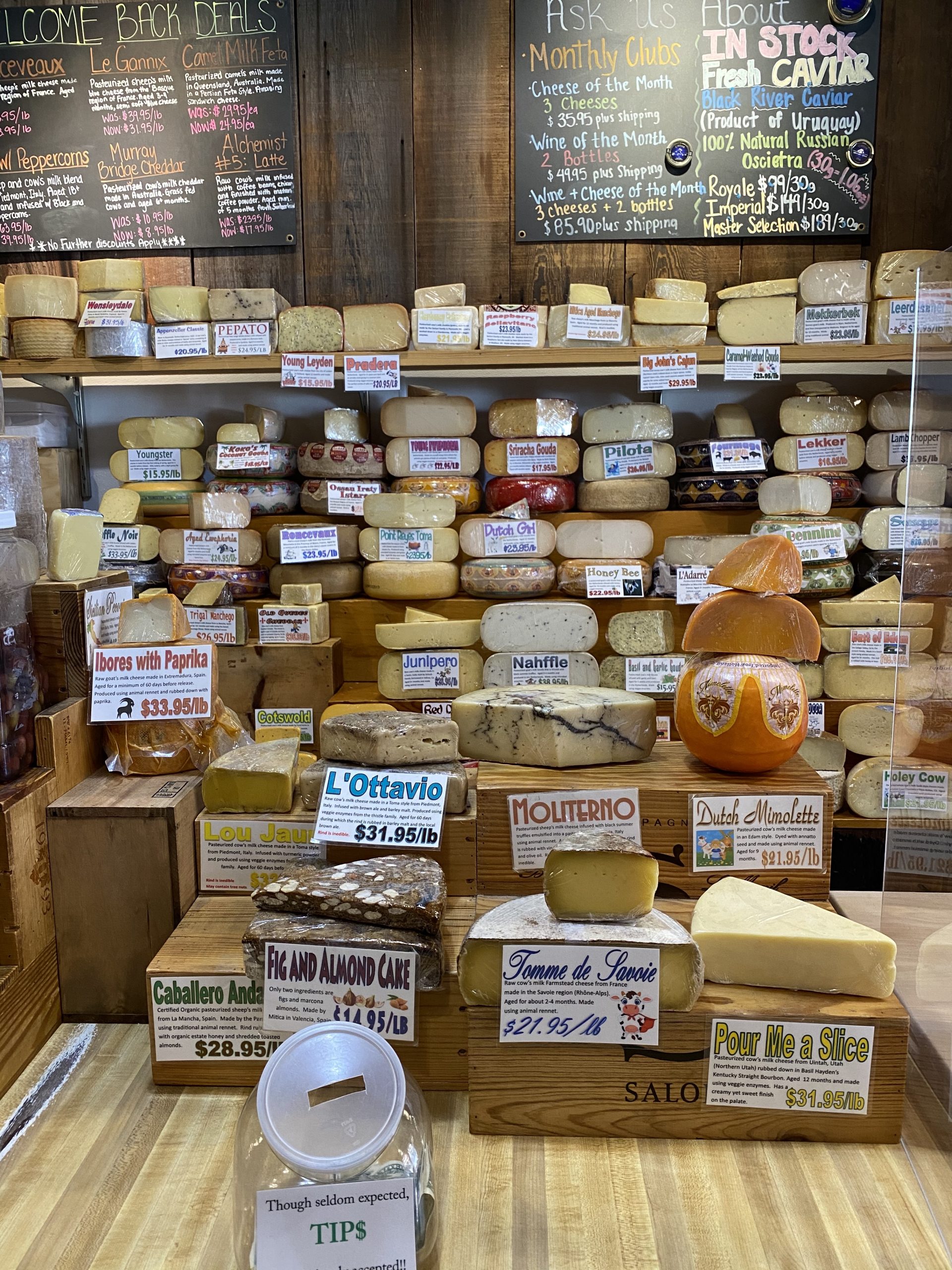 Big Sur
Bixby Bridge– between Monterey and Big Sur, this is a MUST STOP for a photo. There are multiple different views of this bridge and areas where you can pull off the road and stop. If you've watched Big Little Lies, the intro is shot at this bridge and it is GORG.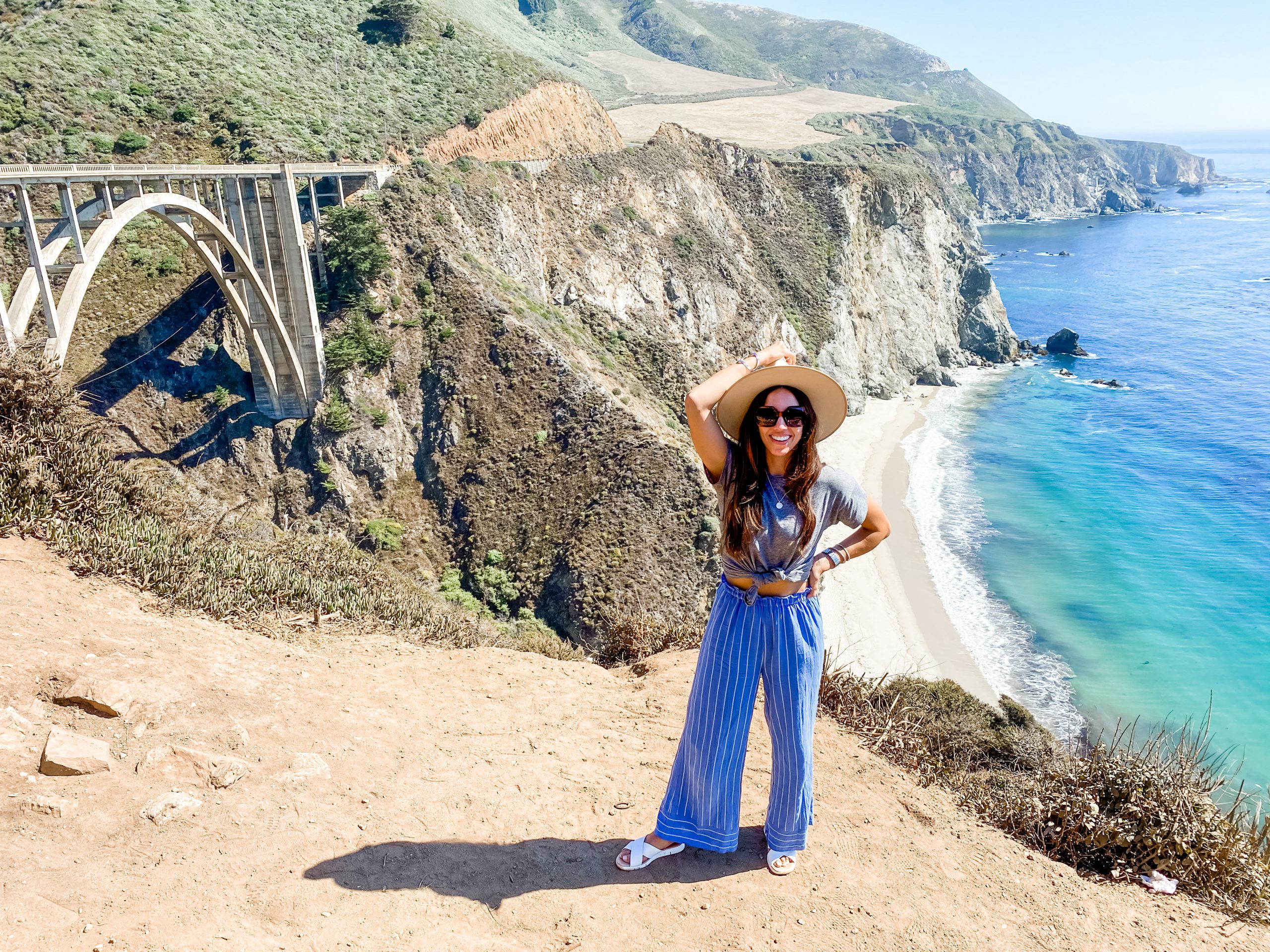 Nepenthe– the infamous 360º view restaurant, where the views are better than the food (so I hear). We didn't stop here due to lack of time, but I've heard the views are epic and you can't miss it if you're taking the coastal route through Big Sur.
Julia Pfeiffer Burns State Park/Beach– we weren't able to hit the beach because it was closed to tourists. The sand is supposedly purple-is in color at sunset and I really wanted to see it! We also missed the turn out for the state park where you can see McWay Falls, an 80-foot tall waterfall that flows into the ocean. Next time!
Elephant Seal Beach– this is located in San Simeon and part of the fun in driving the coast. These seals are HUGE; they can grow up to 5000 lbs! When we went, there were so many of them- in the water, and on the beach. They are really fun to watch, and flip sand on themselves to stay cool. Highly recommend!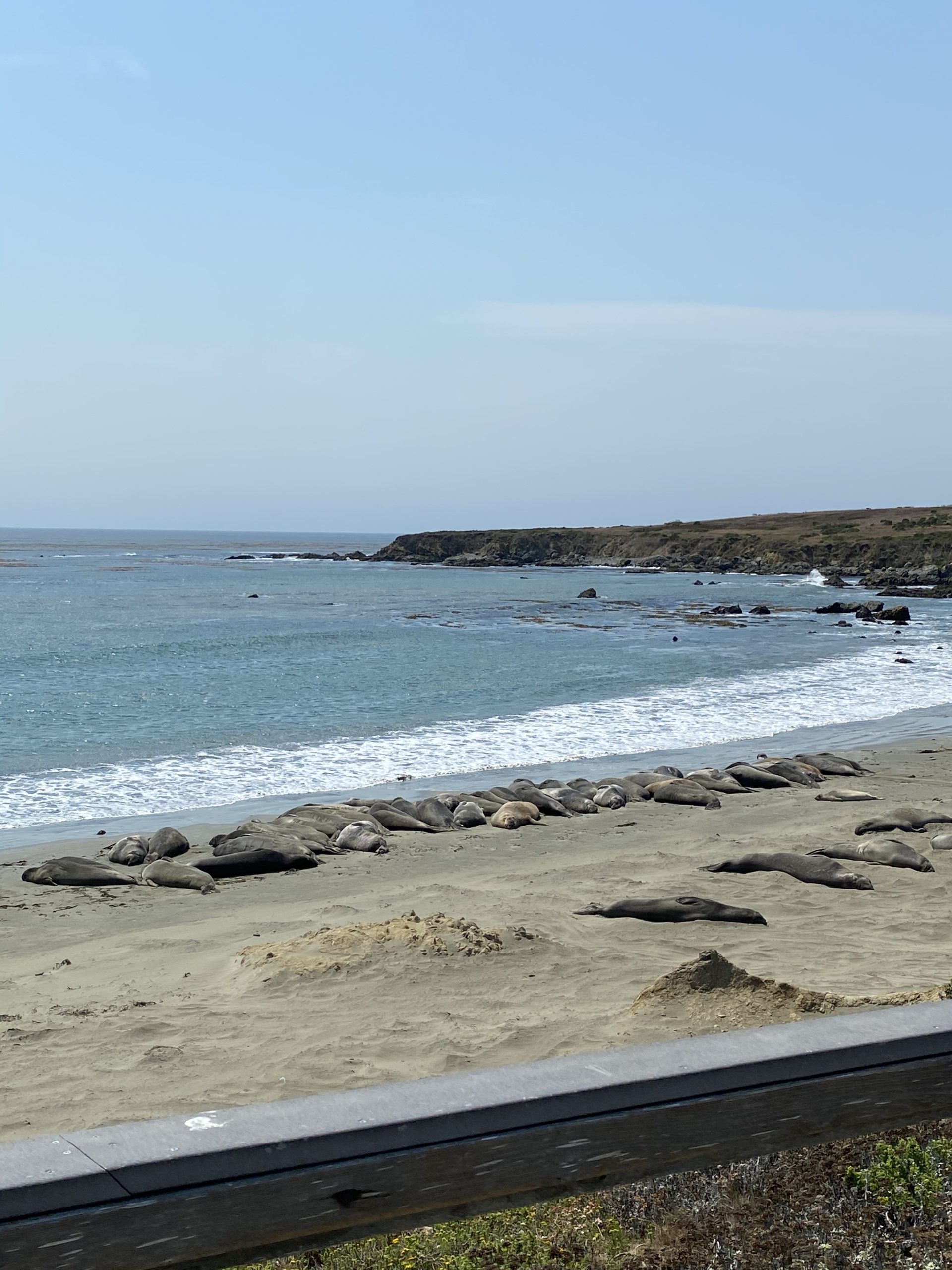 **When C and I initially planned our trip, we had booked with Ventana in Big Sur. I hear this is a Hyatt property and people rave about how you can use points here. It's very expensive otherwise. We are not Hyatt members, but I was willing to pay the standard rates because they are offering an "all inclusive" package due to COVID. After getting some additional info from other influencers who had traveled there, I found out the food and experience really wasn't worth the price, so we cancelled and stopped in Santa Barbara instead. Ventana typically offers a rad pool, jacuzzi, and japanese baths, but many of these were closed due to COVID restrictions. They offer glamping which is supposed to be pretty cool but there was no vacancy when we looked.
Post Ranch Inn is another EPIC hotel in Big Sur with even better views, but they had no availability when I called a few months back, and it's also very pricey. There are a lot of camping options there but we weren't really in the mood for that this year.
Hopefully this guide helps you a little bit, if you're making your way up the state of California! I can't wait to go back when it's cooler. The vibe is so relaxing and there are so many beautiful sights to see!
Next up… you'll have to wait and see!