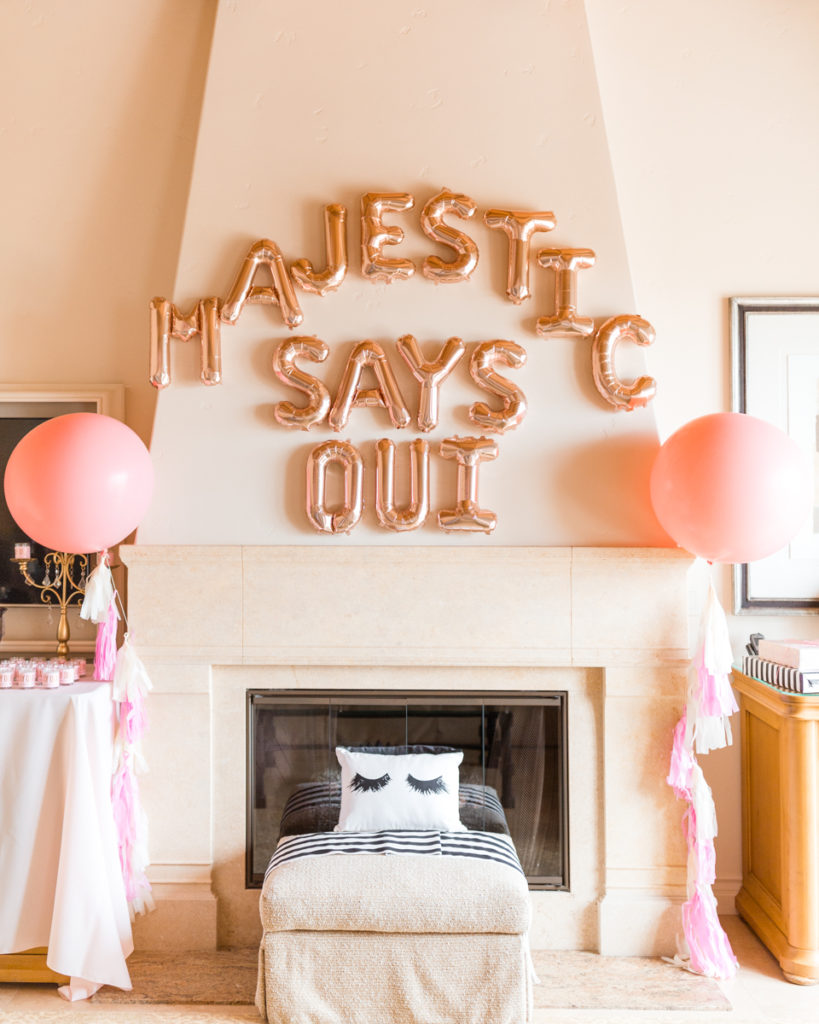 My bridal shower weekend has finally come and gone, and it was literally a dream! I had a vision for A LOT of pink, with Parisian vibes. With some help from my stylish sister-in-law and the rest of my family and friends, it came to life!
When I was brainstorming theme, it was easy to come up with Parisian, because my mom was actually born in Paris and grew up with a lot of French influence in her family. Since she was helping to throw the shower (from afar), she was super excited to move forward with this theme!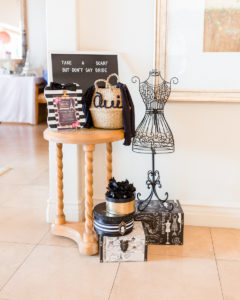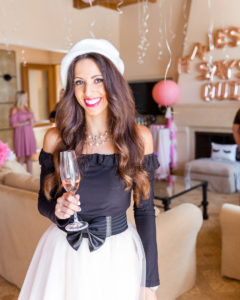 Lucky for me, my sister-in-law-to-be is a style and design wizard (La Confidence Events)! She quickly took the reigns on this Parisian, Chanel-inspired bridal shower. We started planning about 2-3 months in advance, because I knew I didn't want to rush it, AND I wanted to keep it as affordable as possible.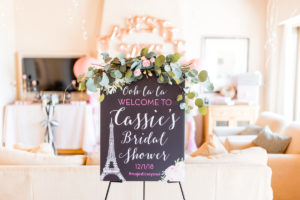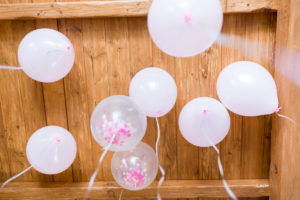 We had a vision for a lot of PINK! Before I knew it, we were collecting supplies from all over the place. Some from Etsy, some from the streets of Los Angeles, Party City, etc. I think the key for being cost effective, was looking at all of the options, and that takes time of course.
ATTIRE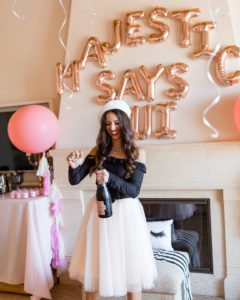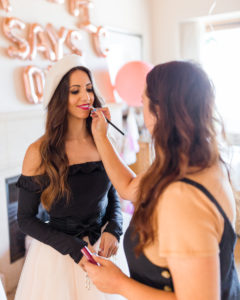 I knew that I wanted my outfit to be fabulous. I am not the type of girl who is prepared for events and parties. I tend to wait until the last minute to find an outfit and then I'm not super happy with what I'm wearing. This time, I planned WAY in advance and sought out a fun tulle skirt to complete the Parisian vibe. I found this skirt from Space 46 Boutique where the options are ENDLESS. They have tulle skirts in any color, and any length. I went to the shop, since I live locally, but most of their business is online. My top is from Forever 21! I googled away for months to find the perfect top to complement my skirt. I wanted simple, but chic, and this really did the trick. I completed the outfit with a beret, Chanel pearl necklace and Chanel perfume! You can see links to my outfit pieces and other options below.

I knew the day was going to be busy, so I had Erica from 10.11 Makeup come to beautify me! She does not disappoint, and I can't wait to see her again on my wedding day. I went for a French, Parisian look with thick black liner and bright lips. Top with beret, voila! Even EMS made an appearance in her beret and striped shirt. She wasn't as happy to be donned in Parisian attire, however.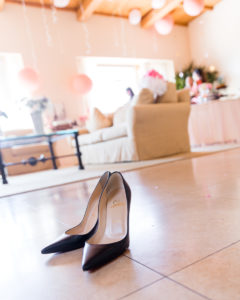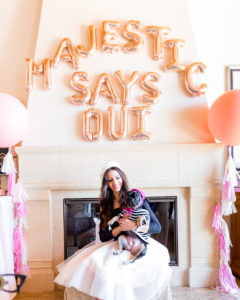 FOOD
Now… let's talk FOOD. I knew what I wanted from the start, I just had to find someone who offered it. There are a ton of catering companies in Orange County; many of them are not only expensive, but very specific with what you can order. I ended up choosing my favorite meal-planning boss babe Taylor DeCosta, from Taylor Made Cuisine, and I am SO glad I did. She customized the menu to exactly what I wanted, AND played a huge role in making sure everything went smoothly throughout the entire party. Taylor and her husband Mike offer both catering and meal prep services in Orange County, and they truly know how to make a customer happy.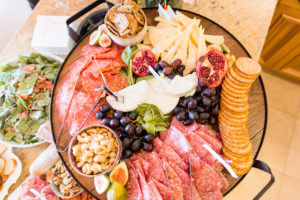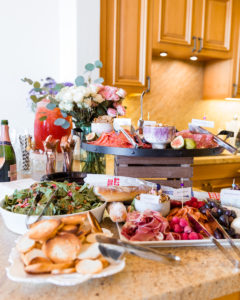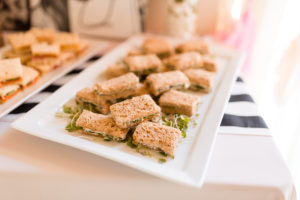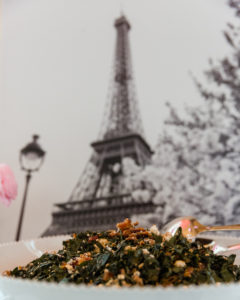 TREATS
What would a bridal shower be without FABULOUS treats?! My best advice? DON'T skimp on the desserts.  I used a combination of locations to provide the sweets.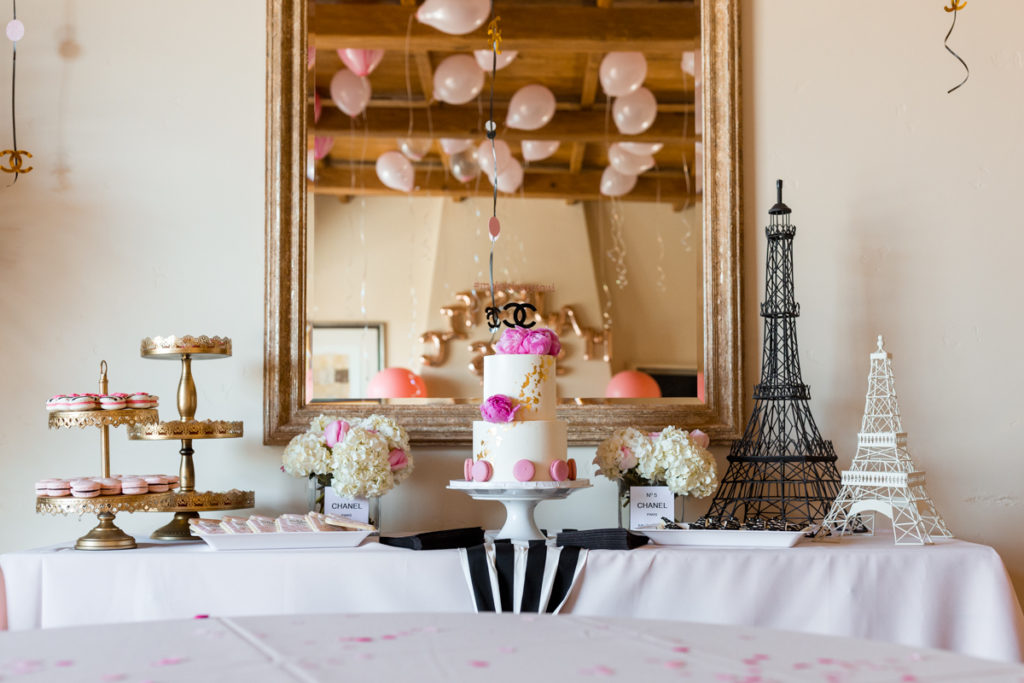 My mother-in-law was kind enough to order a cake and it did not disappoint! I have always dreamed of having a cake like this, and when I saw it, I felt like a princess who had her dreams come true. The cake was designed and ordered from Penelope's Perfections, in Costa Mesa. It was as tasty as it was beautiful! I love almond flavoring, so my mother-in-law chose the almond flavored cake with raspberry filling. DIVINE. My family also added a few peonies and a Chanel decal to the cake to fit perfectly with my theme.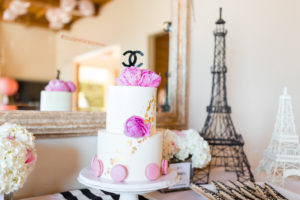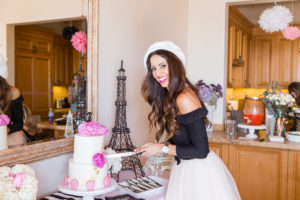 I couldn't have a French-inspired shower without croissants. I ordered these in bulk from a bakery in Tustin, Cream Pan. They have a wide array of selections and I couldn't decide so I needed them all! I chose a variety of butter, chocolate, almond, and strawberry and cream croissants. Lay these out on platters of your choice and they can complement your decor.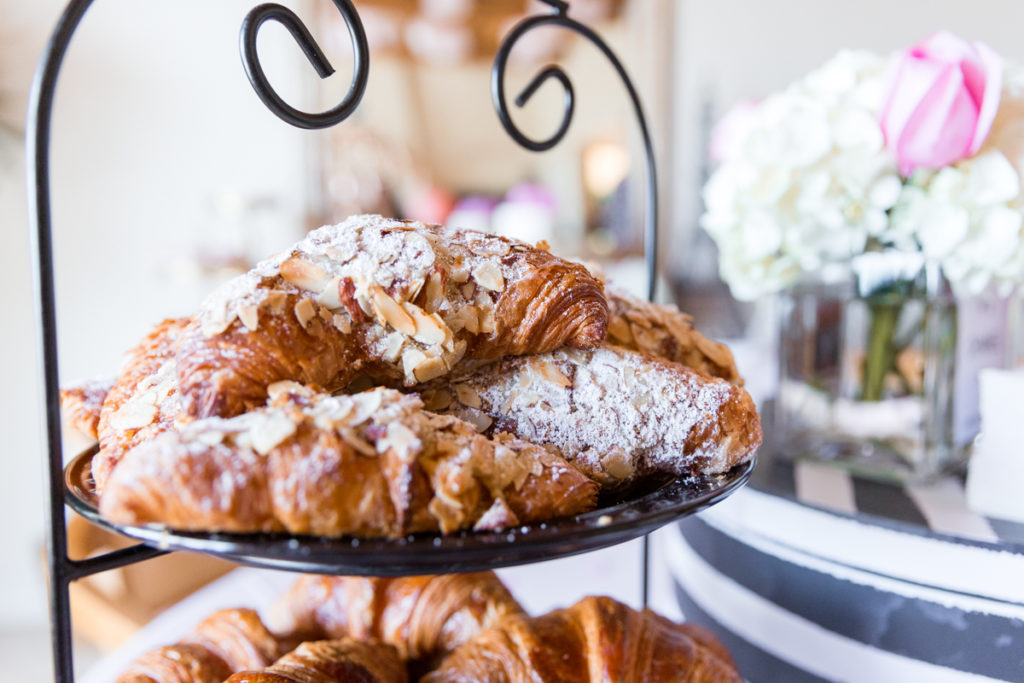 To complete the dessert table, I wanted a variety of mini desserts that included mini caramel apple pies, macaroons, and sugar cookies in the shape of a Chanel perfume bottle and Eiffel Tower. One of my favorite bakeries in Orange County for specialty desserts, is Sweet and Saucy. They can make ANYTHING, and they taste fabulous.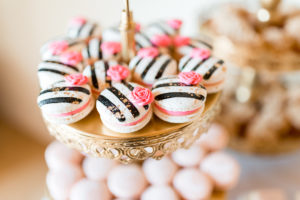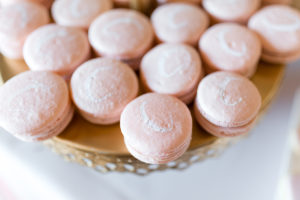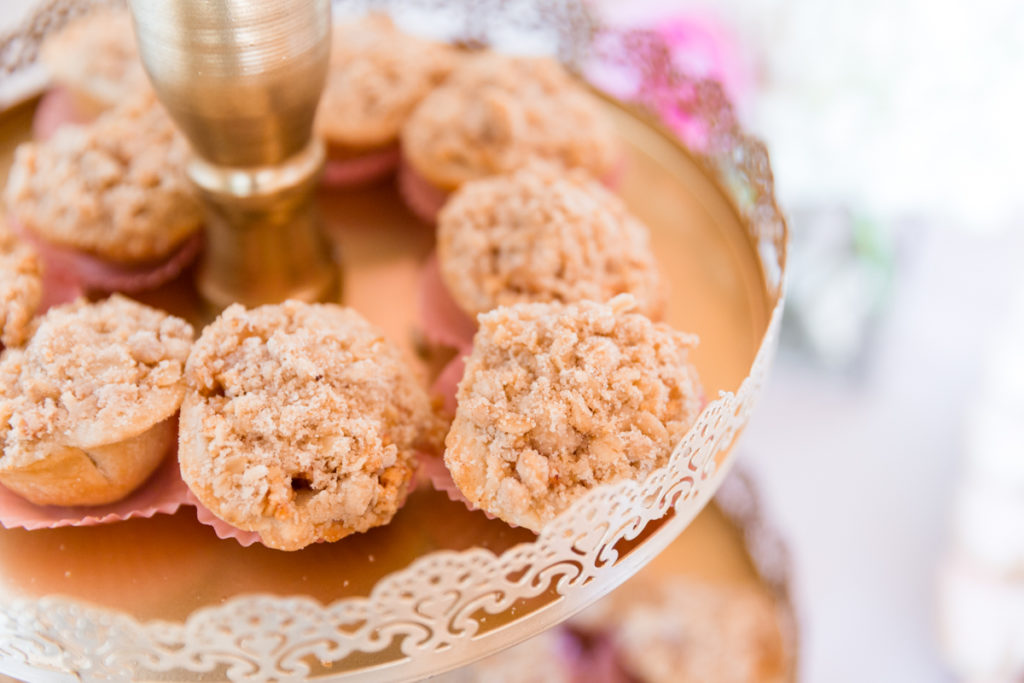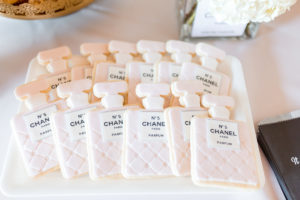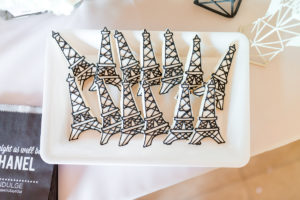 FLORALS 
OK… I love flowers. I always have fresh flowers in my home, and I can appreciate what fresh blooms will do to a room, especially if you're having a party. What I don't love, is what florals can cost. You wouldn't believe some of the quotes we received for my bridal shower! I get it, florists are amazing and they really know what they're doing. We just weren't willing to spend that on the bridal shower.
Thanks to my sister-in-law's genius idea (who is starting her event planning business, La Confidence Events), we purchased all of our florals and vases from the flower mart in Los Angeles. Yah, it required driving to a not-so-nice area in LA, it's not the most convenient plan if you're busy, but I am SO glad we made this choice.
I purchased eight vases in various sizes for $40, and a few more silver pails for 50% off at another shop in LA. I paid less than $150 total for the flowers themselves. I used a combination of pink roses, ranunculus, white hydrangeas, baby's breath, and some greens to mix in. We cut and built the arrangements ourselves, the night before the shower. It was definitely more work by doing these ourselves, especially with transportation, but it worked out in the end and those blooms are still living in my home as I write!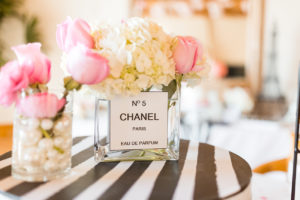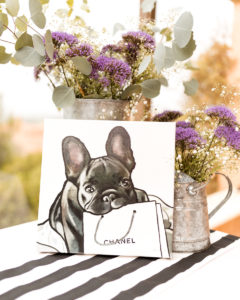 Venue and Decor
One of my favorite places in Orange County, is Pelican Hill Resort. It isn't far from my home, but it when you stay here, it feels like you're in another world! I had my 30th birthday party here and it was one for the books. It was the first place I thought of when I was deciding on venue for my bridal shower.
My preference when staying here, is to rent one of the villas and share it with family or friends. We stayed in a three-bedroom villa with an ocean view. It is THE PERFECT place to get some R&R, and entertain a small group of family or friends. There is a full kitchen, and very spacious quarters. My parents came from Michigan for the weekend, and Chris' parents stayed as well. It was a really fun bonding weekend for all of us, and saved time on traveling to another bridal shower destination.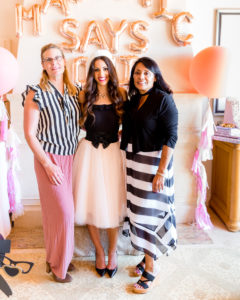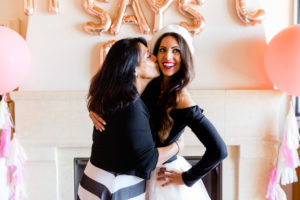 As I mentioned before, the decor came from many different vendors and locations. One of my favorite companies to work with was For Your Party. This brand offers the cutest products for customizing and personalizing your events, with free range to design as you please! I had a great time designing all of my products. I plopped down on my couch one day and designed each of these products, keeping the French/Chanel theme in mind of course!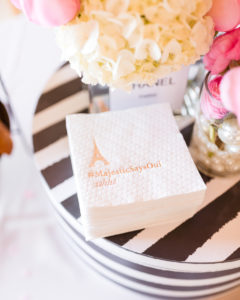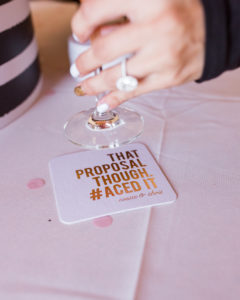 My ladies and I came up with a hashtag (would you have expected anything else?) so I tried to incorporate that into much of my decor. The personalized napkins were A MUST. They come in a variety of styles and the fonts/graphics are endless. I had to emphasize Chris' sweet proposal with these coasters, and placed another more interactive coaster on the table as well.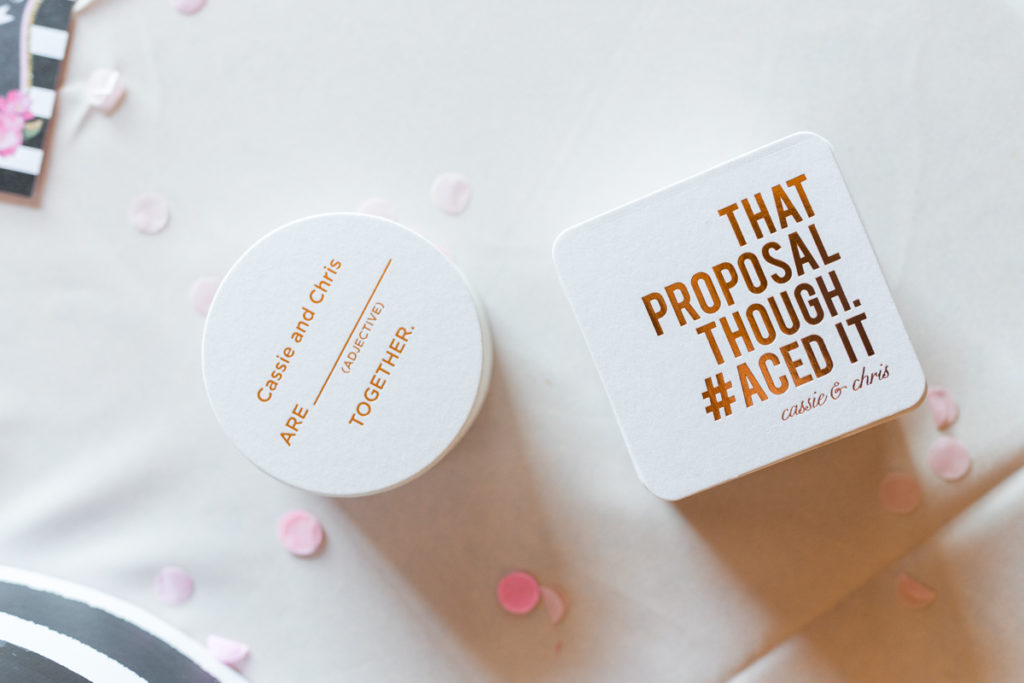 Since we had so many amazing treats, I wanted a cute goodie bag that my guests could put them in, to take home. I LOVE how they turned out, and fit in with my theme, hashtag included. For favors, I chose personalized tea bags, shown below on the right, that my guests could pick up on their way out. These were paired with candles (also shown below) for each guest. I figured at least these favors would be super cute, AND useful at home!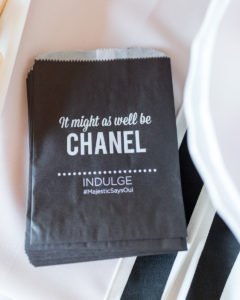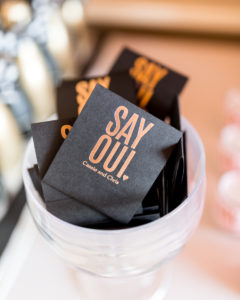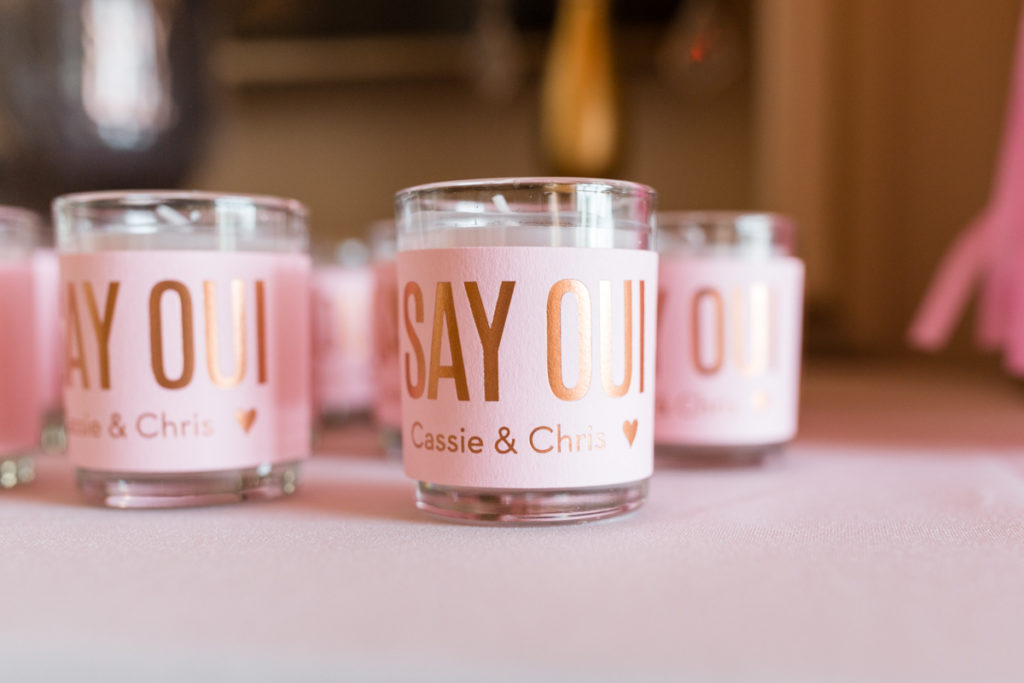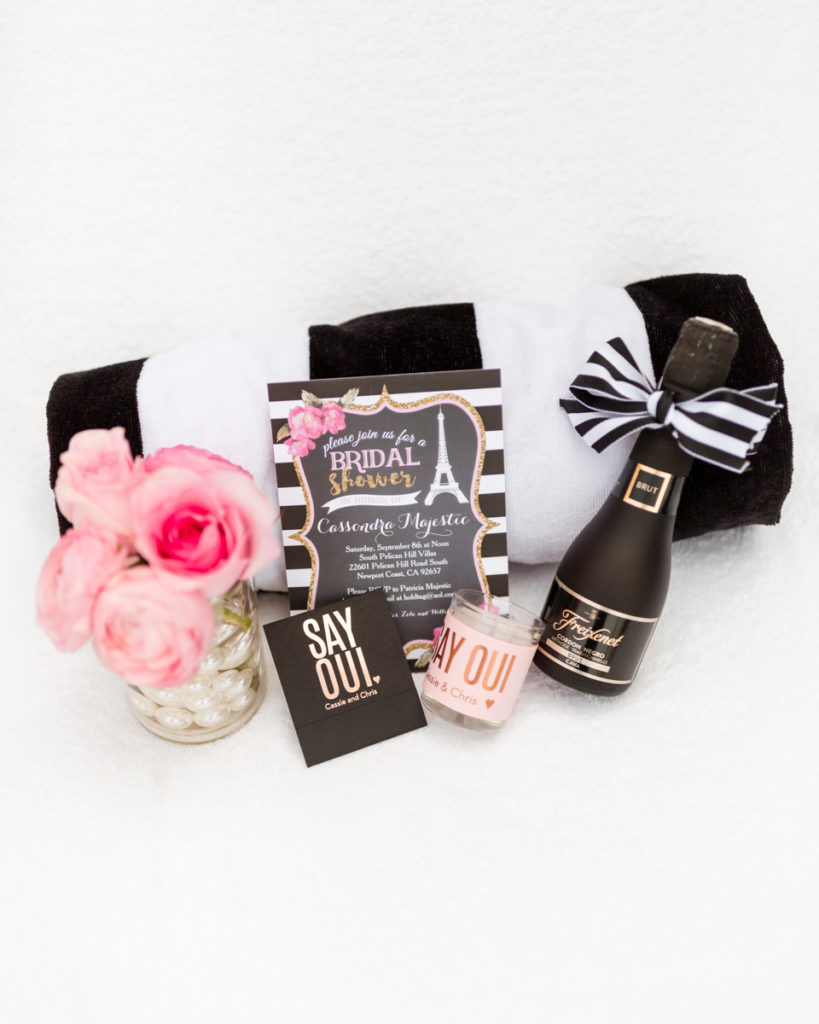 I wanted to have something a little different for my guests to do while at my shower, so we decided to set up a wine tasting table. Of course, the winner would get an awesome prize! I rented 6 different carafes, and picked various wines for tasting. I chose 2 champagnes, 2 rosés, and 2 sauvignon blancs, and asked that my guests determine which was a "save" vs "splurge". I needed tasting cups for the game, made by For Your Party, as well as paper signs indicating what the game was.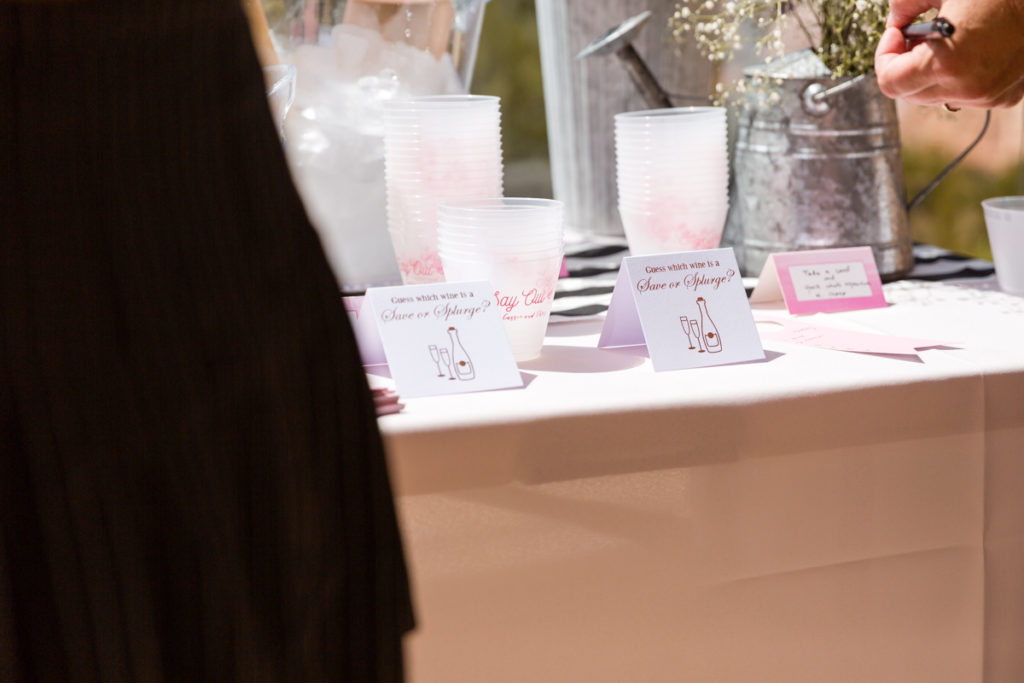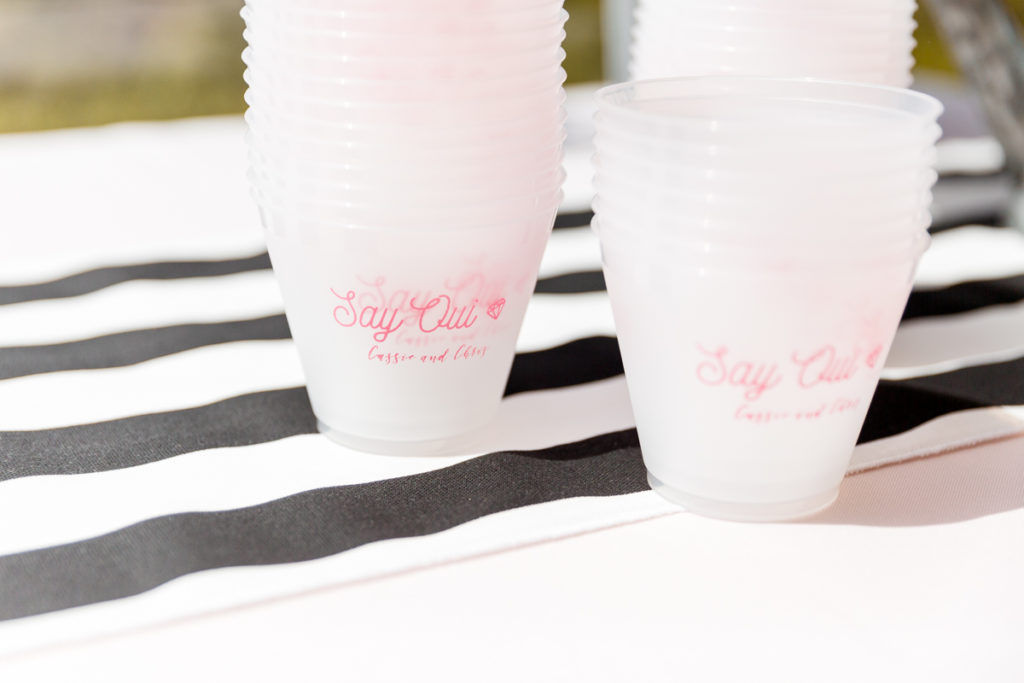 My other sister-in-law arranged the rest of the games, which included a bridal emoji game, "he said she said game, and "guess the age of the bride" in various photos. Don't judge!! You will likely not recognize me in many of these photos!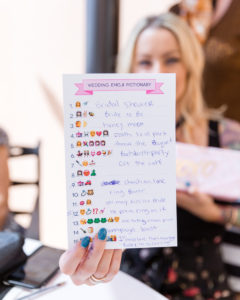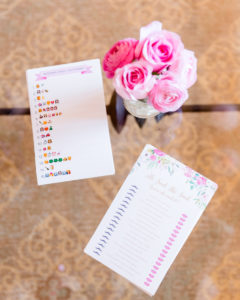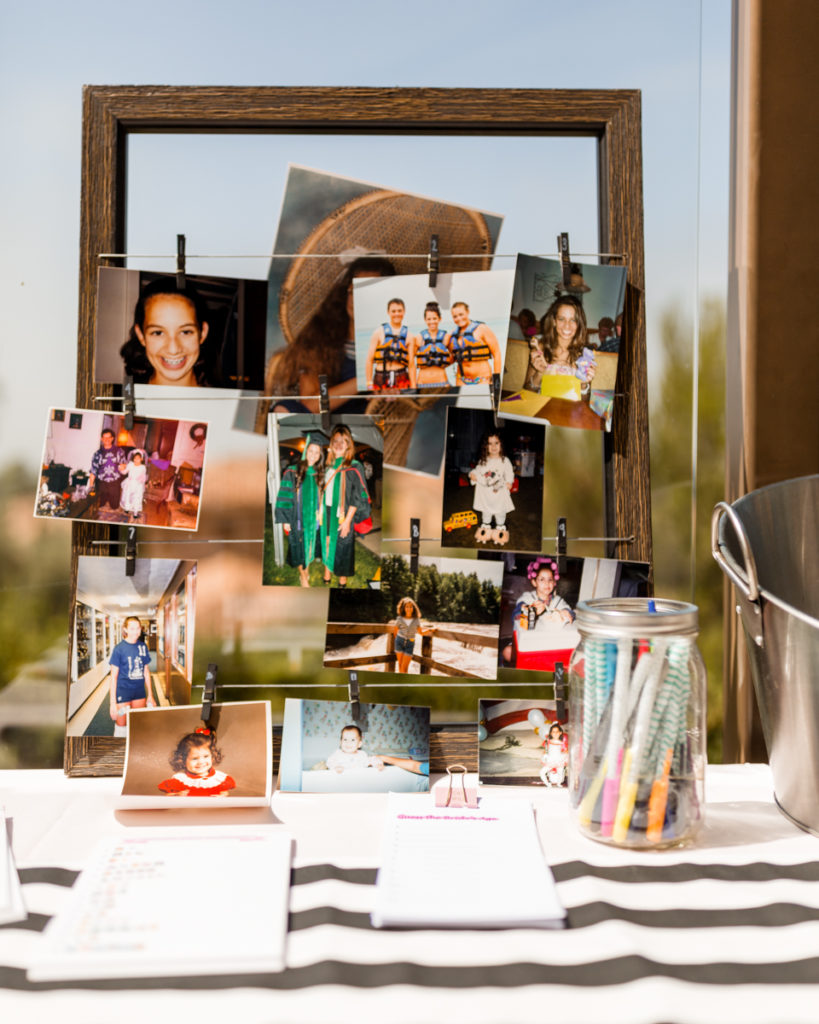 Are you planning a party anytime soon? Use code CASSIExFYP for 10% off your order.
The code is only valid until October 31, 2018!
The rest of my decor was purchased as followed:
Tablecloths- fabric district in LA (~$40 for 6 gorgeous fabric tablecloths)
Balloons- American Celebrations in LA and Party City (~ $100 for combo of customized letter balloons, large 36 inch balloons, 9 inch latex balloons)
**Balloon tassels hand made out of sheets of tissue paper. They were otherwise very expensive and we wanted a lot of them for the big balloons. Big shoutout to my mom here for doing most of them!!
**Don't forget about helium! Sometimes there are restrictions to how many balloons a vendor will fill for you. We rented a helium tank for $45. That is very affordable for this county, but we called around and somehow got lucky.
Invitations- Zazzle (~$90)
Silverware, plates, straws- Amazon, Party City

Mirror decal, bridal shower sign, photo props- Etsy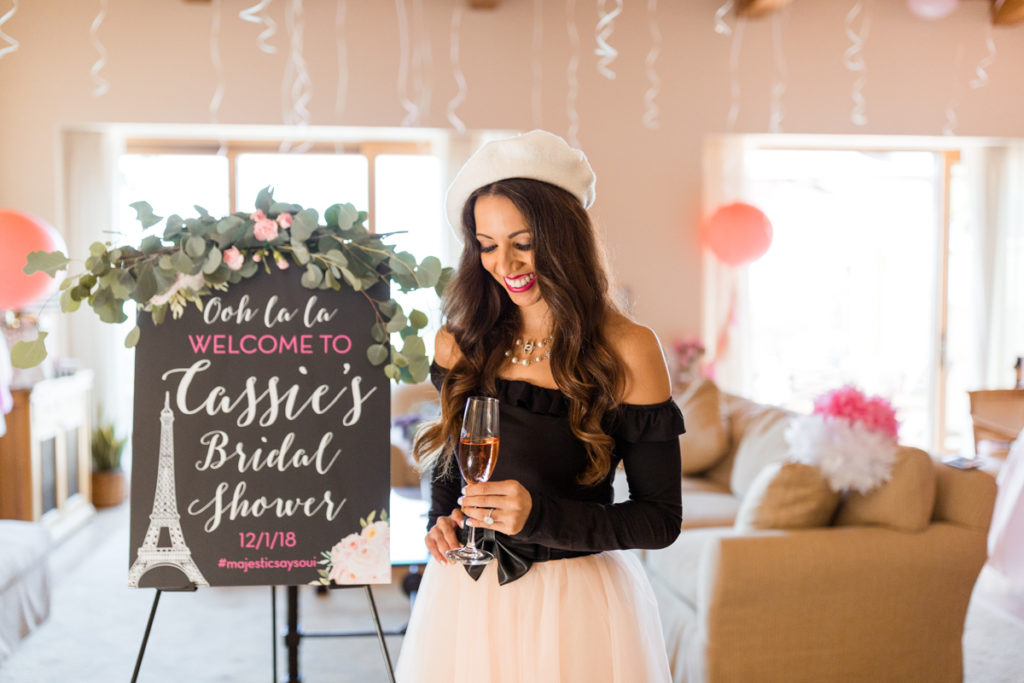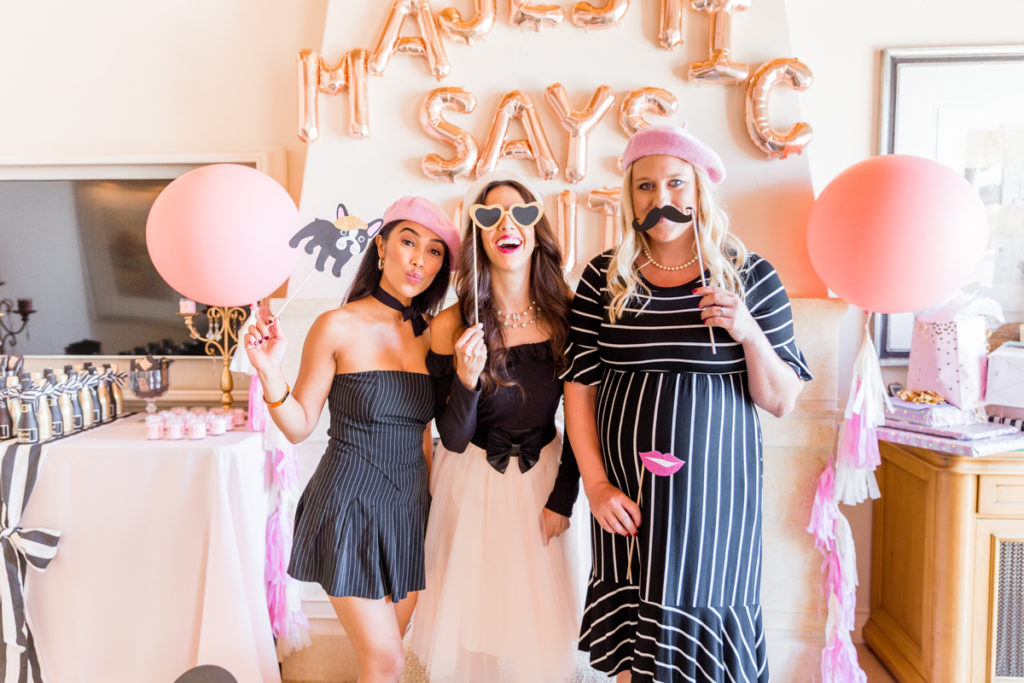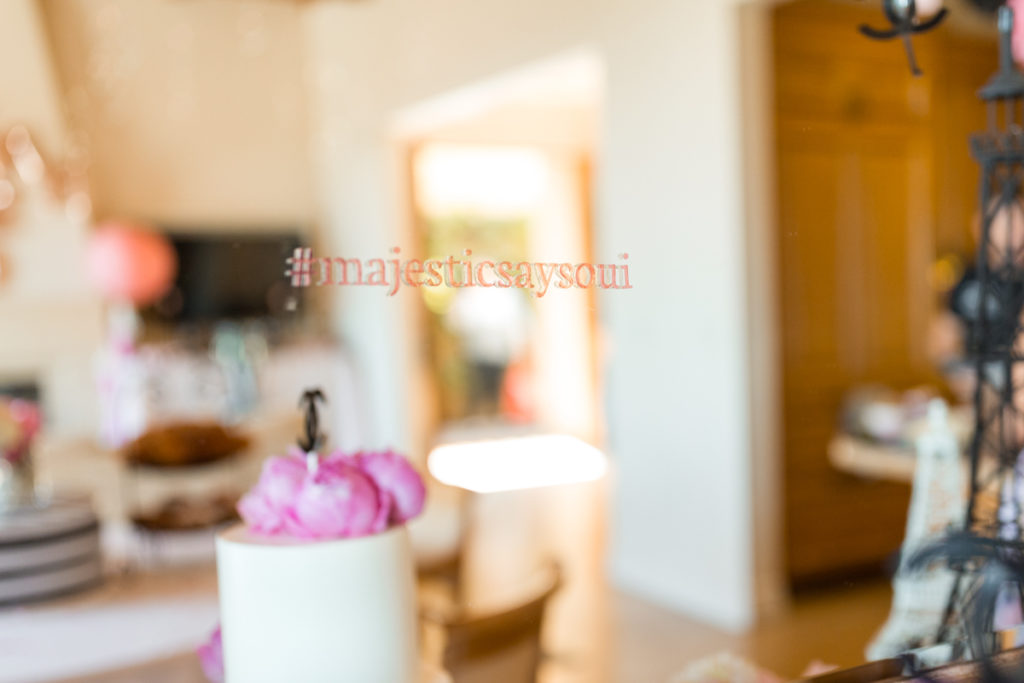 I've said this over and over, but my bridal shower really did feel like a dream. I cannot believe I am marrying my best friend in a few short months, and it meant SO much to me to have my friends and family at this special event in my life.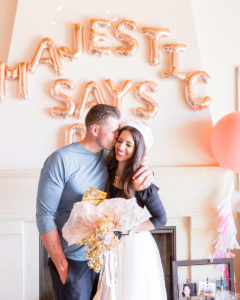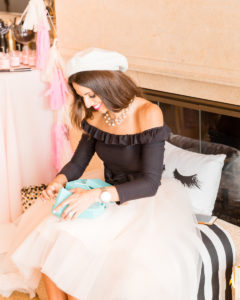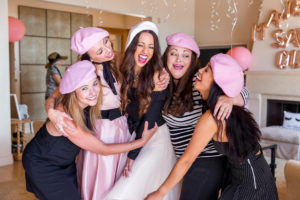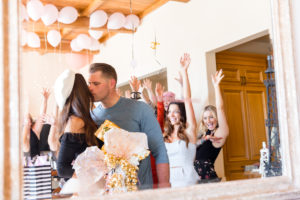 And to all of you who are joining from afar, you feel like friends and family to me, and your sweet comments don't go unnoticed!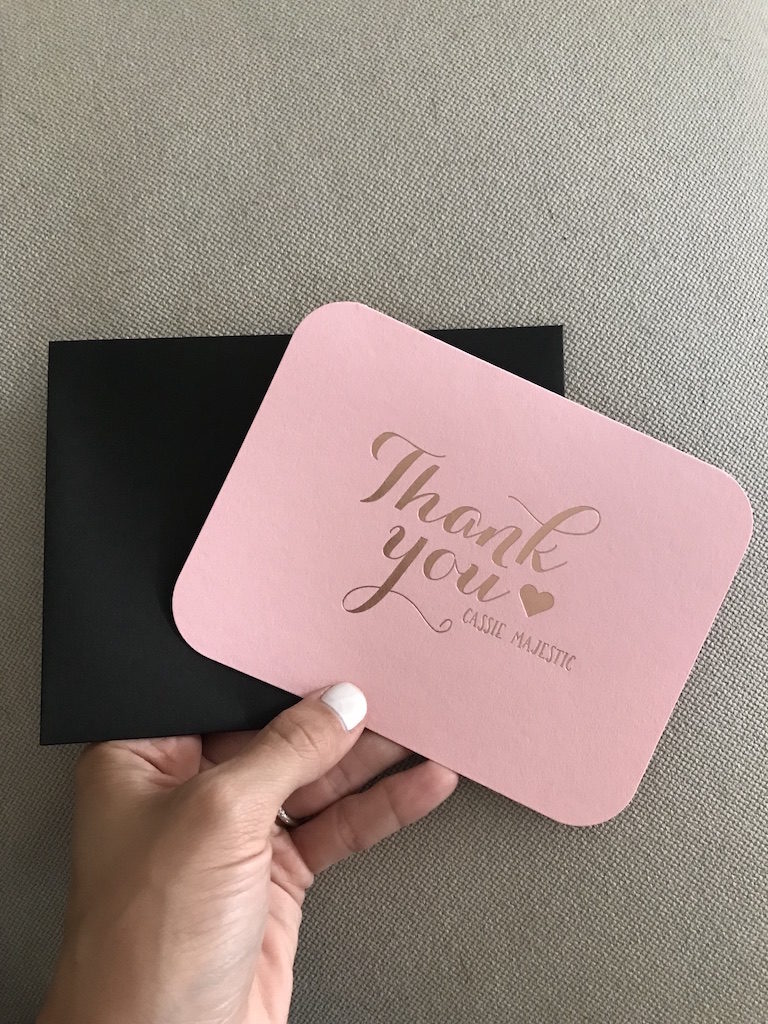 All photos by Zo'e Cole