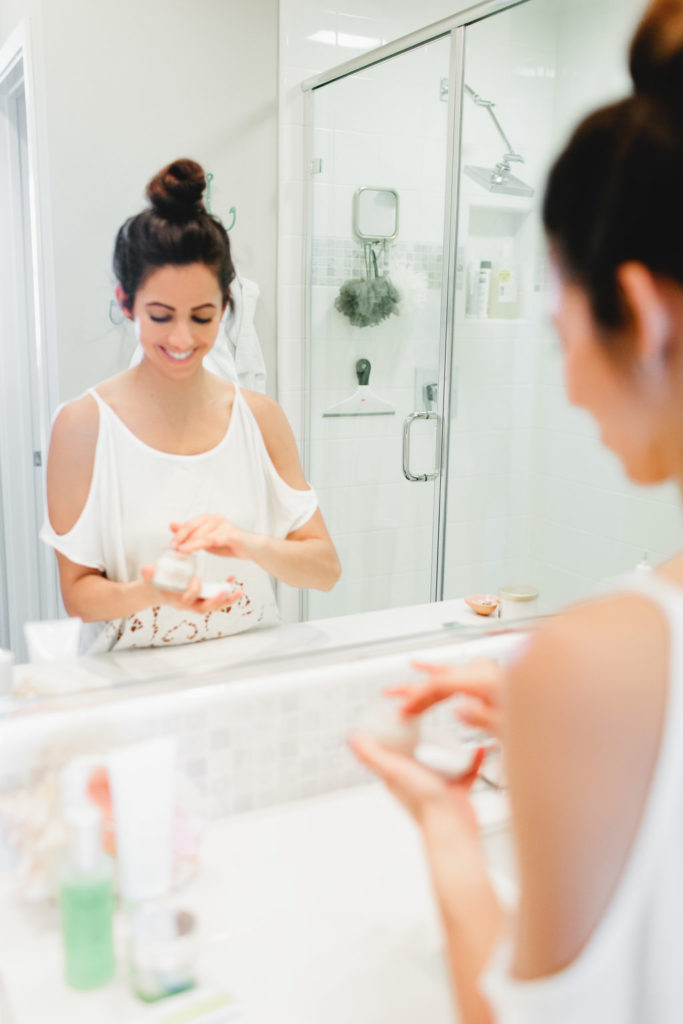 It's no secret that I'm a skincare whore. I am obsessed with finding new ways to make my skin better and brighter, ageless, and acne-free.
Some of you may know this about me, but I struggled with acne for my entire life. Even up until this year, I have had regular breakouts. I have had a dermatologist for as long as I can remember, and I have been on many different medications to help control my acne. It always came back. I got to the point where I was thinking, "what the hell, I am 32 years old and STILL getting pimples, they're never going to go away".
For those of you in my age group, if you ever have break outs, you can empathize with the fact that it's a different type of acne and it heals MUCH differently than when we were in our teens and 20's. It's like a scar that lasts a lifetime. More breakouts=more scars. Even when I didn't pick my acne, it would scar.
So… becoming a bride was a little scary for me because I knew I wanted to get my acne under control is a consistent manner, so that I wouldn't have to worry about break outs on the day of my wedding.
You all have seen my skin transformation over the past year. The best part about me being on social media all the time, including without makeup, is I get feedback from you guys! I happen to know my skincare routine has worked… because you all have told me about improvements that you've noticed. Thank you social media world!!
My biggest piece of advice to the brides out there… START EARLY. Way early. You cannot prepare your skin as a last minute thing. You need plenty of time to undergo trial and error, if need be. And plenty of time to heal from any failed treatments.
The first step- find your right hand man! Or woman, of course. A professional; a dermatologist, aesthetician, etc. For me, I had a handful of FABULOUS experts to help keep my skin at its best. Many thanks to you all- Erin Jensen from The Treatment, Taryn and Nicole at Facial Works, and Nikko from The Treatment.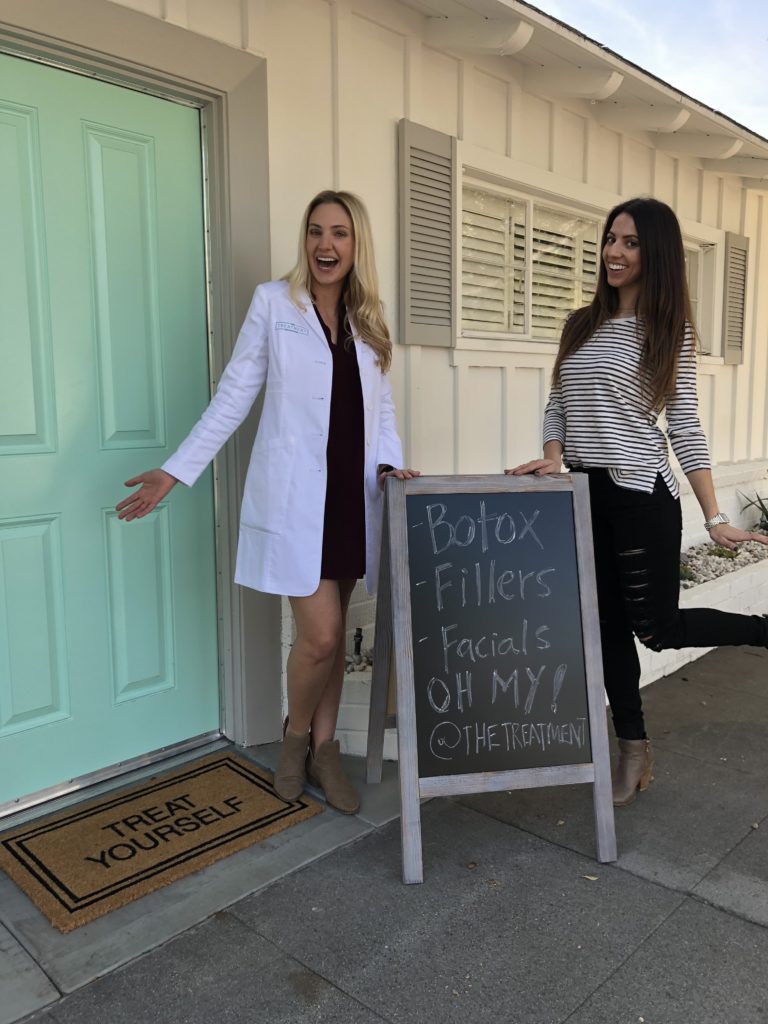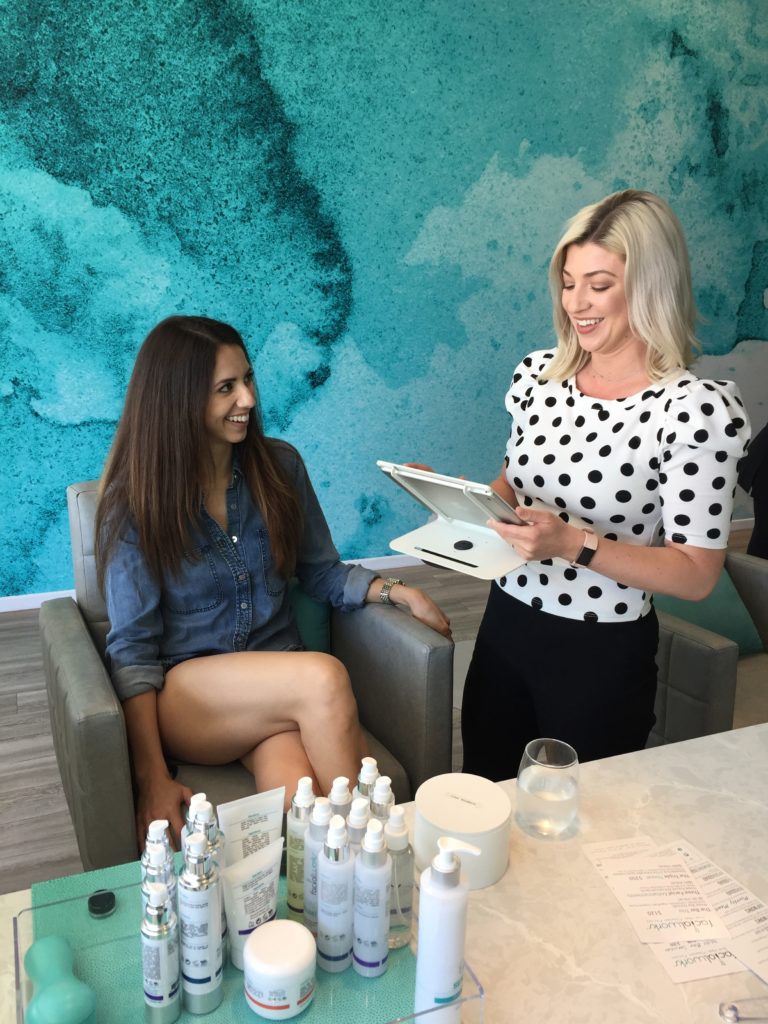 So here. we. go. My skincare routine broken down by daily, monthly, and every few months! Keep in mind that my regimen may not work for everyone, but it does provide a few options to look into! I have naturally oily skin, and no matter how dry it is, I tend to have shine.
Daily
Cleanse– twice daily. I use Fresh Soy Face Cleanser. I found that this is the most gentle cleanser for my skin type. It is marketed to be helpful for any skin type, and I will say that although I am no expert, I have friends who use this product and they also love it.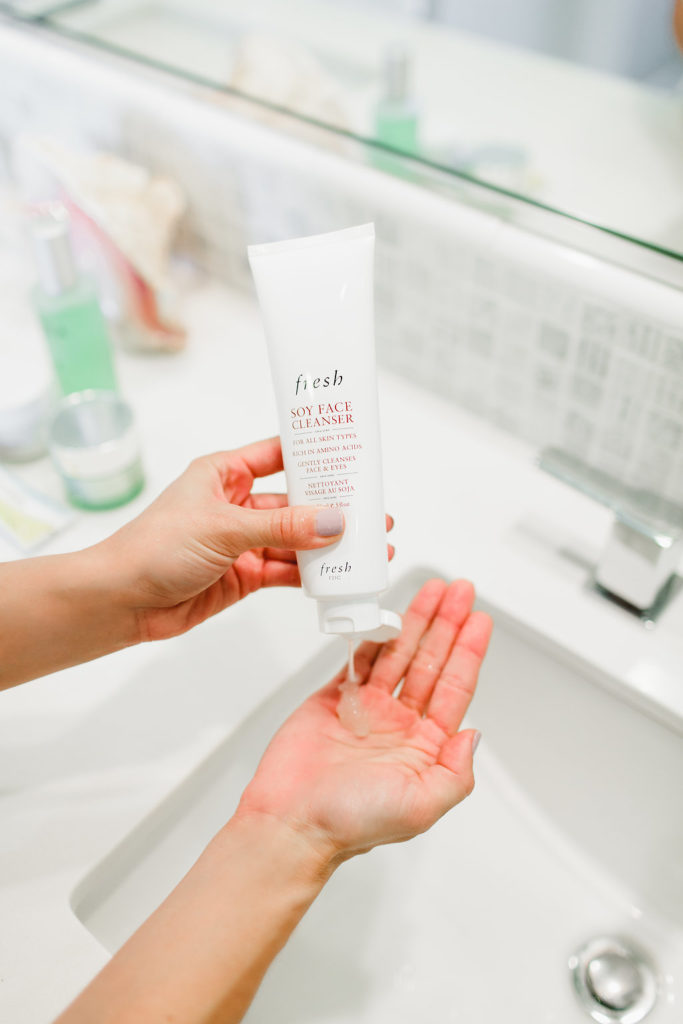 Sunscreen– this is A MUST to prevent aging. I used to use Clinique basic daily sunscreen for oily skin, but it still left my skin pretty shiny. I switched over to Erin's sunscreen which doubles as a daily moisturizer and has SPF 45. I have NEVER found a better moisturizer with sunscreen included. I kid you not, it leaves me with the perfect glisten but feels sheer and breathes well.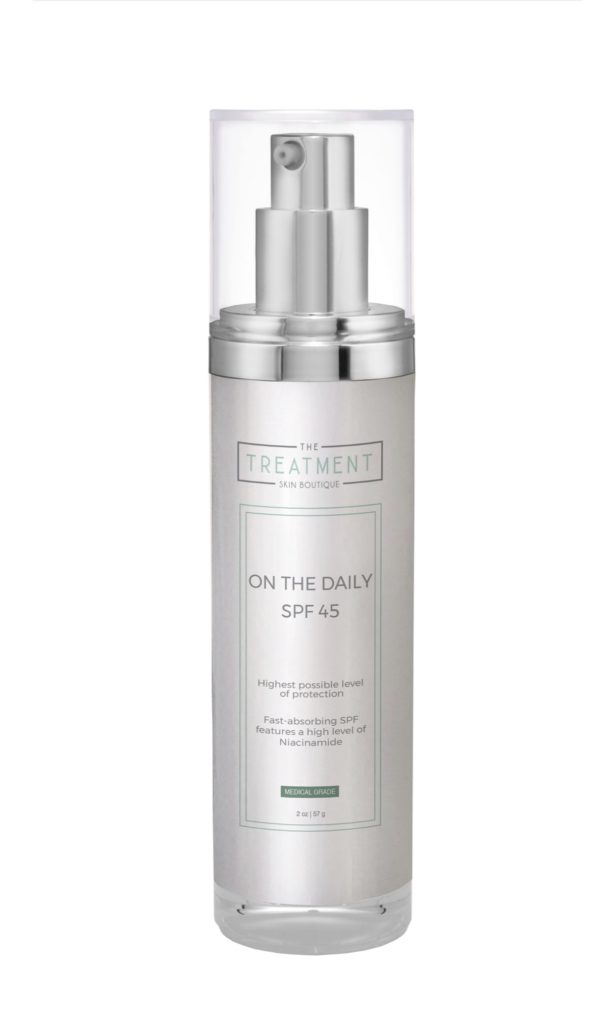 Glycolic Gel Pads– also from Erin's shop, these babies give you a mini in-home peel. They help gently remove dead skin cells and even out the skin tone. If your skin can tolerate (which mine can), you can use these once daily.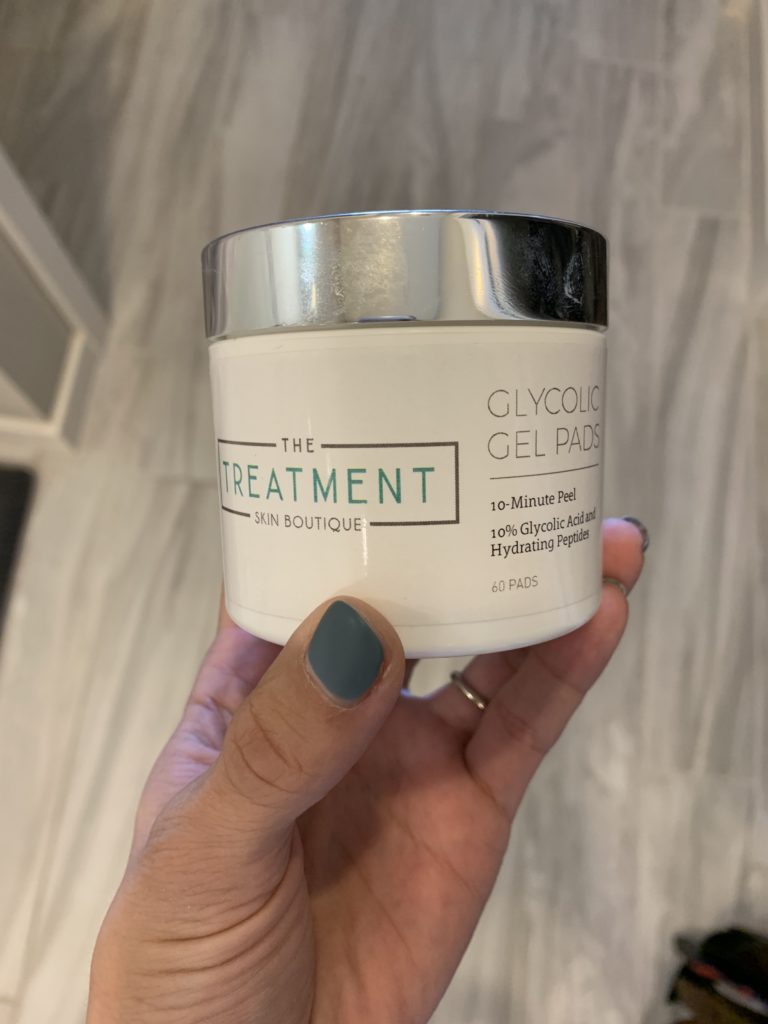 Toner- daily after cleansing. Balances skin pH. The one I use also lightly exfoliates, smoothes, and clears the skin.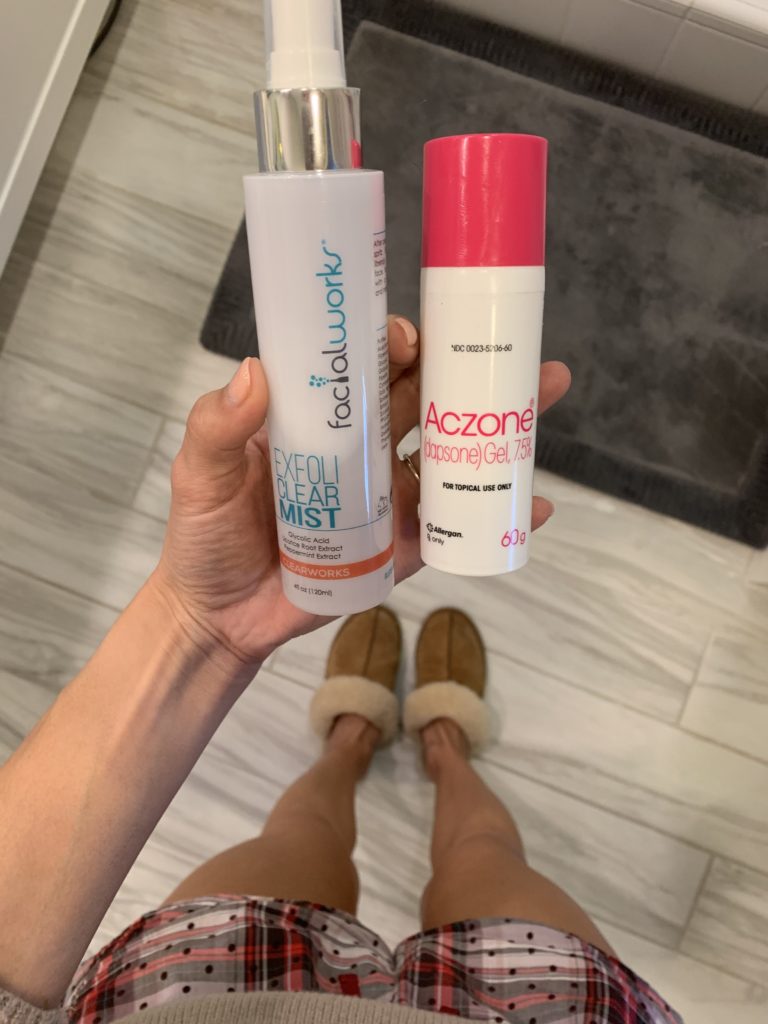 Deeply moisturize– at night. I like to wear an anti-aging product at night. Fresh Lotus Youth Preserve face cream. It's hydrating and also repairs while I sleep! I also use Fresh Black Tea Firming and De-puffing Eye Cream.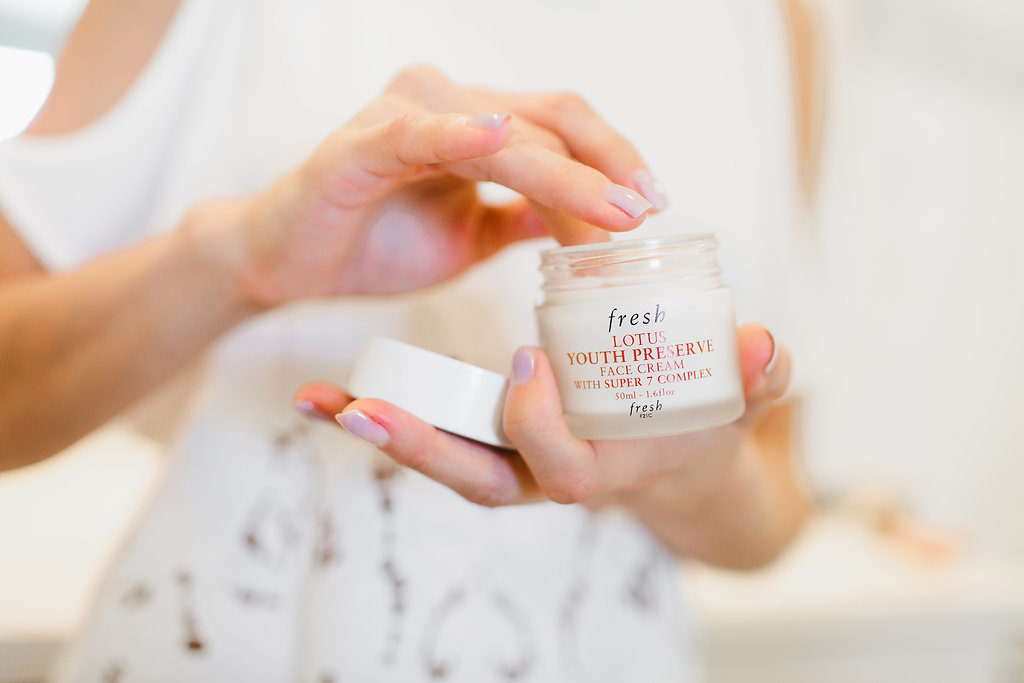 Topical prescriptions– if you need them. I pulled out all the stops to keep my acne at bay. I have used tretinoin for YEARS, and I swear it's the reason I appear youthful. It is the only topical product that is known to prevent wrinkle formation and aging. There are various strengths and your dermatologist can help you determine if you are a candidate and what strength is good for you. It is rather drying for some people, so applying it every other day can help.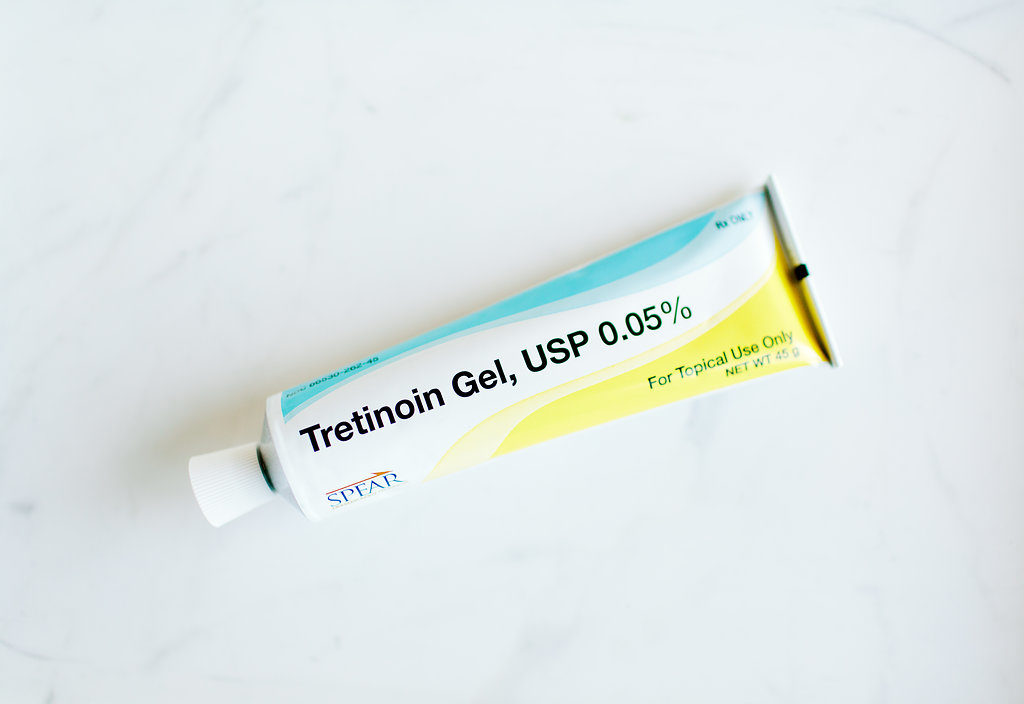 In addition to using Tretinoin at night, I use Aczone in the morning. This is a topical anti-bacterial gel that helps prevent breakouts. A prescription is required for this medication and it can be very expensive. A good reason to have a specialist, is that they often have access to specialty pharmacies that can help supply these expensive dermatologic medications for a lower cost.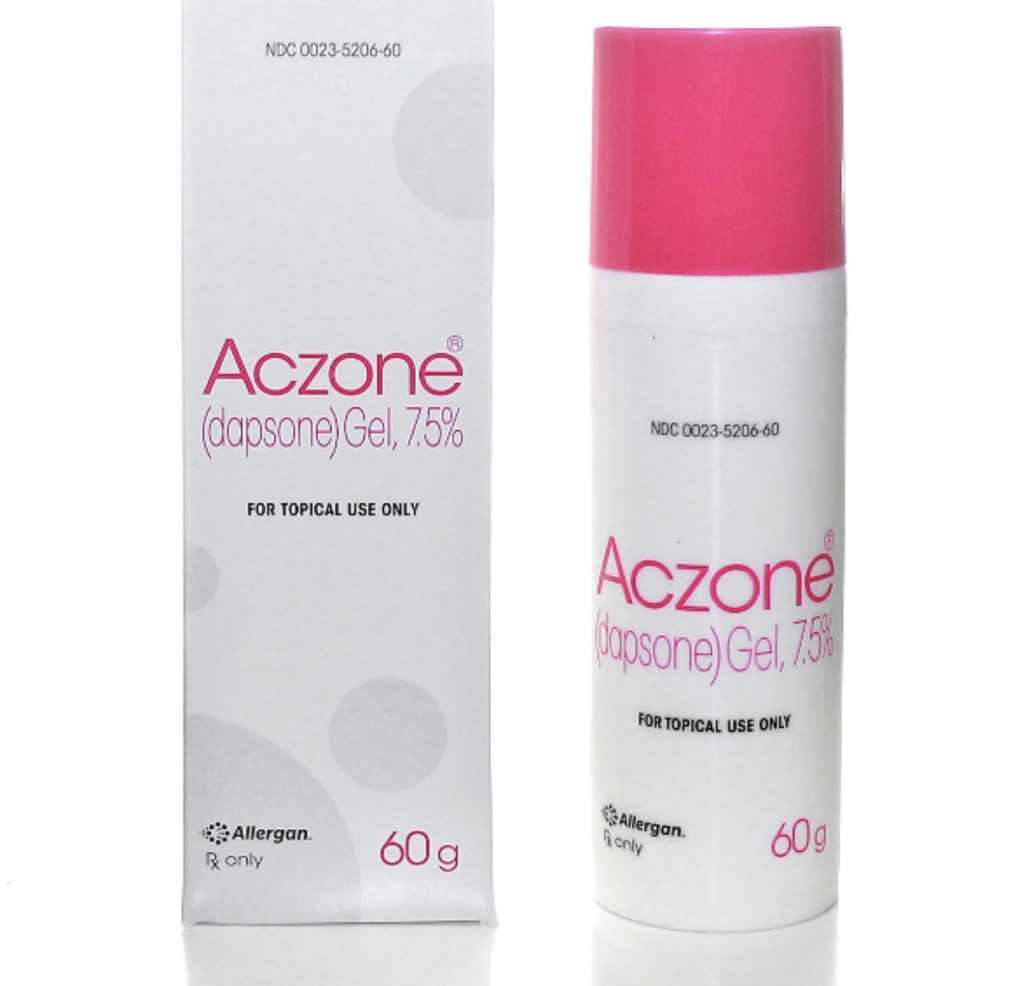 Oral prescriptions– my last resort. When I want to ensure I have excellent skin, I will temporarily use oral medications to help keep my breakouts at bay. I used oral antibiotics many years back in college, and it was a miracle. I didn't need them for a long time, but they work well on certain types of acne and can be used for prophylaxis.
Spironolactone is one of my daily medications, and it specifically helps with hormonal breakouts. It is an anti-androgenic medication that helps suppress testosterone. It also happens to be a diuretic. AKA… it can make you have to pee, all the time. It is a potassium-sparing diuretic, so every once in a while, your blood work does need to be checked.
Doxycycline is another one of my daily medications (for now). This medication is an antibiotic that happens to work really well to fight and prevent cystic acne. It is very cheap in generic form, but the brand form (Doryx) is much easier on the stomach and typically more pricey. Thank goodness for those specialty pharmacies! Either version works, I just prefer to not have tummy upset if I can avoid it!
**Keep in mind, many of these medications are not recommended in pregnancy, so talk to your doctor if you are considering any of these options for skincare.
Weekly
Under eye treatment– my fave 24K gold eye patches, y'all! If you've been following me for a while, you know that I love to wake up after a night shift and put on my Peter Thomas Roth 24K gold eye patches. They aren't total miracle workers, but they do help with moisturizing my under eye area. I feel that when I use them regularly my dark circles look just a tad bit better! I'll take it.
Mask– I try to mask at least once a week, after night shifts in particular. I rotate between a few different masks depending on how my skin is behaving. One of my new favorites is Erin's limited edition Photo-Cream Pumpkin Mask. It's been super hydrating with the dry weather out here in California. I also use the TreatMINT mask and the Clearworks mask from Facial Works.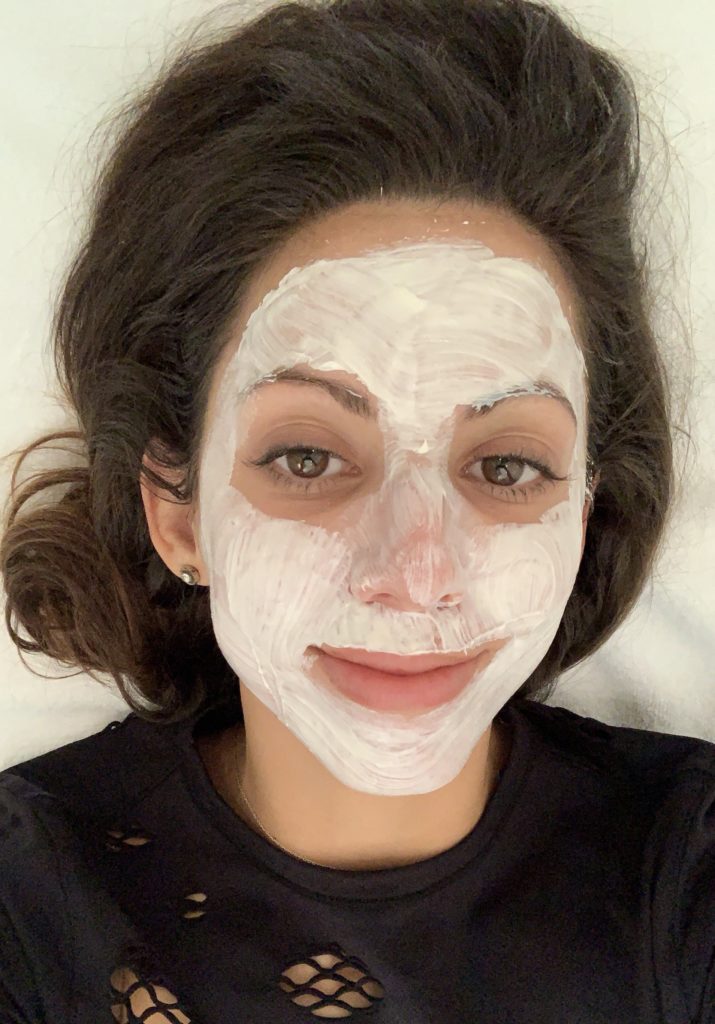 Monthly
Facials– my location of choice is Facial Works, because it's close to my home and there are multiple locations. It's not your typical spa experience, it's a convenient facial that's just as luxurious but for someone on-the-go. They sit you up at a facial bar and lean you back while movies play on the screens in front of you. They have amazing seasonal facials too!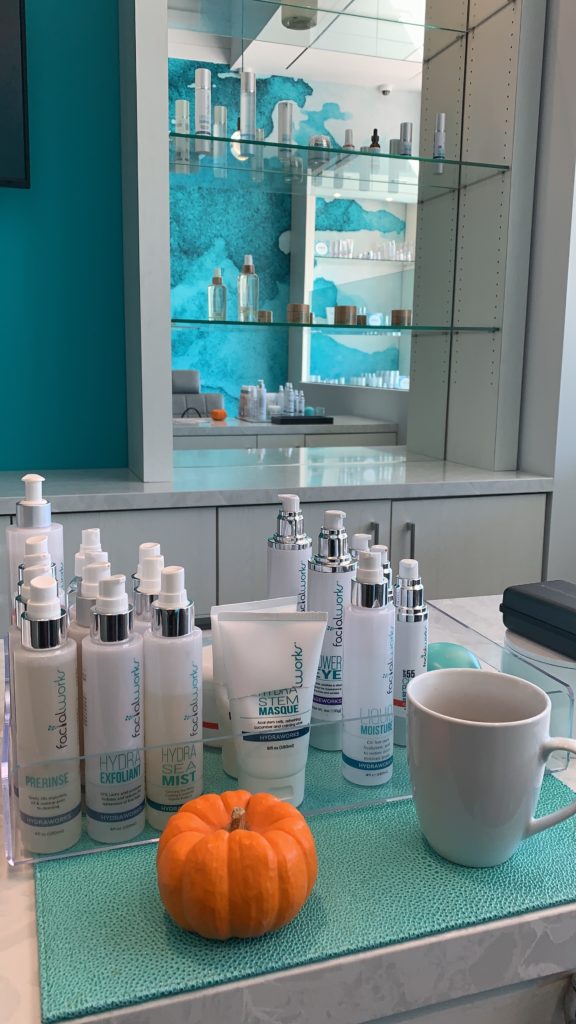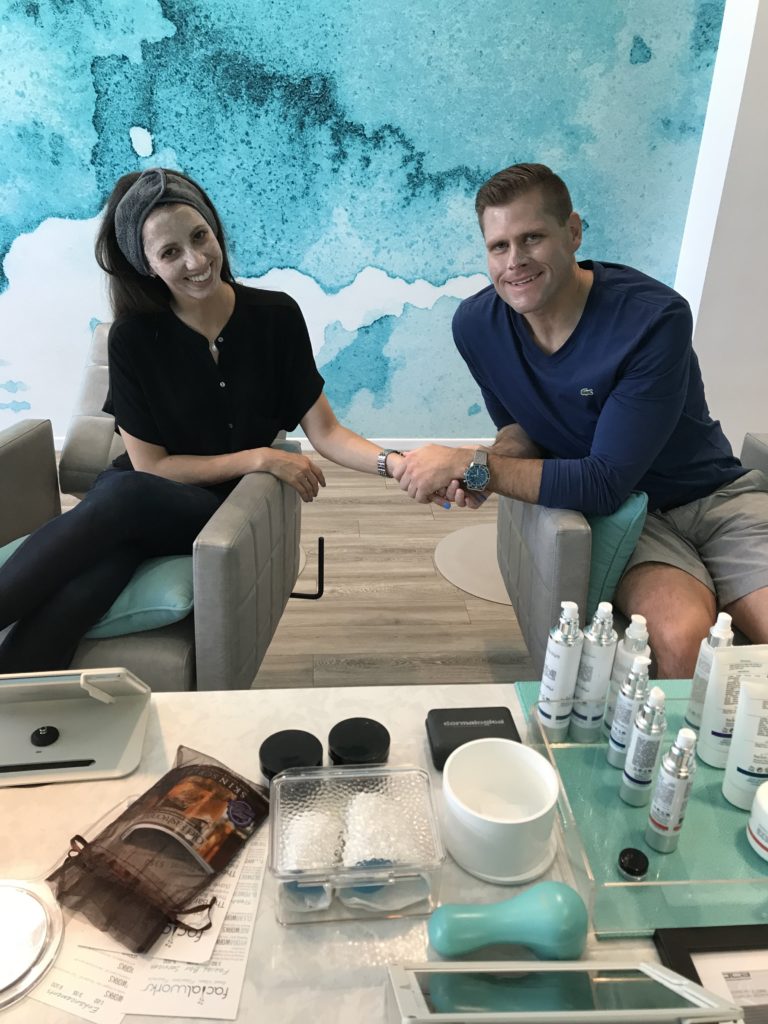 Every few months
Botox– I have been doing botox for about a year now. Erin uses a small amount throughout my forehead (I have very strong eyebrow muscles), and I love it because it helps me look less tired. I get this every 3-4 months. I have only had very mild bruising at times, and the needle is so small you can hardly feel it.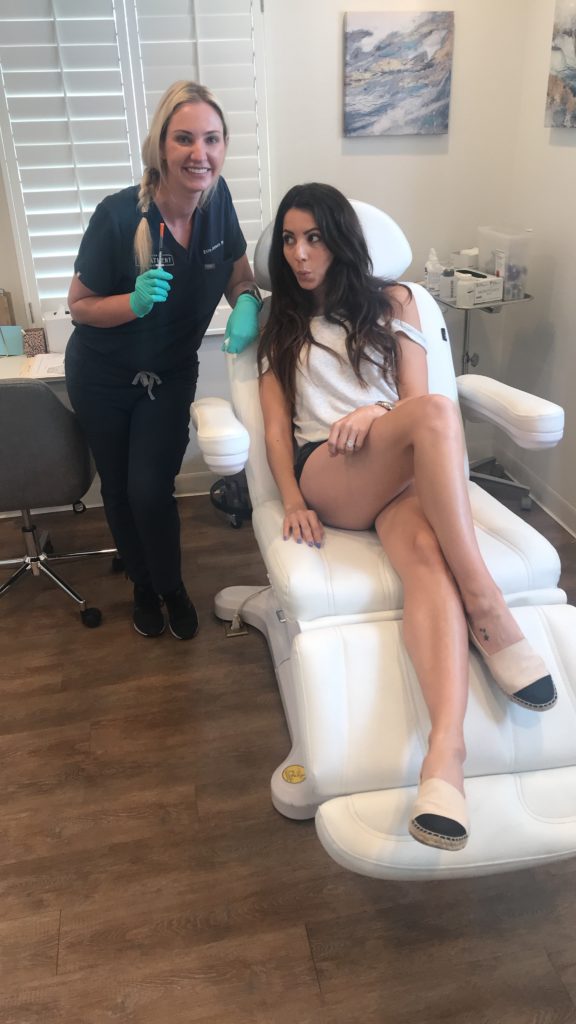 Dermasweep– this can be done more than every few months, but this was my schedule. I had 3-4 treatments before my wedding, over the course of this year. Dermasweep helps to deeply exfoliate and clean the skin in attempt to make skin smoother, pores smaller, and stimulate blood flow. It feels like a vacuum against your skin; sometimes scratchy, but painless overall. My dermasweep facials were done by Nikko at The Treatment. During these sessions he would also apply a mask and/or light stim therapy, depending on what my skin needed.
Chemical Peels– there are various types of chemical peels, based on your skin goals and skin type. I did very mild peels a couple of times this year, and felt like my skin was really glowing. The peels that I did were not painful, they just felt like burning when they were applied. The peeling however, can be less than desirable if you have somewhere to be. I made sure to do them when I knew I would be working night shift or a string of days at work.
**I didn't use any fillers or other injectables but if you are planning on doing so, you need to do this WELL in advance. There can be bruising and of course everyone whats to ensure you have the results you were hoping for.
So there you have it friends! My detailed skincare regimen, that helped this bride achieve and maintain glowing skin! You too can have it, you just have to find the right products and the right people to help with guidance!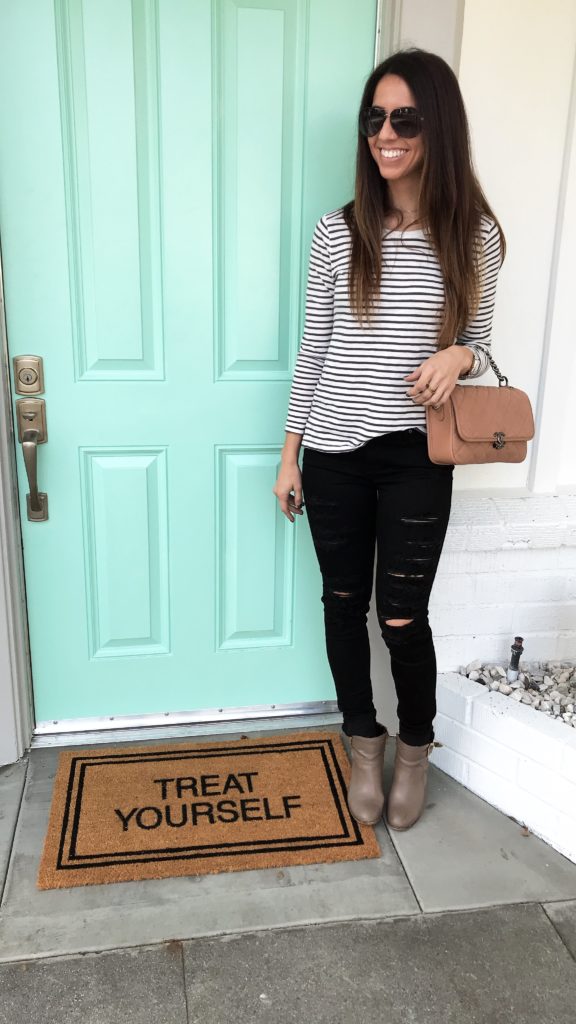 Brides out there… TREAT YOURSELF!!
xoxo