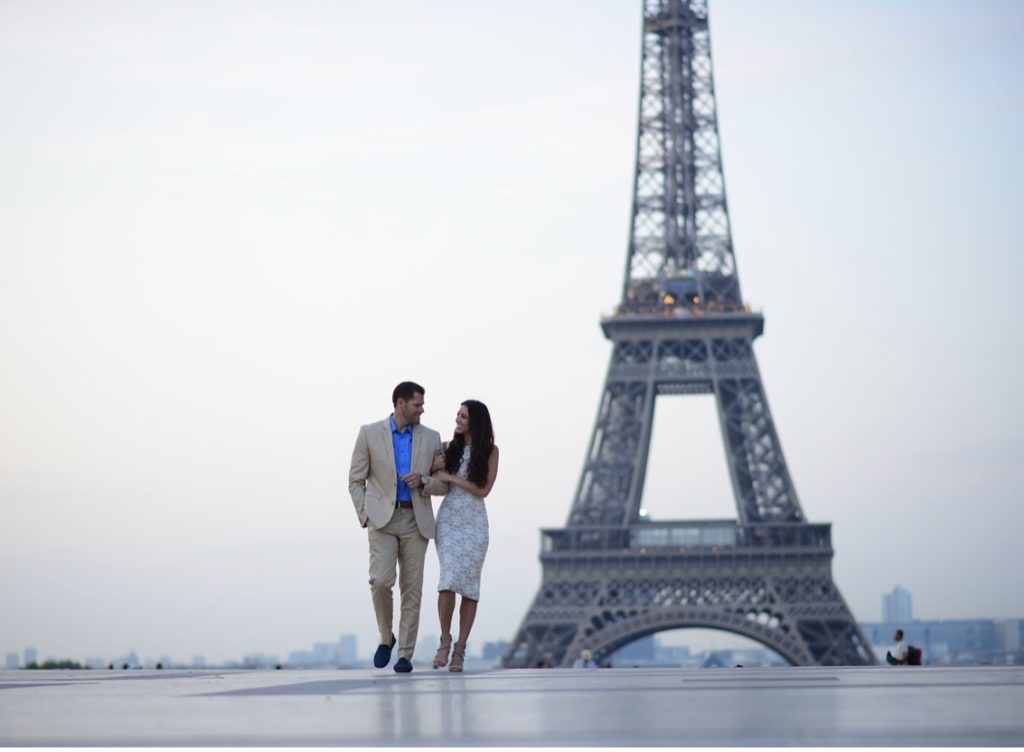 Cue the Parisian cafe music now. I'll wait here while you set up your Spotify playlist to get in the mood for this blog post. 
D'accord. 
The truth is, Paris has my heart. My mom was born there, I still have family in the city, and part of me feels like I NEED to live there someday. Thankfully, Chris was equally enamored by it's beauty and we're already planning our #RetiredLife in Paris. 
You all have asked for the itinerary, so here's a breakdown in detail! 
Day 1
We arrived into Paris mid evening, around 730pm, and were pretty tired. We stayed at the Westin Paris-Vendôme. While it wasn't as grandiose as some other Paris hotels, the staff was friendly, our room was upgraded to an Eiffel Tower view, the bed was comfortable, and the location was ON POINT. It stays light outside until 10pm in the summer though, so we ventured out to an area close to our hotel for some food and beverages. 
Bar Hemingway – an old school bar in the Ritz hotel, guys must wear pants. The drinks are so special (and come with a fresh flower I might add). They have a small food menu, but may want to go elsewhere if you're starving. We ordered the mini franks (super gourmet hot dogs) and ate the bar snacks. Such a cool vibe, MUST SEE in my opinion.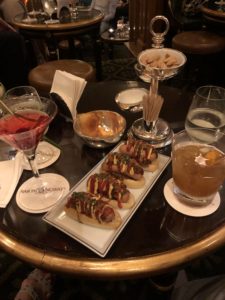 Day 2
We had a bit of a rough morning due to the heat and jet lag, but had a full day planned (thanks to me). We wanted to walk and take in the city anyways, so we stopped for breakfast in a little cafe on our way to the Catacombs. 
Catacombs- buy skip-the-line tickets, trust me. You have to schedule a time to be there, and get there on time, but it's worth not waiting in a line. We purchased the audio guide also. It's cool down there (which we loved because it was SO hot outside) so dress accordingly.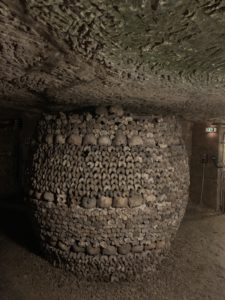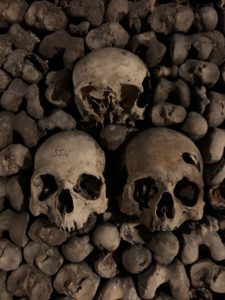 Jardin du Luxembourg- we walked through the beautiful gardens on our way to see some other things. We took a minute to sit down and take it in. This is a must see!
Notre Dame- you can still get a great view of this beauty, but of course you can't go inside and the structure is blocked off.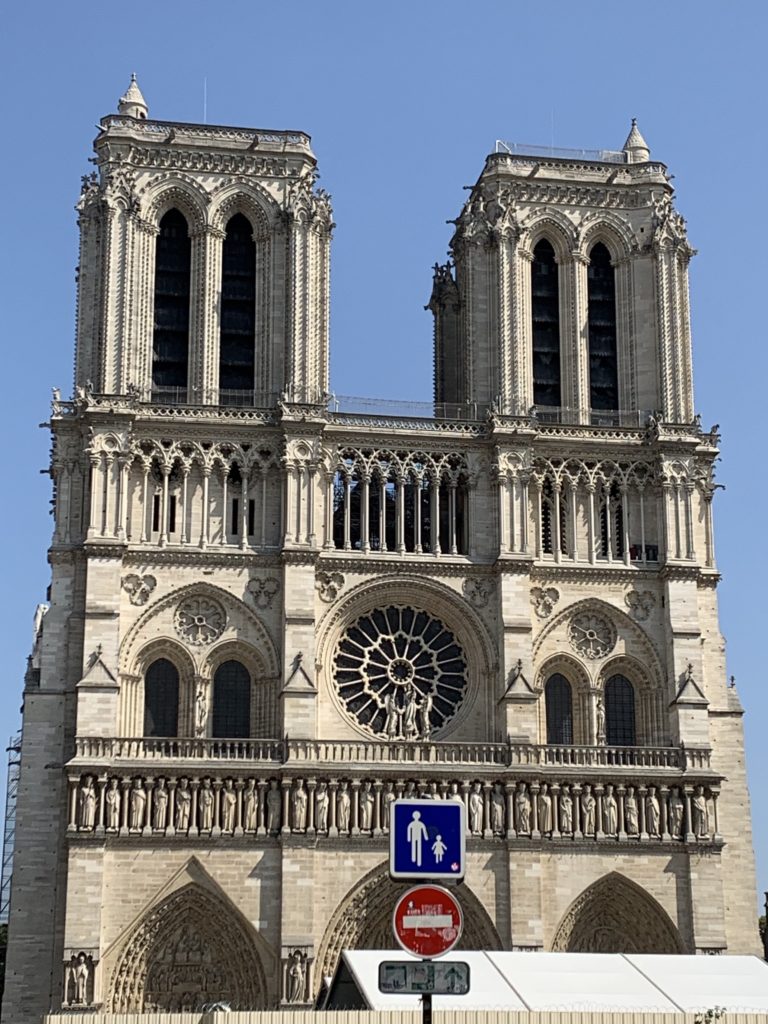 St. Chappell- we bought skip-the-line tickets to this church also (they are super affordable). It doesn't take long to get through this one, just take in the beauty and history of the stained glass
Chanel- I had to see the OG Chanel store (31 Rue Cambon), where Coco herself lived above it all. Definitely made some splurges here, worth every penny for the memories. If you're in the market to buy, make sure you ask to take a picture on the stairs to Coco's apartment!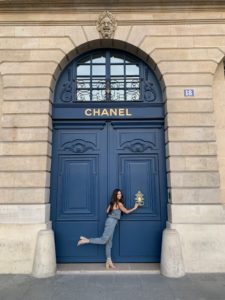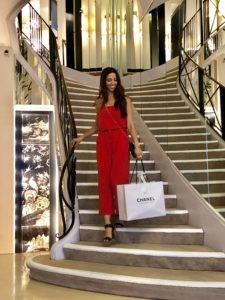 Pierre Marcolini- fabulous chocolates and sorbet, perfect midday snack 
Girafe- BEST experience in Paris. Some locals may see this as a trendy or tourist spot, but it truly is worth the visit. It has the best view of the Eiffel Tower with amazing food and service. The lobster linguini did not disappoint. Ask your hotel concierge to make you a reservation weeks in advance. Sometimes this place doesn't even answer their phone, which was the case for us. TBH, we just showed up early (for European time 630pm) and begged because it was our honeymoon. They gave us a great table but told us we had to be out by 10pm. DONE and DONE.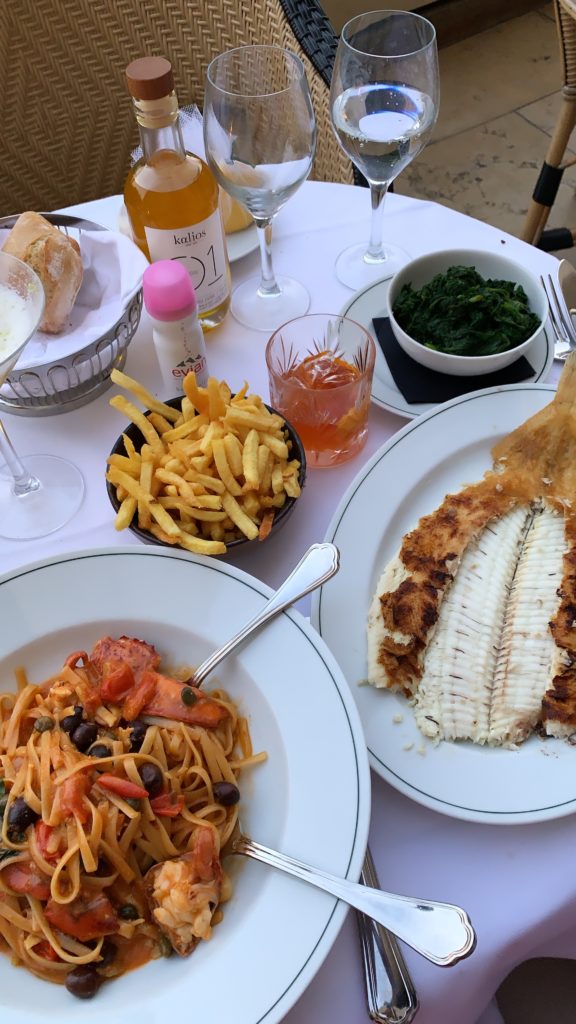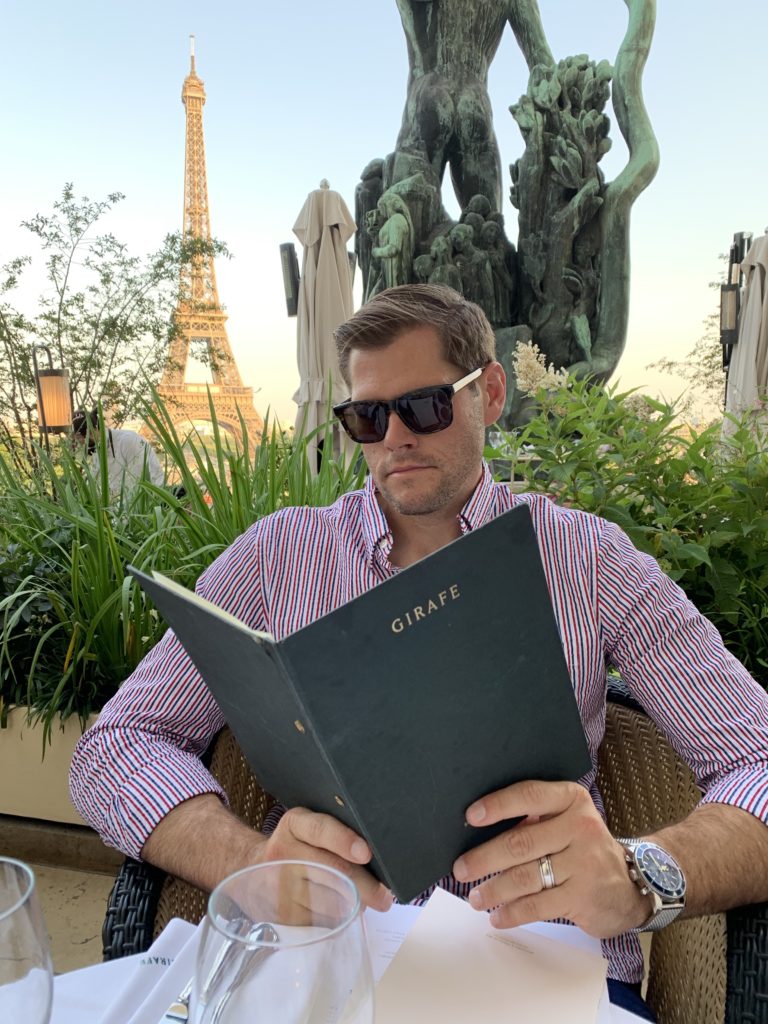 Day 3
We spent an entire day museum hopping, which kept us moving through at a reasonable pace (and that happens to be my museum style). Wear something comfortable! We did not buy a Paris Museum Pass, because we only planned on going to 2 museums and just purchased individual tickets, but this could be a good option if you plan on seeing a lot of museums over multiple days. 
Louvre- again we purchased skip-the-line passes. The lines here are LONG.  So much to see in this place. We stuck to one wing, and the Mona Lisa of course. They have a separate line to see Mona Lisa now, which took us about 45 minutes to go through. Have your cameras ready, they push you through there like cattle!
Musee d'Orsay- we did skip-the-line here too. Takes less time to go through. Gorgeous museum with Van Gogh and Monet pieces (my faves). Don't miss out on the top floor! There is a beautiful view of the city.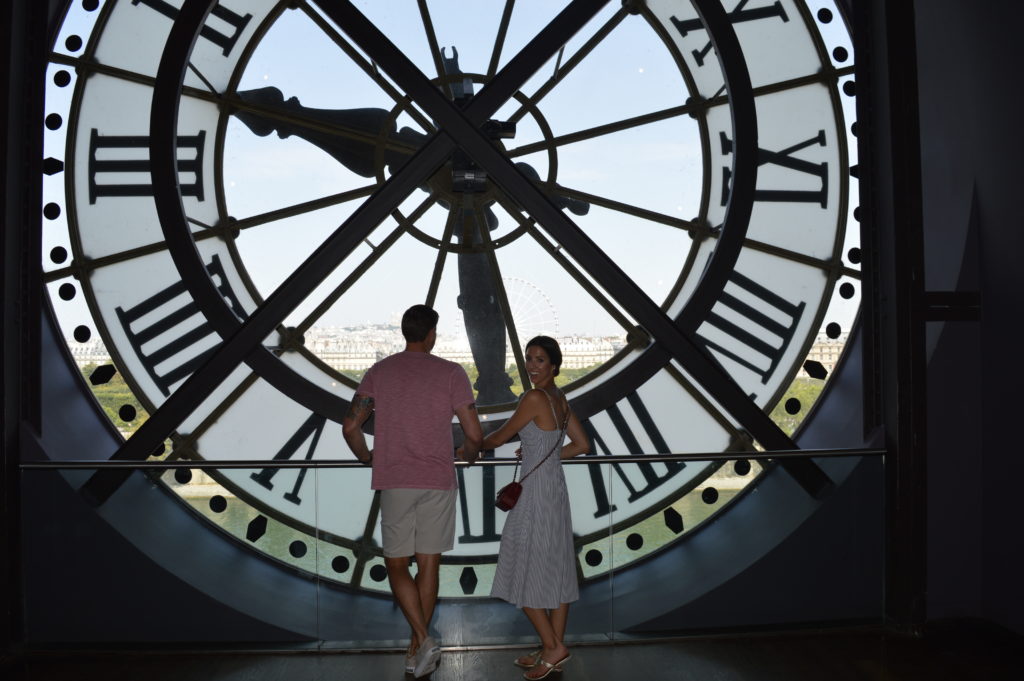 Angelina- if you're going to Paris, you have to stop here! There are multiple locations but I like the original on Rue de Rivoli. I love a good Croque Madame (paired with rosé of course). 
Ferdi- reportedly Kanye West's favorite spot in Paris. It's small, so a reservation is a good idea. The menu is different than your typical French food. A combo of American, Mexican, and French options. 
Day 4
Despite our crazy jet lag, we got up SUPER early to do something I knew we would be thankful for, later. You're not a blogger unless you take photos in front of the Eiffel Tower, right? 
It was actually a gorgeous sunrise and a nice little break from the scorching temperatures (it was 6am after all). 
Our photos are still being edited, so the one shown in this blog post is just a preview, but I can't wait to share them all with you! We shot with Vio, from The Paris Photographer, and had a fabulous time. However it wasn't long before we were sweating through our dress clothes and I forgot to bring sandals so my Louboutin stilettos almost killed me on the cobblestone streets a few times. 
We knew we had something luxurious to look forward to after the photos, as we had booked breakfast and massages at the Four Seasons Hotel George V. The spa is VERY luxurious. Probably the best massage I've had, ever. The amenities and facilities are fancy, to the point where I felt a little confused with how to use things. Everything is different in France! One thing to note, is that you aren't allowed access into the pool area if you're not a guest at the hotel. Womp Womp. It looked epic, and was part of the reason I booked the massages, but oh well. 
Eiffel Tower- we just so happened to go on the hottest record day IN HISTORY in Paris. I had purchased skip-the-line passes for this too, and I highly recommend it! You can purchase a lift ticket and take the lift the entire way up, OR you can do what we did and climb the first two portions, then take a lift to the very top (there are no stairs up to that point). We had a great time, despite sweating through our clothes. There is champagne at the very top!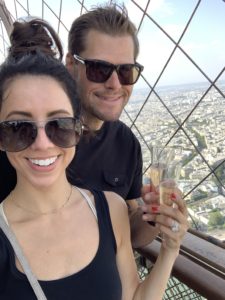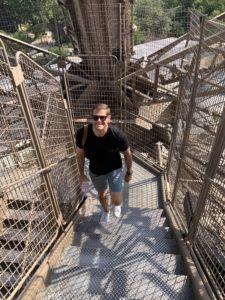 Costes- trendy, good music, great people watching. Dress up for this one! Be sure to make a reservation. Service isn't as good as the food and people watching, but still a must see in my book. 
Day 5
Versailles- a 45ish minute train ride outside of Paris, definitely worth seeing once. The gardens are my favorite part, although the palace is pretty epic too. You could spend an entire day here and I recommend going early to mid morning. I'll say it again… skip-the-line pass is a MUST. The line for ticket holders (without a timed entry) can still be VERY long in the summer. 
**Pro Tip: If you walk straight through the gardens and exit the grounds (you can come back in) you will find a little canal and boat rental that is very affordable. This was the highlight of our day actually, to get a break from tourist stuff. It's like recreation from a scene in the Notebook. If you plan beforehand, bring lunch and some wine and eat lunch on the canal. Uber romantic.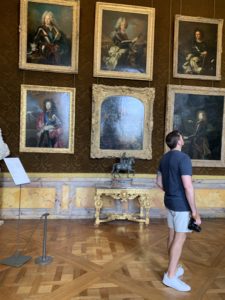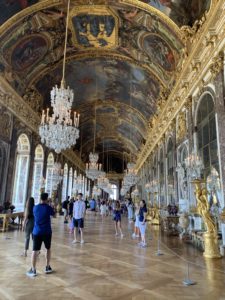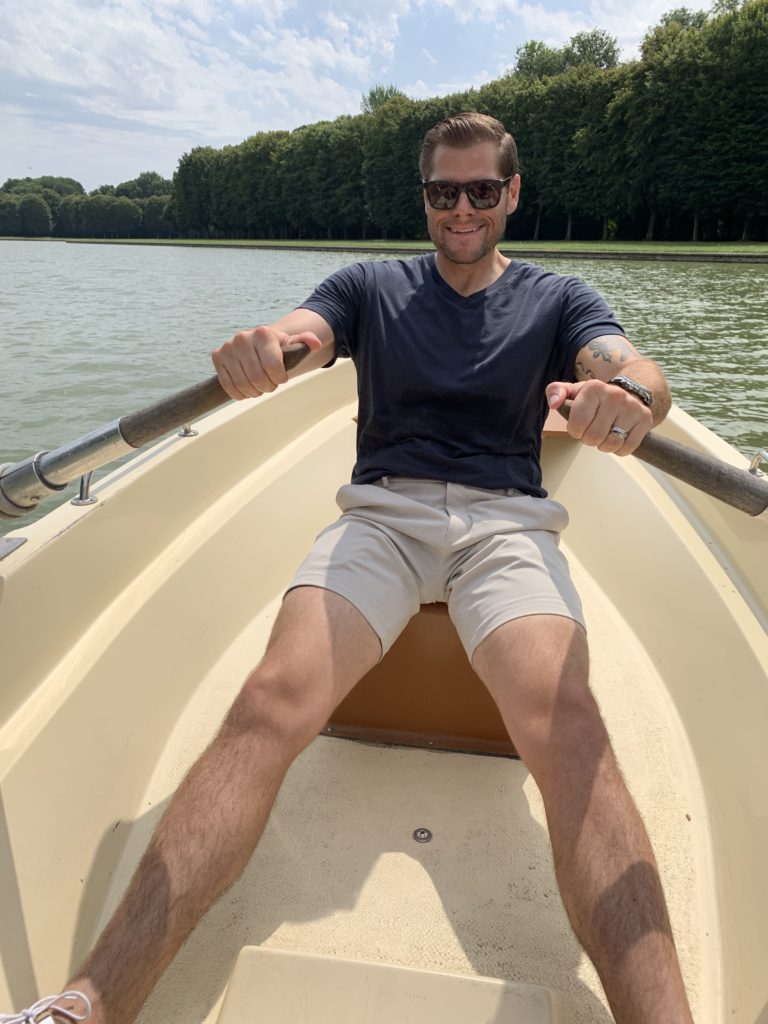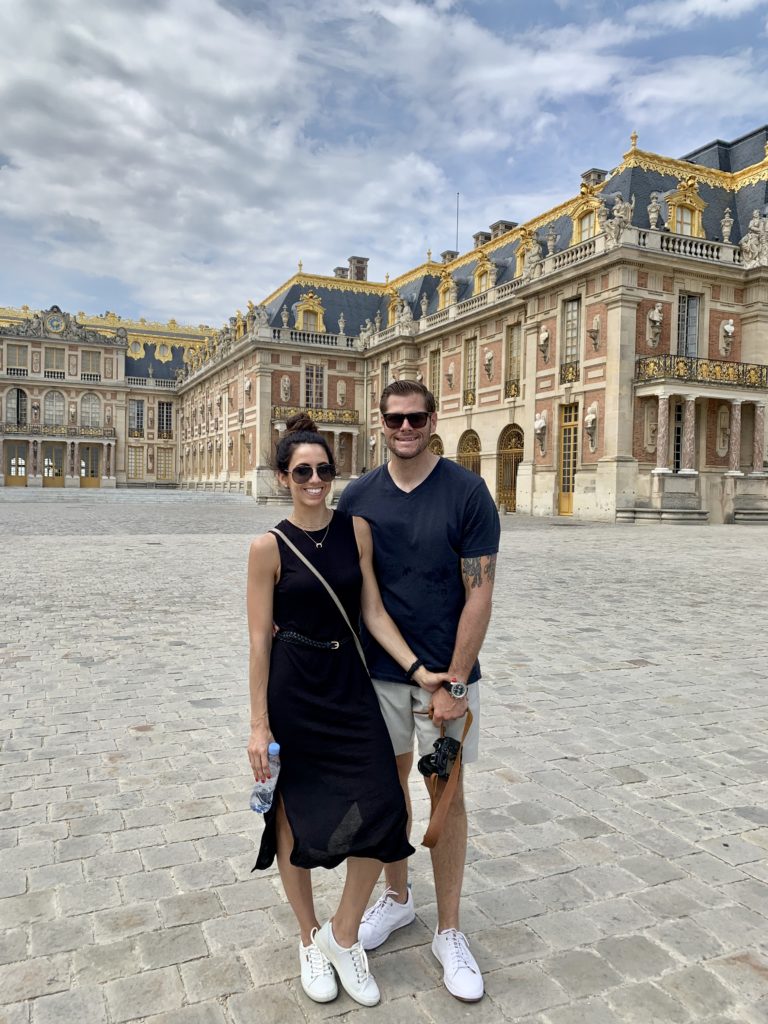 We had dinner with my cousin this evening, at a local spot (honestly can't remember the name). It was really cool to see family in a city so far away from home, and having a French translator to teach you what you should actually be saying when you order, was a plus!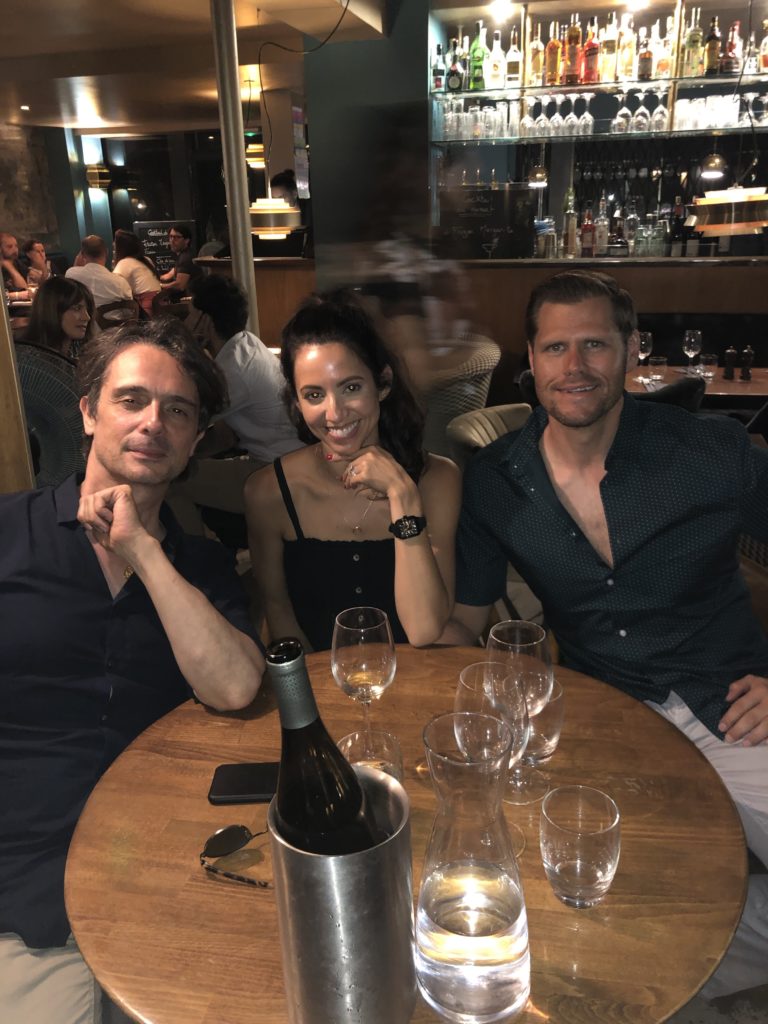 Laduree- if you don't know what this place is, and you're traveling to Paris, just add it to your list ASAP. Try all the macaron flavors. No shame. Chris and I ate 15 in one night! 
We could've used a few more days (more like weeks) in Paris for sure. We had a lot of other places on our list that we either didn't have time for, or were too tired to get to. It was honestly so hot that it was tough to sit outside and dine at the cafes, which is pretty much the best part of being in Paris! I spent hours online reading blogs to find the most recommended locations, so here's a list of locations that still remain on my list for our next trip!
 -Le bon marche
 -Berthilon (gelato)
 -Du Pain et des Idées
 -Piere Lachaise Cemetery
 -Sacre Coeur in Montmarte
 -Chez Julien
 -Maison Kayser (baguettes)
 -Musee d'lorangerie
 -L'avenue (make a res)
 -Holybelly Cafe
 -Pierre Herme (macarons)
 -La Droguerie du Marais (crepes)
 -Luluwhite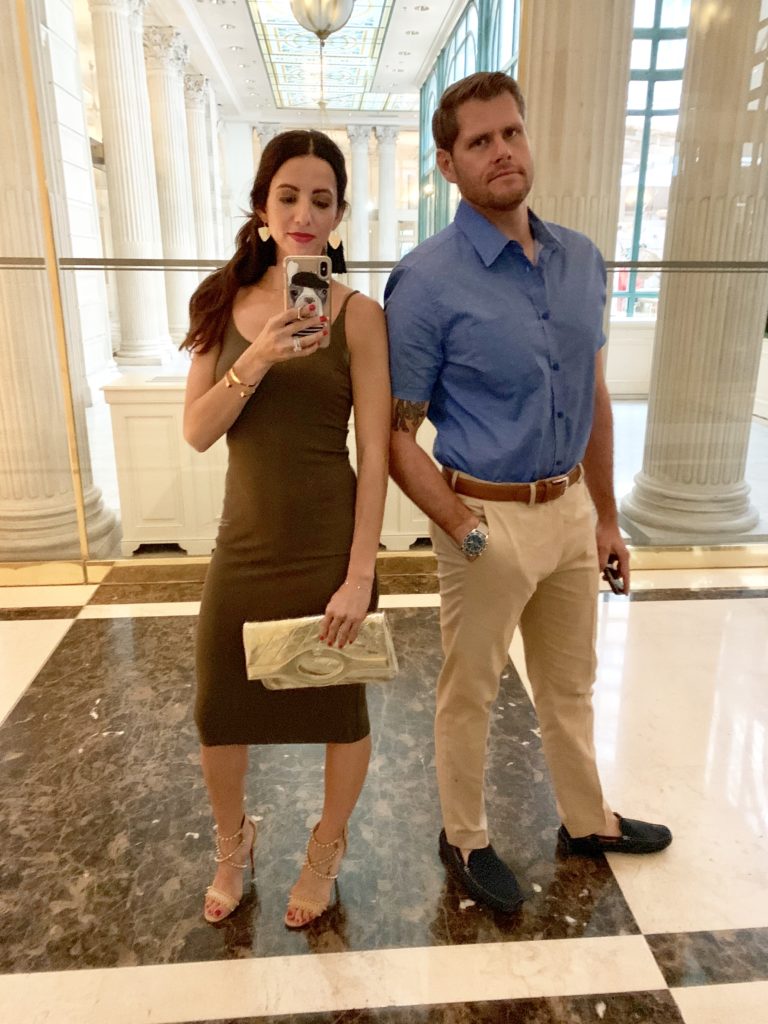 Paris Outfit Log 
Look… we were totally unprepared for how hot it was going to be. Apparently everyone was taken by surprise (record breaking temps). We did our best and surely sweat through most things, but still felt like our fashion guesses helped us fit in. I will say that Paris can be unpredictable with rain, cooler temperatures, and apparently warmer temps in our case. Pack pieces that you can wear in different ways, layer, etc. And comfortable shoes are A MUST. 


Truly, Paris is so magical and if you haven't been, just take a leap and go ASAP! If you have been to Paris, leave your favorite memory or location in the comments!