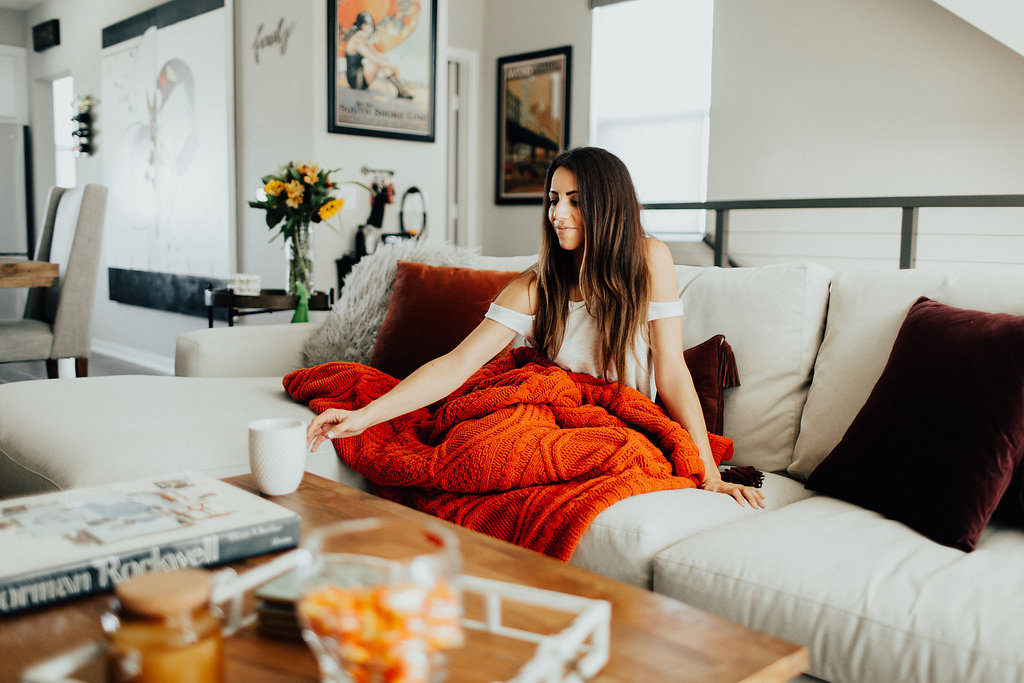 It's official… fall is among us!
Yes, I'm a total basic, fall-lover. Gimmie those pumpkin spice candles, pumpkin EVERYTHING treats, orange accents in the home, and graphic tees that proclaim how much I love fall! I have no shame!
I am an early decorator around the home. I LOVE themes and if there is a holiday to decorate for, I am so in! There's something about coming home to a cozy, holiday-related decor that makes me feel like an accomplished adult!
My mom has always sent me cute Halloween decor, so it's no surprise that even since my first dorm room, I would always gravitate towards the seasonal decorations to spruce up my space a little bit! It just seems necessary to me.
Happy Fall Ya'll 
I wanted to share my home this fall and Halloween season, with you, because it makes me ultra happy and maybe you can snag some of these deals for your space before the season is over!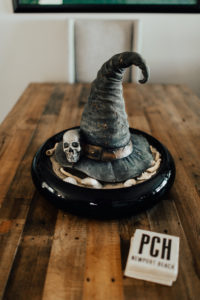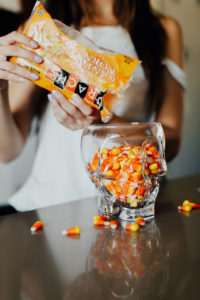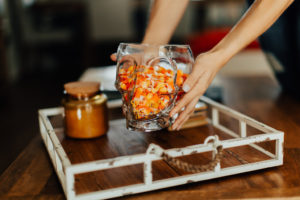 There are a couple of things that are a MUST for me in my home.
An attractive centerpiece that draws the eyes towards a favorite piece of furniture
An inviting treat that your guests can enjoy
Both the witch hat and glass skull are from Home Goods. I like how the witch hat centerpiece highlights my absolute favorite piece of furniture, my dining room table from West Elm found here.
I know not all of you out there drink wine, or have a bar in your home. I am an avid wine drinker and I love to highlight my bar as another favorite piece of furniture. It's especially fun when you find themed drinks, napkins, or alcohol, that supports your vision! A fresh set of flowers is also a must for me, especially when they have the gorgeous fall blooms with autumn colors.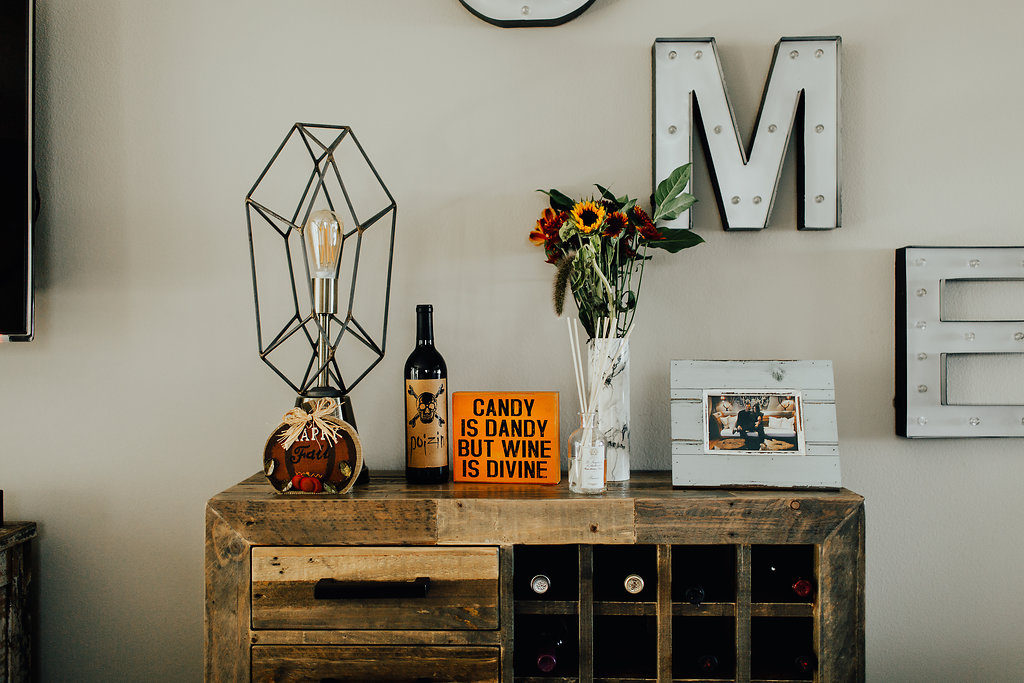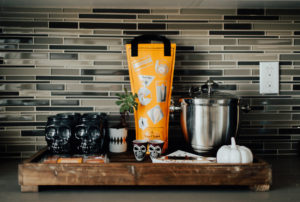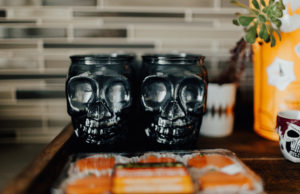 My goal for a perfectly decorated home, is to have pops of color, that relate to the holiday or theme you are trying to incorporate. But not too much! I try and avoid clutter by choosing a few key pieces that really draw attention to the eye, instead of creating confusion.
It helps to have pieces spread throughout the home, so that each little corner your guests see, invites a new reaction. Since I mentioned the treats earlier… I try not to eat all of the treats I have out for guests, but it's hard! Especially when Trader Joe's starts selling the chocolate mousse pumpkins shown in the photo above. They are my weakness. I purchased the skull mason jar glasses from Home Goods, and they've been a hit so far! Similar found here.
I love my kitchen space so much, partly because I love a leisurely, home cooked meal during my time off. Since I love being in the kitchen, I have to sprinkle some decor there. Have you guys seen these little pumpkin plants that Trader Joe's sells? I've had these in my home every year and they last throughout the season! Here's your fair warning… they have thorns.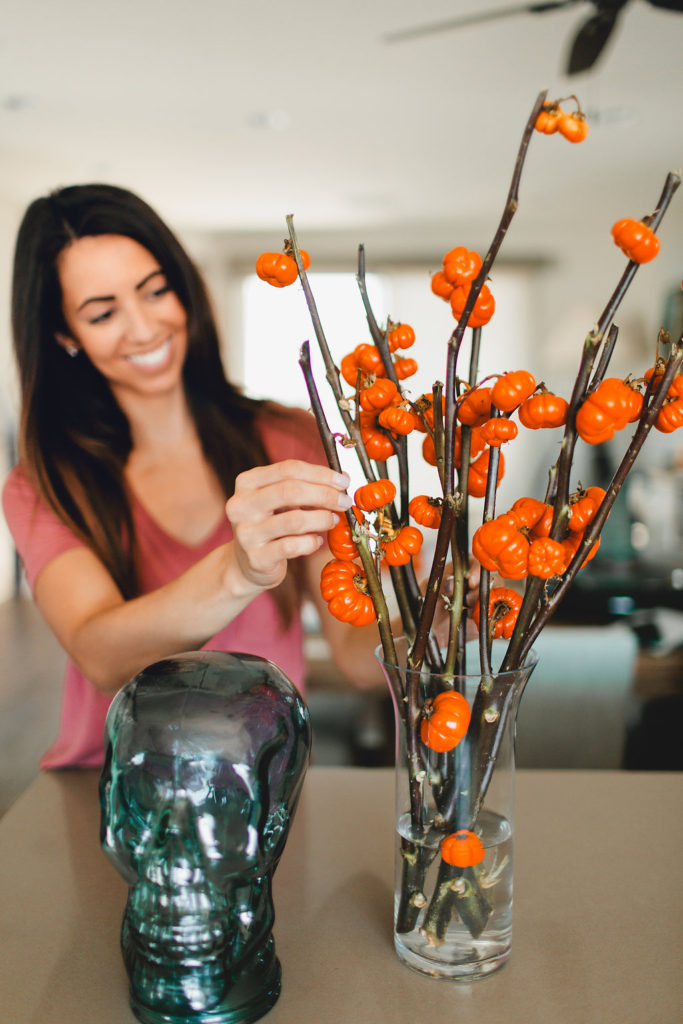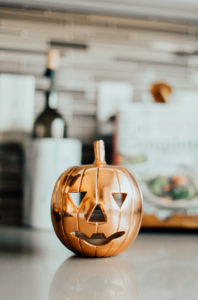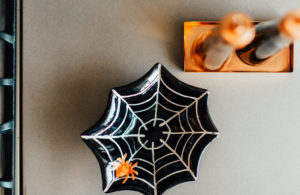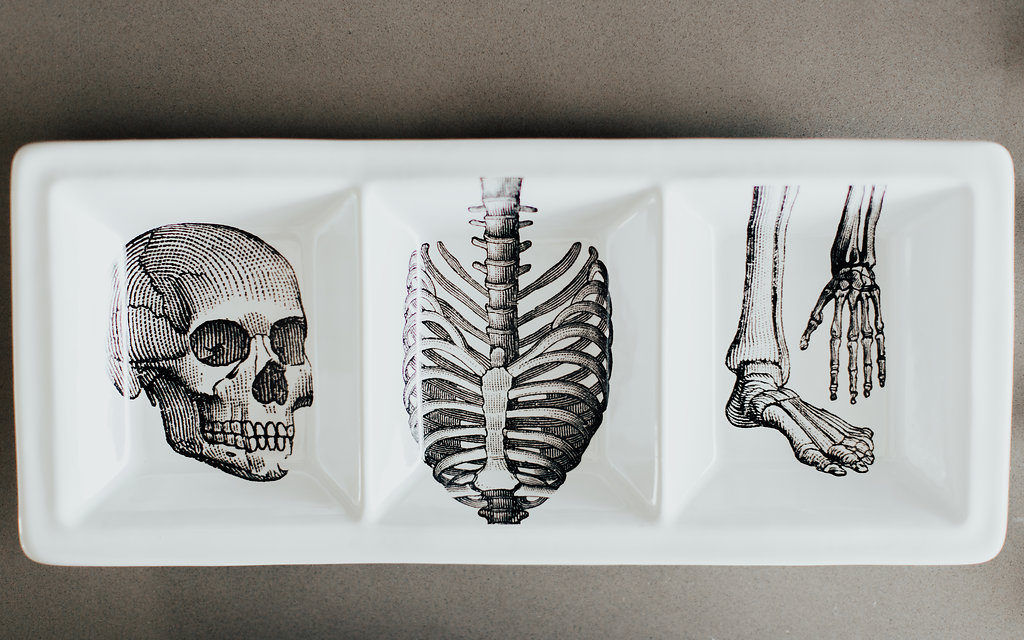 Bonus points for anything that doubles as an anatomy diagram. 
Being from the Midwest, I am used to fall being the starting point of cooler weather. In California of course, the 80 degree weather typically continues. We do get those cooler nights with a beach breeze that allows me to use the amazing fuzzy blankets that I love so much! I picked this orange blanket up this year, from none other than Home Goods. It's so warm and fuzzy, I could hibernate here forever. Add a cup of pumpkin flavored coffee and you have one basic B here!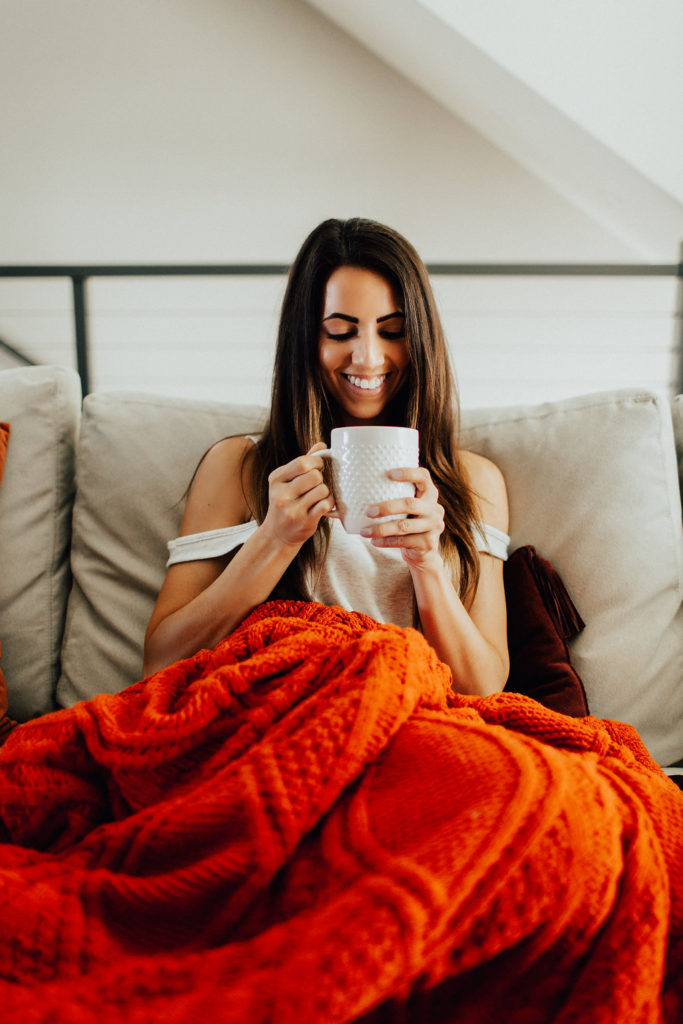 This fall, my plan is to be snuggled up at home, with my man and the pup.
Some years I feel more adventurous than others, and get the itch to travel, but this year I am definitely in the mood to lay low. You can find me lost in my new velvet pillow cases, sippin' on some Witches Brew, wearing my new favorite Nike sweats, with Hocus Pocus or a football game on in the background, and a fall scent in the air.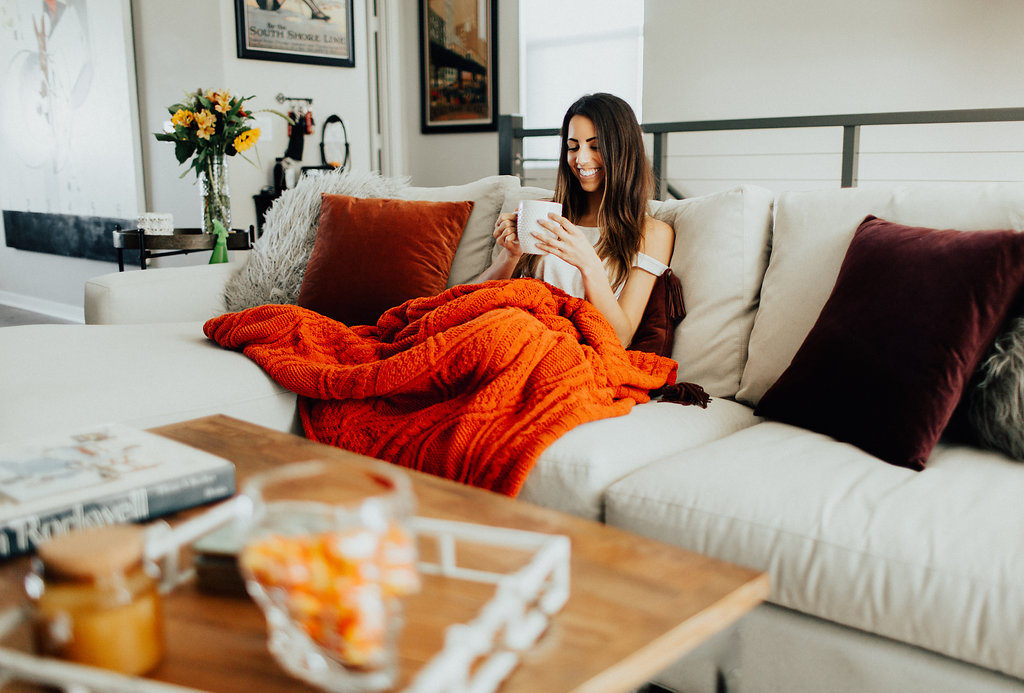 I want to hear about YOUR fall and Halloween plans! Comment below!
Photos by Abbi Cooley