Today I'm here to tell you about my hair journey. Not to toot my own horn, but I get a lot of hair compliments 😉 I find that as women we ALWAYS wish we had different hairstyles. If our hair is naturally straight, we want waves and curls. If we have waves and curls, we're always trying to straighten and tame our hair. We all want "effortless"! It's taken me a while to "figure out" my hair but I'm excited to share my personal results with you! Turns out quality products actually can make all the difference.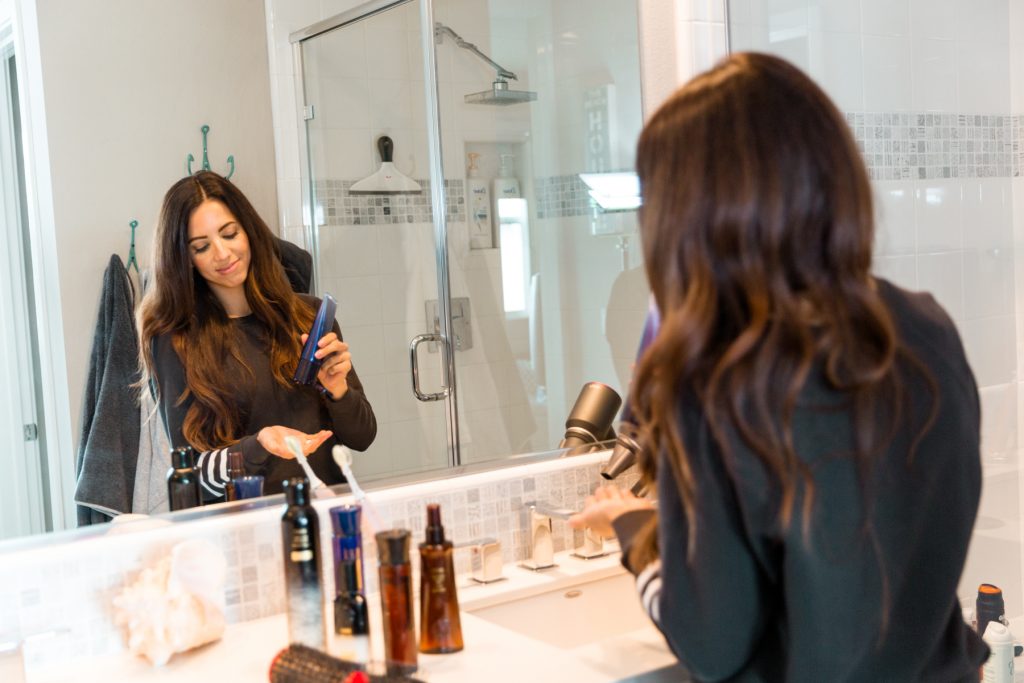 My Hair Type
I was born with curly, excessive amounts of hair and it took me a really long time to tame it without damaging it. I used to pull it out in anger when my brush became tangled in the dread locks (as I like to call them), underneath. As you know by my photos, I like to use a combo of straight and curly styles for my hair. Methods like the Curly Girl Method don't work for me because I like to use heat on my hair intermittently. For those of you who don't know, the Curly Girl Method was designed by Lorraine Massey and is a hair care method that discourages using shampoo, heat and other elements to treat your hair and instead, focuses on getting your curls back to their natural state using conditioner. In theory that sounds great but I feel the most confident when I have a straightener and/or curling wand at the ready. 
Patience is Key
That being said, I do have some favorite products and tools to use when styling my hair, regardless of what I decide to do with it on any given day. Yeah even the old messy-bun-on-top-of-my-head has a BIT of technique. Finding the perfect product for your hair takes time. Also, as you get older and your hormones change you'll sometimes find that not all products work the same as they used to (crazy right?!). It's okay to experiment and switch it up but that can get expensive. Talk to your hairstylist and see what they recommend for your hair as well! 
Favorite Products
Kérastase
I started using this line for shampoo and conditioner about a year ago and I love how a little bit goes a long way. There are a ton of options to choose from depending on your hair type, but these were recommended to me by my stylist.

**I recently ordered the Oribe Gold Lust repair and renew shampoo and conditioner (to keep it consistent) and I will update you soon on my thoughts**
Oribe
Oribe is a great brand because they have so many different products for so many different types of hair. From curls to dandruff (for my friends in cooler climates, I feel you) to damage repair and so on. They have great products to help me keep my curls in check like the Curl Control Silkening Creme which I just apply to damp hair after a shower.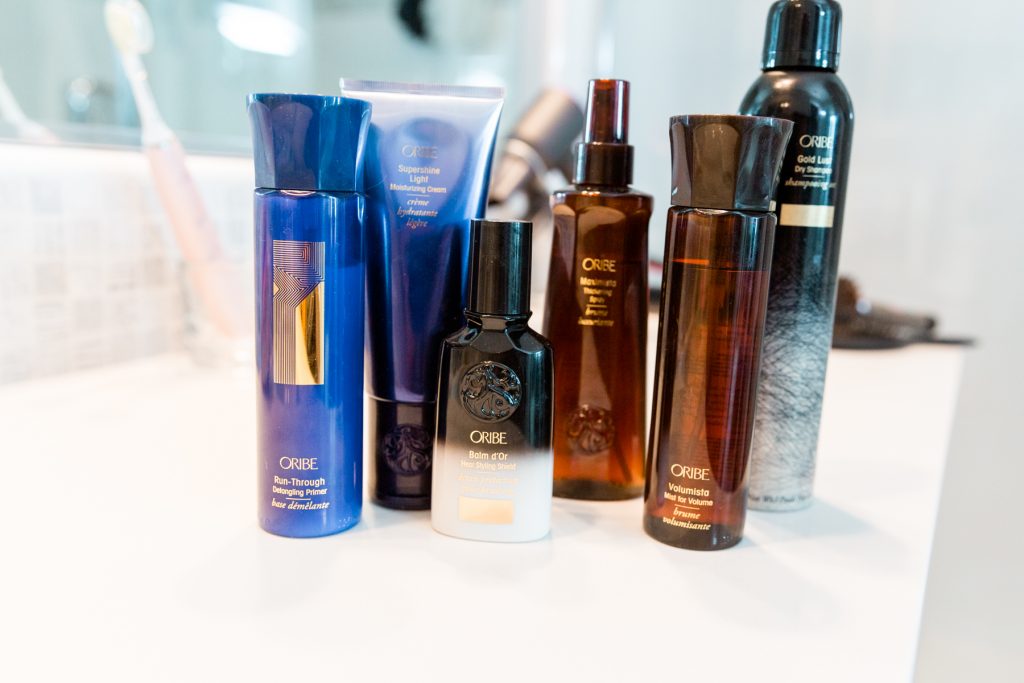 Favorite Tools
I've made it my mission to find high quality hair tools that don't break the bank. The blow dryer is an exception. But what I (or should I say my husband) invested in this blow dryer I saved with my other hot tools. Let me explain why I love each of them.
Dyson Hair Dryer
I am obsessed with my Dyson Supersonic Hair Dryer and am so happy that I got one. It has different attachments (which magnet on btw) so that I can choose how I want to style my hair and I especially love it because it's made for all types of hair. Plus, it doesn't use extreme heat which is so nice. I love that I can give my hair a break while still achieving the look that I want. Did you know that it's always recommend to use a diffuser (extra piece) on the end of your blow dryer? If the hot metal is exposed it can singe your hair if you get it too close!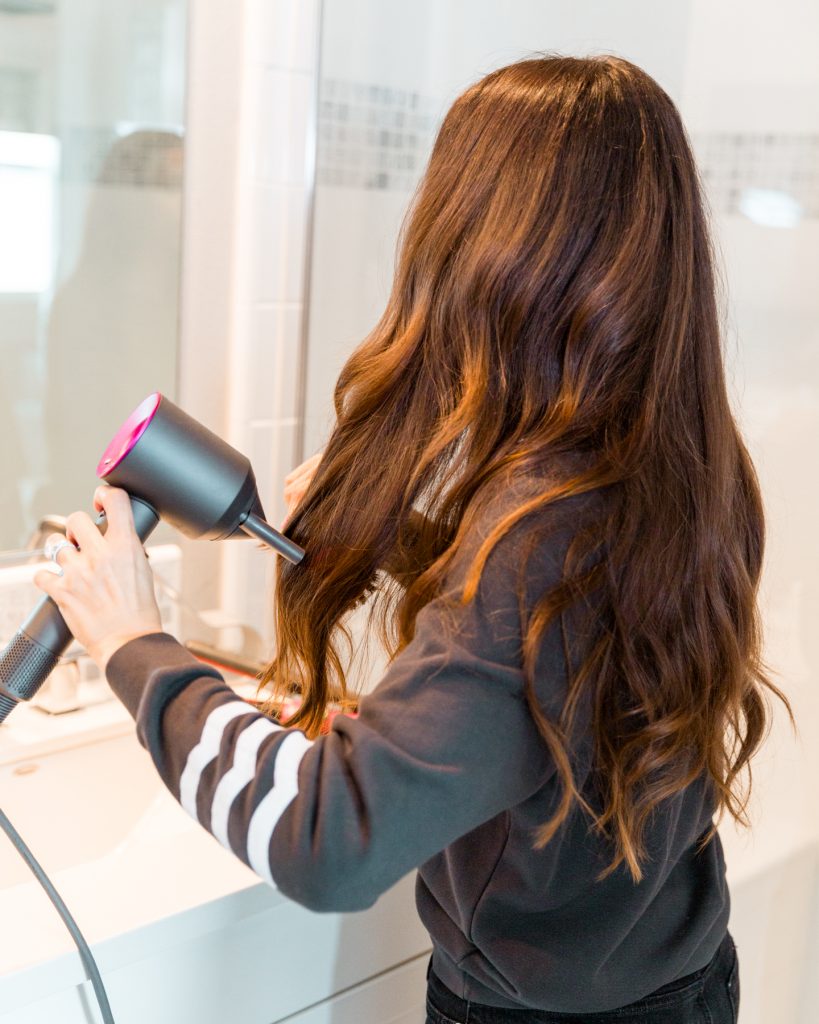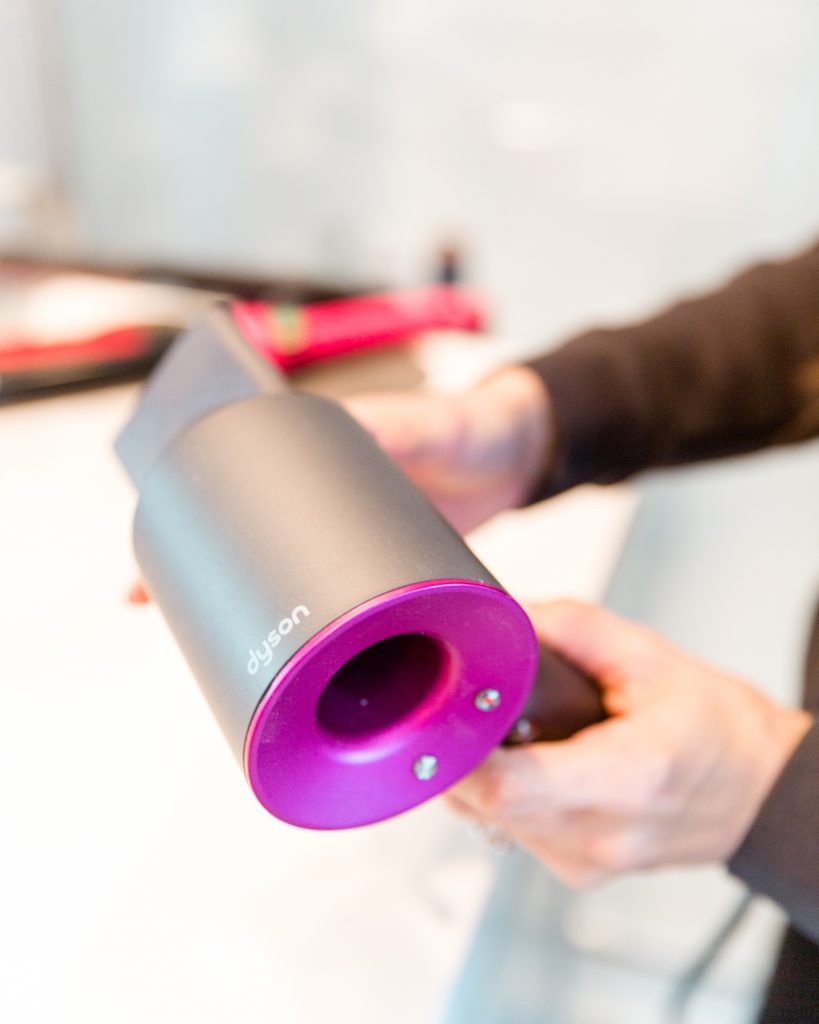 Jose Eber Curling Wand
I love the Clipless Curler – or Curling Wand – purely out of preference, but I find that the wand leaves a nice, loose, beach wave look. Their curling wands range in thickness so it's up to you to decide what type of curl you want to achieve. For my hair type, the thicker the barrel, the better. I definitely go bigger than 1 inch. 
FHI Straightener
I'm a huge fan of the FHI ceramic straightener because they are high quality at a semi-reasonable price point and you can choose how wide you want the plates to be for your hair. A tip with any hot tool is to remember that you don't need to set it to the highest heat before you style your hair. Taking more time to style your hair and use that lower heat setting will be better for your hair in the long run. 
My Hair (non) Routine
It should be no surprise that my hair routine is literally constantly changing because of my schedule, as in I shower at different times on different days and don't style my hair the same all the time. Nothing really stays consistent but I like to think of my hair routine as a method of self-care. My go-to method is simple – I sleep on my wet hair and wake up to nice curls (thanks to the Oribe Curl Control Silkening Creme). I never let my hair air dry during the day because it becomes frizz mania so if I do shower in the morning I will blow dry it or keep it in a braid or bun. 
When I get out of the shower I use this detangling primer and a wet brush. If I'm blowdrying my hair I use a round brush.
Because I prefer a low maintenance routine that requires minimal trips to the salon, I avoid highlighting my hair. I did implement some lighter pieces a few years back but I noticed a lot of damage and death to the ends of my hair, which scared me. I vowed never to do that again. I really believe there is substantial benefit to keeping it simple and embracing your natural hair color to avoid gradual damage over the years. I have some grey hairs popping up these days (actually since I was 27, I blame medicine) so I do dye my roots from time to time and tone the rest of my hair as needed.
I have found that the less I mess with my hair, the better! I don't recommend constantly running your hands through your hair. The oils from your hair will transfer to your head and that's how your hair can start to look oily. I also recommend not trying to make it perfect or expecting the same thing every day! Having a go-to "up" look can be helpful for the days that your hair just isn't cooperating. Maybe a pony tail, a bun or a sporty french braid.

Keep it Dirty
I realize it's weird and against our nature to not wash our hair but it's actually so good for your natural hair. I go anywhere from 3-6 days without washing! By day six, I'm usually tossing it up in a bun, but still! If you have less hair, you'll likely need to wash more, but investing in a good dry shampoo (Oribe again for the win) or texturizing spray will definitely help.
My best advice to you is to take it one day at a time with your hair. If you've always been the type of person to wash your hair every day, it's going to take some time to "train" your hair and get it to adapt. A lot of women give up fast because they can't handle how oily their hair looks! I feel you! I would honestly recommend giving it a month or two – wearing your hair up when necessary – and going from there. The end result – and FREEDOM – that comes with not needing to wash your hair every day is worth it! 
Do you guys have any products that you swear by? Leave them in the comments!