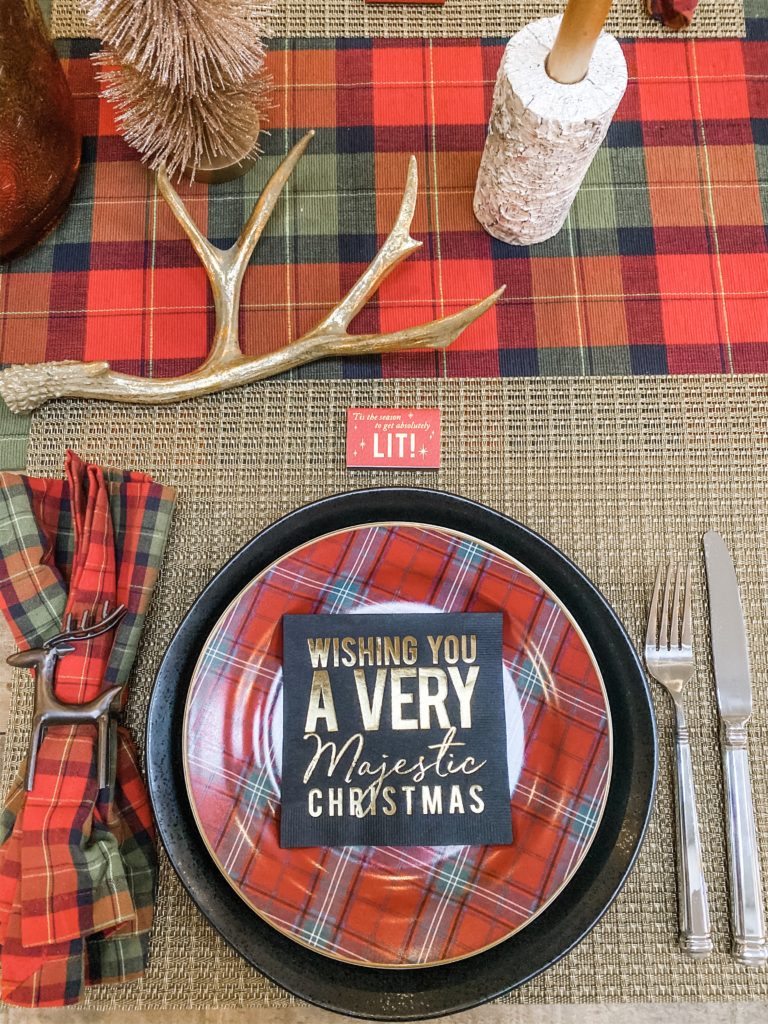 After Chris and I moved into our new home this year I knew I wanted to host guests more. No matter the time of year, I love welcoming friends, enjoying food together and sitting around and chatting. During Christmas, there's just something even more magical about this! Chris and I hosted his work colleagues recently and had SO much fun! They're a fun crew that we get along really well with, so it was a treat to have them all over before the 'real' Christmas madness set in. I think having a Christmas dinner well before Christmas contributed a lot to the success of the evening. The earlier you host your event the better the chances people will actually be able to come. I've laid out some of my top tips and tricks when it comes to hosting during the holidays!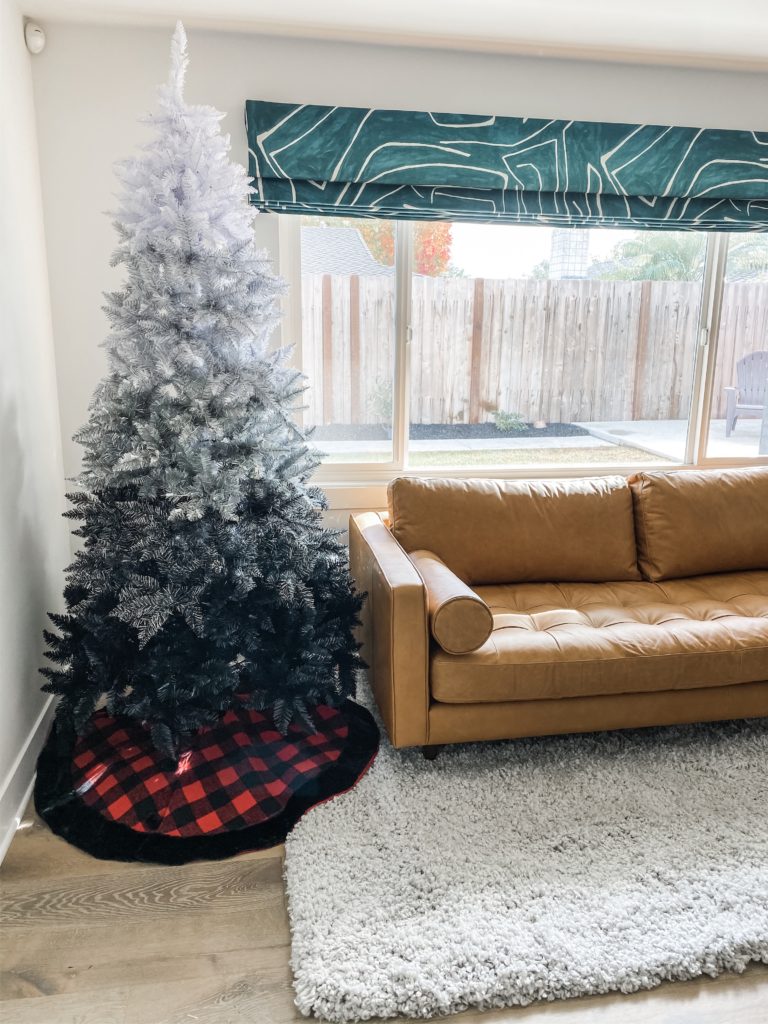 Smaller ombré tree linked here. We have a 7.5ft version and you can find that here. They also have black and gold! Cozy plush rug here. 
Where To Host A Holiday Event 
Just because you're "hosting," doesn't mean it needs to be in your home! I'm sure there are a lot of great places in your town or city to host an event. It's all really up to you and the space that you have!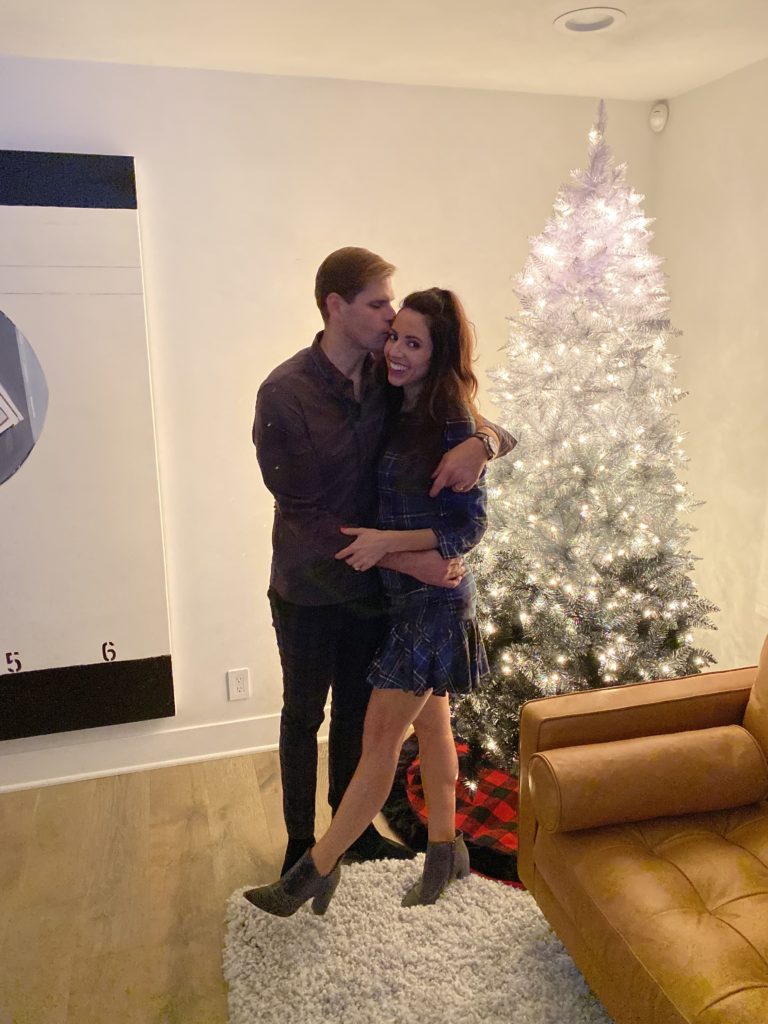 In-Home
Luckily we now have the space to host a larger crowd of people, so we decided to take that route! Plus, it gave me the excuse to decorate extra! Yay! It's nice to be able to have control over the evening and event and not have to drive home or find a ride at the end of the night. Legitimately a big perk is rolling into bed after a night with friends, and dealing with the mess the next morning! Yes, it's a lot of work with the clean up before and after, but it's really rewarding at the same time.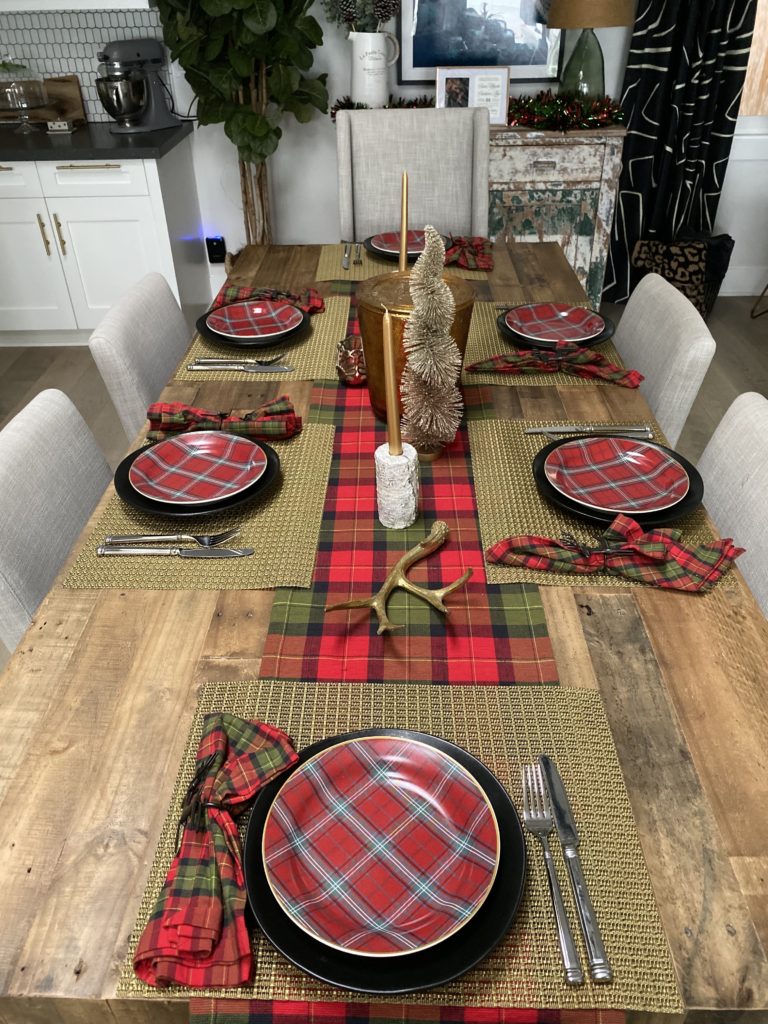 Place mats here. Tartan plates here. 
Restaurant
Depending on your situation and the number of people that you're inviting, it might be worthwhile to check out restaurants in your city who can accommodate you. Some places have separate dining rooms or tucked away event rooms to host a more intimate gathering. If you truly are hosting this might end up costing you a lot more. Communicate to the guests who is flipping the bill. Sometimes a restaurant will suggest a set menu which usually means the food is coming out faster but also means you have to individually check on everyone's food restrictions.  Overall the restaurant experience can be great – no prep, clean up, or other hassles. Just show up and enjoy! 
Hotel
If you're planning on hosting an even larger holiday party, renting out space at a hotel could be your best option. Whether that's a formal dining room or an even larger banquet hall. It'll provide you with the time and space to invite as many people as you'd like and leave all the catering and finer details to the staff there. I can't say I have a lot, or any, experience hosting an event this big but I can imagine you want to make sure you're booking your date and sending invites well in advance, especially if the event is during the holidays! 
Planning Food When Hosting a Holiday Event
When you decide to host in your home, there are a lot of different ways that you can choose to feed your guests! You can go full on homemaker and prep for days, encourage guests to bring their own dish or outsource and get it catered! It truly depends on your budget and what's best for you!
Catering
Chris and I decided to use our good friends Taylor and Mike De Costa, also known as Taylor Made Cuisine for our gathering. They are a boutique catering company that is sure to impress. We found that they were actually a really affordable catering option and they provided us with the menu options that we were most excited about.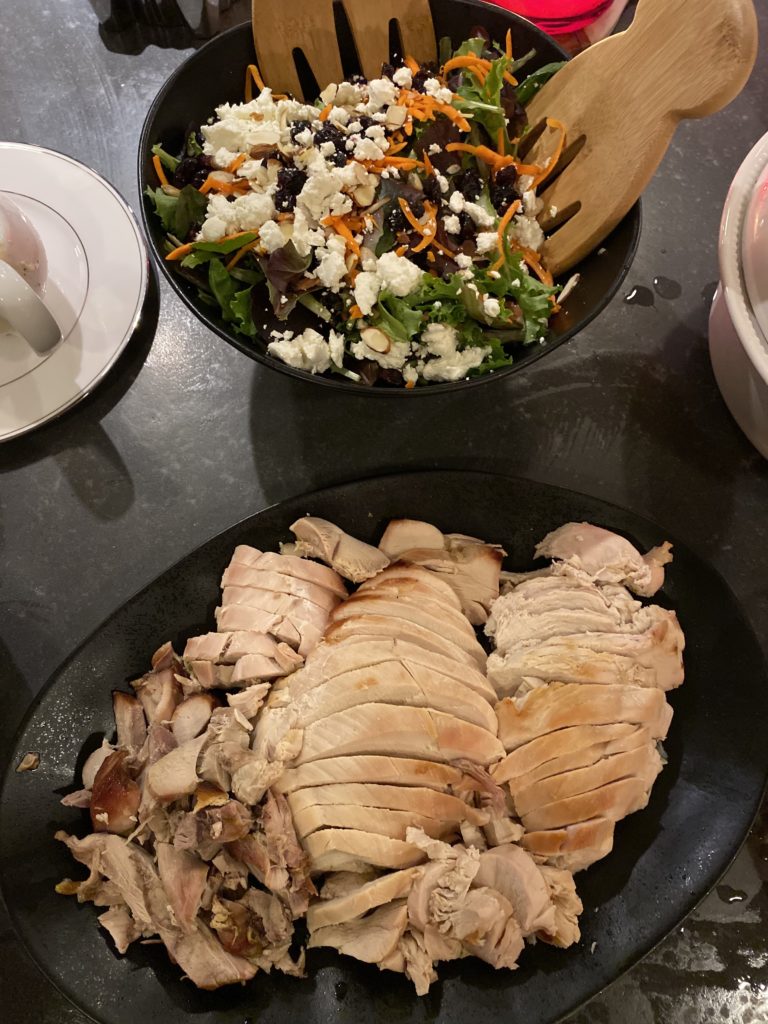 The best part about some catering services, is that they can take care of actually serving your guests and even making sure the kitchen is clean when they leave! We had the food delivered without the serving staff, since our gathering was small, but you can choose either option with catering companies, typically. We didn't feel as much pressure surrounding the food because we knew it would be good and be delivered warm. It made the evening that much more enjoyable!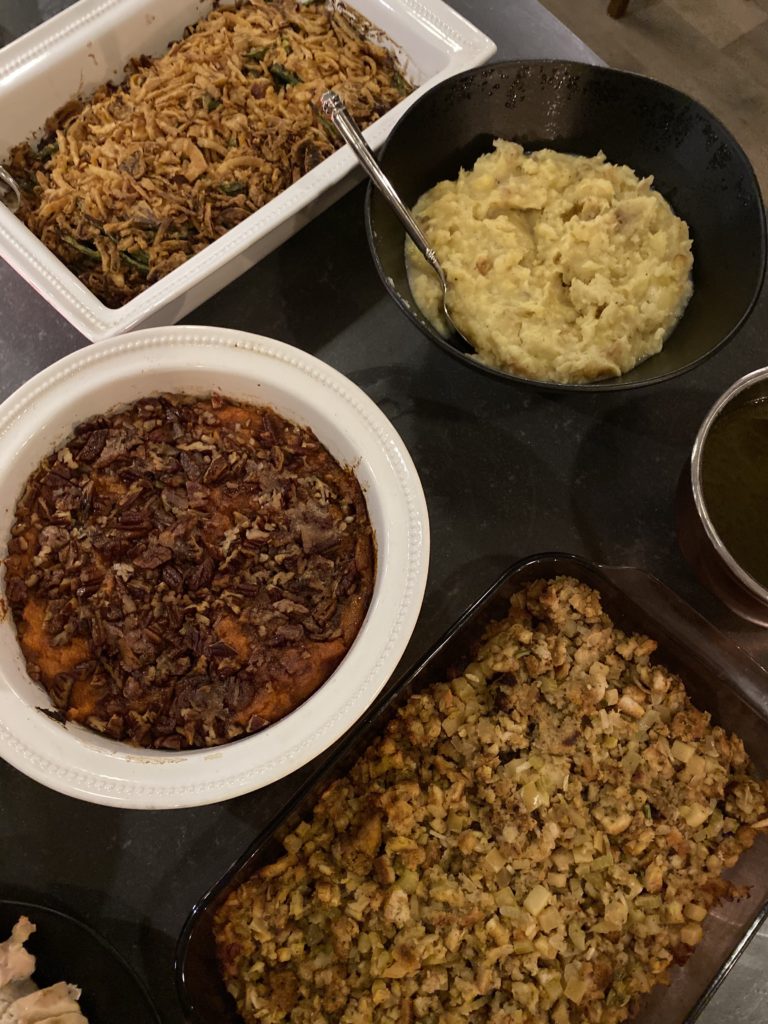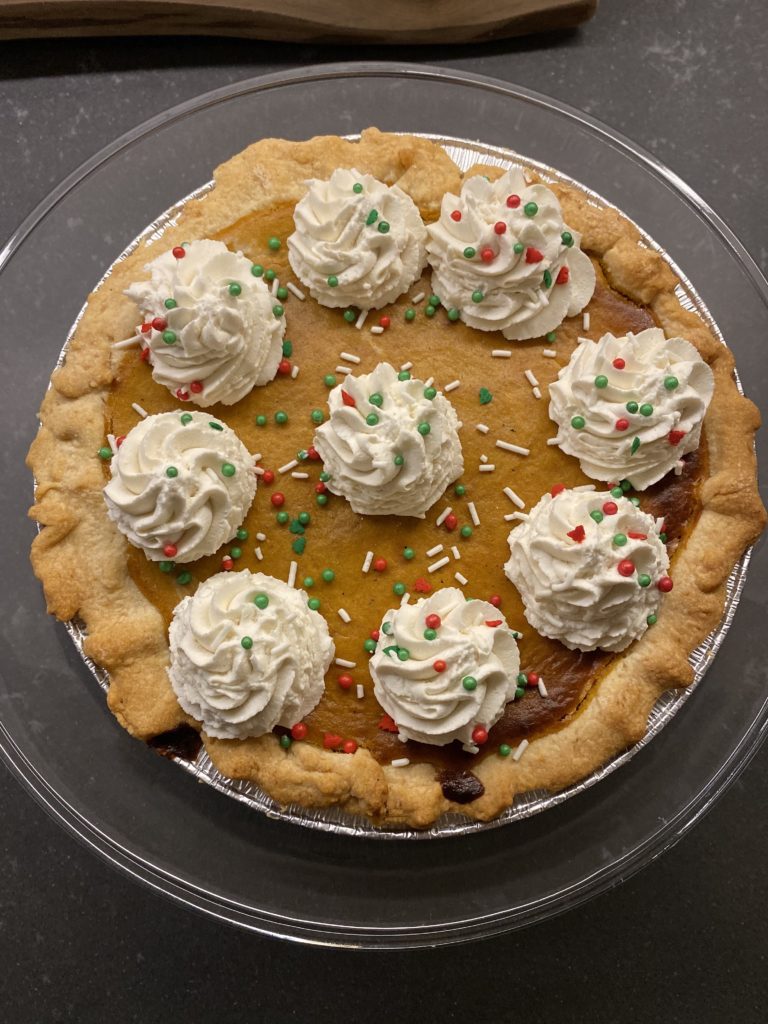 Homemade
Putting in the work to make the food on your own is admirable! But even if you're an excellent chef (which, I'm sure you are!), it's a lot to do. Depending on what you want to make, it might take either all day or even several days to make everything! Then when it's time to serve your guests, you'll want to ensure that everything is warm enough and coordinate what time the different dishes will be ready. 
If you're going to go the do-it-yourself route, you'll definitely save money (but IMO time=money sometimes)! Be sure to look over all of your recipes and dish choices a week in advance so you can prep your master grocery list and ensure that you know the schedule that you need to make yourself!
Potluck Style
Everyone loves a good potluck! If you're hosting friends around the holidays, this is such a fun and tasty option! If we do a potluck, we make sure to send out a sign up sheet beforehand so that we know all bases are covered. We'll also take on the task of providing the meat and then asking our guests to bring salads, appetizers, sides, and desserts! It's so much fun!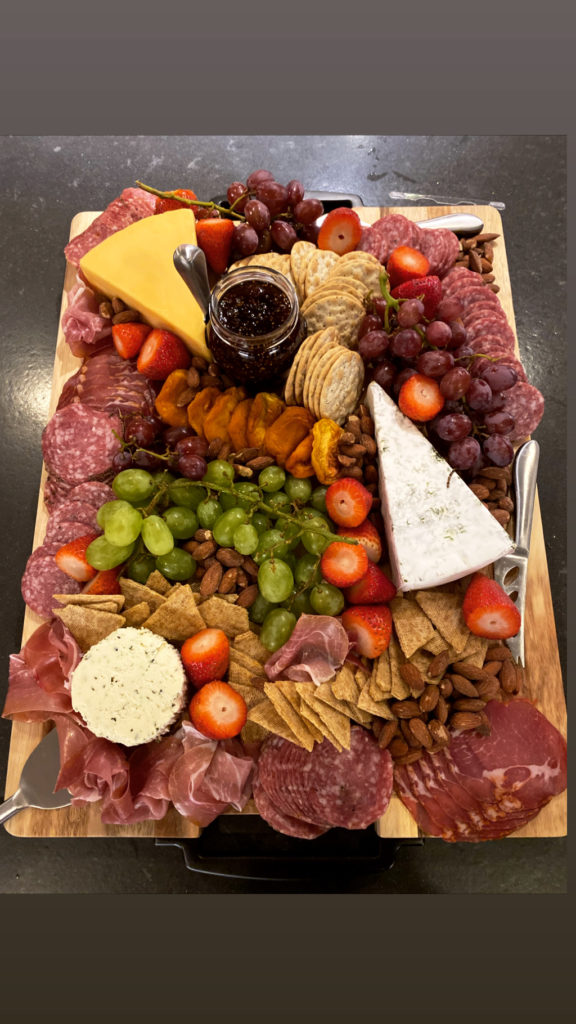 Prepping Drinks/Alcohol For Your Holiday Event
Of course no good adult party comes without a few flowing drinks. We want to make sure that we're keeping our guests hydrated (and maybe a little rosy) while they're over! Chris and I are really into craft alcohol and love making semi-advanced cocktails at home. Basically we're willing to go beyond a spirit + soda blend but we aren't lighting drinks on fire or using more than like 6 ingredients.
Serve Yourself
I usually love to set up our bar cart or different "stations" for beverages. It's a fun way for people to decide for themselves. Often, there's a cooler filled with beer or anything that comes in a can. Depending on your guests, you can also have a separate cooler filled with pop or La Croix. Our bar cart will have more hard alcohol choices with mix and ice and then have another space for wine. These different spaces make it easier to have stations and ensure that everyone is not huddling around one surface. 
Hire a Bartender
Chris and I splurged on this for our guests this year, and it was a game-changer! Hiring a bartender, and the catering, ensured we had time to spend with our guests and enjoy time together. Because of this, we got to craft themed cocktails, and it was so fun! Our friend, Andrew Unke, dreamed up our themed cocktails and brought them to life (and he DID use fire)! He made a delicious Hot Toddy and a Cranberry-spiced pear martini as well as a Holiday old fashioned! They were so delicious and definitely brought a nice holiday flare to our event!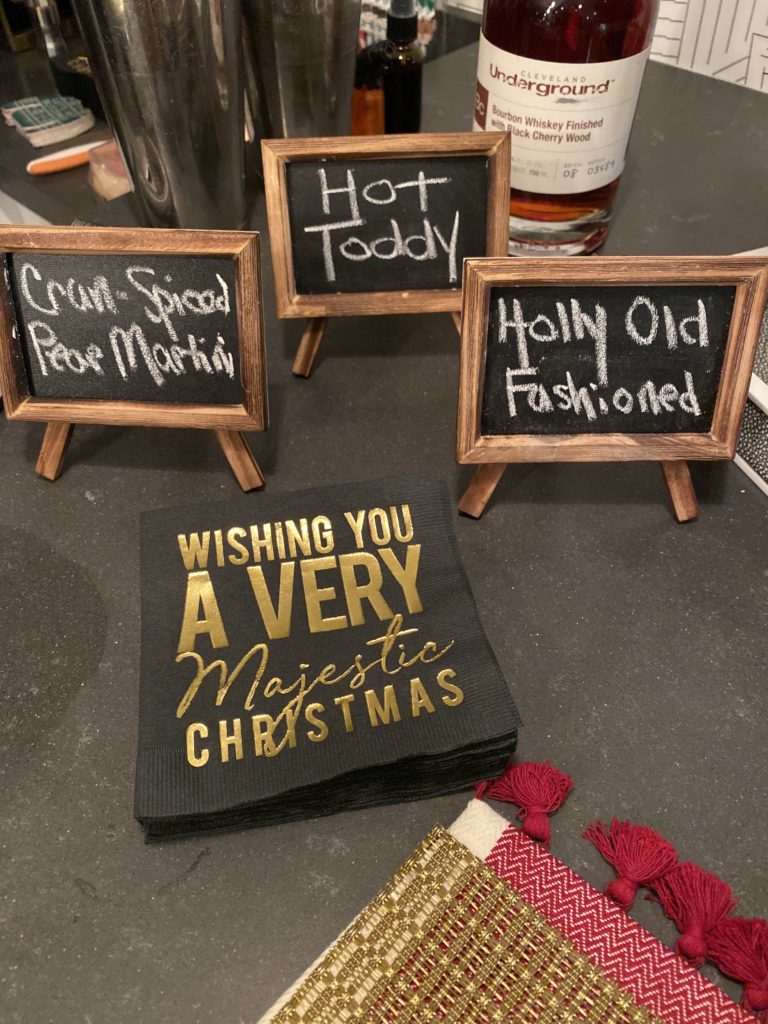 Entertainment When Hosting 
It's fun to help all of that food digest with a few games! Nothing too active, but still something to bring the group together. The White Elephant Game is one of my favorites around the holidays because it goes hand in hand with the spirit of the season! Set a dollar amount limit for your guests to spend on and decide ahead of time whether it's supposed to be a silly present or something that anyone would enjoy! This game is so much fun and a great way to get some friendly competition and suspense going! We decided to do a $25 limit and encourage practical gifts (not silly). Chris ended up with a pair of athletic underwear (with a giant lion face I might add, so kind of silly but an inside firehouse joke) for Chris and I got a movie-themed gift with candy, popcorn and movie tickets. The high-in-demand gift that everyone was chasing was a set of flavored coffee syrups with mug. 
Other great games ideas for after dinner is a scavenger hunt throughout the house or whatever space you've decided to host your event in! If you're looking for something more laid back, bring along fun games like Jenga, Forbidden Words, or What Do You Meme – that one has been a favorite for Chris and me this year!
Have Fun Decorating
I said it above, I'm so happy to host because it means I get to add a little extra holiday flair to our home and especially our dining table! I kept it pretty minimalist, crafty chic this time! I used a lot of pine cones and garland to give our space a bit more of a woodsy, cozy feel. My go-to company for personalized decor is For Your Party. I used this brand for my bridal shower and they never disappoint. Personalized napkins, cups, and favors are a MUST for me. It always puts a nice little touch on any event you are hosting and they have a TON of options on their website.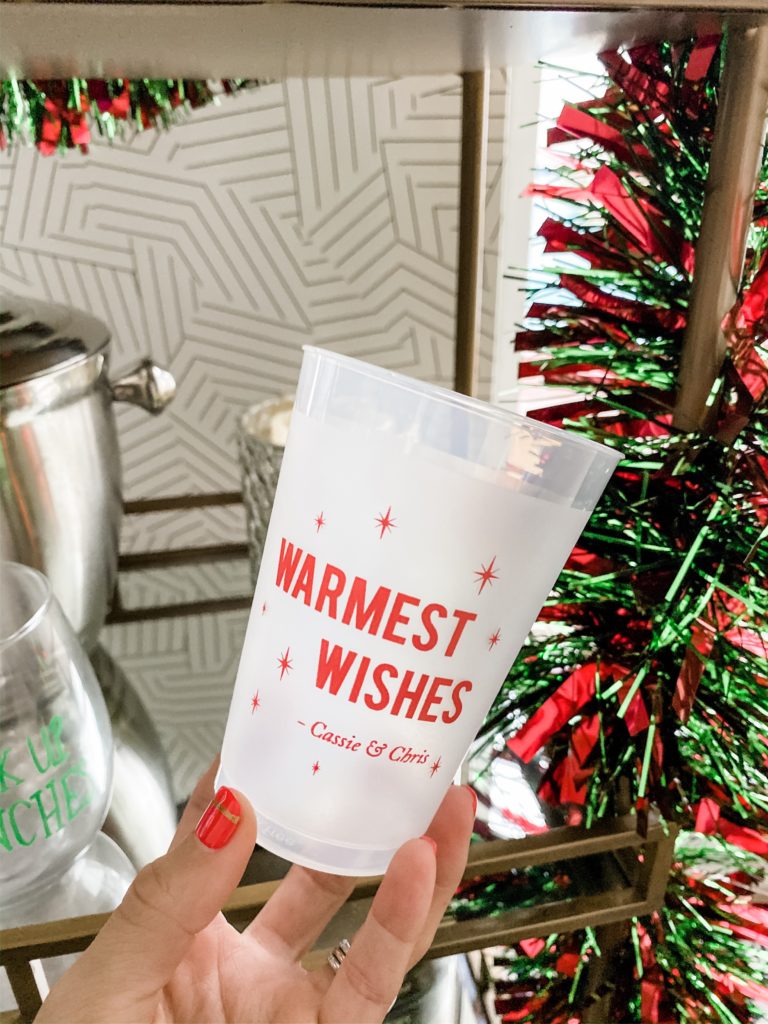 I also love to decorate our front porch as you might know from Instagram. I think it creates a welcoming vibe for us to come home to on the day-to-day but also from the moment that our guests step onto our property! First impressions are important! I decorated our porch with poinsettias, garland, and a few other touches!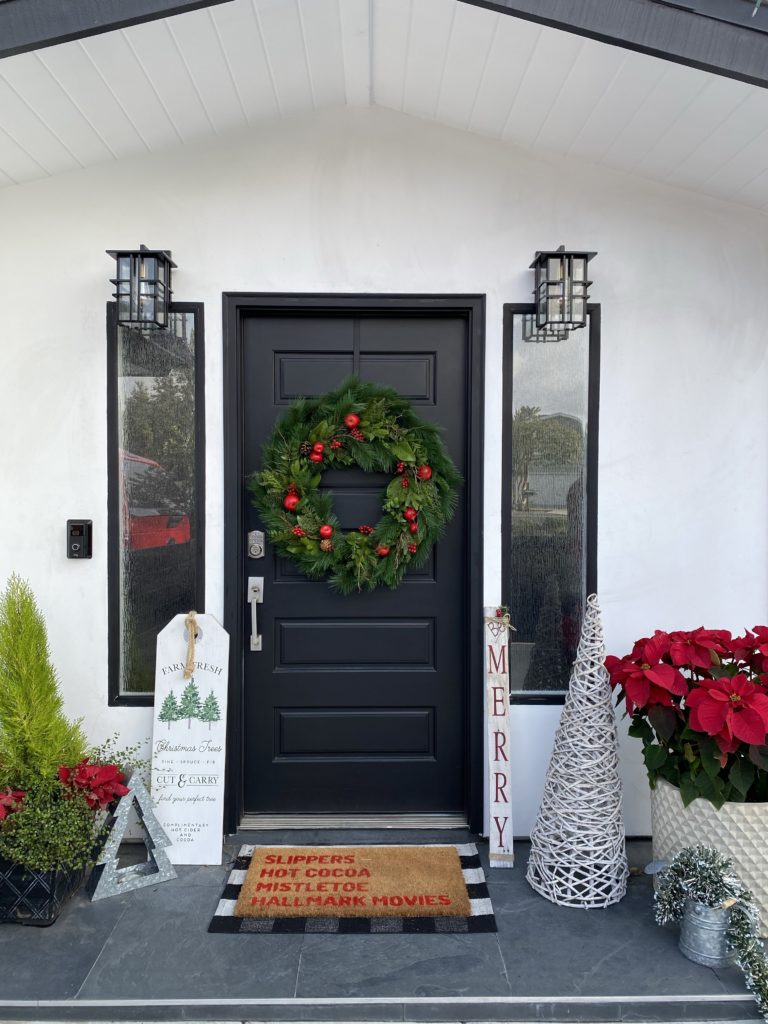 There are SO many decor themes to choose from around this time, it's not just all red and green. Target and Michael's have some beautiful stuff and they are easier on the wallet. Even the dollar store can be a great place to buy an inexpensive plain vase or other little pieces to add here and there!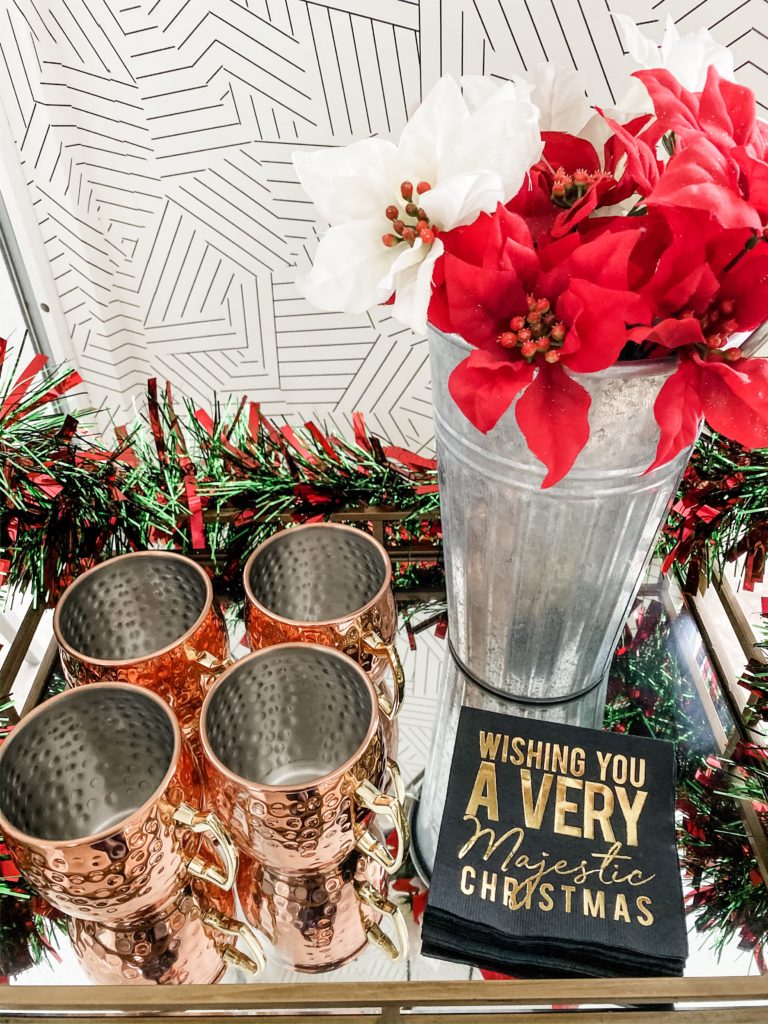 No matter what your plans are for hosting this holiday season, there are a lot of different ways to execute the perfect holiday get together. After hosting our first dinner in the new home I'm thinking hiring a caterer will be pretty popular for us moving forward. Have fun making YOUR event entirely your own! These are just some of the best tips and tricks that I've come up with and will be sure to use for years to come! Let me know how your holiday hosting goes by tagging me on Instagram. I can't wait to see what you come up with!