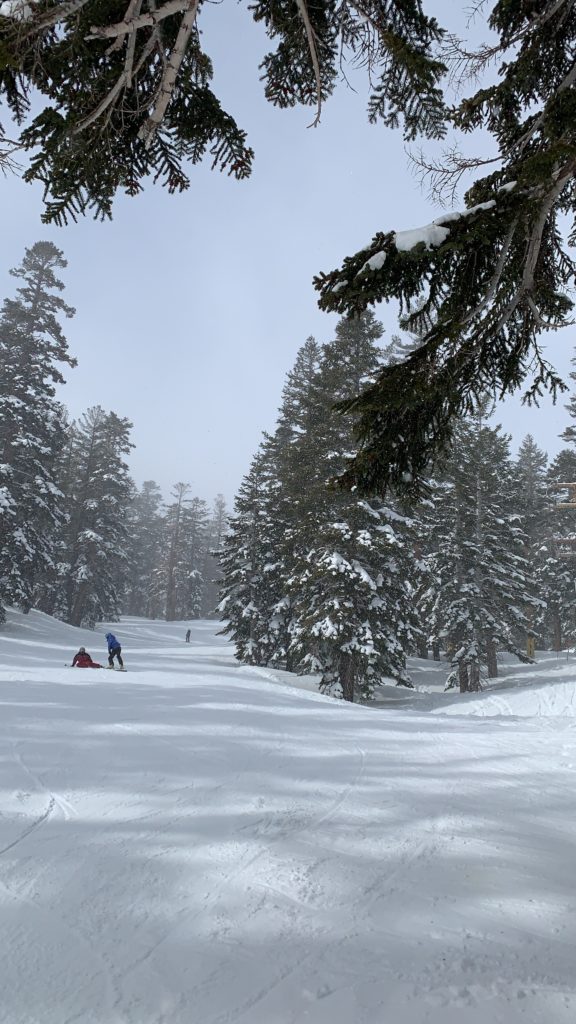 The beauty of living in Southern California, is that you can hit the beach and the mountains, all in the same day if you wanted!
I've always hear people say that, but never really participated in snow sports after I hurt myself trying to learn to snowboard many years ago. Never in my mind did I think I would get back up on a mountain. But once I took a ski lesson a few years back, I was sold! Something I could do, but not fail at miserably. Thank you snow gods!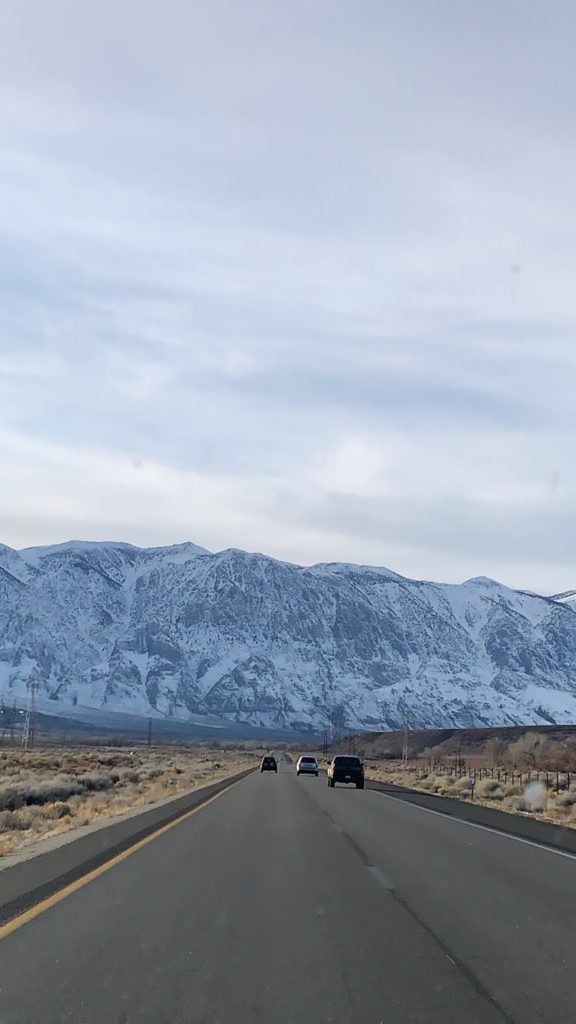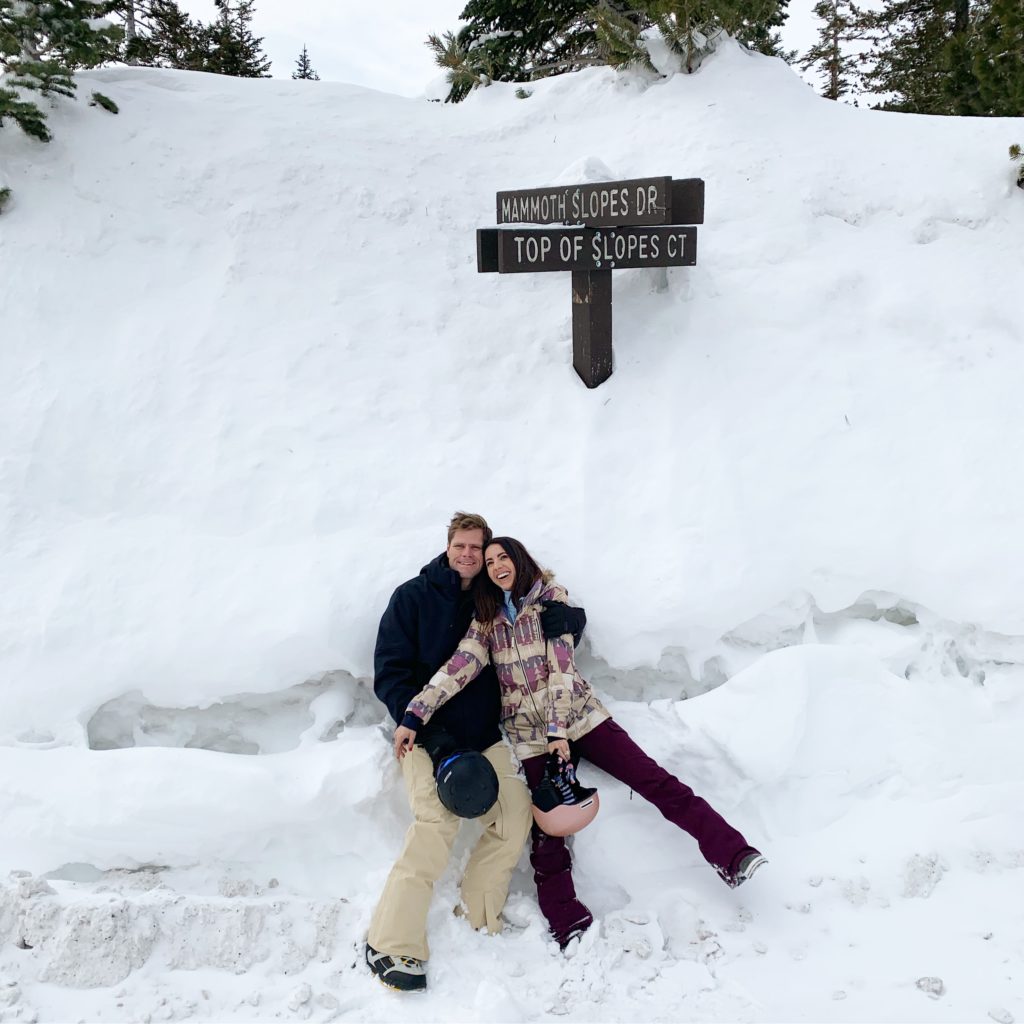 Chris and I trekked to Mammoth a few years back for the annual Emergency Medicine Conference, but he just had surgery on his writ so you can imagine we didn't do anything adventurous! He had been wanting to go back since then, so we finally made it happen for his birthday. Lucky for us, our good friends Taylor and Mike, from Taylor Made Cuisine, were up for the trip and we made it a couples' week!
Chris was always an avid snowboarder growing up, but there was no way I'd ever get to his level, and since then he's had a wrist injury, so he agreed to take a ski lesson with me. What a good husband!
We headed up to Mammoth mid day and got there by dinner time. Although the Westin is super nice up there, I wanted a cozy cabin rental for us, and ended up using Airbnb. Piece of advice: avoid going during ski week unless you have kids and that's when you have to go. There weren't many options for accommodations and prices were high but we got super lucky and ended up within walking distance from Canyon Lodge, which is my favorite location to ski. The condo was super modern, complete with heated bathroom floors (adding that to my list for my next house, thank you!).
Our first night, at the recommendation of a friend, we tried Mammoth Tavern for dinner. It did not disappoint. The cocktails were divine and the food was amazing. Think, fondue appetizers with hearty comfort entrees. Downside is, they don't take reservations, but we were able to get in within 45 minutes.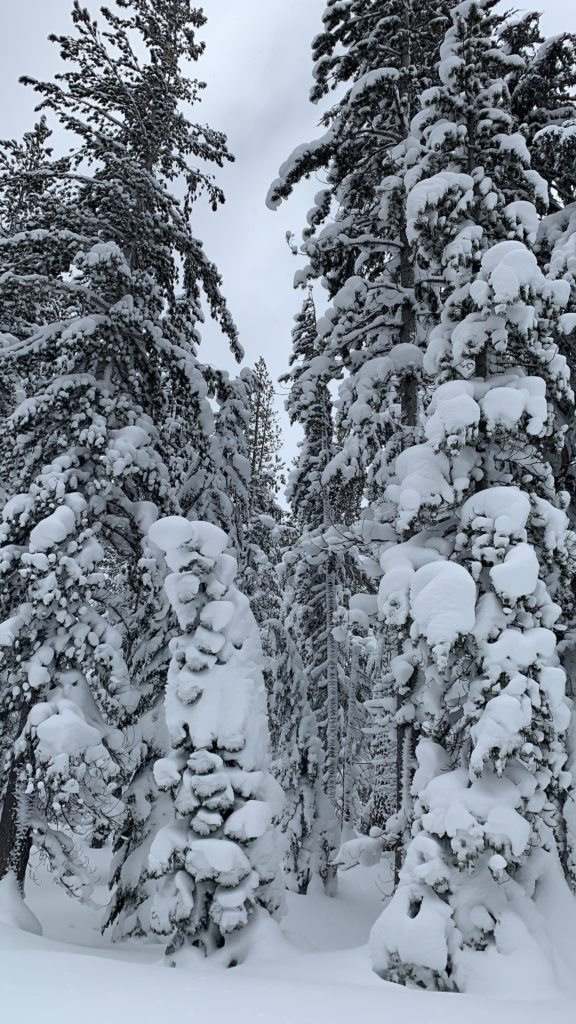 We were super anxious to hit the mountain, so we signed up for a ski lesson the next morning. They made it uber easy- lift tickets, rentals, ad the lesson were a package deal. They provide helmets also, but we brought our own. Honestly the weather was gnarly. The fresh powder was amazing, but the wind was brutal. It was SO cold and the lift rides accentuated the bite from the wind. Not to mention we ended up on a lift that was FAR beyond our skill level and I lost my cool a bit on the way down (picture frozen tears, curse words, and fear that I would die before I reached the bottom). I guess the warm up from the hot toddy once we got back to the lodge made up for it. Après ski is always the best part of a ski trip anyways, am I right?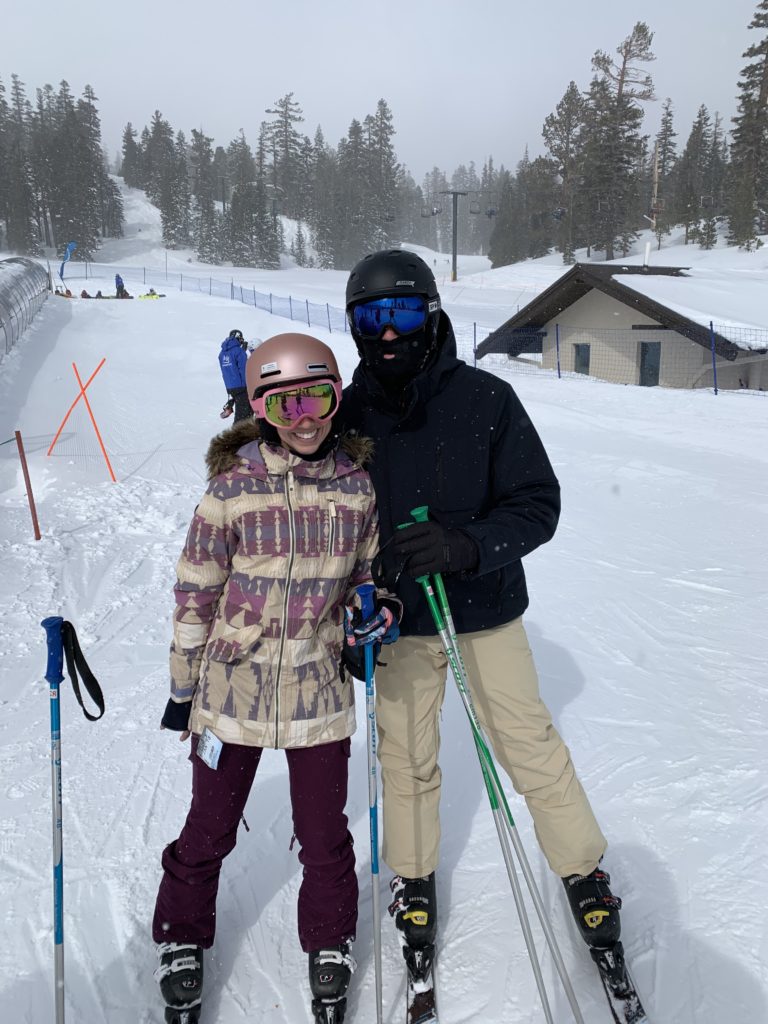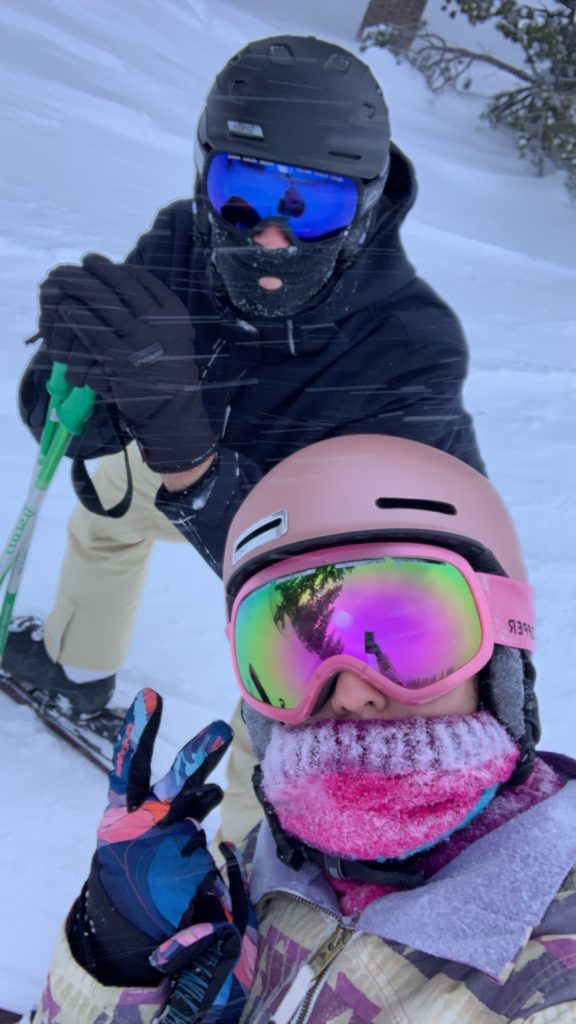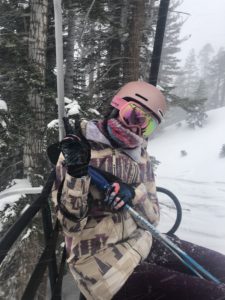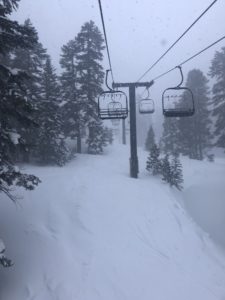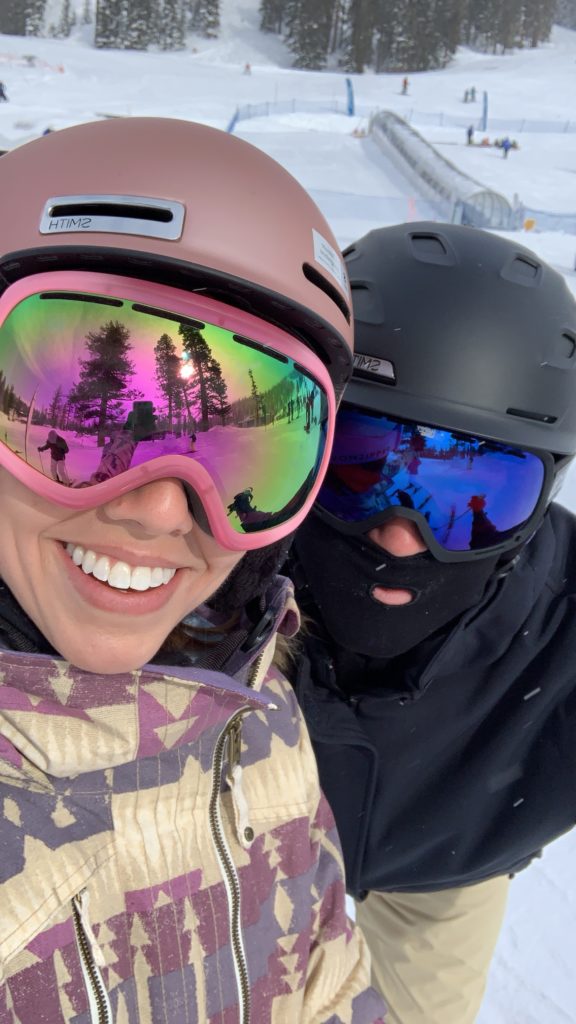 We stayed in that night and Taylor made us some BOMB beef stew that I am still dreaming about. I think we all know that the best part about a cold weather trip is the comfy cozy cabin life after a long day in the snow! We improvised without a real fireplace and made smores in the oven that did not disappoint.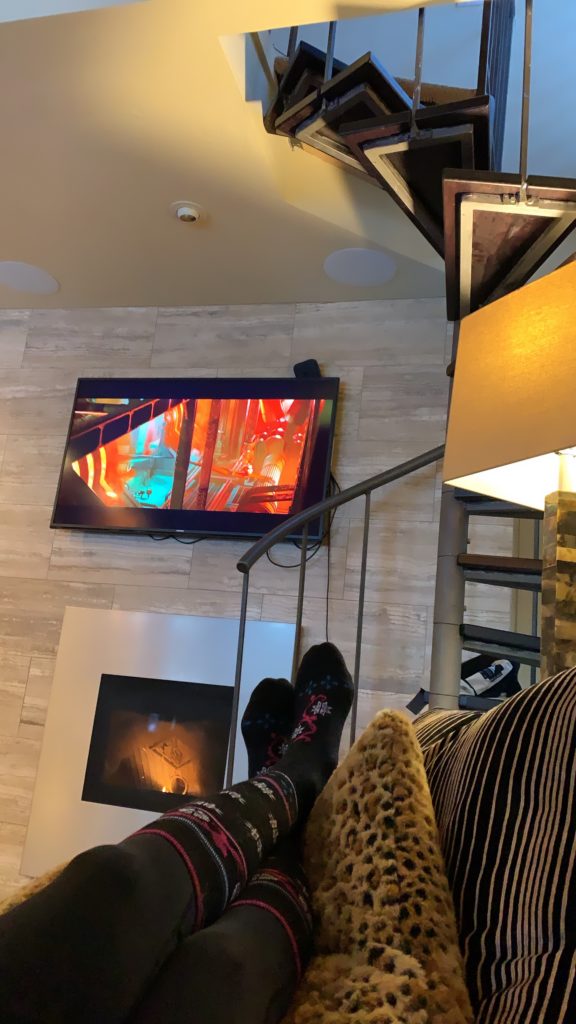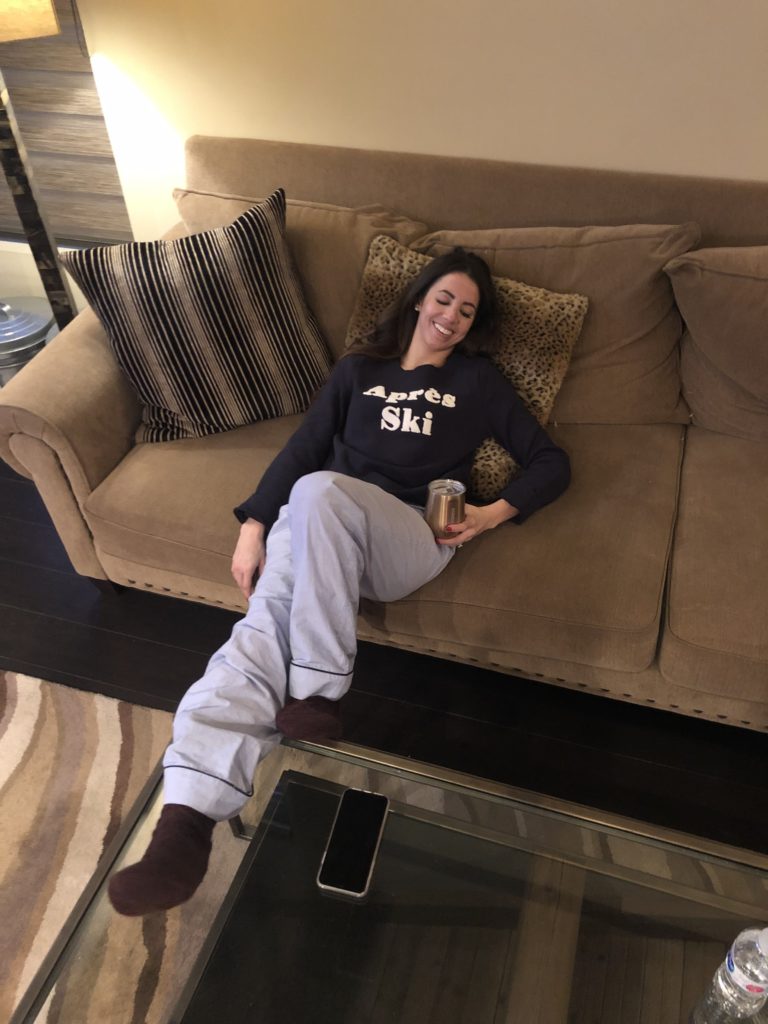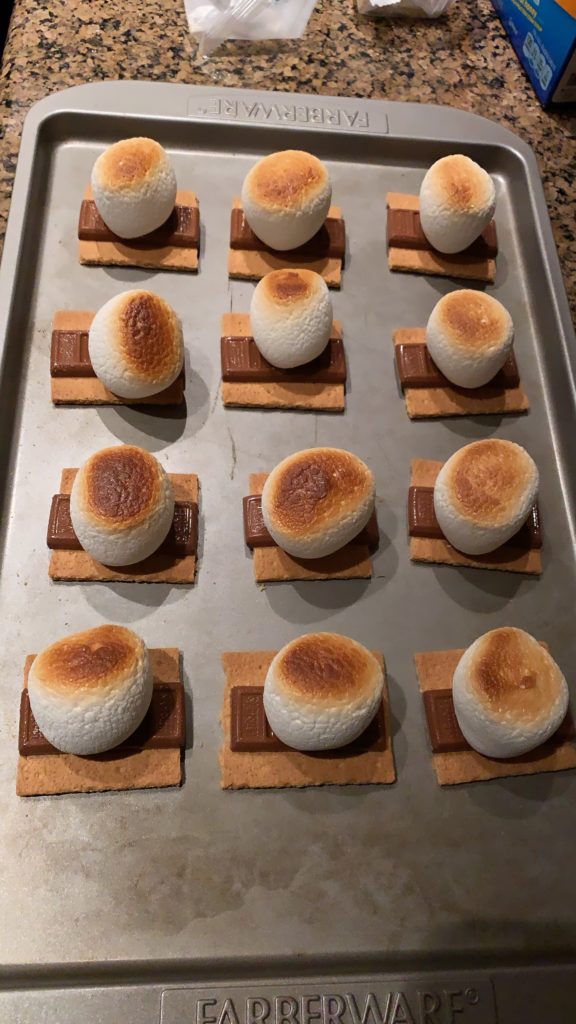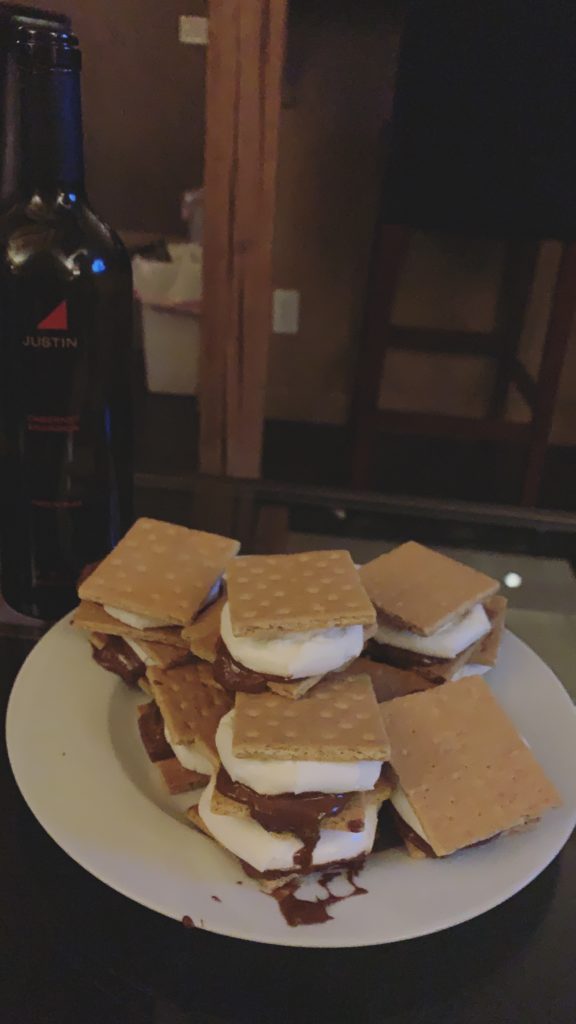 On our second day in Mammoth, which happened to be Chris' birthday, we set out on an epic snowmobiling adventure. Seriously… if you have the chance to plan this, DO IT. You can rent a single or double, which we ended up choosing. We did the 1.5 hour tour, but they also offer 3 hour sessions. We went on a gorgeous trail and had a chance to go fast and play around.
There was a point that Chris got a little adventurous and went out into some fresh snow, which ended in us flipping the snowmobile. If I wasn't cursing and yelling at him with frozen fingers that were incapable of grabbing my phone from my pocket, I would've documented the process.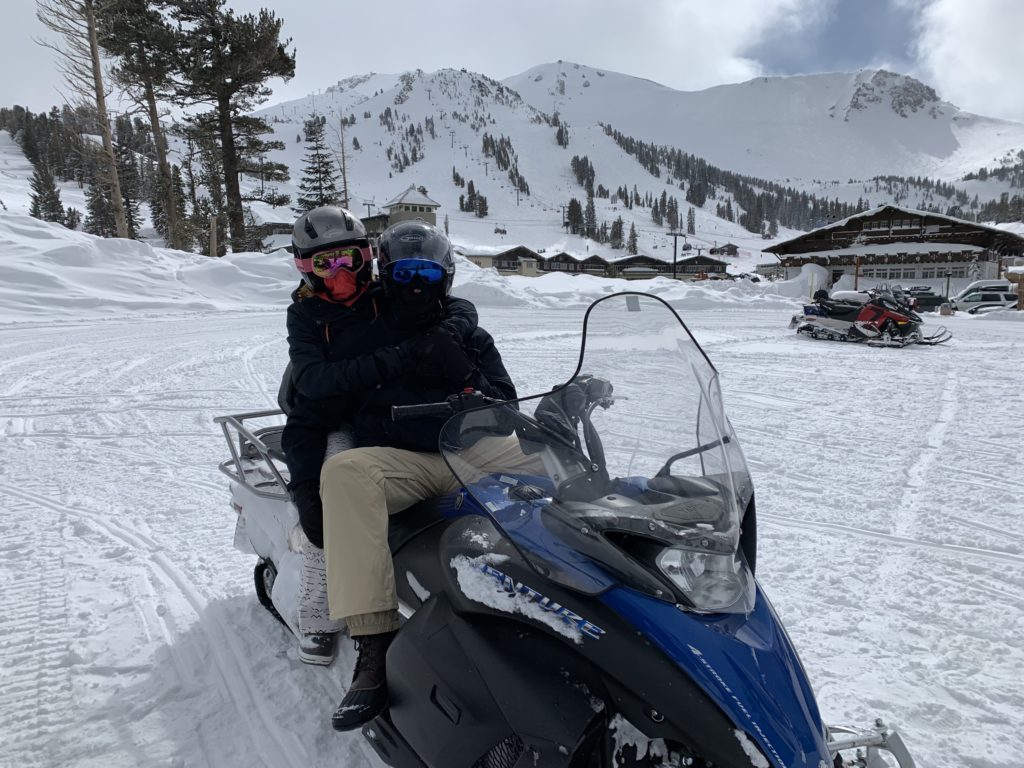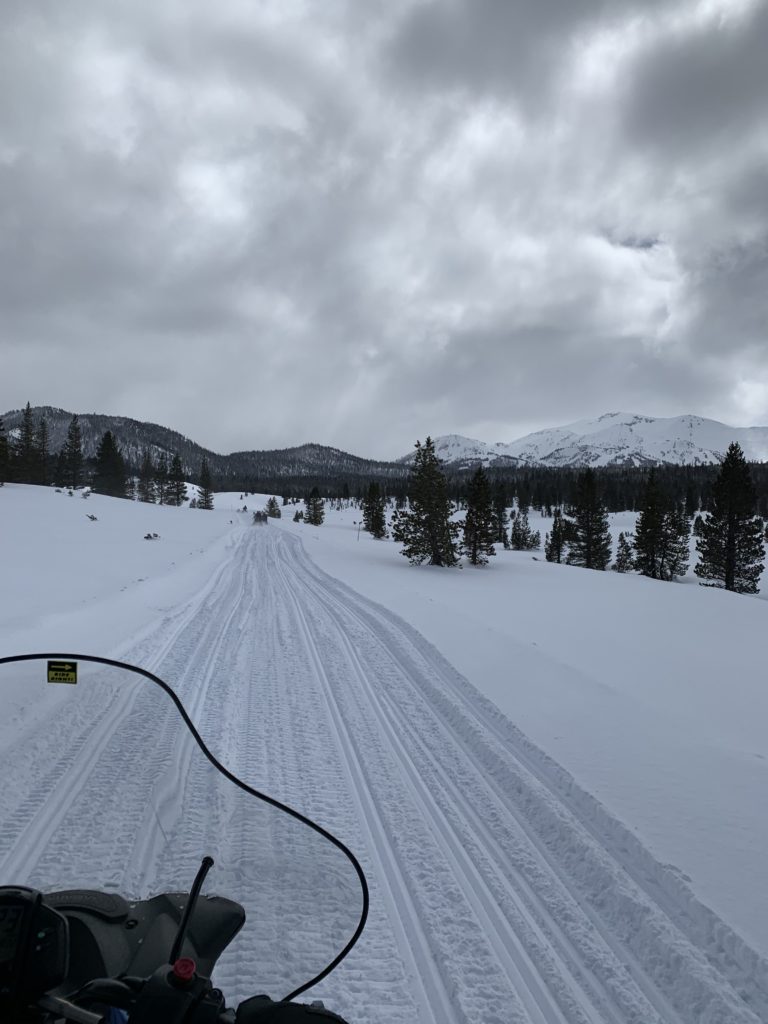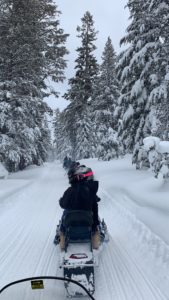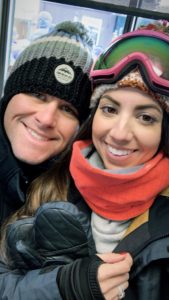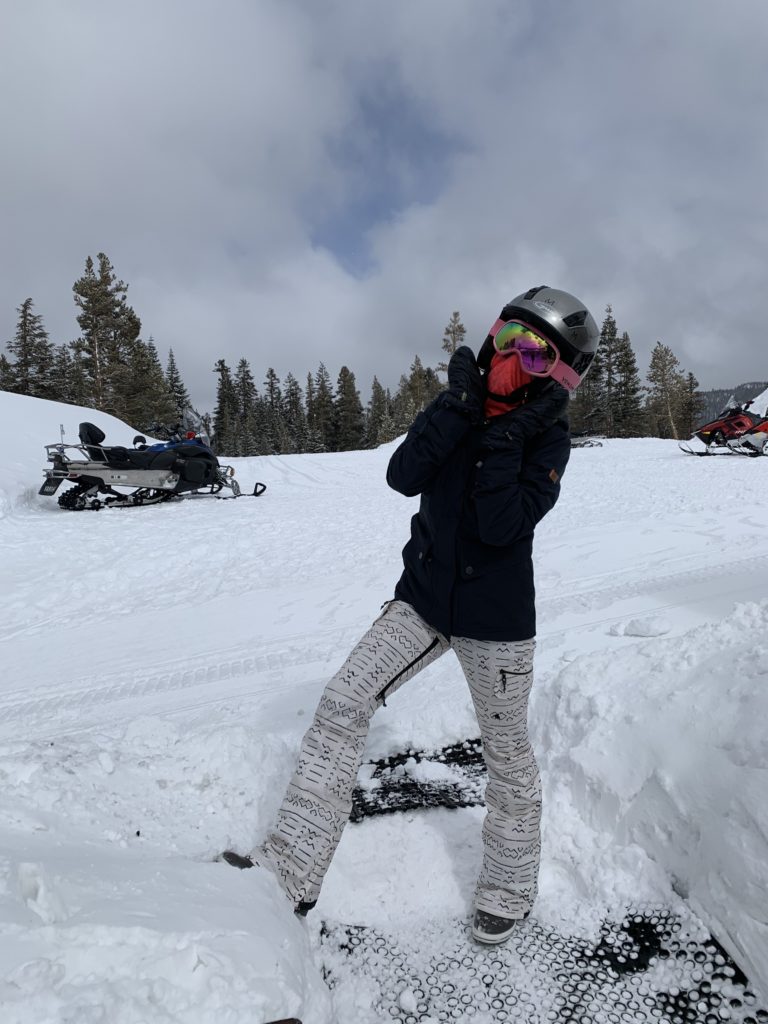 I really enjoyed spending a few days in the snow, but I'll be honest, part of the reason is because snow gear options these days are on point! It was really nice to wear layers, cozy boots, and go back to my cold weather roots. Although I could've gone for slightly warmer snow weather (it was as cold as -10 with wind chill!). I did my best to link what's available out of my snow gear below. I love to buy snow gear now, because it's almost spring so there are sales on many of these pieces linked!

We spent the rest of our snowy day at Mammoth Brewing Company and Kitchen 53, with some apps and beverages for the birthday boy. These are both close or located within the Village, which has shops and restaurants, and the gondola that will take you up. Kitchen 53 has the best pretzel bread with cheese and/or mustard sauces. I'll take five of those, please.
After a little relaxing at the cabin, we trekked out onto the snowy streets again for Chris' birthday dinner at Morrison's. I love a small, quiet place for an intimate celebration, like a birthday. This location did not disappoint. It was hard to choose from their jam-packed menu, so we all ordered something a little different and shared.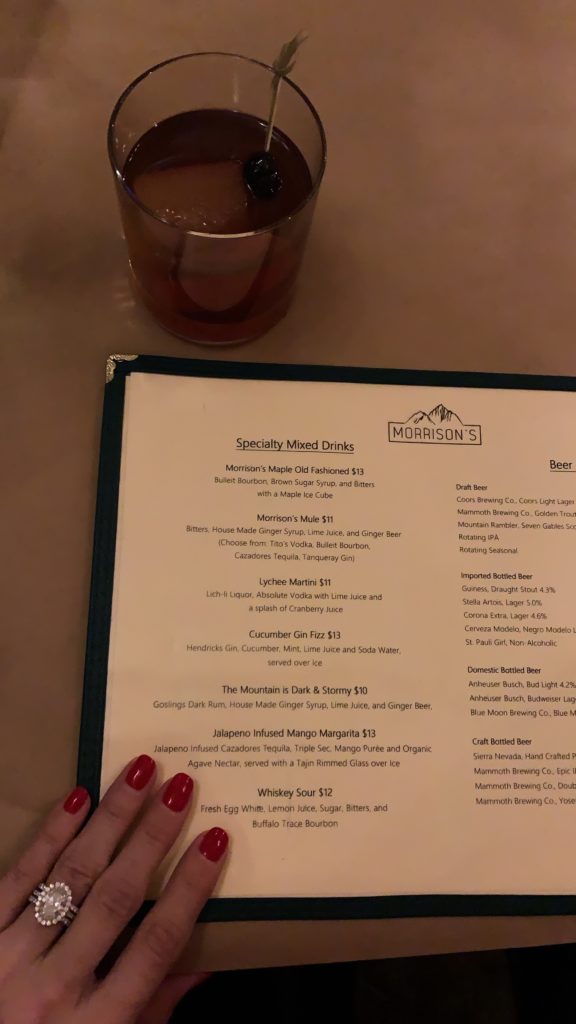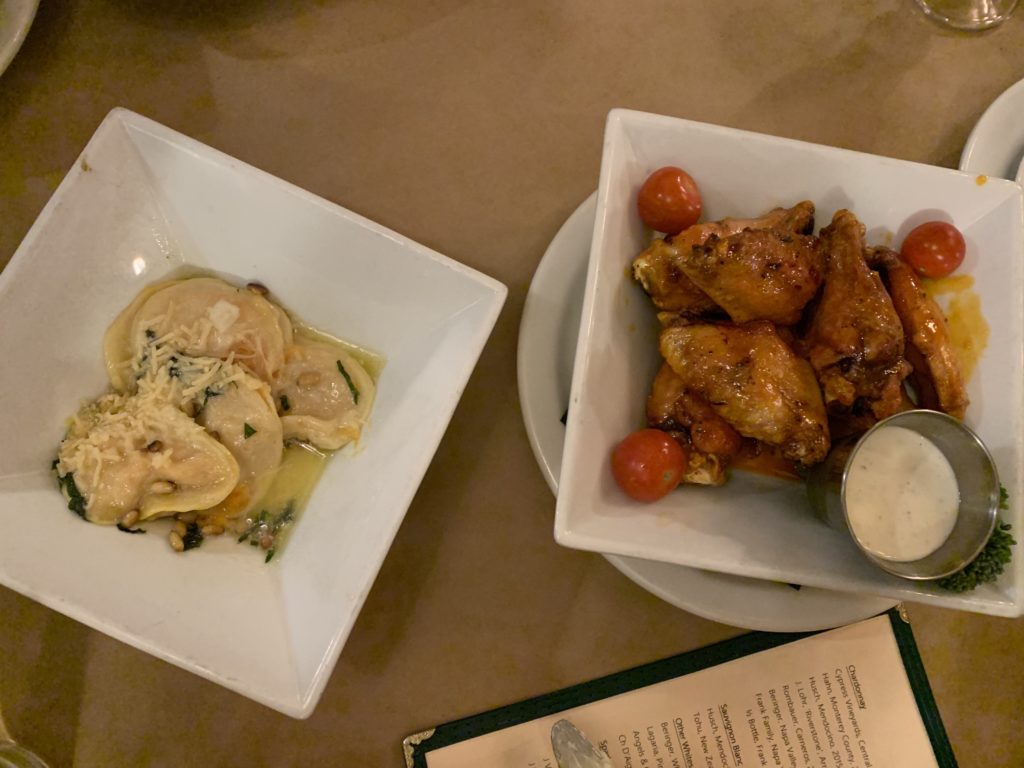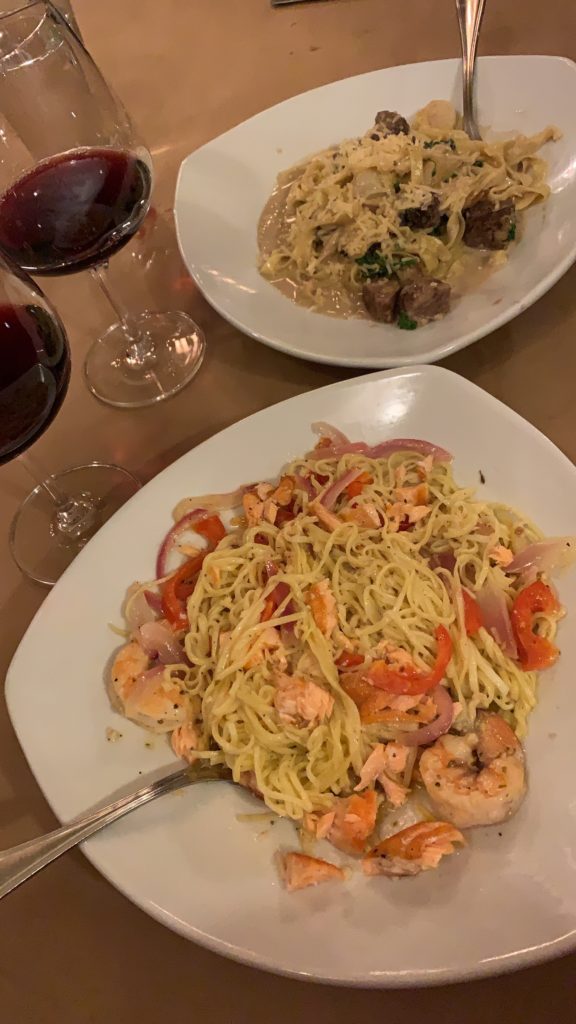 We ended the night with a cake (you know the way to my husband's heart by now, if you've been following me for a while) from Dessert'd– celebration flavor with buttercream frosting; one of his favorites. Every year I personalize Chris' cake with an inside joke or phrase that he uses regularly. This year it was complete with sparkler candles that I was too scared to light. Luckily we have a fireman in the house!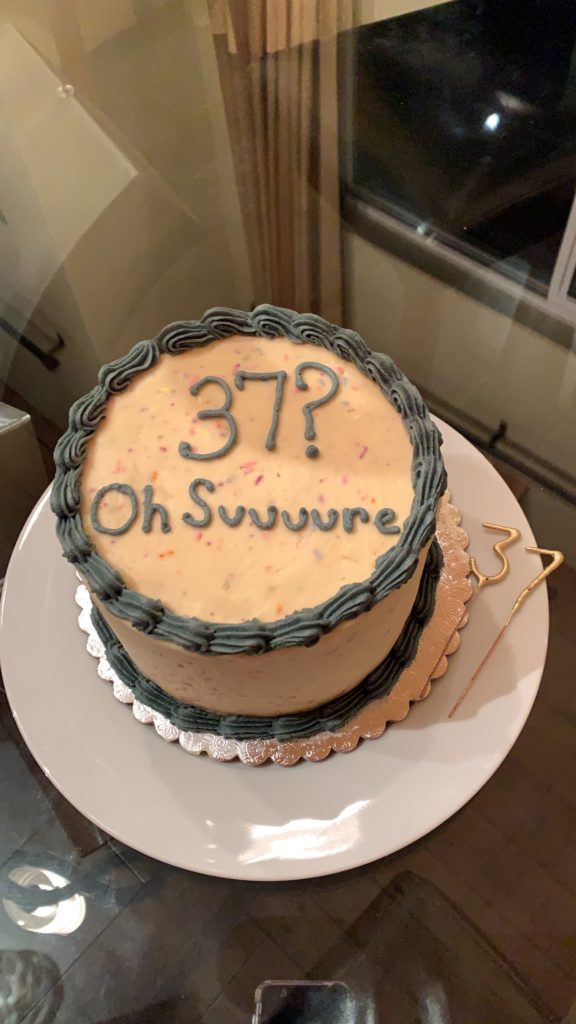 We were all so full from dinner that only Chris had the cake (he ALWAYS has room for cake), and then… we accidentally left it in the fridge when we left town the next morning. Just my luck!
On our way out of town we had a country style breakfast in a small, local spot and hit up Schat's Bakery (it's a tradition) to score some delicious pastries and sandwiches for the road.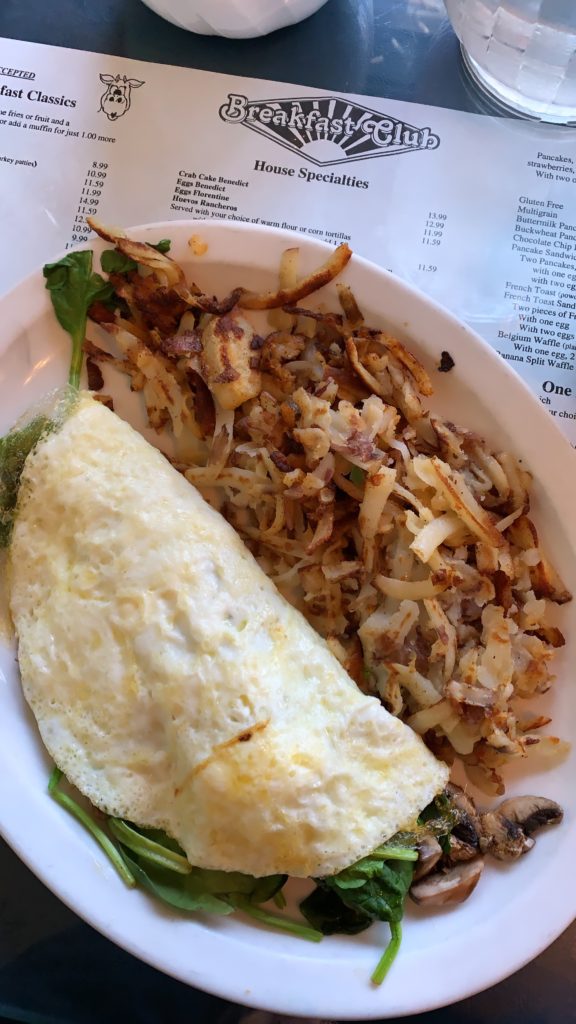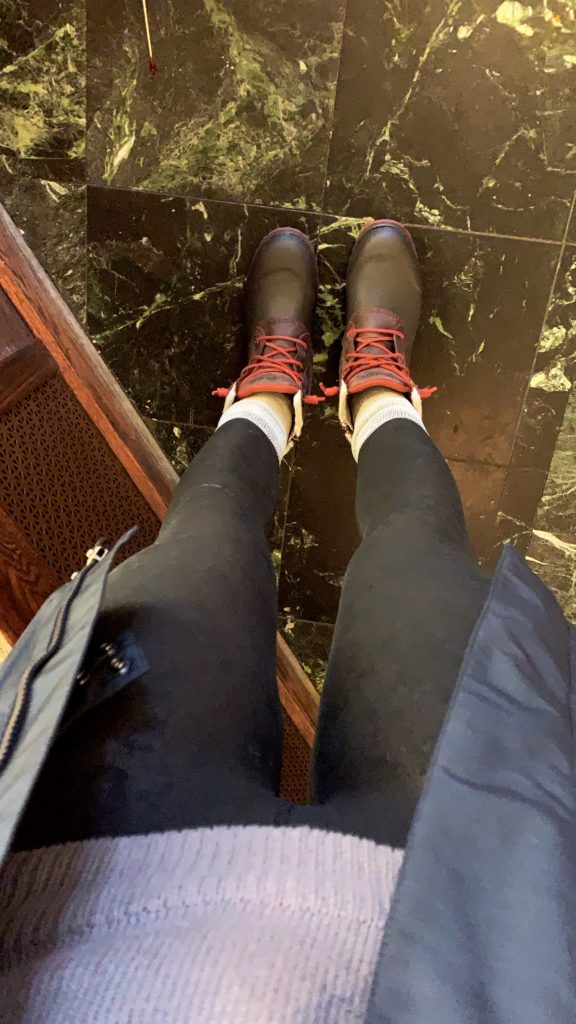 I think Chris and I both realized this trip how much we enjoy the snow, and skiing. For me growing up, I was never a fan of the snow because it seemed as if the winters were never ending. But now that I live in southern California, I'm craving winter weather regularly. We're already planning our next trip in the snow!
Have you been to Mammoth? Where are your favorite snowy locations to visit?