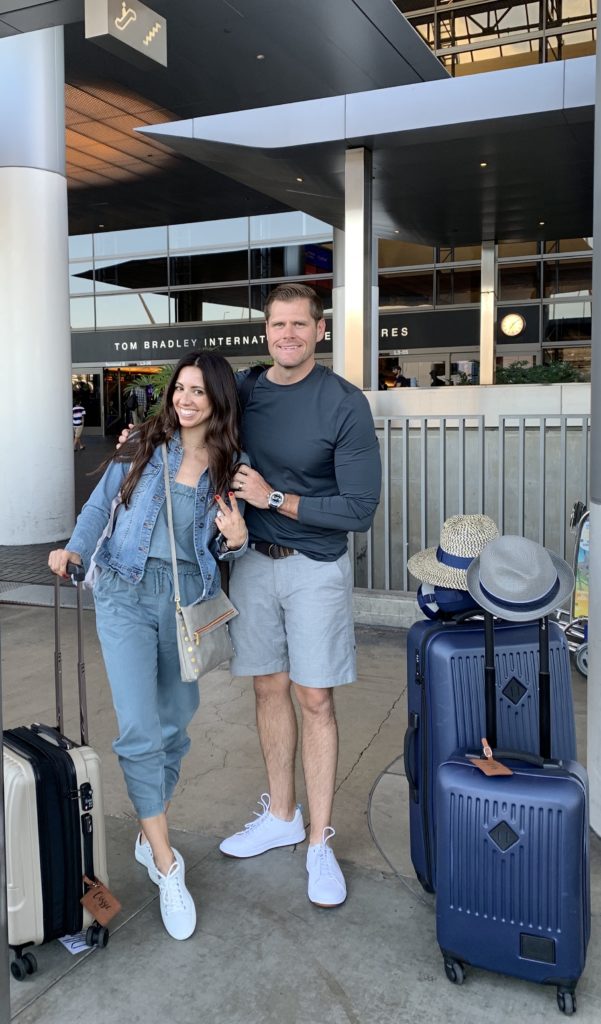 It's OFFICIAL! Chris and I finally took a BIG European vacation. It wasn't my first time to Europe but it was for Chris which is why this was so special and also why I wanted everything to go as smoothly as possible.
If you ask me, one of the best parts about vacation is getting ready for vacation. Anyone else start packing a week before? No? Just me? Okay then! Chris and I chose to incorporate our planning into date nights! We would stay in for the night, make a charcuterie board and drink French wine while planning all the fun we'll be having in Paris. 
Preparation for an International Trip
There's a lot of work that needs to be done before you put your seat and table in the upright position and await take off. Making sure you have all your affairs in order and ducks in a row is key. Some ways you can do that are: 
Register with Your Embassy
This is a super important FREE service that the U.S. Government provides us. When we're travelling to a foreign country, we can feel assured that the Department of State will be able to assist us in case there's an emergency of some sort.
Give Your Bank a Call
Things are changing and so is technology, but it's always important to call the 1-800 number on your credit card and let them know that you'll be gone. Yes, it can take a little while to get through, but it's key so that they know why you're suddenly getting foreign charges to your credit card. Otherwise, they might flag and block your card and trust me, that's the last thing that you want to happen. 
Also, while you're on the call, make sure you look into foreign transaction fees. It's always good to be mindful of what those fees are so that you're not in shock when your credit card statement comes.  
For most banks, this can be done online these days. However I'm so neurotic that I did it online AND made the phone call to confirm. 
Shopping for the Trip
It's important that you financially prepare for the pre-vacay shopping. One of my favorite things to do is to find different looks on Pinterest. Capsule wardrobes give ideas of 7 different outfits from the same 20 pieces of clothing and accessories which is a HUGE time and space saver. If you find that you want to use this route, make sure that you keep your eyes peeled for sales and deals so that you can complete these looks without breaking the bank before all the shopping that you'll be doing in Paris. 
Make a List of Essentials
What do you absolutely need for this trip? Moreover, what items can be found in your hotel room or easily purchased once you're there? Obviously, you don't want to be wasteful, but little hacks like this are nice to have in your back pocket. Depending on how critical your hair routine is, it might be worthwhile to depend on hotel shampoos to save on space – but I'll leave that up to you! Some essentials I bring are:
Medications
Anything you might need either in a checked bag or in your carry-on. A huge tip is probiotics of some sort to help with your digestion during travel.
Weather appropriate items
It might rain for three days straight where you're going or there might be a heatwave! Sometimes you won't be able to predict this… like us in Paris. Hottest day in HISTORY anyone?? Make sure that you're packing accordingly. 
Travel Documents and Backups
DO YOU HAVE YOUR PASSPORT?? Don't forget it and don't let it leave your side. Also make sure you have any other documents, credit cards or forms of I.D. that you might need. It can be helpful to email yourself or a family member a photo of these documents as well. I wouldn't necessarily recommend keeping them in your camera roll in case your phone gets stolen. You should also photocopy your passport/I.D. together and tuck the piece of paper in with any other travel documents you may have in another location (not directly on you). 
Cell Phone Service
You have a few options here. Some phone plans have a roam like home plan which can get pricey but is great for peace of mind. You know that once you get to wherever you're going, you can turn on your phone and have all the same plans and data that you do at home. This is what we used when needed. Verizon and AT&T charge $10 daily for this, but it's your home plan, so for us it was unlimited data, text, and calls. This gets expensive on two phones so we used it very strategically. There are other plans offered by your provider that set a number of texts, minutes, and data, and are cheaper, but we found the data for these options to be too low. 
Another option worth looking into is getting a SIM card. Make sure you go to your local phone provider and check that your phone is unlocked. Then, make sure to keep your phone on airplane mode until you can go to a phone provider in Europe and get a SIM card. Usually they're super cheap and have great plans! Then once you're back home, just pop your old SIM card back in!
Packing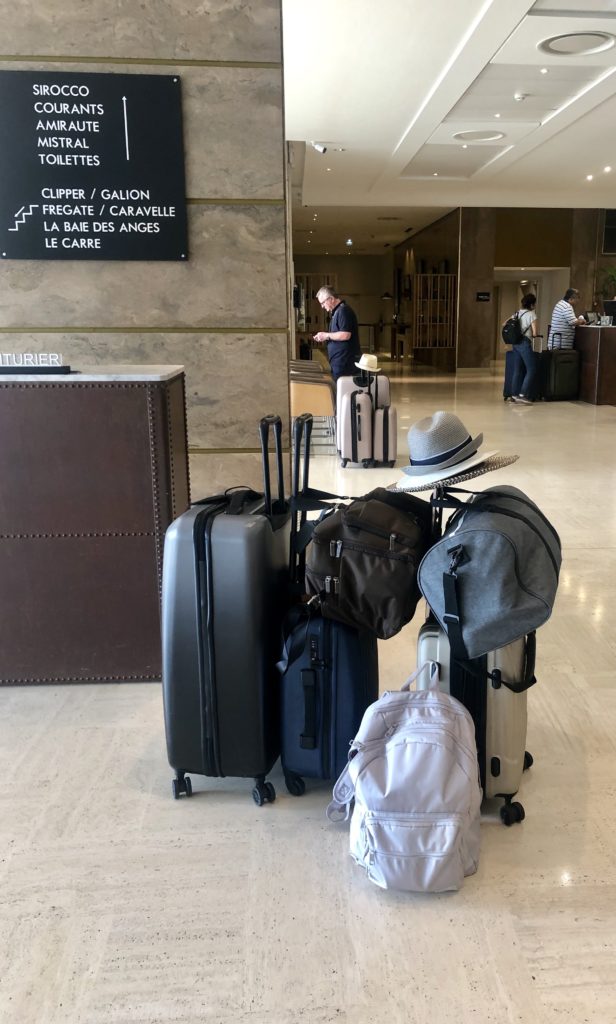 Either you love it, or you hate it, but it needs to get done. A few tips: decide on how many bags you're bringing with you. Most airlines offer one piece of checked luggage that you must pay for, plus one free carry on item and a "personal item" (like a purse or small tote). It's important to consider how much shopping you planning on doing and saving room for that. If that means keeping the carry on completely empty – then so be it! No judgement here! 
You should decide this prior to leaving any destination, and pay for baggage BEFORE you get to the airport because it is cheaper. Watch out for overweight fees. Not going to lie, we definitely had some. It kills me a little inside, but what are ya gonna do? Chris' mom bought us this portable scale for our luggage and it was SO helpful. 
Also consider how you'll pack. The two new crazes are cubes or rolling. I find that rolling is easy and does help prevent wrinkles. Cubes on the other hand can be helpful if you're into Marie Kondo-ing all of your clothes. Or… if you're like Chris you just somehow make it all fit. I used these packing cubes from Calpak and loved them! You can purchase really great cubes that compress your clothes and even have two sides – one for dirty and one for clean. This helps with organization when living out of a suitcase.
Getting to the Airport
Ah yes, moment of truth! You're all packed, you have your passport, now time to enjoy (or endure) that long flight. Make sure you arrive early – I don't mind going early for peace of mind and then treating myself to a coffee at Starbucks or some champagne. Plan a meal beforehand – whether that will be on the plane or before takeoff. I recommend eating light before a long plane ride or even fasting if you're into that, depending on how long the flight is. Travel is so hard on our bodies, so this is just another thing to take into consideration. If you want to pack snacks that are healthier (and cheaper!) than anything you'll find in an airport, I recommend whole foods and foods packed with fiber and vitamins. Lastly, ensure that your car service or Uber is reliable. Pre-booking an Uber is a great way to have peace of mind before your flight. Chris and I like to use Best VIP when going to LAX, because the car is more comfortable and it is extremely reliable.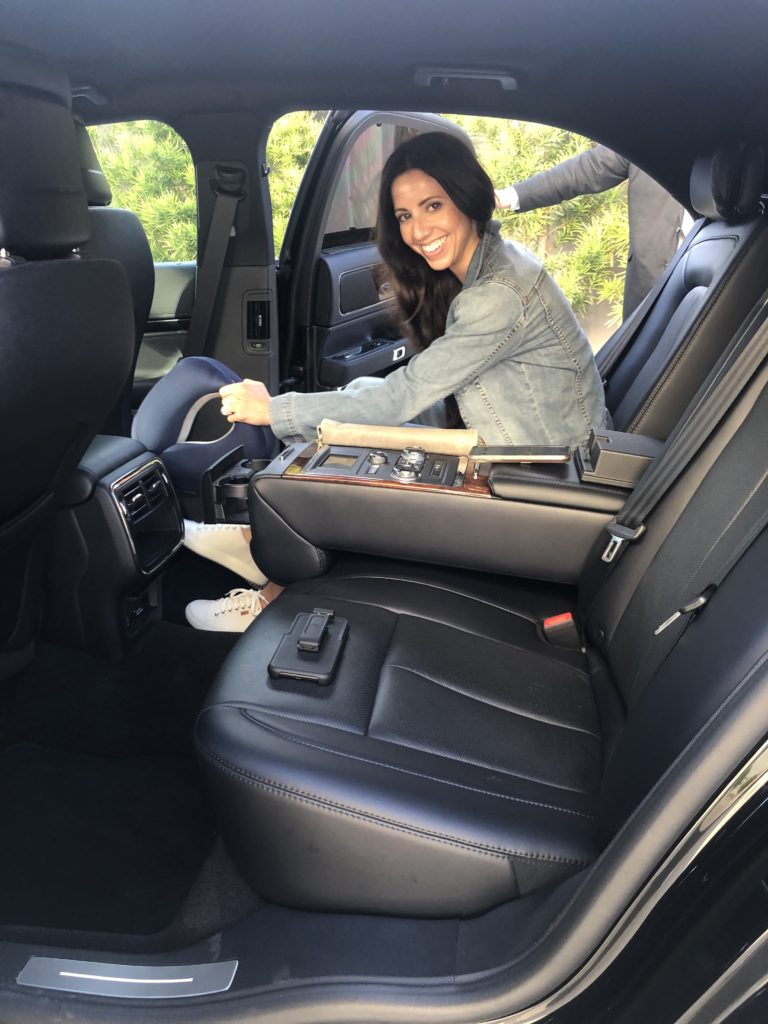 Lounge Life
Chris and I have credit cards that allow us to enter many different lounges where they serve food and drinks and have comfy chairs. After all the prep and planning you've been doing for your trip, this is a nice bonus before take-off. Lastly, look into your airport or airline's app for your phone so that you don't miss any gate changes or delays.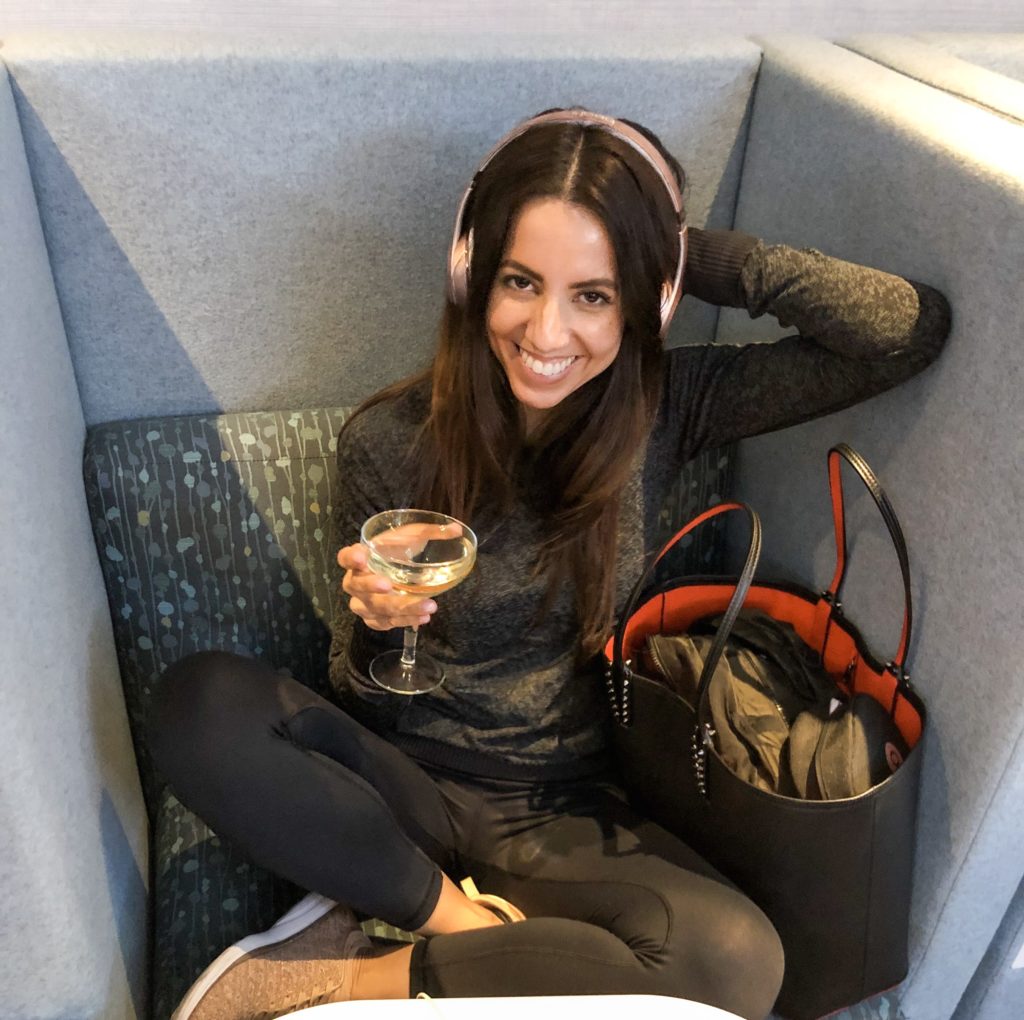 Where are you going or where have you been this summer? What international travel will this post help you plan? Let me know in the comments below! I look forward to hearing from you!