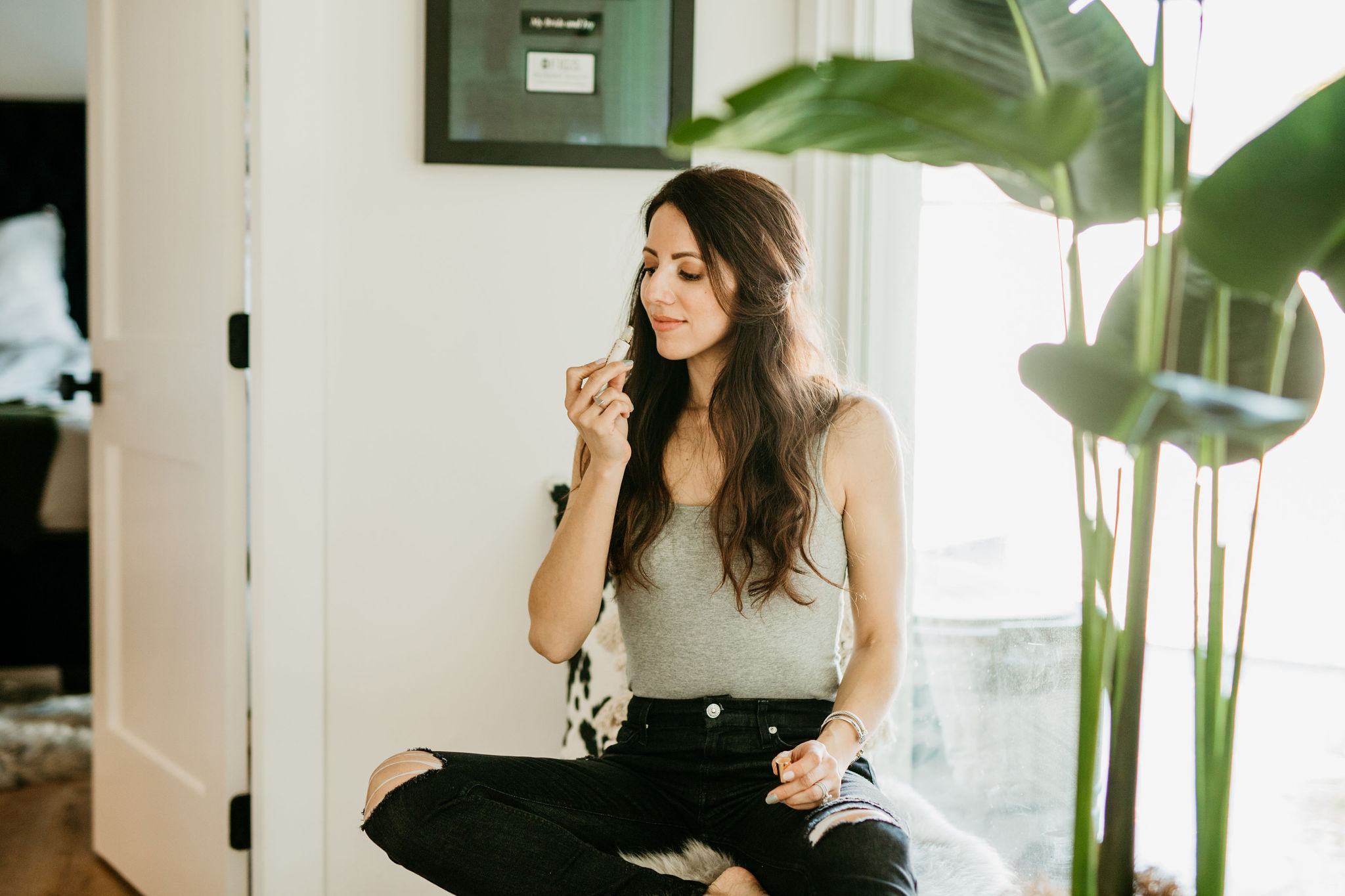 Essential oils have hit the 'health and wellness' trends by STORM! Whether you're shopping at Home Goods, Sephora, or know someone who's a distributor for dōTERRA, I find that they're popping up everywhere! I only used to experience essential oils like this when I went to the spa, especially for a massage—usually greeted with the smells of eucalyptus or lemon. Now that they're so accessible to use inside the home, I've been learning more about them and love being able to bring the spa home! You'll find diffusers all around our house, so even Chris can find some calm in his day with a few deep breaths of peppermint or lavender!
I have really enjoyed getting to know Melody Brandon, who is local to Orange County, and runs her own shop of essential oils. She provided me with these cute rollers, blended for use topically. She hosts regular classes to educate on the safe use of oils and takes a wellness approach that I can identify with.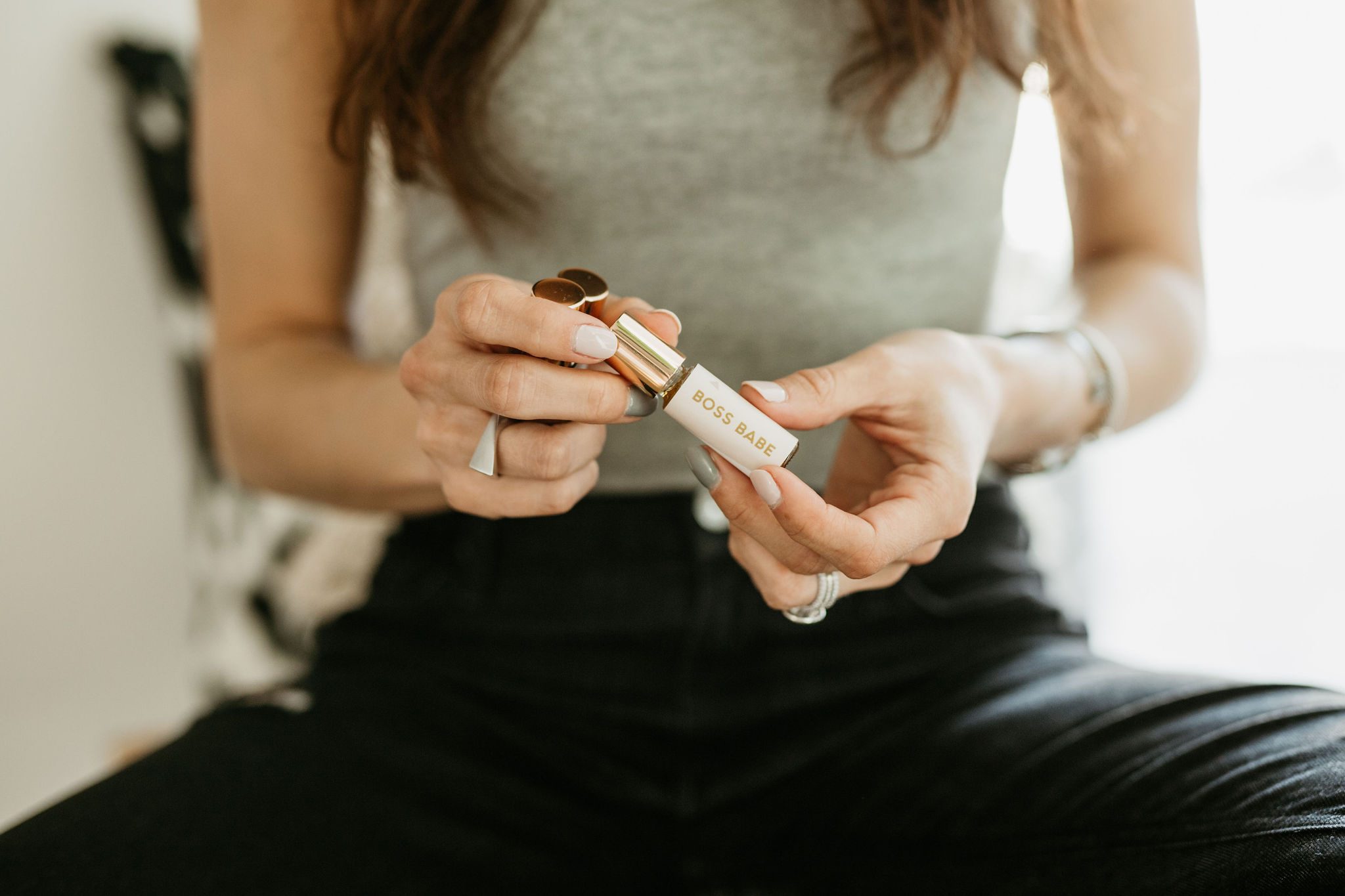 Disclaimer: These are my own opinions. As a physician, I am extremely careful in recommending something like essential oils in a medicinal format. I am however very open minded to the benefits of alternative therapies in a patient's everyday life (not to treat medical conditions). I love reading about holistic therapies so I am able to answer any questions I receive from patients and advance my own learning as we continue with research in these areas. I think the most important point here as a medical provider is to avoid shying away from discussions about alternative therapies with patients. 
What are Essential Oils
Essential oils are simply the pressed oil or essence of a particular plant or botanical. They're used most commonly in aromatherapy but have also become very popular for using topically. Usually, the oil is purchased in the purest form and then needs to be diluted with a carrier oil in order to use it on the skin. I think it's important to remember that any medicinal claims surrounding essential oils are not 100% proven yet, so while I believe in the power of plants, I find them an excellent tool as a supplement to other remedies. Essential oils have not been subject to the same methods of study for most medical conditions, so we don't have reliable and reproducible evidence of their usefulness or safety. If you have questions about using essential oils, I recommend chatting with your doctor or healthcare provider.
The Benefits of Essential Oils
There are quite a few suspected benefits to essential oils. A few drops of oil can go a long way. It's important to remember that the personal use of essential oils is quite new, and there's still a lot of research to be done, but incorporating plants in any form into your daily life can be beneficial!
Anxiety & Stress
Aromatherapy has been a common remedy for managing stress and anxiety for some time now. In addition to pausing to take a few deep breaths when you feel overwhelmed, there could be a positive impact in breathing in oils like peppermint or lavender to help ground you in the sense of calm. There was an interesting small study done in ICU patients who had recent percutaneous coronary intervention (PCI). The number of patients observed was small, but showed promising results for subjective reduction of anxiety after this procedure by inhaling a blend of lavender, chamomile, and neroli oils. Some of these oils have been shown to reduce cortisol release therefore helping to induce relaxation.
Nausea
Essential oils have been used widely in patients that suffer from chronic nausea, such as those undergoing cancer treatments. Inhalation of various blends have been shown to be helpful, even when anti-nausea medications are not. 
Sleep Quality
I LOVE diffusing lavender oils before bed. It's the perfect scent to help me drift to sleep after a long day. Sometimes, I'll buy it in a spray to mist on my pillow before bed. It has been shown to slow central nervous system activity and assist in serotonin release, supporting sleep. A quick mist with some deep breaths after a long day in the ER is heavenly. There was another small scale study related to inhaled aromatherapy done in patients with dementia that showed a reduction in sleep disturbances. Lavender is known as a natural sedative and anxiety reliever, so if you're having trouble getting your mind to wind down at night, try some lavender! 
Antibiotic and antimicrobial
Some oils have anti-fungal and antiseptic properties. You can find tea tree oil in skincare products, especially for those who experience acne problems. I do not personally use essential oils to treat skin conditions. There are still many studies that need to be done before claiming which essential oils hold these properties. But, skincare lines often boast the use of tea tree oil and shampoos like Head and Shoulders use eucalyptus!
How I Use Essential Oils
There are two basic ways that I use essential oils in my day to day life – either diffusing them or applying them topically. I have quite a few diffusers throughout my house, and I try to use them all regularly to keep each room smelling fresh and feeling centered. I have some blends that help me focus in my office, some fresh lemon oils in the fitness room, and lavender in the bedroom.
I also use them topically in very small amounts using a roller. It's super important to trust who you are buying oils from and understand the limits. Depending on the kind of oil it is, I roll on my neck, wrists, and sometimes even my feet! These rollers are also great to toss in a bag when I'm on the go. Sleep blends are great to use on the temples, back of the neck, and the bottom of the big toe.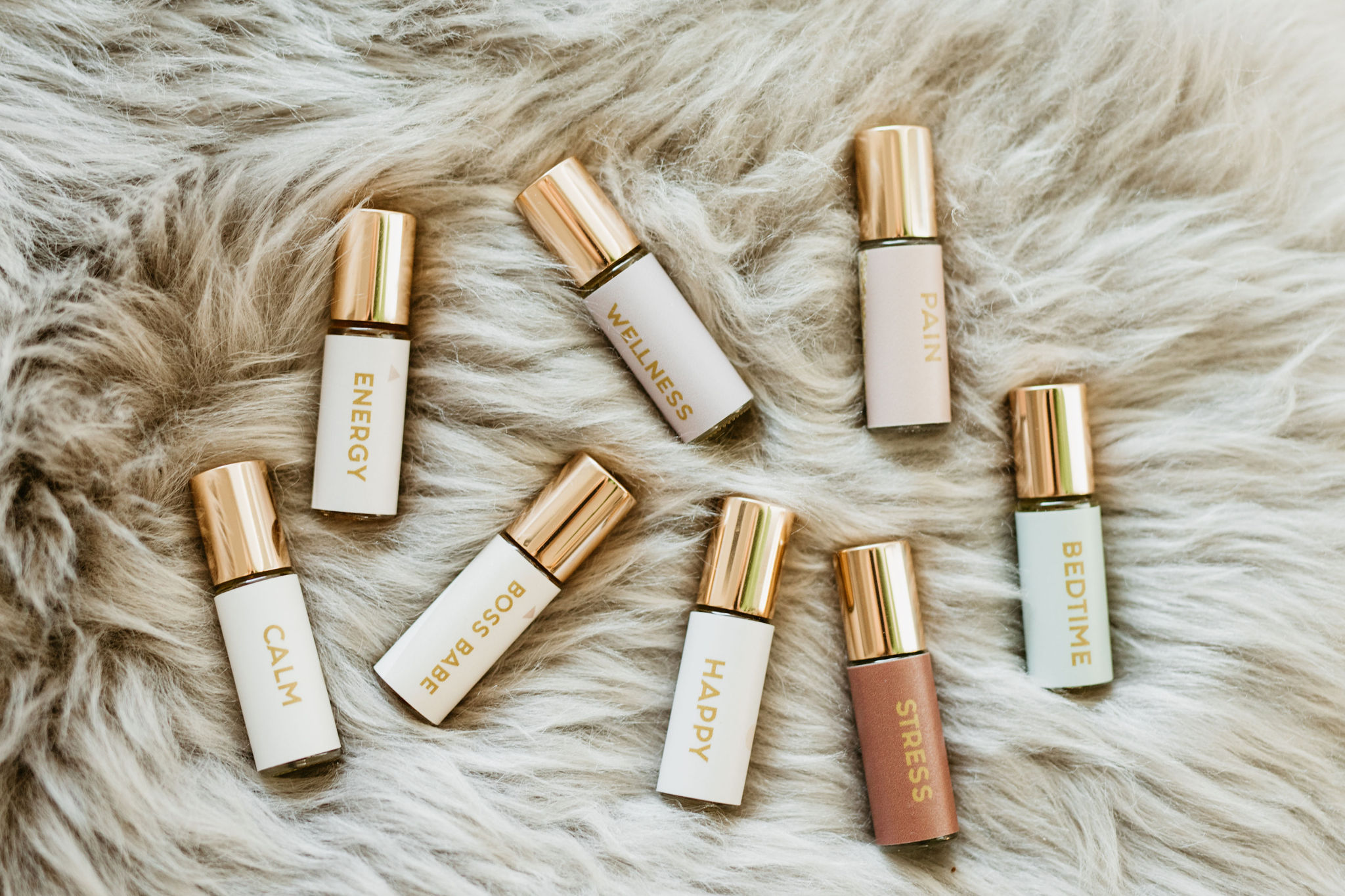 What you Should Avoid
Remember that not all essential oils are created equally. Quality essential oils come with a higher price tag, but then you're getting a high-quality, pure product. When you find three-packs of essential oils for $15 at Home Goods, it's important to keep in mind that those might contain fillers and not be 100% pure. Remember that whatever you diffuse is part of the air that you breathe in and whatever you apply topically gets absorbed into your body, so it is essential to look for quality oils.
Also, if you have pets in the home, be sure to do your research on whether or not essential oils are harmful to them! Never apply essential oils topically to your pets and be mindful of which rooms you're diffusing in if your pets spend a lot of time there. Again, if you have specific questions, be sure to consult your veterinarian. They're more than willing to help!
As a general rule, I recommend using essential oils in small amounts. You should always look for signs of allergic reaction or rash if using topically, and/or breathing problems such as development of a cough, shortness of breath, or chest tightness when inhaling or diffusing them. Some can react poorly with the sun, causing chemical burns, so keep this in mind when applying topically! I also don't recommend them to be used on children, or pregnant women without first speaking to your doctor.
Essential oils have been an excellent way for me to manage stress, enhance a calm environment, and honestly just make my home smell nice! From a medical perspective, I look forward to seeing how they're used and studied more as people continue to look for more natural and holistic healing methods. For now, they're without a doubt an excellent tool for self care! 
Do you use essential oils? What has been your experience? Share with me in the comments below!
Photos by Amelia Blaire