I think there's real merit to owning that "perfect bag". The one that fits everything you need in a day and has the perfect amount of pockets and space for all of your things. One to haul all of your stuff around campus, work, or wherever you're going in a day. The perfect bag also aids in the mindset of "look good, feel good", for me anyway! If you're using it every single day, then you might as well splurge on the one bag that will last!
There are a few key features that I look for when shopping for the perfect work/life/school bag. 
Comfort
This isn't 2004, we aren't 1 strapping it down the high school hallways with a backpack full of books pulling our spines out of alignment. We want comfort! I tend to haul around a good amount of stuff on the day to day and I want to be comfortable (and look cute) while doing it. So step one when picking a bag is comfort. Is it a backpack style, or a shoulder strap? Make sure the shoulder strap feels good for you and consider how long the bag hangs on your side. Trust me, if you're a shorter girl this matters, you don't want the bag swinging into your knee-caps while you're walking! 
Material/Durability
A higher price often reflects better durability but you never know, so feel out the quality of the bag to make sure it's going to hold up. Where are you taking this bag? Will it get dirty? Do you need to be able to fit it in smaller places like a locker? Leather can crease, but saude is sensitive. If the bag has too much structure it might not fit into a locker, but if it's too soft your stuff won't compartmentalize inside very well! 
Size
Speaking of stuff. Keep it REAL with what size of bag you need. I love cute small purses but I can never fit everything I actually want to bring with me. If you're choosing a bigger bag for day-to-day maybe this bag will also act as a carry-on when you travel in which case it better fit my book, a snack and a neck pillow as well. 
Style
Get creative and see how you can combine fashion and function into what you want. I recommend sticking to a neutral color like brown, navy, or black which will be good for the whole year and match almost any outfit.
Cost
And of course we are considering the price. Bags can get really expensive but think about it, would you rather spend a little more and have it last you a few years or spend less and have to replace it more often? Plus you're using it DAILY. I'm a huge advocate of investing in high quality items like clothing, bags, furniture etc. that I know will last me years. Honestly, if a bag is something that you need to save up for, that's okay! I believe it's an investment that will be worth it in the end.
My Bag of Choice 
Everyone is different, but I'm the type of person who has two bags: one for work and one that's a little more fashionable for 'everyday' use. For work, I use the large Le Pliage tote by Longchamp. Yes, this was a bit of an investment as far a tote bags go but I love it because it's durable, simple and cute. I like that there's no strap but the handles are long enough for me to toss it over my shoulder. It holds everything that I need for my day and has a zipper to ensure that everything is secure inside. What's really awesome about these bags is that if I'm not using it or want to bring it as an extra wardrobe option on a trip, it folds right up! I can toss it in my luggage and bring it with me wherever I'm going.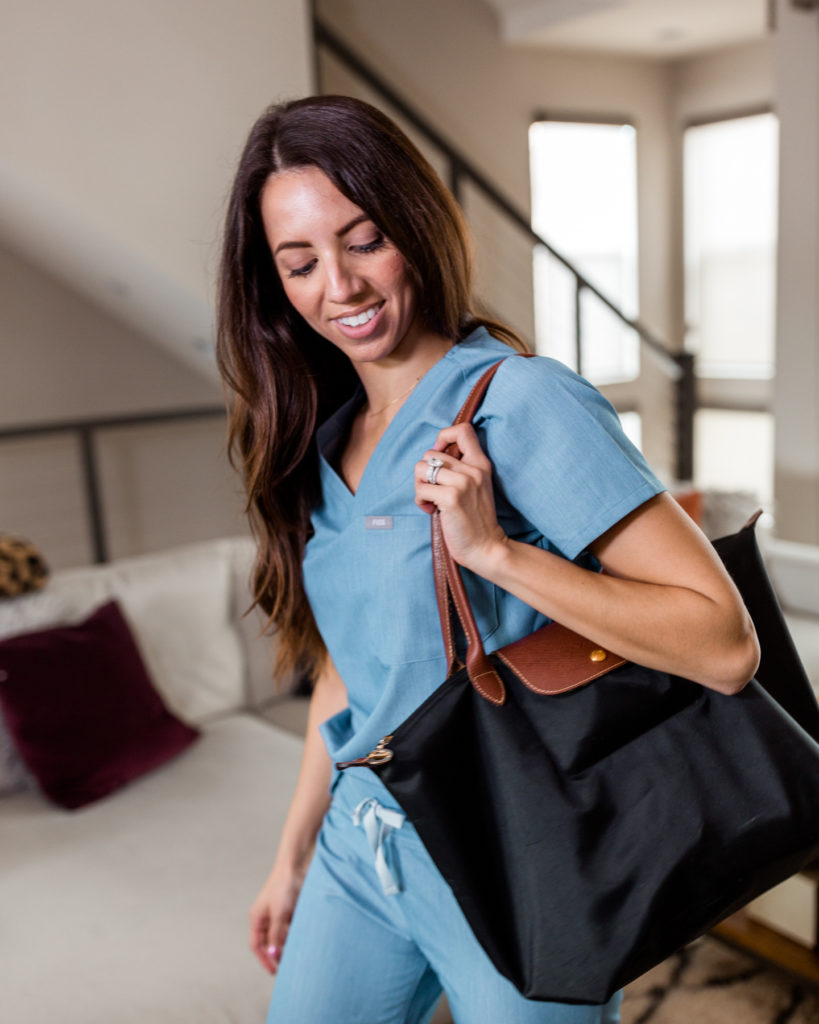 In the Le Pliage tote is where I keep everything that I need for work. This includes work essentials like my badge, stethoscope, pens, trauma shears, and note cards. But there's also plenty of room for everyday essentials like sunglasses, floss picks, gum, toothpaste and a toothbrush, some healthy snacks, headphones, chapstick, body spray, lotion, and tea. No matter how long my shift is, everything I could possibly need is found in my Le Pliage.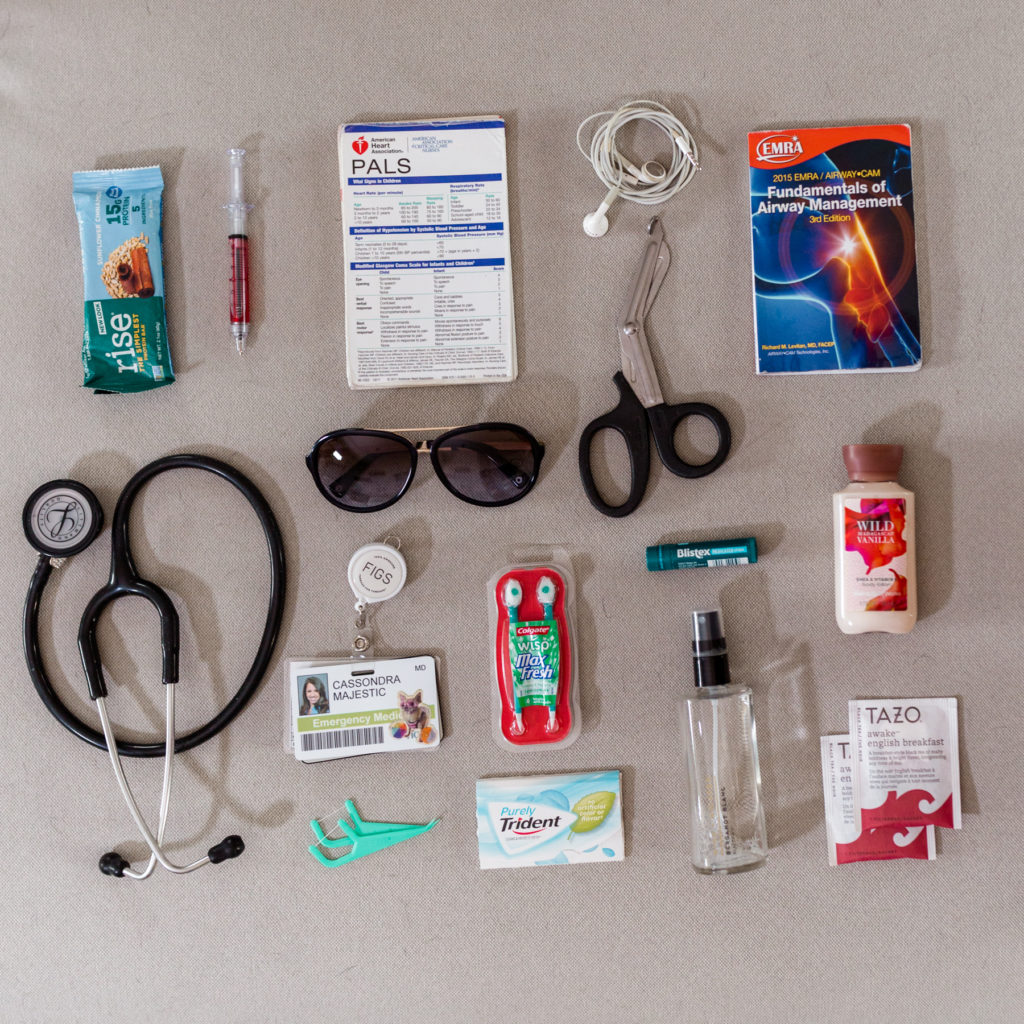 For everyday/personal life, I use a Big Black Bag to haul my life essentials around with me whether I'm running errands or off to a lunch date with friends. I like having the classic, female "bag that holds everything" rather than constantly switching purses and bags when I'm in a rush to head out.
Disclaimer: I have a bag problem, so you guys probably already know I have a few choices in my bag closet. But this one is my easy go-to.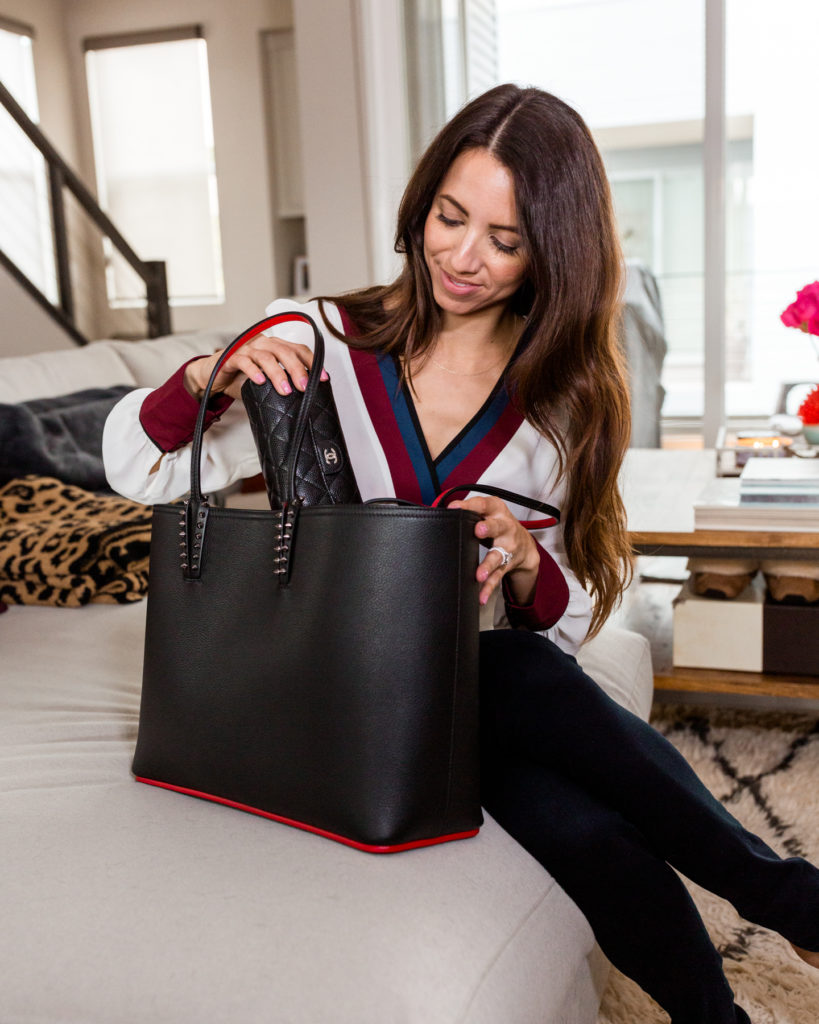 Here, I keep my essential accessories like sunglasses, extra hair ties, concealers, lip gloss, chapstick and of course, my wallet (which is basically a clutch bag in itself), phone, and keys. But you'll also find hand sanitizer – especially during cold and flu season – a Tide-to-Go pen (come on, none of us are perfect), body lotion, as well as my OTC meds. There are doubles of some things between my two bags but as I said, I'd rather be able to grab the bag when I'm rushing out the door, rather than switching items back and forth. The only things that switch back and forth between each bag are my keys, wallet, and phone.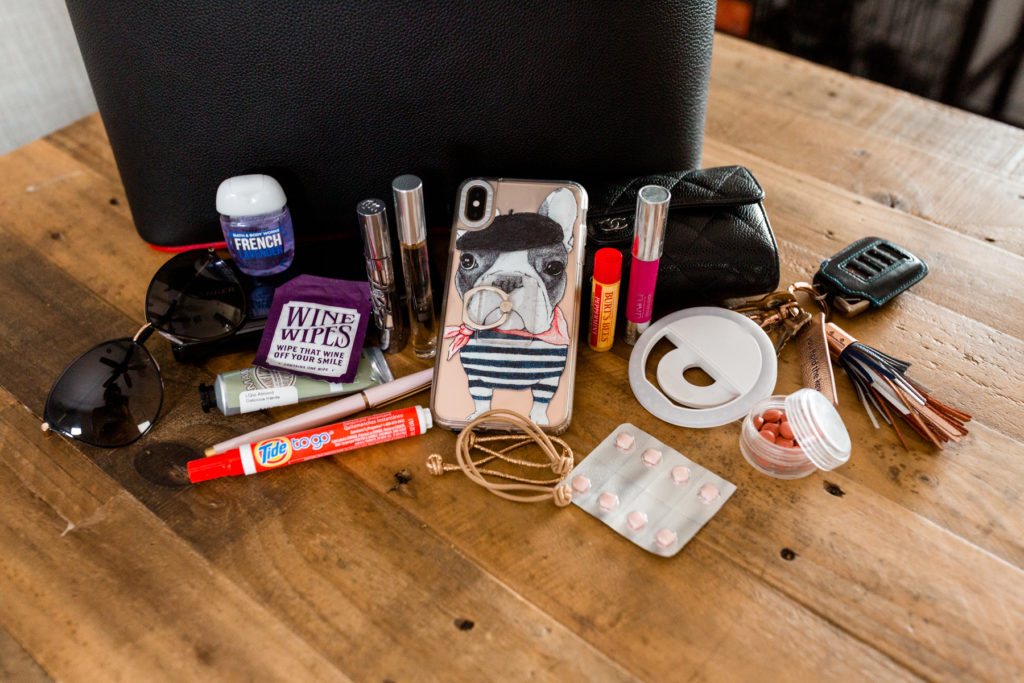 Safe to say my baggage situation is locked down and organized! At the end of the day I'd recommend investing in a good bag that you love, that holds everything you need and goes with any outfit. 
Photos by Zo'e Cole.