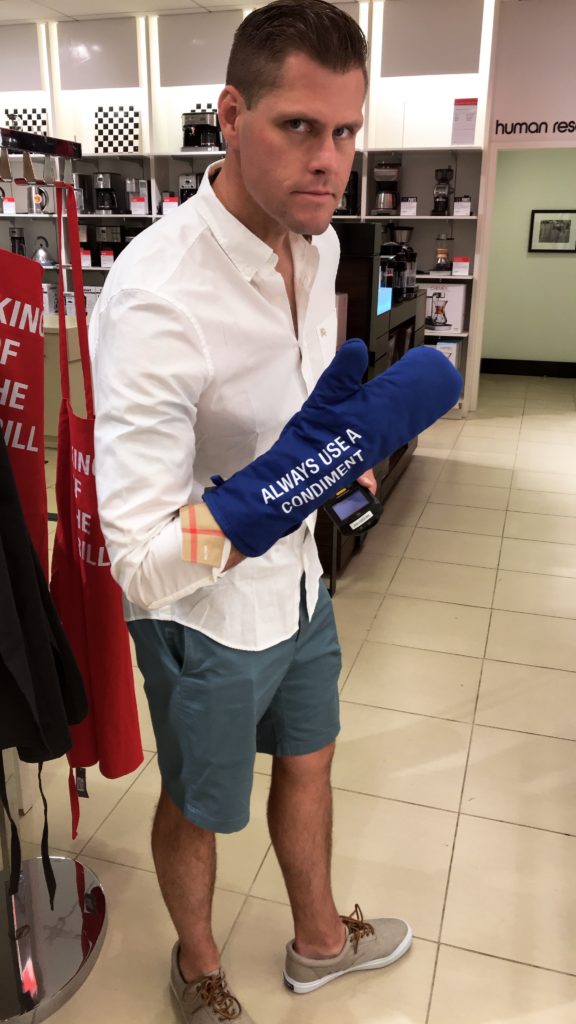 Who doesn't want to pick out a bunch of fun, new things that others will buy for you?! Not to mention you get to carry around that awesome scanner. It's what I consider one of the most fun things surrounding a wedding. The registry!!
My biggest piece of advice, is to go all out! You may not get everything on your list, and that's ok, but after the wedding you will get great deals on those products you added to your registry. Most stores offer these deals, for up to a year!
Pick 1-3 of the most desirable stores (this can include online registries) in your mind, and take a day with your beloved to go in-person (or shop from the couch) and discuss how you want to decorate and supply your home!
Chris and I chose an online registry called Zola, Williams Sonoma, and Bloomingdales.
Zola was easy, they have TONS of products to choose from, AND you can set up cash funds for various things that you want (i.e. honeymoon, yoga classes, dining out, airfare). This allows your guests to feel like they are actually a part of a gift, even though they are gifting cash. You can even write in what you plan to do with the funds. For example, under honeymoon fund, you can detail this with where you are going, what you plan to do, etc. When someone sends you a gift, you get an email and you can choose to release the gift, or return for store credit, before it even gets to your home!
Williams Sonoma was Chris' choice. He loves the vibe in that store! We chose our pots and pans, knives, and baking utensils for this registry. You can try out the products in store, and even sample some of the food that you cook with the products! They have a ton of registry store events, so you can really take advantage of what they're offering.

Bloomingdale's was my choice, because they have a huge selection AND the service there is impeccable. Bloomingdales has it's own section of the store for The Registry. They have events for couples to attend and learn about the newest and greatest products. They also provide champagne, and water for the most luxurious registry experience. Chris had a great time walking around with the scanner. He pretty much scanned everything he could… and then weeks later forgot that he scanned said things, acting confused when we got them in the mail.
We had a bit of an incident in Bloomingdale's because of Chris' excitement for a chip and dip set. He flipped it over, assuming the glass bowl in the center was attached to the rest of the tray. It wasn't. It shattered on the floor and I swear you could hear a pin drop it became so quiet. They assured us that it would be cleaned up as we apologized repeatedly. As I started walking in my open toe heels, I realized that my toe was painful and as I looked down I noticed it was bleeding. I had no tissues or kleenexes (because of course I had switched to my smaller purse that morning), and proceeded to bleed on the Bloomingdale's floor as I walked. How embarrassing!!
Chris and I were mortified and fully expected to pay for the item. The Bloomingdale's staff simply said "it happens", cleaned up the mess, provided alcohol swabs/bandaids, and sent us out with a parting gift! I received a follow up phone call and email from the staff asking if I was healing ok. It really was the tiniest of injuries and stopped bleeding pretty quickly after it started. We definitely laughed about it all night. Chris is still to blame for this one!
I found most of the things I wanted at Bloomingdales. They have such a vast array of choices and beautiful pieces, for many different price ranges. I wanted to add items to our registry that I wouldn't buy for myself, so for me, that included a lot of entertaining items, for all those future dinner parties and holiday hosting!

I never used to appreciate the presentation of food, and having all the right glassware, until I graduated from residency and enjoyed having an adult-like set up. Plastic dish ware be gone! The pieces below are all part of our registry, and I can't wait to arrange and present them at future family holidays!

Don't forget about all the cozy home items and practical products that you've always wanted! That includes sheets, towels, and any fancy electronics you can think of, to make your home, a home. If you're a traveler, don't forget about luggage!

Last but not least ladies… don't forget the all coveted KitchenAid Standing Mixer!!! And all its attachments… there are MANY. And trust me, I could justify all of them, but I stuck to these below.

The best part, is when the boxes start to arrive! Minus all the box breaking to fit them in our small trash can! Engaged ladies out there- make sure your registry is completed before your bridal shower! Many of the gifts you receive from your registry will be during that time.
Happy engagements and registry shopping!! Comment with your favorite registry items!