It's no secret that I am a coffee lover. I always have been, and likely always will be. But… I am very particular about my daily coffee. Over the years I have graduated from watered down coffee with extra sugar and creamer to homemade lattes using our Nespresso machine.
We own both Keurig and Nespresso machines, but I prefer the latter, to be honest. I usually save my Keurig coffees for when I'm on-the-go to work. It took me a while to figure out how I take my (grown up) coffee, but once I did it was smooth sailing. I'd like to let you in on a little secret… it doesn't have to be fancy or difficult to prepare! Oh, and… it's all in the FOAM (in my opinion).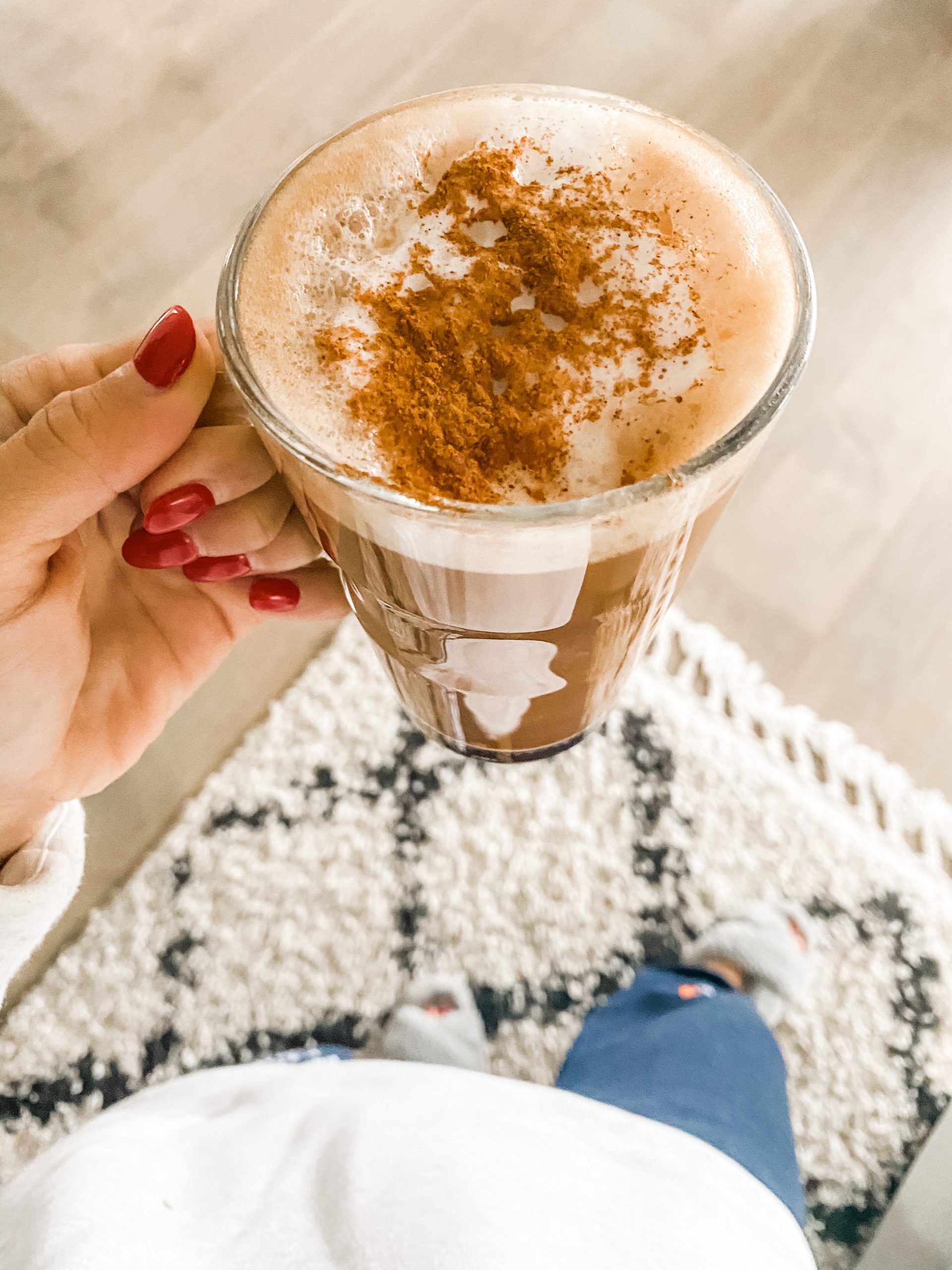 MACHINE
Let's start with our Nespresso machine. We have the Vertuo duo– which makes both espresso and coffee. I have no complaints here! We don't have the biggest or most fancy machine, but it's also not the smallest either. It's easy to use (similar to the Keurig) so it's less intimidating, even though the coffee is for more advanced drinkers.
C has a smaller machine for his office, that he loves equally. The pods are different, but are available in similar (if not more) locations than I list below.
PODS
We are lucky enough to have a Nespresso boutique close to home, so it's easy to pick up these pods on-a-whim, but Nespresso has always had a great online ordering system. Luckily, there are some other options if you don't have a boutique nearby.
Amazon– the stock may vary, even if listed as prime
There are a few other locations such as Target and Walmart, that offer Nespresso compatible pods, but they may not be Nespresso-specific coffees.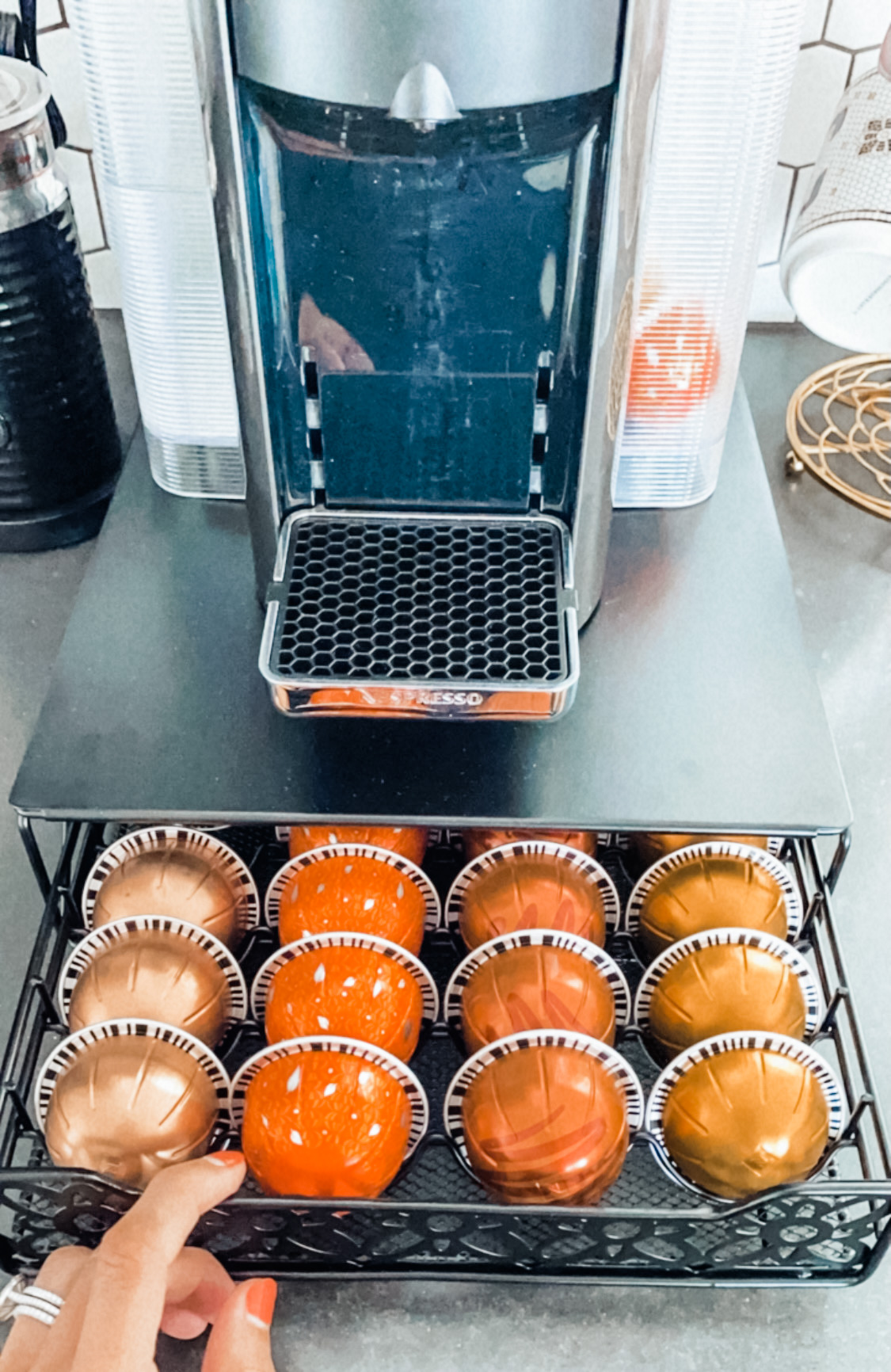 Bonus- you can recycle the pods! Nespresso will give you a bag and you can return to their store, or mail it back in.
MY RECIPE
I am quite sure that my coffee recipe is THE most popular question I get on social media. C definitely coined the recipe (if you want to call it that), and perfected the foam. It really is all in the foam. So you NEED a frother to make this glorious cup of coffee.
It really only requires THREE ingredients. Coffee + Frothed milk + Cinnamon.
I am sensitive to dairy, so I prefer an almond or oat milk. I have been using Kirkland unsweetened almond milk for years, because it makes the best froth I've found. Trust me when I say… I went through countless other almond milks before I came to this one. While I like this brand, I am feeling motivated to start making my own, though I don't love the idea of straining. TIP: Cashew milk does not require straining! You simply soak the nuts in filtered water, and blend. You can also add maple syrup or agave if you like.
I received an upgraded frother for Christmas so lately my foam game has been ON POINT! No shame there. I used the Aerocino frother that came with my machine for years, but this one has truly taken my foam up a notch.
Pro Tip: hit the button one more time after it brews your first cup! You can get a little more life out of those pods so that your cup is more of a 1.5 size. I will say, you can't get two full cups out of a single pod without it being watered down, so if I'm craving a full second cup I will just use another pod.
FAVORITE PODS
I can take down ANY nespresso flavor, but I definitely have my favorites. My go-to coffee flavors are Vanilla Custard Pie, Hazelnut Muffin, Caramel Cookie, and Melozio. If it happens to be the fall season, you best believe Pumpkin Spice Cake is in my drawer too! This year around the holidays they offered Peppermint Pinwheel and Amaretti and they were both delicious. Chocolate Fudge was also new this year, and I'm told it will be on the menu year-round!
If we're talking espresso, Voltesso is my jam. Chris and I love to have a midday espresso when we're off together on the weekends. We typically have decaf in our stash also, when we crave an espresso moment with dessert, but it's too late for the caffeine.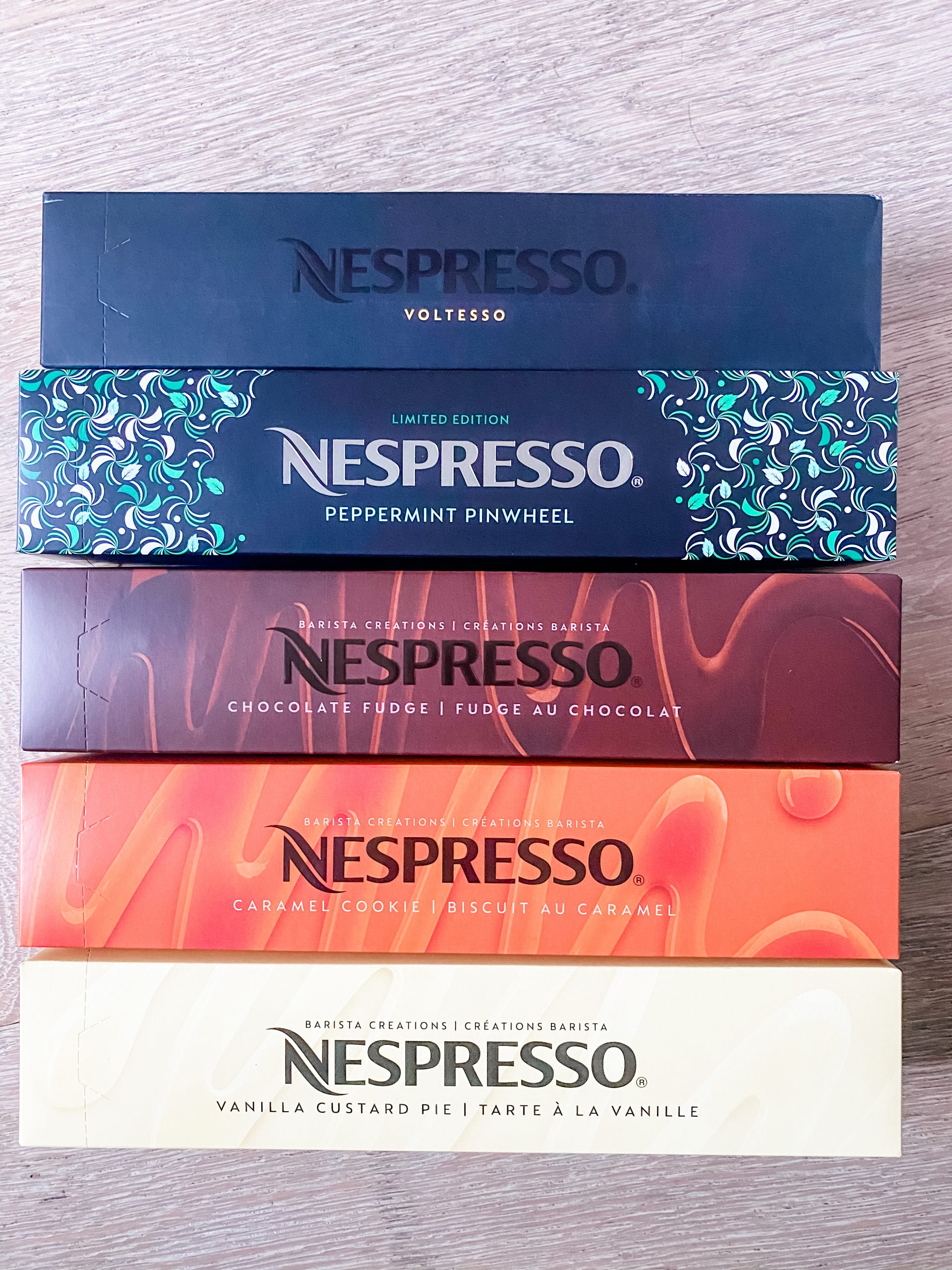 ACCESSORIES
The perfect coffee cup is a MUST in this household. I'll admit that I impulse buy coffee cups regularly. For every new one purchased, I get rid of one, however. These are double wall insulated glass espresso cups and we own a few different styles. I love the elegance behind a tall glass coffee cup, so these are perfect if you want to elevate your next coffee creation! Add in these cute spoons to swirl your milk and spices. I love this drawer to keep all the nespresso pods organized!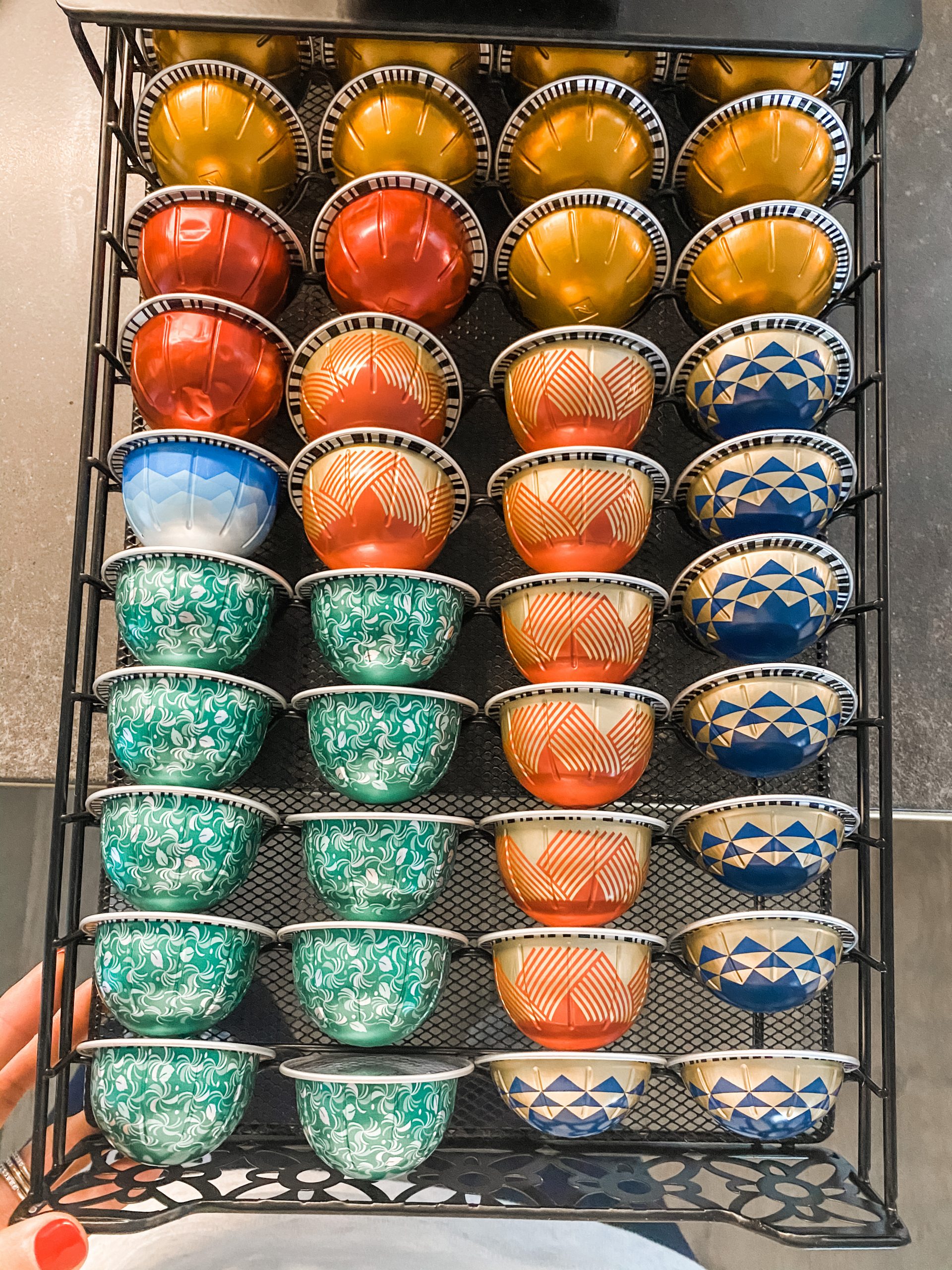 Hopefully this all gives you a little insight into how much I love our Nespresso machine (and just how much I enjoy coffee). I am not sponsored by Nespresso, though I wish I were!
Happy Coffee Drinking! Send me your favorite Nespresso flavors or recipes by commenting below!