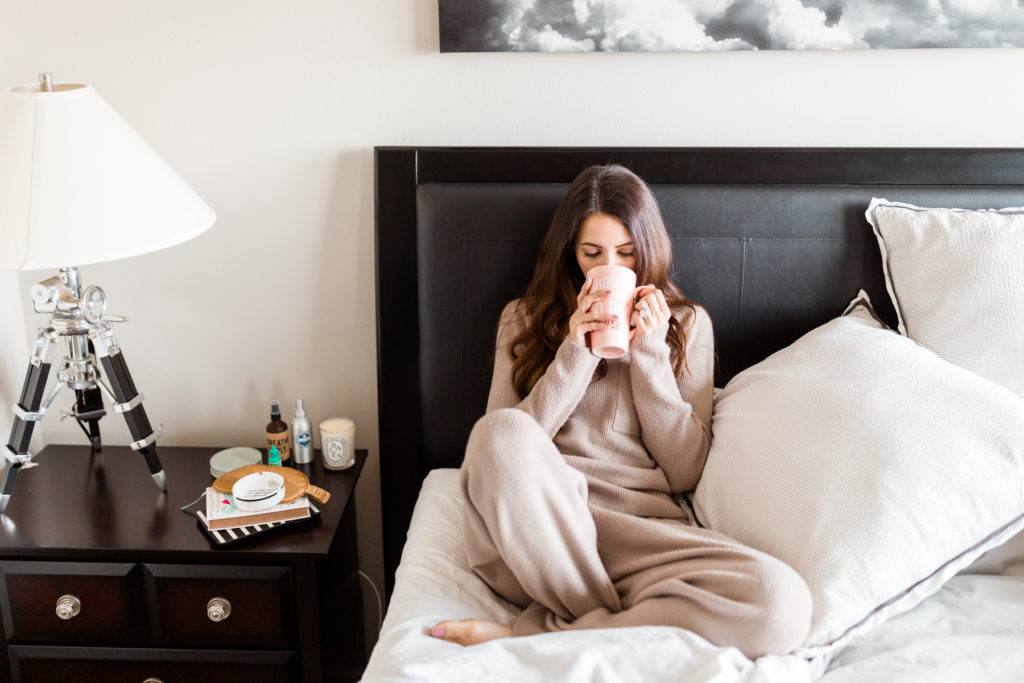 It's no secret that my sleep schedule is ALL over the place. Is it morning? Is it night? I typically have no clue. My blackout blinds and bedroom set up won't allow me to know the answer to that question. And I like it that way.
That being said, I need my go-to's at my bedside, 100% of the time, so that I don't have to move more than an inch if I need something in the middle of my sleep. I guess the only time I really have to open my eyes (just a tiny little bit) is if I have to hit the loo, which is typical considering my kidneys can't figure out my schedule. What are ya gonna do?
Bottom line with my nightstand is… I like to keep it simple. Basic. Functional. Sure I like a certain look but since sleep is so important to my well being and career success, I choose function over fashion here.
So let's get into it.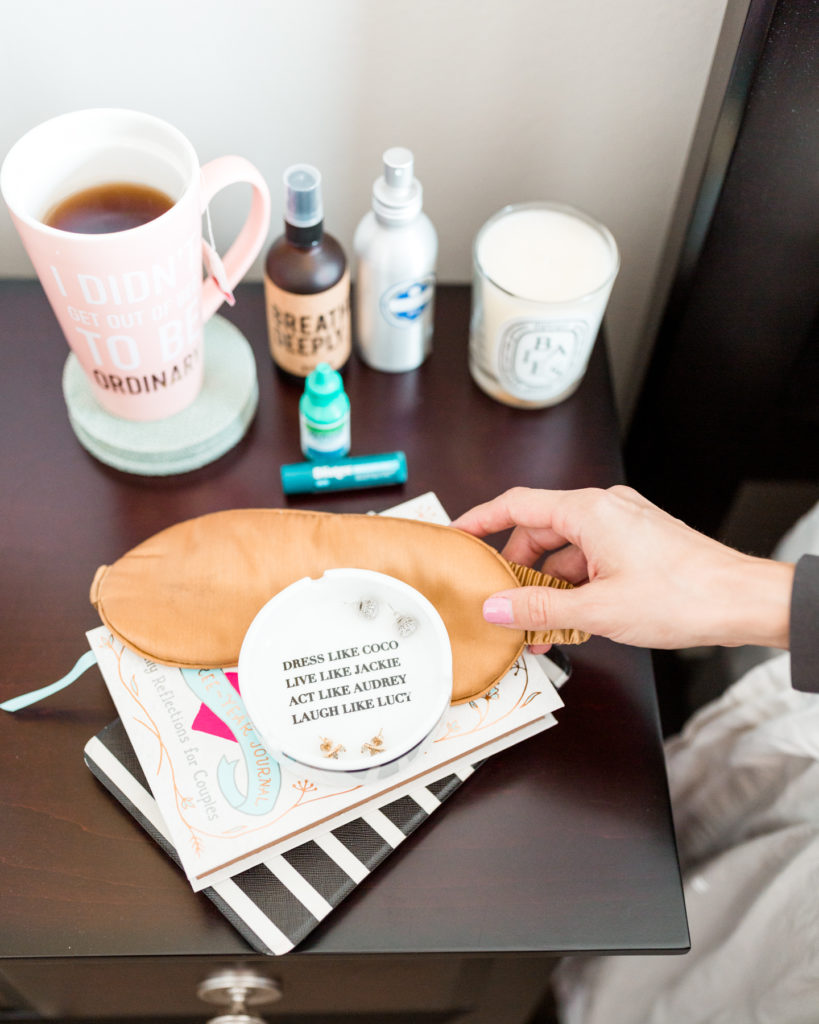 #1. Aromatherapy
My favorite candle comes from Diptyque. These fragrances and candles are pricey, but SO decadent and aromatic. I can smell this candle just from setting in next to my bed, without even burning it. I like to have options, so I keep the Capri Blue room spray and Breathe Deeply peppermint aromatherapy spray next to my bedside as well. I'm not a huge essential oils person; my headaches can actually be triggered by heavy smells, but I love this light spray over my pillow before bed.
#2. Beauty products
Keeping it REAL basic here. My favorite chapstick is Blistex medicated balm. I never stray from this. I have multiple tubes at all times and store them everywhere. I use this every night before bed and when it's super dry, maybe throughout the night as well. Although my glasses used to be a nightstand essential, now it's eyedrops. I had LASIK a few years back and suffer from the typical chronic dry eye that occurs in many patients. I don't need eyedrops throughout the day but sheesh when I wake up in the morning… my dry eyes are painful and I must have eyedrops STAT.
#3. Beverage of choice
Typically it's water in tumbler of choice (I own a ton), but sometimes it's tea or hot water before bed in my typical inspirational mug (also own a TON of these). I like keeping the furniture nice so I always use a coaster. Gosh I'm so old. Do you ever wake up SUPER parched though? The worst. So I always make sure there's something on my night stand. We used to have a fridge with mini waters upstairs in our bedroom but we had to move it to make room for my selfie mirror. #PRIORITIES
#4. Sleep mask
I have gone through TONS of these. They are either too tight, or not tight enough, not comfortable, or let some light in. Well I finally found a favorite. The Silk sleep mask is uber comfy, and fits just right. FINALLY. It comes in all sorts of pretty colors and they have matching pillowcases!
#5. Reading material
I LOVE to read, for leisure that is. I spent enough years reading medical books so I try to keep any bedside reading super light these days. My fave genre is probably mystery/suspense or inspirational material. My mini iPad always stays here, because occasionally I will read a book on there instead of paperback. Chris and I also started filling out this special book, at the beginning of this year. The book lists one question per day for couples to do together. It's totally random and super fun to stimulate conversation. We obviously aren't always home together at night (night shift woes), but we catch up on other days if we have to. It makes me feel like we are regularly checking in with each other and since the questions are random, it sometimes brings to light topics that we wouldn't otherwise talk about.
#6 BONUS. Jewelry dish
I had to move one of my jewelry dishes over here because I realized I would always forget to take my earrings out after a long day. And who wants to go to bed with earrings poking into your head? Exactly. This one is no longer available online, but it's actually an ashtray and I love the classic look.
Each of the things on my night stand truly serve a purpose. There's one thing missing from these photos… it's a photo of my hubs. SWOON.
What's on YOUR night stand??
Photos by Zo'e Cole.